One Size Experiments
Well, I was very apprehensive about purchasing a "one size" garment for lingerie. After much debate, I snagged this at a great sale price and experimented with sizing. It fits me like most Coquette size L fit me, and is very comfortable. The fabric seems sturdy and durable, without being abrasive. Overall, I think I made a great decision on this chemise and I would highly recommend it to anyone else on the fence about it.
Published:
Pros:
great price, removable bow, cute blue accent hem, fits a wide variety of sizes
Cons:
OSFM, poor packaging (wrinkled upon arrival)
Presentation

I have lusted after this piece for a while now. I kept looking at the photo, seeing it labeled "One Size Fits Most," and then silently cursing Coquette. I loved the looked of a small blue accent with a slinky sexy chemise.

When I saw this go on sale, I decided that the price was worth a try. I am normally a size large, even an XL in panties. But I decided that it really wouldn't be that terrible to lose $12 on something that doesn't fit perfectly.

It came to me in a glossy cardboard box, with a picture of the model on it.
However, the box wasn't even sealed closed (had popped open too).
And there wasn't even a tag on the garment.
And instead of being nicely folded with a piece of cardboard giving it form, I got it balled and wadded up at the bottom of the container.

It's a terrible impression and had I paid more, I would be calling EF with some complaints and a likely return.

Materials and Quality

That being said, the quality control flat-out sucks upon arrival. My chemise is full of very bad wrinkles.
The bow in the front center is able to be removed. The pin that keeps it in place, though, doesn't seem to hold it on very nicely. It doesn't look like it belongs on the chemise, really. It bugs me but I don't know how to explain it. Perhaps: the bow and pin seem too heavy and large for the fabric. The bow droops slightly off the chest.

As far as material goes, the chemise is 82% Nylon, 18% Spandex. For a cheap one size chemise, it is really comfortable and soft. The cups are less stretchy than the skirt part, and are rougher in material as well. They are sheer, floral lace in pattern. The straps feel like simple ribbon, though they are adjustable like the classic bra strap is.

There are a few loose threads, but not so many that I notice them while wearing the garment. The bottom hem is sewn in royal blue, as well, with the side slits accentuated with tiny little blue bows.

Care

You should really just hand wash this in cold water, and let it hang up to dry. Because of the material, it is very easy to clean and quick to dry out on its own. I wouldn't suggest putting this through a washer, just because of the delicate material.

And, also, never try to bleach or iron this garment.
Experience
Sizing
I am a size large woman. I occasionally opt for XL, especially for panties.
My bust is 32" underneath, and 39" around the fullest. My waist is 31-32" depending on how straight I stand (I slouch too much). My hips are 41" and my butt is 44". I am 5'9.5" .
I'm not much of a One-Size girl, especially with my height added into the mix of measurements.
Coquette describes "OSFM" as 120-150lbs (I always think listings by weight are ridiculous because everyone holds their weights differently), Busts 36-38" B-cups, Waists 28-30", and Hips 38-40". Basically, be a size Medium with them.
So, this shouldn't fit me very well, if at all. I am definitely way above their weight bracket, I might add.
How did this fit?
Well, it does. But it fits like most their chemises fit, more like a shirt. My butt hangs out the bottom. Where the model seems to have extra fabric around her hip/butt area to strike poses, I don't really. It simply stretches with me.
I attribute this fitting me only because the band portion is the only real limitation for me. I understand that the nylon fabric will cling to my body, stretch with it. Over time, I am sure it will relax to my shape if I wear it enough.
However, the breast and band portion is what will limit people. My C-cups fit but they were definitely being held back by the lace (creating a little cleavage). Anyone larger than C won't be able to comfortably swing it. (That's a weird phrase when talking about breasts... I digress.)
I have a small under-bust measurement for my other sizes. My bust measures 32".
This chemise measures:
Cup Width at bottom: 7"
Cup Height: 7"
Band Measurement: 30" unstretched, with 36" at most.
Length from Armpit(Below Cups): 20"
Bottom Hem Width: 36" without stretching, will obviously accommodate someone with a 44" ass
Keep in mind, the band is the only thing with a real set measurement (it can only stretch so far).
Overall
Another reviewer put a pretty low weight limitation on this chemise. Coquette also put a weight limit on this chemise.
I say screw it, I am 175 pounds and I rocked this. It's just a little short for me (like always).
I love it, and I am very happy to have it for such a cheap sale price.
Pictures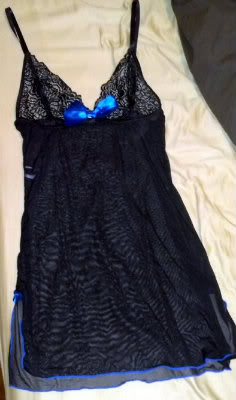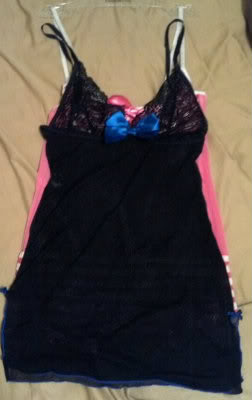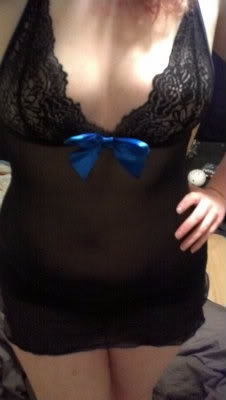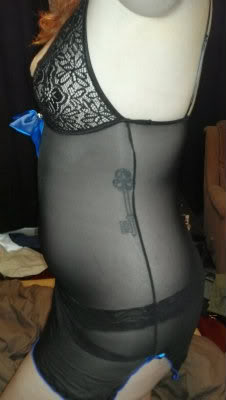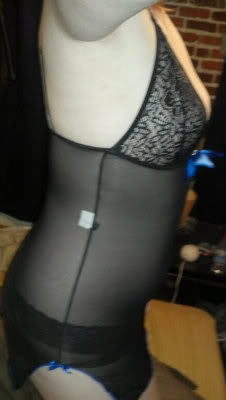 You can sort of see in these side shots how my breasts are a bit constricted by the cups.
This content is the opinion of the submitting contributor and is not endorsed by EdenFantasys.com

Thank you for viewing
Mesh and lace chemise
review page!