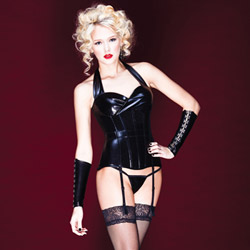 Wetlook bustier
Bustier
by Coquette
One Wet Woman!
The Darque Bustier by Coquette is absolutely gorgeous. Both the fetish faux rubber fabric and detachable garters are high quality, the only problem I could find was that it runs a bit large. Once you buy a product from the Darque line, I doubt you will want to wear anything else.
Published:
Pros:
Sexy Material, Gorgeous Appearance, Halter Top Style is Great for both Large and Small Breasts
Cons:
Ill-fitting, A Little Uncomfortable to Move in.
This wetlook
Darque
bustier by
Coquette
is absolutely gorgeous even though it looks nothing like the product picture. The shiny black fabric is sightly less reflective in real life although the fetish appearance of the outfit is still wonderful. I would suggest buying a size smaller as the bustier does run about a size larger than suggested in the
Coquette
size chart.
I will go through each of the pieces of the outfit in detail.
Garters-
Front Garters Fully extended = 8 inches, Back Garters Fully Extended = 5.5 inches
Front Garters Short as Possible = 5 inches, Back Garters Short as Possible = 3 inches
The garter's parts are made of plastic. I usually like them made of metal so they don't fall apart, but these look fairly sturdy. These plastic hook eye clasps will not rip even the sheerest of stockings. The garters are not made out of the same wet-look fabric as the bustier. I would have much preferred them to match in some way. However, they are detachable and can be worn with another outfit and if you want you can always pair a different style of detachable garter to your new bustier.
The Halter Ties
The halter ties are long enough to make an elaborate bow which is great for those of us with short hair. They run 34 inches long and 2.5 inches thick. It definitely draws attention to your neck! The fabric ties well and stays in place fairly easily. The breast portion of the bustier is made up of a piece of fabric twisted in the middle. The bra is padded and the halter does help provide a great deal of support. There isn't any under-wire to support larger breasts, but I do believe that the halter-style of this top will keep most breasts from escaping.
The Boning
This bustier has plastic boning, this is easily replaceable with metal, but if you love metal bones and don't want the DIY aspect I would suggest looking elsewhere. The bustier does not lace up and is not made out of a heavy enough material to keep a stomach pushed down. The
Darque Corset
looks as if it may be better at doing what the bustier does not. On the plus side, plastic boning is a great deal more comfortable than metal and won't rust.
The Fabric
The fabric is high quality, it won't tear or stretch. In the product photo it does appear to be a lot more similar to latex than it actually is. In truth it feels a little bit more like polyester than latex. On the tag it claims to be made from Nylon and Spandex, so it will stretch a little. The fabric is the reason I suggest going a size down. It will stretch to fit a larger size and this top looks way better clinging to curves rather than falling off of a body. The fabric is a little uncomfortable, as it is stiff, it is hard to move around in.
The Look
I think this entire line is wonderful. I have always loved
Coquette
and their Winter 2012 line was gorgeous. I feel like this
Darque
line followed with the same high quality fabric, amazing packaging, and overall appeal as most of their outfits have.
This is a picture of my front (sorry for the terrible quality, my webcam is my only camera). The front of the bustier tends to wrinkle up.
The back of the outfit has hook and eye closures, rather than a zipper. The hooks are solid black and look very much like bra hooks. There are 36 of them in total.
Cleaning and Care
This piece should not be placed in the washing machine. As the fabric is fairly slippery, I doubt it will stain easily. If it is needed, it can be hand washed and hung up to dry. Your best bet is to buy some lingerie soap.
This bustier will get very hot and warp in the sun, so I do not suggest leaving it where it is not kept cool and dry.
Experience
I think this outfit piece is absolutely gorgeous. I can tell why
Coquette
is such a popular lingerie line. The quality of the bustier is wonderful, but it runs a little bit large on me because, like I said, I should have ordered down a size. I wear it to fetish events and after I take it in a little, I will wear it to a huge BDSM Social in San Francisco next month. I am excited to go out on the town in this sexy top and I will update my follow-up review with other people's reactions to it.
Some Suggestions
One wonderful thing about
Coquette
is that when they come up with an outfit it fits into their entire seasonal line. This bustier is one piece out of their new line and you will be able to find many other
Coquette
pieces that will finish off your outfit perfectly. I chose to buy gloves before I bought the bustier and I am now waiting on the
Darque
stockings. Here on Eden Fantasy's a few things that would go great with this top would be...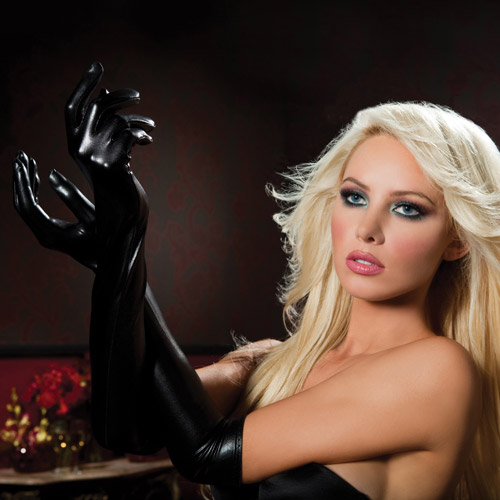 Lame Opera Length Gloves by Seven 'til Midnight
(which is a wonderful brand, these gloves are sturdy and their only con is the seam running down the sides of the fingers)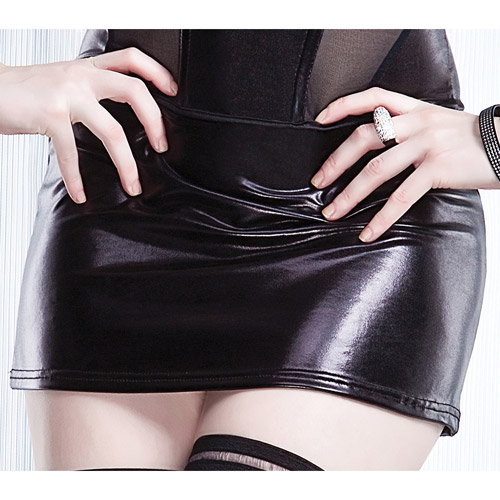 Darque
Line Wet Skirt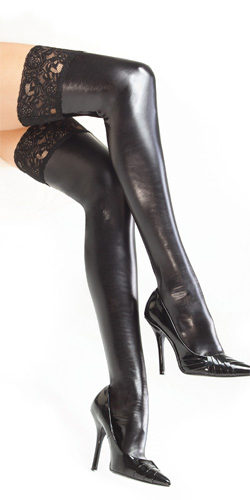 Darque
Line Wet Stockings
My Own Measurements-
I weight 130 pounds and fit into a 36C bra. I usually order a medium but with this bustier I wish I ordered a small because the fabric is very stretchy and the bustier is pretty large on me. Because it is a little to large the outfit doesn't emphasize any type of hourglass curve. I would suggest that this bustier would look best on less curvy gals although when I made some alterations to it, it ended up working just fine. (Take in the waist a little or wear a waist cincher over it)
My Measurements-
Bust measurement- 36
Waist measurement- 26
Hip measurement- 34
Cup size- C
The Bustier's Measurements-
Under the cups down- 10 inches
One cup measurement- 6 inches
The length of the straps for the halter top- 34 inches (this is great for tying fancy bows)
Bust across- 29 inches
Waist across- 29 inches
Hips across-34 inches (as you can see the measurements don't make the bustier look slimming at all)
Follow-up commentary
3 months after original review
This is still an absolutely gorgeous outfit piece. I love the way it fits and looks. This Wetlook Bustier is still one of my favorite corsets. The fabric has stayed shiny and "wet looking" for over two months now, I am impressed!
This product was provided free of charge to the reviewer. This review is in compliance with the FTC guidelines.

Thank you for viewing
Wetlook bustier
review page!