Dark, Sexy, Hot Wetlook Bustier
This Wetlook Bustier reminds me of catwoman! It is tight and very sexy on! I feel so hot in this piece! It is a great item in the wetlok collection, is made well, comfortable and I truly believe Coquette has a hit with this one!
Published:
Pros:
Comfortable
Sizing Correct
Comes with Garter Straps
Cons:
Hand Wash
No Thong/Bottoms Included
The Wetlook Bustier by Coquette is a super awesome bustier that has that sexy wetlook appeal. The Bustier comes alone, without anything, not even a thong... but I can see myself wearing it with either my
wet look shorts
or my
wetlook pants
.
Packaging: Typical Coquette style
The Wetlook Bustier by Coquette came in a sealed plastic garment bag on a plastic Coquette hanger. This seems pretty standard for Coquette. It is a nice way that they present and package the item. It is higher than the standard. I like that the garment bag keeps the item clean and free of dust.
I decided to reuse the packaging to store my bustier. It is now hanging in my closet with some of my other corsets and bustiers that I have from EdenFantasys. If you want to reduce wrinkles and snags, this is the best way to store it in my opinion.
The item had a tag attached to it with the models picture and the style (D9262), size (S) and color description (Wetlook Bustier Black). It was attached with a small safety pin that can easily be removed.
Items included: 4 removable garter straps
Made in China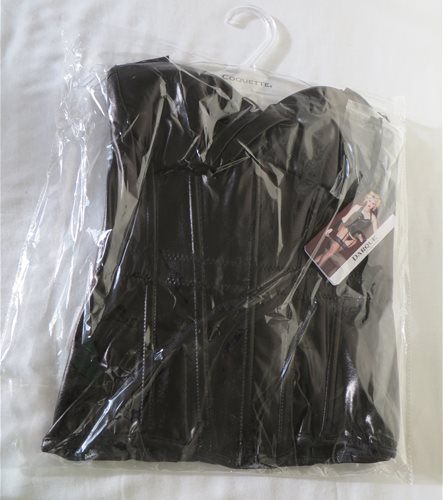 Care/ Maintenance: Be careful!
The care instructions for this item are listed on the product tag that comes with the item, but if you lose or throw it away, no problem! It is also conveniently on the inside tag too (which I didn't find uncomfortable enough to cut off!).
The suggested care instructions are simple: hand wash only, hang drip dry, and don't iron. I will be following these instructions 100% since I feel that washing the bustier in the washer would ruin the fabric quickly.
Like I said before, to maintain the product in the best way possible, I am hanging it in the closet. I suggest this, or laying it flat to keep the item in tip-top shape.
Size: Surprisingly correct for Coquette
This bustier is available in the sizes: S, M, and L.
The range of sizing is a little disappointing, since I feel that this item would look lovely on plus size women too. That being said, if you are in the L-XL range, I bet you could make the L work. As far as I've seen with Coquette, they run small. But for this item, I was pleased with the sizing – I ordered on the small size and it fit!
I am typically a size small-medium. I wear size 4-6 in dresses and jeans. I have a 34D bust. The rest of my measurement can be found on my
profile page.
With Coquette I have almost always gotten size medium. This time the medium was out of stock, and since a lot of items were being discontinued fast, I decided to take my chance on the small and make it work! I am glad that I did!
While I do have the fit in the biggest hook and eye closure spot, I am very comfortable wearing the small. I feel like this is a great fit, I can still move around and would even be worried the medium might be too big! The sizing on this runs correct, if not actually a bit big! (First time I've ever said that with Coquette!)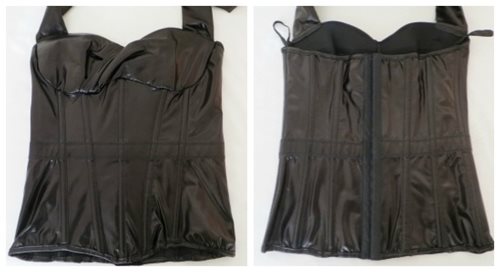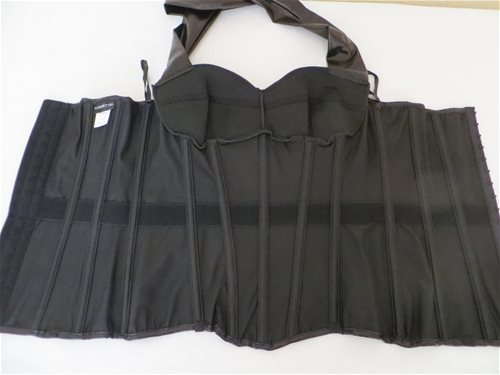 Measurements I took:
Laying flat bustier:
Top - 28.5 Inches (stretched 31 inches)
Middle – 27.5 inches (stretched 29 inches)
Bottom – 31 inches (stretched 34 inches)
Front top to bottom length – 13.5 inches
Back top to bottom length – 12.5 inches
Hook and eye closures - .75 inches apart
Garters adjustable range – 5.5 inches – 9 inches
Experience
Design/Shape: Naughty, Sexy, Cute
I love the design of this bustier. It is great for big busts! Everything from the tie to the heart shaped neck – I love!
Let's start from the front, shall we? The bust portion is heart shaped, semi-padded, and has a wrap-look to it. It is very flattering – even on my 34D – I am not popping out! The bust portion is well enough supportive, although there is no underwire. The bottom is slightly curved and comes to a V at the front. The bottom has an edging fabric that holds the piece together. The front is sliming and not too tight.
The bustier has some plastic boning through the bustier to maintain its shape. They are flexible and don't stand out too bad since they are the same fabric as the bustier. There is also a sewn in piece of elastic in the middle of the bustier. This is very stretchy and accommodating. The shape and the fabric allow for a roomy fit. The bustier is very flattering.
The back of the bustier has hook-and-eye closures running down the length of the bustier. There are 18 total. There are two lines of these, depending on the size you would like. I measured them at .75 inches difference to fit your body.
The garters are easily attached to the bottom of the bustier. They are simple and black. They can be adjusted and attached to thigh highs.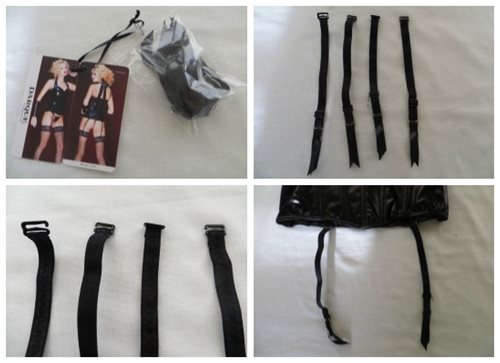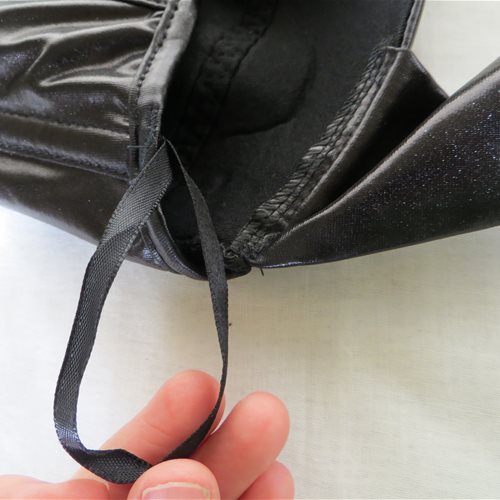 Material/Texture: Well made and a great fit.
There are a few fabrics that make up this lovely bustier. There is the wetlook fabric on the outside of the bustier, but also a softer fabric on the inside. The closures are sewn onto a different, softer fabric that feels nice on your skin. The bustier is very stretchy and has a lot of give. The boning is stiff, yet can move with your body and is a plastic material.
This bustier is very comfortable to wear and to touch. When the wetlook fabric is hot, it can be kind of sticky, so I am thankful the fabric on the inside is more comfortable to move around in. The materials are medium-weight, not flimsy or faulty. The item has strong seams and appears to be made very well.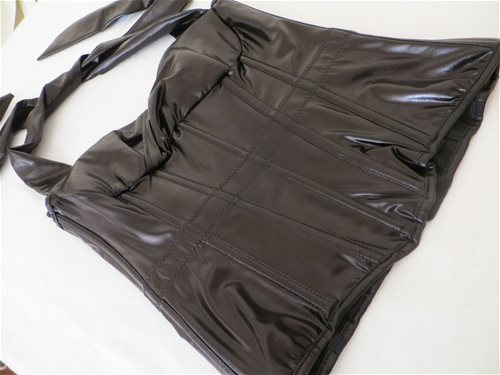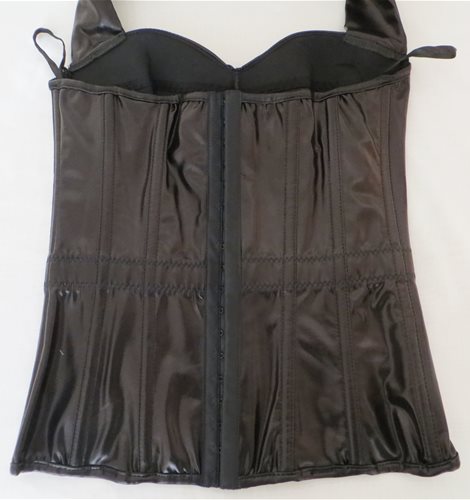 Personal Experience : So much love for this!
I love this bustier. I love the way I feel in it. I love the way it looks. It is one sexy piece that I surprise my partner with! It is fun to pair with my wetlook shorts and pants, but then again can be simply paired with some thigh highs – since the garters came included!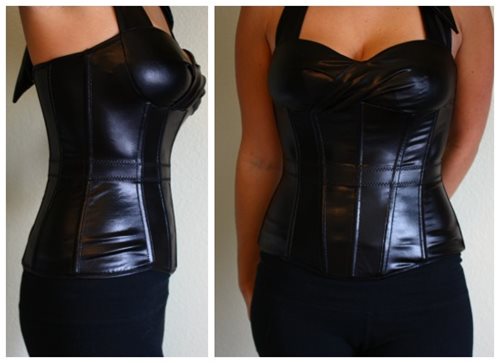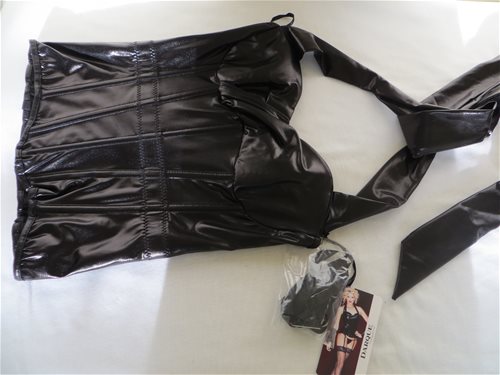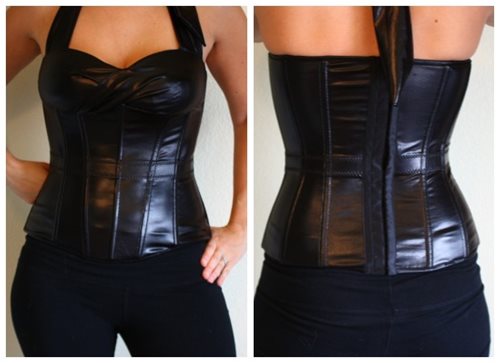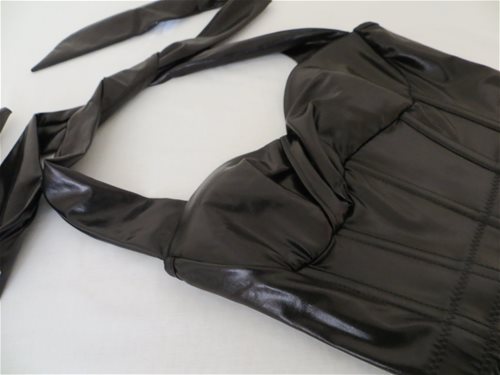 This product was provided at a discounted price in exchange for an unbiased review. This review is in compliance with the FTC guidelines.

Thank you for viewing
Wetlook bustier
review page!