Tiny, Tight, Shiny Legs
These cropped, flashy pants run about TWO sizes too small! But if you find your larger size and manage to fit into them, the options are endless! Halloween, 80's party, mini skirt, over-sized tee shirt or dominatrix! These shiny, hip hugging pants can be worn both inside and outside the bedroom!
Published:
Pros:
Sexy
Out of the bedroom wear
Cons:
Limited stretch
Packaging:
The Black Metallic Leggings by Espiral came in a nice sealed plastic bag with a small plastic hanger attached. You can remove the hanger and just have the bag, or keep the hanger attached. It is a small hanger, not like one you would hang in your closet, but one you would find on a store shelf.
I plan to store the leggings in a dresser drawer with other pairs of leggings and tights I own.
Made in Colombia.
Contents: Black Metallic Leggings
Priced: $24.99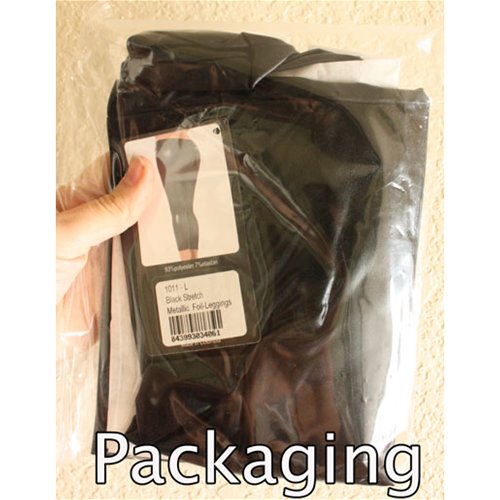 Care/ Maintenance:
The care instructions for this item: carefully hand wash only, drip dry, and don't iron.
I suggest folding nicely or even hanging. I shoved them in a drawer at first, and found that they wrinkle easily. This is no good since they can not be ironed! I let them de-wrinkle by placing them in a steamy bathroom for about 30 minutes - that worked!
Design/Shape/Size:
This item comes in the colors: magenta, black, sliver, gold, metallic, and blue.
It is available in the sizes: S, M, L, and XL. (I ordered the L)
Pattern: Solid color
I am typically a size small-medium. I wear size 4-6 in dresses and jeans. I am 5'4" in height, 32" top hip and 38" full hips. That being said I ordered the size LARGE based on the reviews. I feel like this size was a good fit, but it bugs me I had to order such a bigger size than what I typically wear. Since I am a small-medium and felt the large fit me well, I feel like the biggest size (XL) might accommodate only up to a medium-large person. That is ridiculous to me!
If you don't get the perfect size, they will probably let you down. They don't allow for big thighs or tummy. If you have love handles you might get the "muffin top" look.
The leggings feature a low rise waistband that is thick and comfortable. The top band gives off the yoga style look. The waistband looks like yoga pants, but is not anywhere near as stretchy! The waistband does not have any more elasticity than the rest of the pants. It is simply the material folded over itself to make a thicker looking band. It looks nice, but might not work for everyone's different tummy sizes. The waistband is sturdy, but not very accommodating.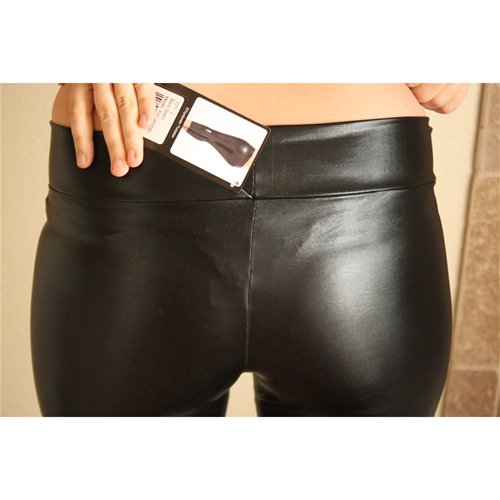 The style of the pants are cropped legs. The bottom ends mid-calf for a capri-style look. I love where they crop. I think they are cuter with a little ankle showing than if they were full length. I mean, for goodness sakes, they are already shouting the metallic fabric!
Speaking of the metallic, they are definitely WOW! I have the gold color as well, and the black are more mild compared to those, but they are still very bold! They are like 80's hot pants! They are tight, sexy and a bit wild! They are VERY SHINY and similar to the "wet look" lingerie.
To put this item on: Just put these leggings on like regular pants, but beware they don't have much give.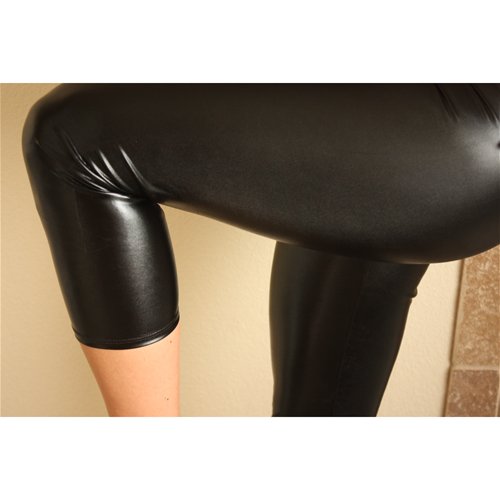 Material/Texture:
Material: 93% polyeser 3% elastan
The material is not very breathable. Odd kind of stretch - not spandex-y but tighter. I was disappointed in the material's stretch factor, a less stretchy, thicker, less-giving kind of stretch.
Despite the awkward stretch, the fabric and stitching feels very durable. These pants are made well and the sturdy fabric can be tugged on without breaking or damaging.
The texture is very smooth when you run your hand against it. With a little moisture, it can be a bit sticky though (similar to the "wet look" in this way).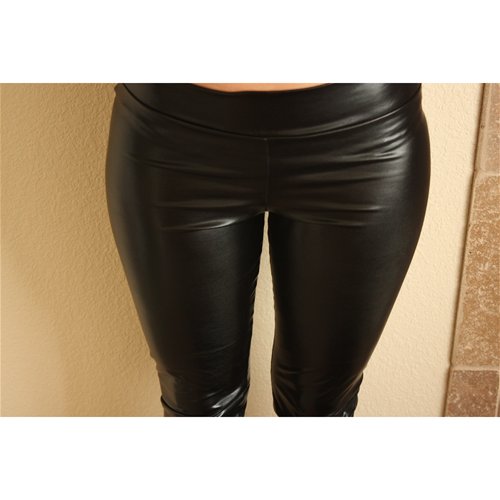 Experience
Personal Experience:

I am not in love with the fit of the pants, especially on a "fat day" when "muffin top" occurs. I would like a little more give and forgiveness, like yoga pants. I also am not thrilled about seeing my panty line either (clear in the butt picture - you can even see the tag! Sheesh!) But all in all, I can cover the pant top with a mini skirt or an over-sized shirt to hide the tight top flaw.

I am a little worried that eventually the pants will take all the stretch they can handle and will be permanently stretched out and not return to the original form. I just get that feeling from this fabric. I will update you on this!

I do like that the pants make me feel young and wild. They are very 80's style to me, and would be a great cropped pant for an 80's party. Or what about a clubbing outfit with a one shoulder shirt - yes? Not to mention there are a million options for halloween costumes!

These low ride pants are versatile to the max - especially with the multiple color options - in and out of the bedroom!

Conclusion: ★★★
Follow-up commentary
5 months after original review
These pants have held up well. Surprisingly they haven't stretched out too much in the legs, but the waist is a little stretched. I've worn these with long tank tops or a loose fitting dress, so the top isn't that big of a deal. Since Summer started, I haven't worn them at all... it is just too hot for this non-breathable fabric. Overall, they are still fun leggings meant for the colder seasons!
This content is the opinion of the submitting contributor and is not endorsed by EdenFantasys.com

Thank you for viewing
Black metallic leggings
review page!