My Painted on Pants
The Metallic Leggings by Espiral are comfortable and stretchy but they seem to ride a bit low in the back. I have a bigger bum so this might not be a problem for everyone. I was happy with the amount of stretch the leggings had because they fit my larger hips, thighs, and legs well. The metallic look isn't for everybody but if you're into the style, I'd recommend them.
Published:
Pros:
Comfortable, stretchy, variety of colours available, opaque.
Cons:
Top back sits a bit low (on me), no larger sizes available, underwear lines.
The Metallic Leggings by Espiral are available in a variety of colours: black, silver, metallic, blue, and magenta. The leggings are available in sizes S-XL. I purchased the black leggings in size XL. I got them to wear beneath a long shirt or short skirt.
The pants arrived in a clear plastic packaging. There is no text or photos on the bag. The packaging is not ideal for storage. I just keep my leggings in a drawer. Inside of the package, the pants are folded and wrapped with paper wrap. There was a cardboard tag attached to the pants that had a front and back view photo of a model wearing the leggings. It also stated the company name, product name, size, colour, and material composition.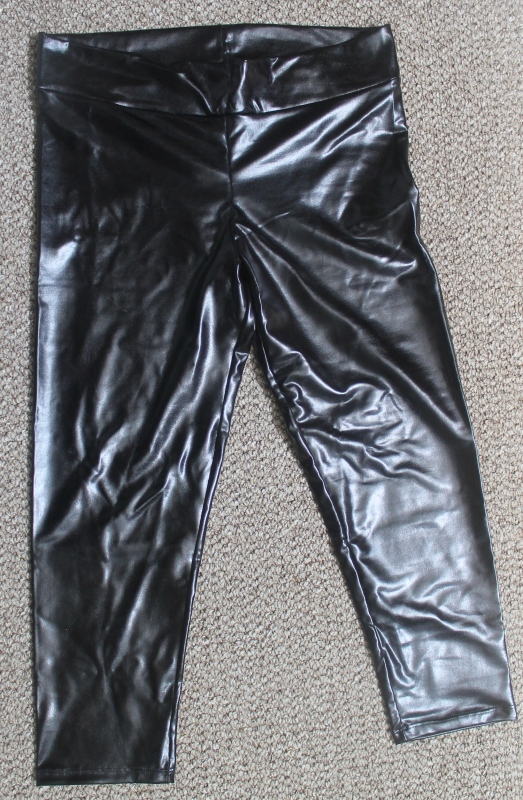 The leggings are 93% polyester and 7% spandex. The material is opaque and has quite a bit of stretch to it. The material does not become sheerer the more it is stretched, making them perfect to wear out in public.
I've taken a few measurements of the leggings laying flat, unstretched. If you need additional measurements, send me a message and I will get them for you.
Waist unstretched: 15 ½ inches
Waist stretched as much as I could: 26 inches
Length of leggings (taken down side): 31 inches
Length from top of waistband to bottom of crotch: 9 ½ inches
Width of bottom of leg: 5 ¾ inches
The leggings are solid black. These leggings remind me of the Wet Look Capri leggings that I have. The difference is that the Capri leggings go just below the knee while these leggings go a bit further. Where the bottom of the legs fall on you will depend on how long your legs are. You can figure this out by looking at the measurements above. The length can be stretched a bit as well.
At the top of the leggings there is a waistband that is a double layer of the wet-look material. The band goes all the way around the top of the leggings and has a length of 2 ¼ inches.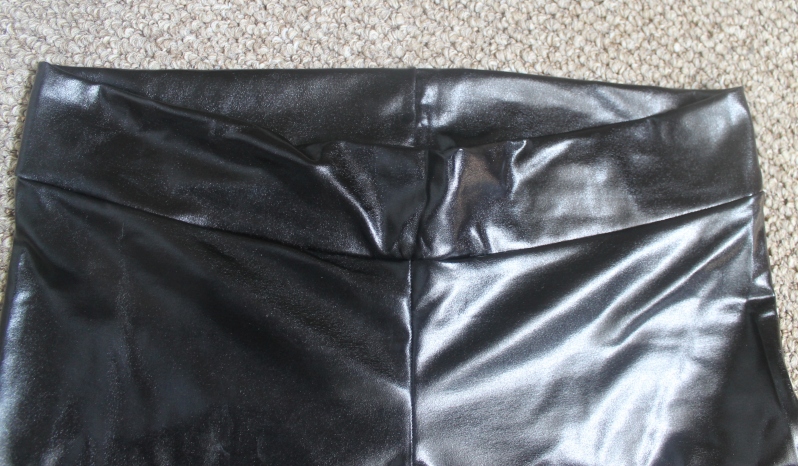 I'm 5'6 in height and have thick thighs and legs. Like I had mentioned, I purchased the pants to wear beneath a skirt that I felt was too short or beneath a long shirt. I find that the wet-look can sometimes make my already thick thighs appear even thicker. The leggings could be worn with a tank top or similar item though. I'm just personally not a fan of the way my big bum and thighs look even bigger in them.
On my body, the bottom of the leggings sits half way between my knee and ankle. They're easy to put on and they don't stick to the legs. They are rather tight though so I probably wouldn't wear them out on a hot day just because they don't feel breathable. When I first tried them on, I thought to myself "wow it looks like I've painted a pair of pants onto my body". Below are a few photos of the pants being worn.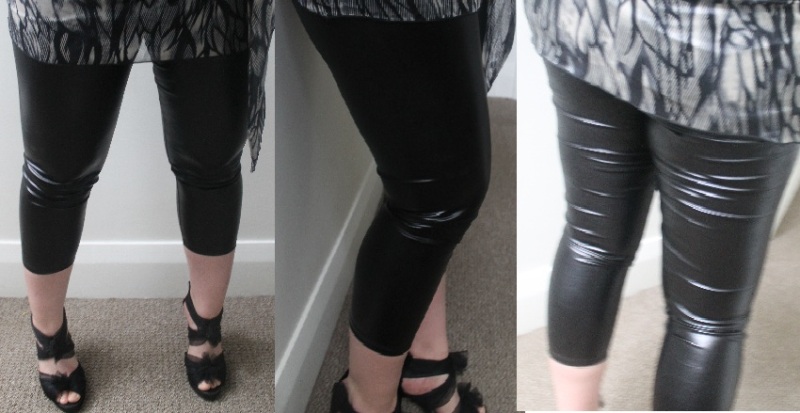 The first photo shows you a front view, second is a side view, and third is a sort of back view. You can see in all of the photos that the pants do wrinkle a bit while wearing them. Also, with the pants being so tight, underwear lines can be seen through the material.
The pants stretched to fit nicely on my legs and hips. I didn't really have any muffin top but I did have to keep pulling the pants up so that my bum crack wasn't exposed. I guess my bum is a bit too big for the pants. Since I'm wearing the pants with longer shirts or skirts, it's not that big of a deal to me. If I were wearing a shorter shirt with the pants, this would be a big problem.
I found the leggings to be pretty comfortable to wear other than the top back trying to expose my bum. The material is comfortable against the skin. If the pants weren't so stretchy, I probably would not have been able to fit into them. Luckily, they stretch to fit me without feeling tight or restricting. The leggings should be hand washed and hung to dry. They should not be bleached or ironed.
Overall, the pants are comfortable and stretch to fit me nicely. I've deducted one star from the rating because I have to keep pulling the back up so it doesn't expose the bum crack. This could be because I have a big bum though. Other then that they're a nice pair of leggings.
This content is the opinion of the submitting contributor and is not endorsed by EdenFantasys.com

Thank you for viewing
Black metallic leggings
review page!