Love my leggings!
I am really glad that I bought these leggings. If you are interested in them, why not get a pair. They come multiple colors, and they are a fun, sexy addition to any outfit. I love the way they look on me, and since I got them in black, they go with everything!
Published:
Pros:
Can be worn any number of ways, very sexy, comfortable, stylish, come in multiple colors
Cons:
Tag shows gold leggings (not sold on EF), ride down a bit, panty lines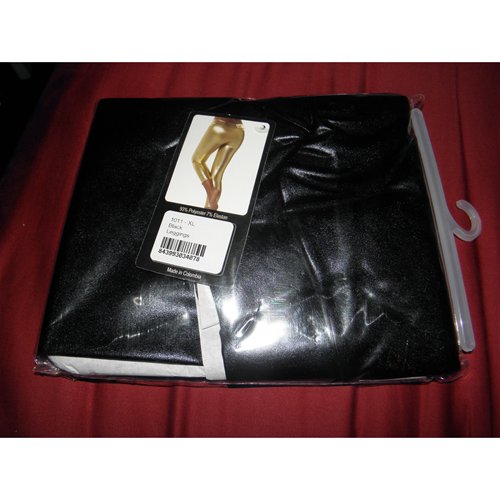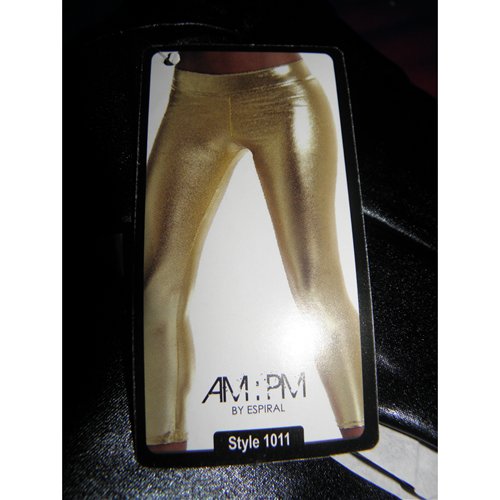 These leggings come in a plastic sleeve, with a tag on them that shows this same pair of leggings in gold. This instantly stood out to me, because EF has no gold leggings available. I had looked before, and found none, so you will not be able to find the leggings shown on the tag from EF.
One thing that I read about these before buying them is that people were ordering them in a size up from what they usually wear. I would recommend that with these. I generally wear a size large, in tops or bottoms. My measurements are about 38 inches for my bust, 30 for my waist, and 38 for my hips. According to the Espiral size chart, their large would fit a 38-29-38. Their xl is supposed to fit 40-31-40. However, I am happy that I got these in an extra large, I think that the large could have ended up being a bit too snug, or could have ridden down too much. The extra large fits me comfortably, It could be a tiny bit tighter in the waist, to prevent me from feeling that they ride down ever, but that could be prevent easily, or they can just be pulled up. They really don't ride down too much, and I would not say the waist is "loose". It fits snug, but comfortably. I would describe these leggings as "fitted" - not tight, because they are not uncomfortable. They will definitely show off your shape, so in that sense they could be seen as "tight". But when I think of something being "tight", I think of something that doesn't fit comfortably or properly, which is not at all the case with these.
I am tall, so I was a bit worried about the length of these. As it says on the product page - back rise: 10.5", front rise: 8.25" and inseam: 22.5". I would generally go for something that reaches my ankle, which usually means about a 33" inseam at least, but I made an exception for these. For one thing, I just loved the look of them and thought they'd look great on me (which they totally do, I am not disappointed). But also, I generally wear boots, so I figured that these would at the very least, reach below my knee, and I could wear sock with them, and boots, and everyone would be none the wiser about their length. I figured that they would end up looking just the same as any other bottoms I would usually wear with boots, and the rest of my leg would be covered by the boots. ...Sure enough, these look GREAT with my boots! I love them. The leggings reach about the middle of my calf.
I have the Wet Look Zipper Leggings, but I don't feel comfortable wearing those out generally because of the zipper that goes from the front all the way up the back. With these, it's just like those, but without the zipper. I can wear them out, and feel comfortable in them.
One thing that I should point out is that you may end up with some panty lines with these, so that might effect your choice of underwear when you wear them. Something seamless, or a thong if you are comfortable with them, might be best. I often wear cotton boyshorts, and they gave me some faint panty lines but really bothered me at all, didn't make me feel a need to change my underwear.
The material is 93% polyester, 7% elastan. Surprisingly, the material is a lot more breathable than one might think. I can wear these all day, and I don't really feel like I have to get them off of my body when I wear them. They don't leave me feeling sweaty or gross.
As for care, I washed these inside-out in a washing machine with a load of laundry, and they looked as good as new when they came out. I would not iron these or put them in a dryer, though.
Experience
I had been considering getting Coquette's Wetlook Capri Pants, but I ended up getting these because I believe those were out of stock at the time. They both looked pretty similar, and I think I could end up getting those at some point, just to compare the two leggings. I have other items from Coquette's Wet Look collection, and I love them. One nice thing about these leggings is that they match any of the items from the Wet Look collection!
I have to say, I think these look great on me. I am very happy with them. My partner noticed them on me the first day I wore them, and it seemed he couldn't help but grab my ass. And well..for me, that makes them even better. Really though, these are very flattering to my bum. I love the way they fit and look.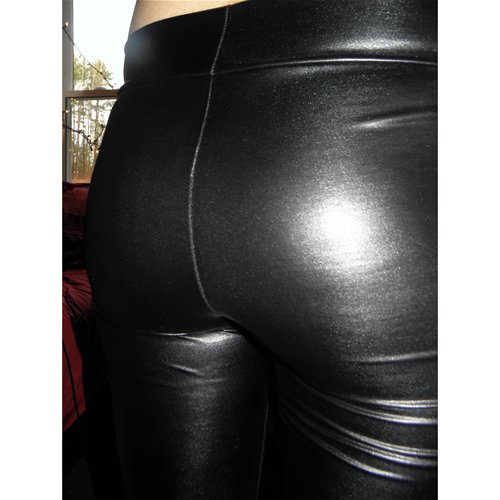 He personally isn't a huge fan of this sort of material, he said that while it looks good on me, he doesn't the feel of it on his skin. He said that materials like this can drag or stick to skin. I ended up on top of him, wearing these, while he was laying on my bed, and when I moved they peeled off of him a little and he said something along the lines of, "That's what I mean". The inside of the leggings is not the same material as the outside, so don't worry about them sticky to your legs. Also, I know that this sort of material cna get scratch marks on it easily if something drags against it. I haven't noticed that being an issue with these, thankfully. I ended up feeling my nail drag and scratch the material, and was afraid to look. I had a moment of, "Oh boy...there go my brand new leggings. Now they're going to have a scrape mark on them that will never come off." But when I looked, there was nothing there!
I'm tempted to get these in another color. I'm not sure how often I would end up wearing any of them, since the others are so flashy compared to the black. Though, I was thinking of maybe getting them in blue or metallic, maybe dressing up as David Bowie. These are definitely a little bit glam rock!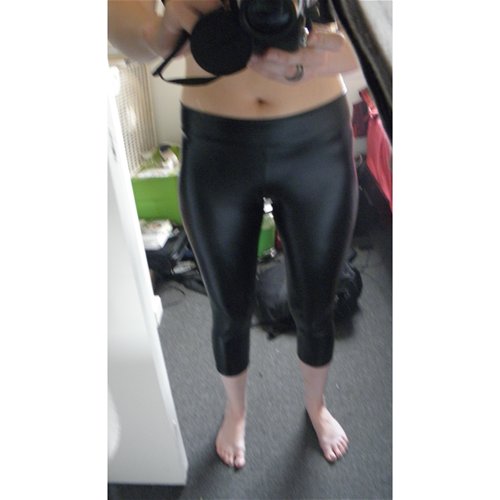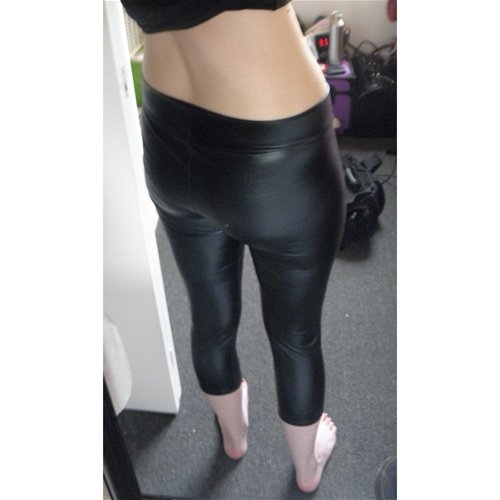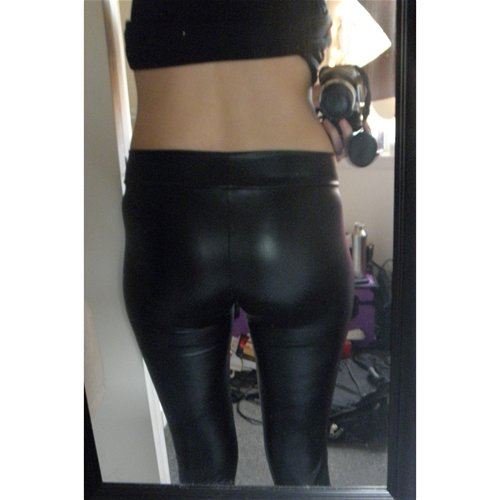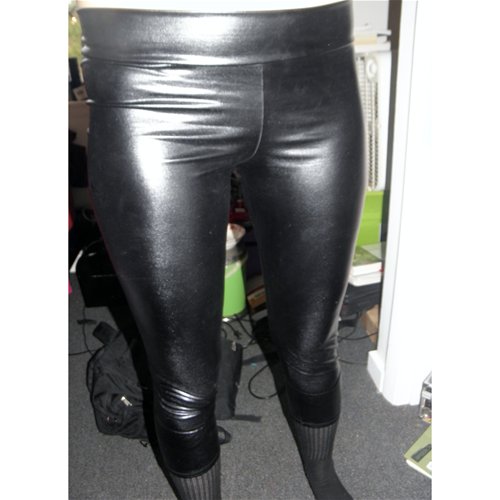 Follow-up commentary
1 month after original review
These are great, still quite happy that I got them. I'm still considering getting them in another color, but I'm really not sure how often they would get worn in any of the other flashier colors that are available.
This content is the opinion of the submitting contributor and is not endorsed by EdenFantasys.com

Thank you for viewing
Black metallic leggings
review page!