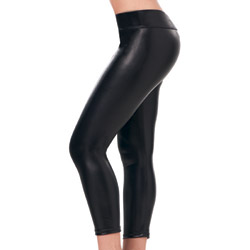 Black metallic leggings
Leggings by Espiral
Tell Me 'Bout It, Stud
Beware bigger bellies! Although this cute pair of leggings are versatile and quite cute, they run small and are fond of creating muffin tops. They add little something different to to your wardrobe, but I just wish that they ran larger or offered larger sizes. There's enough stretch in them to wear comfortably for a long period of time, but the sizing presents problems that make them annoying in the long run.
Published:
Pros:
Somewhat Flattering, Nice texture, Decent stretch
Cons:
Run small, Could have more stretch
If you're a fan of the last scene of Grease, these leggings are worth checking out.
Overview:
These little leggings are shy to stretch, but once I get them on, I feel tucked and ready to find something cute to wear them with. Espiral could've done a better job constructing them, but for what they are, they work well enough to pair with a long shirt and boots or basically anything in my wardrobe. If you think outside the box of wearing these as just clothing, they could be paired with a sexy lingerie top or worn as part of a costume. The black foil-like material is reminiscent of wet look accessories, so they're unique in that aspect and are offered in many other metallic colors. Choose which one you like best, or all of them, and you'll have a great pair of leggings that go well with a lot of outfits.
Material:
The material is a blend of 93% Polyester and 7% Elastin, a variation of Spandex. These materials are helpful with stretch to compliment your figure. However, they don't stretch the way a ballet leotard or bike shorts will, but it's a tighter stretch with less give. When you run your hands over the material, it's slick, but has a little drag to it. I find that my long nails, when pulling these up, tend to scuff the material a little, but the marks aren't obvious or bothersome. One of the great things about this material is that it doesn't stretch out easily and when you've worn them for a while, they tend to keep their original shape/size. My leggings have to stretch quite a bit to fit my ass and stomach, so it's great that they don't become too big on me by the end of the night and still cling to my skin. Something note worthy is that this material, like the wet look material, mimics the feel of leather and for that reason, isn't very breathable. The material could be ideal for a colder day, as it retains body heat and hugs your skin. I layer knee length socks over these leggings and they keep my legs extremely warm.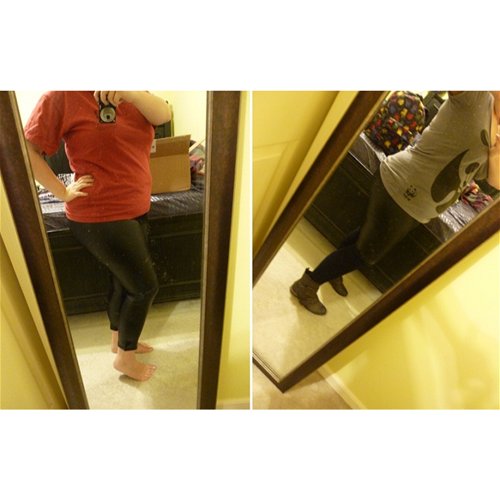 Design/Fit
I'd suggest ordering up a size from what you normally wear. If you have a larger tummy like myself, the band at the top can be pulled over it and will tuck you in pretty well; until you sit down, bend over, or move. I ordered an XL and was pretty disappointed with how much work it took to get them on. They weren't made to do any kind of concealing for those of larger size, and I don't know why they bothered considering the XL size an XL. These definitely run on the smaller side. They do fit my 170lbs, but I have to mimic the process of putting pantyhose on when I pull these up. I grab the material on my calves in a pinching motion and slowly pull it up, and eventually, they cover my ass completely. However, if I go to sit down, it's all downhill from there.
My Measurements:
Height - 5'0 ft
Weight - 170-175lbs
Hips - 42"
Waist - 39"
I'm also a bit under the height required for these to look like capris on me. They just look like pants with my ankles showing, so I manipulate them and pull them up a lot so they look as they should. I feel if there weren't the problems with the pants rolling down that I would feel extremely comfortable wearing these out for a long period of time. I like the overall feel and they're slimming as far my legs go, but they just aren't built to hold extra weight. The material is thin, but decent enough to feel like these are a sturdy pair of leggings that won't fall apart after a couple of wears.
Care/Maintenance:
Don't use bleach or hot things on the material, as there's a high risk of it melting and creating a gross mess. Hand washing these is what's instructed, and I'd suggest with cold or warm water only. I hang them to dry and they've held up well with caring for them this way. You can choose to hang them in a closet or fold them in a drawer for storage.
Packaging:
The packaging is simple enough. The leggings come folded and wrapped in clear plastic casing with a plastic hanger at the top. Attached is a tag that shows the size and a picture of the product. There's also tissue paper in between the pants to keep the material from sticking together or melting in hot weather.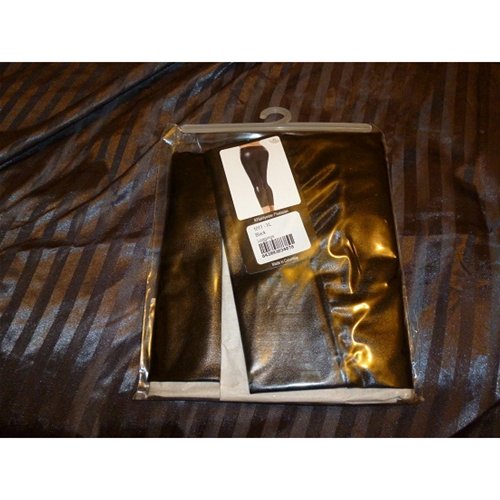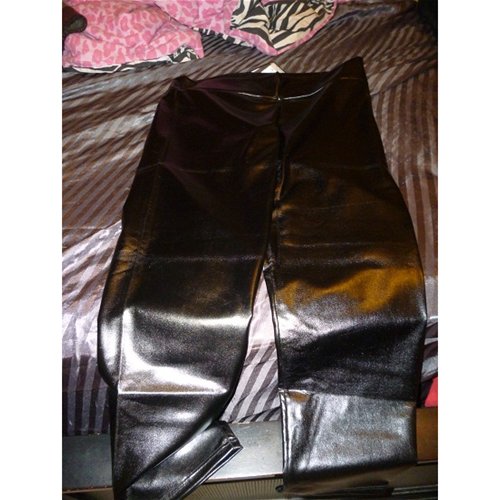 Experience
I would love these a lot more if the band at the top had a little more durability and didn't roll down constantly. This might have more to do with my size than the actual make of the pants, though. They obviously have a lot of trouble accommodating my weight. They aren't the best made pants in the world, but they're decent enough for me to lose about 20lbs and try again. Right now, they give me more of a muffin top than anything I've ever worn and fall down below my love handles, so I just don't feel comfortable wearing them out. I generally pull my jeans over my stomach and love handles and it gives me the look of being far thinner, and I prayed that when ordering the XL, these would allow me to do the same. Because they hug so tightly to skin, they do conceal my love handles when I pull them up far enough, but the band rolls right back down and shows half of my ass when I sit or bend over. This isn't cute at all.
I think I like these enough to give them 3 stars because the material is interesting without being overstated and flashy. The other color options make me think they're suitable for more of a costume look, and the black are the least flashy of all of them. I also like that they're more suitable to wear during winter and keep my legs warmer than some of my jeans when I'm out.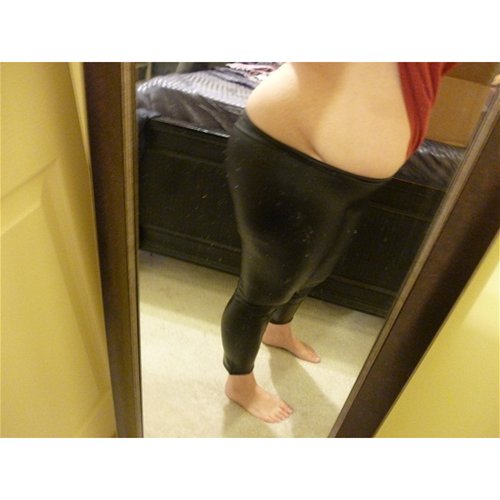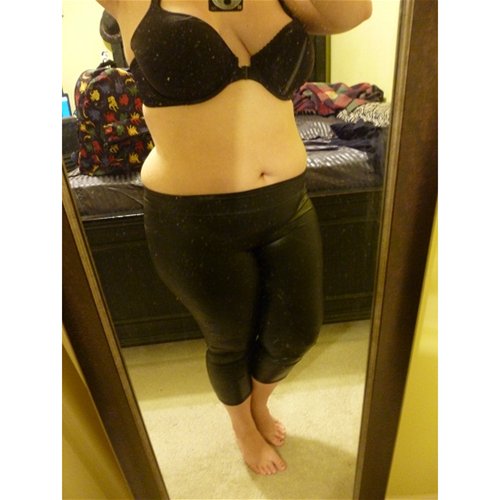 Follow-up commentary
3 months after original review
I haven't worn these out since I tried them on the first day. I still love the material and overall look, but I just can't justify having to pull up the waist every time I sit down because there's no real waistband at all. I love the look and feel of them overall, so I think I might deal with them being uncomfortable soon and just wear them out for an hour or two. I'm keeping them around until my weight better suites the fit.
This product was provided at a discounted price in exchange for an unbiased review. This review is in compliance with the FTC guidelines.

Thank you for viewing
Black metallic leggings
review page!