Perfectly Feminine, but Very Loose!
This is a stunning bustier. The color combination is beautiful and unique and the lacy, ruffle trim as well as shirred panel adds such a feminine and pretty look. The bustier runs large, so it's not tight, but there's loose baggage that shows. The fit could've been a lot better.
Published:
Pros:
Gorgeous.
Great quality.
Comfortable.
Cons:
Too large/loose.
Cups too far apart.
The bustier comes with a matching thong and garters.
Decoration/Design
The bustier consists of three colors -- burgundy, light pink and even lighter pink. Burgundy trim lines the front, on either side of a shirred mesh panel as well as on the cups and very bottom, where the lace and mesh ruffle is.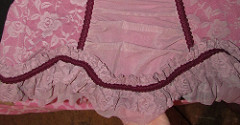 The entire bustier is a pink with lighter pink lace overlay, except for the front mesh panel and an area on the cups, which also consists of a shirred mesh. The lace has a rose pattern.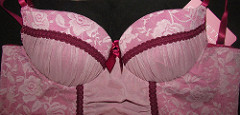 The cups have the shirred mesh on the bottom portion of them, then you see the burgundy trim, and above that trim, at the top of the cups is where the matching lace overlay is. My photos will explain this better.
There's a satin burgundy bow between the cups. A layer of lace (matching the overlay on bustier) and a layer of mesh (matching the shirred mesh portions of bustier) as well as burgundy trim line the bottom of the bustier in a gathered form, making a ruffle.
There are 6 flexible plastic bones and a black elastic strip runs across the inner bustier (shown in photos) Coquette items usually have this elastic, so I suppose it's supposed to give you some type of support there, but it's never done anything for me. It may be there to cause some sort of hour-glass shape.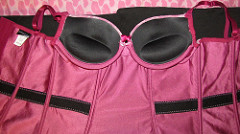 The cups have underwire, are very padded and even have push up (shown in photo.) The bustier has 2 rows of hooks with less than half an inch of space between the rows, and one row of eyes. The non-removable straps are burgundy bra-like straps.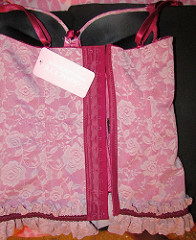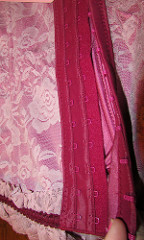 Bustier's Measurements
(Including the 3" lace trim at bottom)
Size: Small
Lace trim: 3"
Length From top of cup to hem: 15"
From between cups to bottom: 14"
From top of back to bottom: 14"
Width straight across, bustier opened: 26 1/2"
Across waist: 27"
Across hip: 29"
Very bottom: 30"
[boldMy Measurements]
Jean/shorts/size: Zero
Weight: 93lbs
Height: 5 2"
Waist: 26" Lower waist. Where I'm a bit wider, the love handle area: 29"
Thong
The matching thong is your typical Coquette thong, which is kind of unique in the way that the back is designed. I think they fit better and dig in less. It's pretty and fits okay, bu is very tiny, so it barely covers my crotch. It's just a see-through pink lace rose pattern (matching the overlay on bustier) and has burgundy trim. It's surprisingly comfortable. No crotch-liner.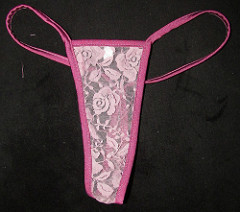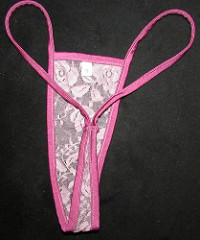 Thong's Measurements
Width at very top front: 3 1/2"
Width at actual crotch: 2"
Length in front: 6"
Length in back: 5"
Thong (butt part) width: almost 1"
Waist: 11"
Garters
9" at longest, 6" at shortest.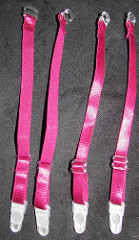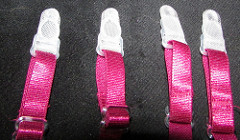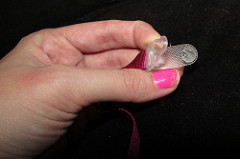 The garters are burgundy just like the bra straps and have clear slidey-adjusters and clear flexible clasps, which make attaching them to stockings much easier than plastic ones.
Experience
Material & Care
Made in China. 100% Nylon (exclusive of trim.)
Handwash only. Hang to dry.
As shown in my photos, the lining is a satiny burgundy, which makes this very comfortable to wear and keeps you from overheating. The bustier is very comfortable, especially considering how loose it is.
Fit (on me)
In some of my photos below, especially the ones of the side, you can kind of see the baggyness of the bustier. This small doesn't fit like a small at all. It's at least a medium, so for those of you who are close to my size, expect this to run slightly large. It wasn't so large that it wouldn't fit me nicely, but it's so baggy and it shows. Another issue for me is the cups are too close together. As I mentioned there's 1" of space between them. Had it been able to go tighter in the back (the hook and eyes) I could've gotten the cups to fit closer to my breasts. Packaging
This comes in clear plastic cellophane with "Coquette" printed in gold. You can slide it back over the bustier when storing if you wanted. There's a tag with somewhat obscene, tacky photos of a person wearing it, but they can be cut off. That tag and the bag holding the garters are attached to the bustier via a safety pin. You can cut the tag itself and remove it from the safety pin to make this gift-worthy.
This product was provided free of charge to the reviewer. This review is in compliance with the FTC guidelines.

Thank you for viewing
Vintage Rose bustier and g-string
review page!