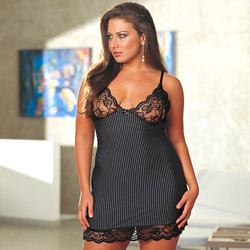 Pinstripe chemise and thong set
Chemise and panty set
by DreamGirl
Pinstripe Pin-Up
This is my new favorite sleepwear! This stripey set from DreamGirl shows off your assets while hiding any figure flaws. Pretty close to perfect!
Published:
Pros:
Comfortable, flattering, comes in a wide range of sizes
Cons:
Panties too large
The Basics:
This stripey set from DreamGirl comes with a chemise and matching panties. The bust area of the chemise is made of super soft black lace. Although the lace still leaves some things to the imagination, it does tease a little by letting your lover catch a peek at your nipples if they are positioned just right. There is a tiny black bow with a rhinestone in the center of the bustline, which is a nice girly touch without being over the top. There is no underwire or any form of support built in, but this still manages to flatter my boobs and keep them held in place pretty well.

The majority of the chemise is made of a soft, flowy fabric (90% polyester, 10% spandex) that is nice and stretchy, and breathes well. This is one of the few lingerie items I have that is both super sexy AND super comfy! Other than the see-through lace triangles covering the breasts, this is a pretty modest piece. I'm tall (almost 5'11) and it actually comes down to the same length as a regular skirt on me. Did your high school have the rule that your skirt's hemline had to be at lest as low as where your fingertips reach when your arms are down by your sides? That's exactly where this falls on me. If you're shorter, it may be as long as knee-length, though. You could easily get by wearing this when you have company over if you add a bra underneath.

The straps are just like bra straps, stretchy and adjustable. I love that I didn't have to make them super tight or uncomfortable to get some support for my boobs!

This is a really nice quality set, totally worth the price. The fabrics are both beautiful and comfortable, and it is well put together. It should last for several years with good care.

The care tag suggest hand washing and line drying.

Although you could keep this chemise on during sex, I don't think I'd be very comfortable doing so since it is so long. However, if you are especially body-conscious, this would provide a lot of coverage and easy access at the same time.

This set is VERY similar to DreamGirl's Sexy Pinstripe Chemise set. The only real differences is that the other set has a built-in underwire and solid cups instead of the lace, is a bit shorter and has pink ruffles.

This set is available in S/M, M/L (Although EF doesn't seem to carry that size?), 1X/2X and 3X/4X. Although I've only seen this on myself and the pictures on the site, I'm pretty confident in saying this is going to flatter pretty much any body shape or size! No, it isn't kinky or scandalously sexy, but it is sexy in a more subtle way!
Experience
Sizing:
I ordered the 1X/2X which says it fits sizes 16-18, D-DD cup, 40-48" bust, 36-40" waist, 42-48" hips, 165-225 pounds. I'm 5'11", 38 D, 34" waist, 41" hips, 160 lbs, size 13/14. Despite being below pretty much every category on the chart, this fits me almost perfectly. The elastic band that runs around just below the bust is a little saggy- I wish it were tighter so I'd have some bust support. The bust area fits my boobs perfectly, though, and the rest of the chemise skims along my curves without being too clingy. I have a large D cup, and they have plenty of room. You could probably fit larger breasts pretty easily by just adjusting the straps a bit.

Although the fabric is loose and flowy, it does hug curves, so on anyone much larger than I am, you're probably going to get more of a spandex-clad look than a flowy gown. If you're unsure about sizes, I would suggest going a size up.

As almost always happens for me, the panties are way too big. In general, DreamGirl's size large panties fit me perfectly, but I have to order 1X/2X to accommodate my more ample upper body, so I am left with several pairs of too-big panties. When I ordered the Sexy Pinstripe Chemise Set (also by DreamGirl, listed in similar items at the bottom), I found that with a needle and thread and about 10 minutes, I was able to take in the panties enough to make them cute. However, those had lace ruffles to hide my alterations, so I'm not sure if I can get away with the same on this pair, since they are just pinstriped with no embellishments.

Although they're too big for me, the panties are really nice quality, made of the same fabric as the chemise and lined in the crotch. The smaller side (I'd consider it the front, but this is where the tag is, so who knows?) measures 4" across, and the larger side is 5 and a half inches across. The area where the crotch liner is runs from 2-3" across. Laid flat, the waistband measures 16" across, and stretches up to about 26", so they'll fit a pretty wide range of sizes. Although they'll stay on me without falling off, they give me a serious case of the droopy drawers. Maybe in my next life I'll have an ass?

If you start measuring where the pinstripes start below the bust, it is 22" down to the hem. The bust area is about 10" tall from the bottom to the tip of the triangle, and almost 10" across the base of each triangle. Unstretched, the elastic band that runs below the bust measures about 36" around, and will stretch to accommodate at least 4 more inches easily.

This set is GREAT for travel because the fabric doesn't wrinkle. Just roll it up and toss it in the suitcase!
Follow-up commentary
2 months after original review
This is still one of my favorite lingerie pieces I've ordered from Eden to date. I've hand washed it in the sink, and it still looks like new. Probably the comfiest sleepwear I own!
This product was provided at a discounted price in exchange for an unbiased review. This review is in compliance with the FTC guidelines.

Thank you for viewing
Pinstripe chemise and thong set
– chemise and panty set review page!