Smooth Criminal
Believe me when I say that this has to be the most comfortable piece I have ever found. The thin pinstripes helps make you look thinner and taller. While it may embrace your curves, it will not flaunt your flaws. The material is so comfortable and silky that I love sleeping in it all the time. I also love to wear this while doing chores when my husband is home. The lace detailing is beautiful. The material does not stain very easily, and it is does not attract animal hair! I heart this chemise.
Published:
Pros:
Extremely comfortable, Slimming, Soft and silky material, Lace cups, Adjustable straps, Stretchy
Cons:
Not enough breast support for some, Thong is comfy but not really my style
I just want to start off by saying that I did not believe those who raved about how comfortable this chemise was. When I first touched the body of this lingerie, I almost moaned and sighed. It was so silky and soft to the touch. I instantly knew that this would become a staple and a favorite of my husband's as he prefers silky lingerie. I prefer lace, so this lingerie has the best of both worlds for us. I was still skeptical. I can't tell you how many times I have loved the fabric, but it did nothing for my body type. As I slid this piece over my head, it enveloped my body like it was made for it. I have never had a piece of lingerie make me feel this sexy and slim before. It did not add to my curves, it flaunted what was already there. I cannot speak highly enough of this chemise.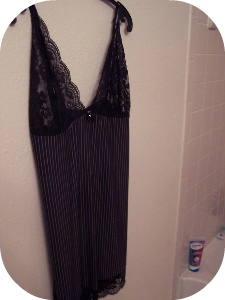 Material/Care:
The Pinstripe Chemise is made out of 85% Nylon, 10% Spandex, and 5% Polyester. It is very soft to the touch, and it is stretchy enough to fit us curvy gals. I would NEVER use bleach to clean this chemise or thong. The tag says to hand wash in cold water, but I am lazy and prefer to stick it in a pillow case and throw it in the washer on the gentle cycle. However, I never put the chemise in the dryer. I put it on the Dreamgirl hanger it came with in order for it to dry. I have put the thong in the dryer multiple times, and nothing terrible has happened. It still looks and feels new. Thanks to the silky material, this chemise does not stain easily and does not attract lint or pet hair. It is pretty easy to clean and keep clean.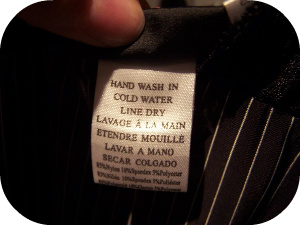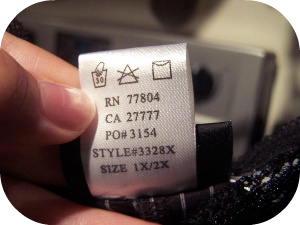 Sizing:
This piece comes in a variety of sizes-SM, ML, 1X/2X, 3X/4X. I normally wear a large in Dreamgirl's lingerie, but I was not comfortable ordering a ML. I decided to go with the 1X/2X, and I am so glad I did. It is loose and super comfy, but yet it still hugs my hips in a way that makes my husband drool. I might have been able to go with a ML, but I feel like it would have been extra tight and clingy.
Dreamgirl's 1X/2X-
Cup size: D/DD
Bust: 40-48 inches
Waist: 36-40 inches
Hips: 42-48 inches
Weight: 165-225 pounds
My measurements-
Cup size: C
Bust: 38 1/2 inches
Waist: 36 1/2 inches
Hips: 44 1/2 inches
Weight: 165 pounds
As you can see, I fall in with Dreamgirl's 1X/2X except for my C boobs. The lace cups have some stretch, so I can see someone with D/DD breasts fitting in this piece just fine. Considering that this piece is stretchy, and I had a lot of room to breathe, I definitely think this would fit someone who fell in the 1X/2X range (and maybe even a little over though the bust and hips may become quite snug). To sum up what I am trying to say, I think the sizing is spot on.
Fit:
Boobs-
As said above, I wear a 38 C bra. I was afraid that the cups on this would make my breasts look small. However, that definitely wasn't the case. The cups are triangular in shape, they are made of a floral pattern lace, and they will stretch to fit. The lace makes the cups somewhat see through, but you can only see nipples if you look very closely. The cups offer little support, but they sure are comfy. The lace isn't scratchy or itchy at all. It is soft and gorgeous. My breasts seem to be magnetically attracted to each other. They like to fall inward, so getting them to stay in the cups can be difficult. I feel like they are constantly trying to escape, and I have to adjust every 10 minutes or so. It only bothers me if I wear this for long periods of time, but my husband loves to make sure that I don't. The straps are very soft, and they do not dig into the skin like some bra straps can. They adjust just like other bra straps do. There is a cute little bow located between the breasts. There is also a cute crystal/gem located on the bow as well, so it really draws some attention to the breast area. I measured each cup as 6" across and 9" long (not stretched).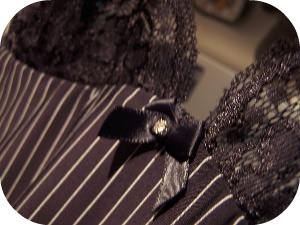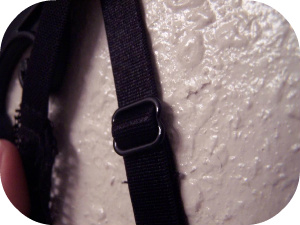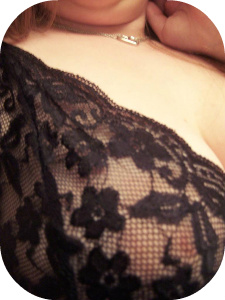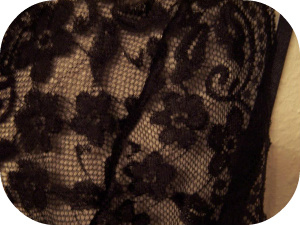 Experience
Body-
The entire piece measured in at 31 1/2". I measure at around 5'3", and this chemise falls right about mid-thigh. The body is where the material gets very silky and smooth. The bottom 2 3/4" of the chemise is pure lace. It is also a floral pattern lace, and it matches the cups. The chemise measures 13 1/2" across, but this is while hanging up and not stretched. The body of the chemise has small, white pinstripes. I am not a fan of anything with stripes, but this has definitely changed my opinion. It makes me look thinner and taller. While I have a lot of room to breathe, the chemise is in no way baggy. I seem to have more room around the waist area and less room in the hip area. My hips are huge, so this is where the chemise gets a tiny bit snug. Those with even larger hips should not have a problem as I still had plenty of room. Those who are on the higher end of the 1X/2X scale might want to go up in size if they do not prefer clingy items or clothes that hug the curves. Either way, you will end up with a very comfortable and sexy piece! I do not find the body to be see through at all, but it can show underwear lines.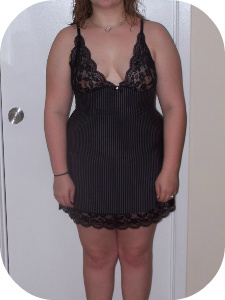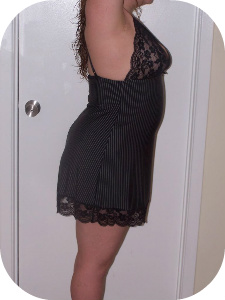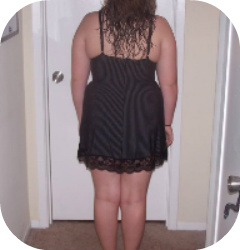 Thong-
Even though I despise thongs, I have to say that this is a very soft and comfortable thong. I find that the thong is a little big for me, and yet the straps still dig into my hips. There is plenty of stretch when it comes to the thong, so I imagine that it would fit anyone in the 1X/2X range. The thong has the same white pinstripes as the body of the chemise does. The waistband, while not being stretched, measures about 13 3/4". Stretched to the limit, the waistband measured a little over 25". The back of the thong has some loose strings, but that is the only flaw I have found.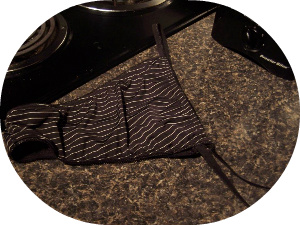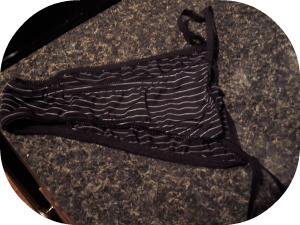 Packaging:
This piece came in a plastic bag in order to protect it during shipping, and you can easily see the lingerie through the bag, so it is in no way discreet. It also was hanging on a black, plastic hanger with the name "Dreamgirl" on it. The plastic bag served its purpose, but I quickly threw it away.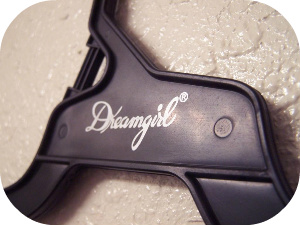 This content is the opinion of the submitting contributor and is not endorsed by EdenFantasys.com

Thank you for viewing
Pinstripe chemise and thong set
– chemise and panty set review page!