Platinum Hit
This might be Coquette's best chemise yet! I am so in love with this piece! Once I tried it on I didn't want to take it off! I only wish it was available in more colors, I would stock up!
Published:
Pros:
Nice bust support, great fabrics, so comfortable!
Cons:
May be a bit short on tall people.
The Lycra Chemise is a part of Coquette's Platinum Elegance collection. I have to admit I wasn't all that drawn to the other items in this collection (a corset, babydoll, bra/garter belt set and another chemise), but this chemise really stood out to me. I usually have pretty good luck with Coquette's chemises, and the addition of the little skirt on this one just made it even more appealing.
There are no matching panties or other accessories included with this set, but there are detatchable garters. The bra straps are adjustable, but not removable. A matching panty would have been awesome, but the chemise really is nice enough to stand on its own.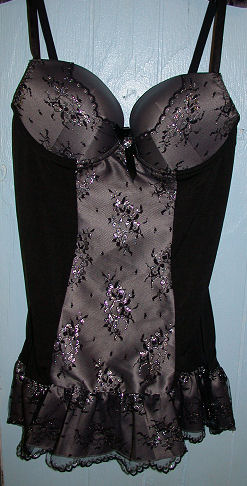 The chemise arrived in a plastic bag on one of the lovely black padded Coquette hangers. (Am I the only one that never gets pink tissue paper wrapping from Eden anymore? It makes me sad!) Although this is 100% polyester, there are a few different fabrics that make up this piece, all of which are high quality and comfortable. First, the black material that makes up the sides and back of the chemise is soft and stretchy. It's similar to a nice quality swimsuit fabric. The silver/platinum fabric that covers the bra area, panel down the front center and makes up the skirt does not stretch. It's a really nice fabric, it actually reminds me of what a fairly nice dress (like a bridesmaid dress) might be made from. It's not shiny, but has a little bit of sheen to it. The black floral print lace that decorates most of the front is very soft, almost fragile feeling, and embellished with shiny silver thread.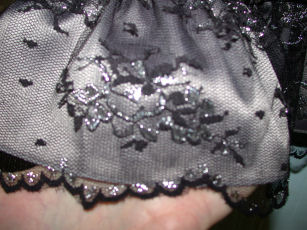 This is definitely a piece you'll want to hand wash, due to the delicate lace. The care tag says to hand wash and hang to dry.
The design of this piece is pretty fantastic overall. The silver panel down the center has a very slimming effect visually, and the little flared skirt at the bottom is super cute. The detail of the lace camoflauges any lumps and bumps you may have in the stomach area. Even the bra part is great! While it didn't provide perfect fit/support for me, it is much better than the bras built into most lingerie! The cups are padded and designed to give a push-up effect. Even though the underwire didn't stay put against my rib cage like it should, the overall effect of top of this was great! There is a bow with a big rhinestone right between the cups, and I was surprised to find that I actually kind of liked it. I'm usually not a fan of big embellishments in that area, but this is actually fairly understated for Coquette!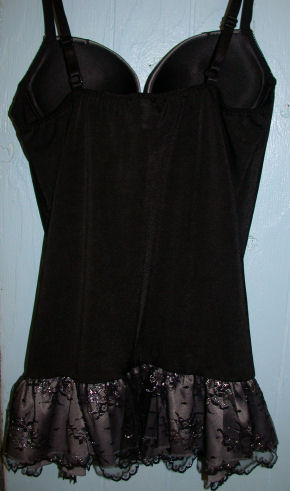 The back is pretty simple, which makes this super comfortable when laying down!
I was a little bit worried about how clingy this would be, since you can clearly see the model's ribs in the photo. I alternate between Large and XL in Coquette products, so I went for XL on this one in hopes that a) it wouldn't be skin tight, and b) I'd have better luck getting my breasts to actually fit in the cups. The size chart on Coquette's website is a little different than the Coquette chart here on EF, so I put together a little chart (below) that has the measurements from both, plus my own measurements for comparison.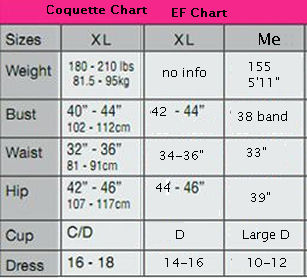 This worked out pretty perfectly for me! I will say that this XL fits more like a Large, so you may want to order up a size if you're on the border. While this wasn't uncomfortably tight by any means, I don't think it would work well on anyone larger than me by more than an inch or so here or there.
Experience
A few measurements:
20" long from the dip between the bra cups down to the hem
18" long in the back
15" across just below the bra when laid flat
19" across just above the skirt
Bra cups are 6" tall when measured up the center seam
I just can't say enough good things about this chemise! If I wasn't worried about hurting the lace, I'd probably never take this thing off. The only possible negative thing I can come up with is that it is a little short on me. It covers everything in the front, but my butt totally hangs out the back. However, I am 5'11", so I doubt most people would have that problem.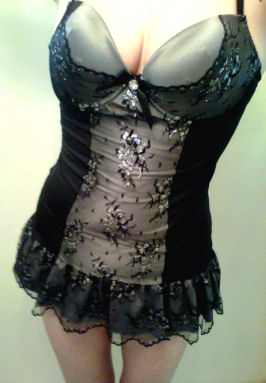 Pardon the cell phone quality of the photo! I've been sick for the past few weeks and just wasn't up to the usual posing for pics. Possibly in the follow-up review!
This product was provided free of charge to the reviewer. This review is in compliance with the FTC guidelines.

Thank you for viewing
Lycra chemise
review page!