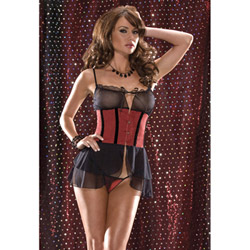 Corset style babydoll set
Babydoll and panty set by Coquette
Practically Perfect in Every Way
This Corset Style Set is stunning in the most exact sense of the word. It's made of lovely and pleasing fabrics, and will look beautiful on most body types. Though it isn't made for very tight cinching, it's great for what it's made for: making you look sultry and sexy for yourself or your partner.
Published:
Pros:
Beautiful design, comfortable fabric, looks perfect when put on, overall great set.
Cons:
Hooks come undone easily, not for tight cinching.
I'm not sure who likes this set more—my partner or me (and I can bet that most couples would be put in a similar predicament). She said that she absolutely loves it and thinks that it's beautifully made. As for me, I think that it fits her body perfectly, is wonderful to touch and would make anyone of any body type look sultry and enticing. The
Corset Style Babydoll Set
is stunning, well-made, and has a fit that looks beautiful on a wide variety of people.
The Corset Style Babydoll Set consists of a set of panties and the corset-style top piece. The top portion of the set is easier to put on with a partner, which makes it a bit difficult for late night or "just-back-from-work" surprises. When putting it on alone, pull the corset around your body so that the laces are in the front, and adjust it to size, making sure that you tighten the laces from lower to upper parts. Move the corset so that the lacing is now in the back, and pull the straps over your shoulders, then adjusting the chiffon over your chest and tying the ribbon.
The corset is made of a high quality satin, meaning that it isn't stretchy at all and is very taut. It has no give to it, it has a good shape and is fairly thick, even though it's a "corset-style" babydoll, as opposed to an actual corset. The mesh that fits over the chest is only slightly stretchy and it ruffles, which my little one thought reminded her of undershirts that were worn with under-the-bust corsets back in Victorian Times. There is a tie at the top of the chest part that can be undone or tied into a bow for different looks. The straps holding the chiffon up are a regular bra-strap style.
The corset closes by two hooks in the front, which actually can come undone quite easily if not pulled securely in place. It laces in the back with a long black ribbon. Around the corset, there are the velvet strips which are there for both aesthetic reasons and to cover the seams where the plastic boning is placed. The boning does have a good form, and it does give a bit of shape, but not like a metal boned corset would.
Flowing around the hips and abdomen is the skirt portion of the top, made of the same mesh that the bust is made out of. It is two-layered, and only lays around the sides of the body, leaving a small area in the front and almost the entire back exposed. It's ruffly and flouncy, so the skirt can be fun in a number of positions. It shouldn't be grabbed since it is fragile, but it is very lovely. All of the mesh used is soft, so it isn't scratchy or itchy to the wearer.
The thong is made of a stretchy nylon material, lined with cotton. The elastic is fairly stretchy, but comfortable feeling. Its sizing was extremely close to the measurements given, so you might want to be careful with the size that you choose. It's easy to get a size too small, as this just barely fit my beauty, so be cautious when measuring yourself and perhaps even get a size up. The thong is also low-rise, so take that into account also if purchasing this set. Though the thong really isn't anything special, it's cute and fits well.
Since the corset is made of a faux-velvet, satin, and mesh mix, it requires special care when cleaning and wearing. You can wash this set in the washer with cold water, though I do recommend hand washing it to keep it sturdy and in good condition. After it's been rinsed, you can hang it to dry. Because of this combination, do not iron or bleach this corset set. If the corset stains, it cannot be fixed. Nothing will get stains out of satin, so be very careful with this set as to not get lubricant or other substances on it.
Before buying this set, keep in mind that this is only a corset
style
set, so it isn't a tight corset fit. Don't expect to get extreme cinch or structure out of this piece. It's basically a toned-down lingerie corset, made to look very attractive and sexy, not made for what corsets were originally designed for. If you're looking for a tight fit that will squeeze your body, this isn't going to do it for you. But if you want a beautiful, well-made set that's long lasting and looks absolutely gorgeous, then I wholeheartedly recommend the Corset Style Babydoll Set. Both my little girl and I love it, and I will say that it's definitely worth the money.
Experience
She said: I was surprised how high quality it looked and felt when I took it out of its box. The see-through part is made of a chiffon-like mesh, and the black stripes coming down the corset are made of authentic-feeling faux velvet. If tied in the back correctly, it fits your body nicely. This thing isn't made for tight clinching though, so you can only make the corset a bit tight around your body. Also the hooks pop open easily (even if you haven't tightened the laces too much), which I don't like. But I do love the drape-y layers that hang over my outer thighs and how the drapery doesn't extend to cover the ass.

I said: I love this set—very much.


Experience

Since my little girl has a pear-shaped body, the set looks beautiful on her and fits her very well. She's a 30B and is a size small in most things, so we ordered her the small. It fit perfectly, even with her wide hips. Her hips were hugged by the panties very tightly, and she's a size 5 most times in pants/bottoms, so make sure to be careful about your size in terms of the underwear.

Her small breasts were cupped attractively by the chiffon. Through the fabric, her nipples were only slightly visible (it's possible only to see the darker area of the nipples), but could be felt completely and pulled and licked to my satisfaction. I undid the bow and was able to pull the chiffon down under her breasts to allow more access to her nipples. (If you want to look like a "slut" or "sex slave" with this set, pulling the straps down off of the shoulders to have the chiffon under the chest really makes a wonderful effect.) Her big hips and stomach had the skirt portion floating around her body, with her bum completely uncovered. The thong was "pluck"able, and I could easily tease her through it.

When I had her on her elbows and knees, her back curved into the floor, the mesh skirt floated around her stomach, her back fully exposed. The ribbon tied on her bare back was so beautiful on her. I could not resist slipping my hands under the lacing to hold onto the back of her neck. After finishing a few times, I set her down in my lap, running my hands up and down the sides of her body as she wrapped her arms and legs around me. The satin and faux-velvet material felt absolutely perfect; it teased me and made me want to feel her skin even more.
This product was provided free of charge to the reviewer. This review is in compliance with the FTC guidelines.

Forum
| Discussion | Posts | Last Update |
| --- | --- | --- |
| sizing | 4 | |
Thank you for viewing
Corset style babydoll set
– babydoll and panty set review page!