Pretty but Flawed.
This bra has some flaws (fit and sizing, poor quality) but is overall a good choice for the price. I was really impressed with the size selection and the look/design. The bra is very cute in person and looks great on. The bra is comfortable, but could be better if you get the right size. Just pay close attention to the reviewer sizing suggestions. Overall, great for a cheap, short lasting, throwaway bra!
Published:
Pros:
Inexpensive
Fun Design
Comfortable
Wear 4-Ways
Cons:
Quality is Poor
Flimsy
Not very supportive
I own a few bras from EdenFantasys. I purchase them sporadically when they come in stock, and I am actually quite fond of a few of them. If you want to read my other reviews on bras from EF check them out here:
Feminine Romantic bra & Panty
,
Maximum Cleavage... eh Average Cleavage
,
Only $10.99 Worth A Try!
and
Look, Quality and Price.. Great Buy!
.
Packaging:
Ewww.. dust!
The Animal four way convertible bra by Baci came in a very sturdy black paper box. The box had details of the item on it, including pictures, care and product information. The bra was inside the box wrapped in a cardboard and plastic bag. The packaging was more than I had ever seen or expected for a bra. It was impressive... the only issue I had with it was that there was a full layer of dust on the top of the box! I don't know how long this item was sitting on the shelves, but eww and gross! I would hope they would have dusted it off before placing in the shipment box, but maybe they missed this one!
The box could very well be used for storage, but it seems unnecessary to me. I threw it out and store this item just like my other bras. I fold one cup inside the other cup and neatly place in my bra drawer.
Designed in Miami
Made in China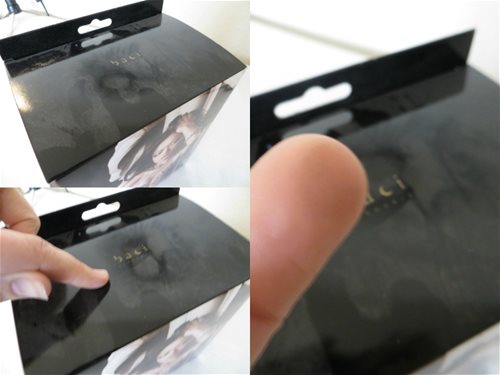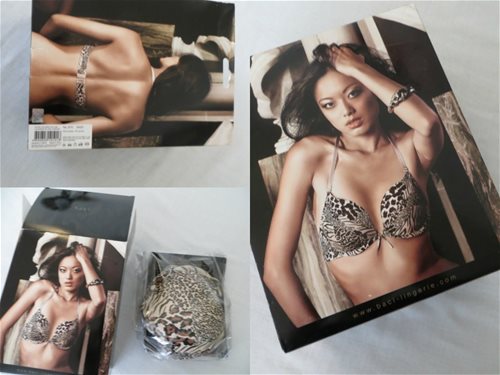 Care/ Maintenance:
I'll just ignore those...
The Care Instructions: Hand wash warm. Line dry. Do not iron. Do not use in the dryer.
The instructions can be found right on the bra tag, but I am noticing over time the tag is wearing down and I can read it less and less. It would be smart to read the tag and take note of any information that you need from it, before it completely wears down!
If you know me, you know I don't like to fuss with undergarments. I rarely handwash my bras and underwear, unless I am really, really, really fond of them! That being said, I wash this bra in the washing machine and hang to dry, or just lay flat to dry. I have seen no problems with this method so far. Do note that I do use a gentle detergent and delicate cycle and I never put in the dryer!
Size:
A little wonky and off
This bra is available in the sizes: 32A, 32B, 32C, 34B, 34C, 34D, 34DD, 36B, 36C, 36D, 36DD, 38B, 38C, 38D, 38DD. Unfortunately it looks like now it is discontinued.
I have a 34D bust. But I ordered the 34DD in this bra based on my prior review of the Baci bra and how it fit. I noticed a little difference in the sizing, but not much. I do notice other reviewers saying the sizing is off, and while I agree, I don't think it is terribly off. It just runs a little small in the cup size. The band size was just right, if not a little big! Ideally I would have ordered a 33DD if they offered it, but this size seems to be the best for what sizes they offered.
Measurements I took:
Laying flat across bottom band – 27 inches
Laying flat across mid chest – 35 inches
Top to bottom length cup – 7 inches
Side to side width cups – 7.5 inches
Overall, my sizing recommendations are this – smaller boobs will like this bra more. There isn't the best support for larger boobs. Order a size up on the cup, or maybe two sizes up. For the bad order down a size.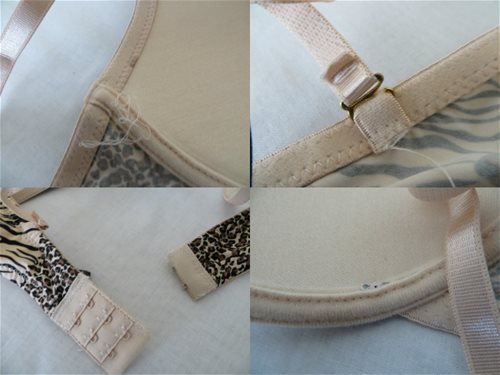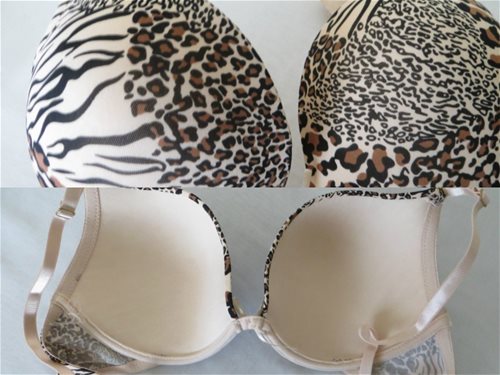 Experience
Design/Shape:
Pretty pattern.
This item comes in the colors: multiple/patterned
The colors are browns, tans and black. There are a number of different patterns of animal prints on the bra. The cups and the back straps are animal print and the bra's adjustable straps are solid tan. There is a tiny tan bow in the front of the bra. It is very pleasing to the eye and looks great from afar.
This bra is not very supportive. It has very light padding and is not a push up, it is just a thin layer of cup. This would work best with smaller boobs. The cups and the back strap are flexible and soft. There are hook and eye closures on the back (2) that can be adjusted (3) different sizes.
Thanks to the removable and adjustable bra straps, this bra can be worn in four different ways, which is an awesome feature of this bra:
1. Standard, Typical Bra Style
2. Criss-Crossed in the Back
3. Strapless
4. Halter
I prefer to wear this the normal way. It isn't supportive enough to work as a strapless for me, but I imagine if it was a little tighter it could.
Material/Texture:
Comofortable, Not made Well
Materials: 90% polyester 10% spandex
The spandex in this item gives it a lot of stretch, almost too much. I like how comfortable it is because of the materials, but could have ordered a band size smaller because it stretches so much. The fabric is smooth and soft on the skin. It is very comfortable on. There is just a thin layer of padding in the cups, so it isn't a bra that you want to give you cleavage.
The biggest bummer to this item is the fact it is made poorly. It is one of the worst I've seen. The stitching is terrible. There is extra fabric sewn in under the cup. The seams are pulling up and are not tight. I don't expect this to last for the long run.
Personal Experience :
It's lasting like the energizer bunny
So, this bra isn't made well. That I've told you. Yet I've had it for a long time now and it is holding up well. The only thing wearing down is the clasps – the gold is turning blackish. The bra still gets worn for everyday use, it is not in my sexy line up. It is a decent bra, it is just not made well.
This bra is great for A-C cups. It is cute and cheap! If you like animal print and don't mind a bra that will get used, abused and then thrown out, this is a great choice.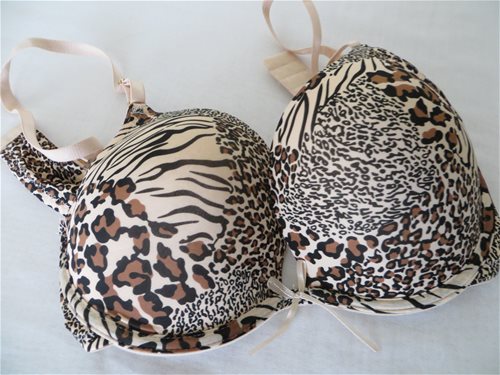 This content is the opinion of the submitting contributor and is not endorsed by EdenFantasys.com

Thank you for viewing
Animal four way convertible bra
review page!