-Raspberry Delight-
The Raspberry Fields panty by Coquette is perfect for spring and summer. The best thing about these panties is that they match so many of the lingerie items in this collection. It's so nice to see a full back panty that will go so well with my bustier, babydoll, and chemise from this line. I was so excited to see these pieces on Eden! They haven't disappointed me yet! Thanks to Coquette for doing such a wonderful job! These fabrics are to die for!
These would also work for any age, and gender.
Published:
Pros:
-Beautiful
-Comfortable
-Stretchy
Cons:
-None
The Raspberry Fields panty by Coquette is a great panty to match some of their existing Spring/Summer line.
I'm actually doing the review on both pairs that EdenFantasys offers. The first one that I'll be talking about is the OS/XL. This is the one that fits me better.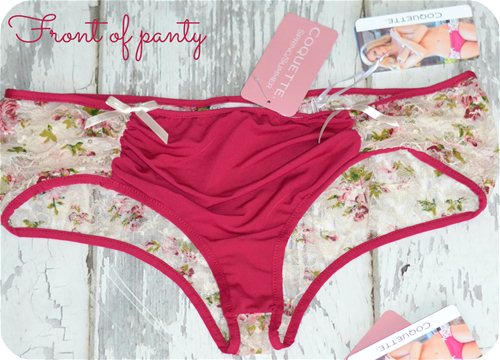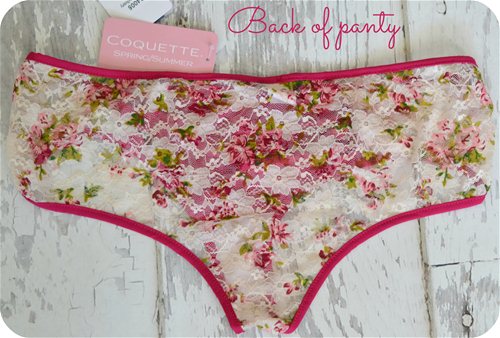 -Panty Details-
The Raspberry Fields panty has a solid spandex material that is raspberry colored. The solid and opaque part of the panty is on the front center of the panty. The raspberry material extends down into the front crotch area. On the sides of the raspberry material, there are ruching areas. These areas are 3" down the side of the OS/XL panty and 2 1/2" down the O/S panty, while unstretched. With the ruching stretched out, the OS/XL is 6 1/4" in length, and the O/S is 5 1/4" in length.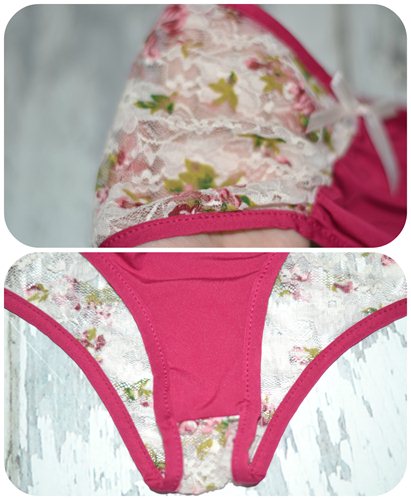 Above the ruching area, there are ivory satin bows. These bows were made with 1/4" satin ribbon. The back of the panty is a sheer ivory lace, with a floral pattern. The flowers are pink, and they have green leaves. There is no lining under the lace. My skin is visible under the panty. The panty is a full back panty. The trim used for the waist and leg openings is the same raspberry material that is used on the front. The trim is soft, and doesn't dig into my skin. I'm so glad to see that these have a cotton crotch lining. It's so much more hygienic when the cotton lining is added to panties.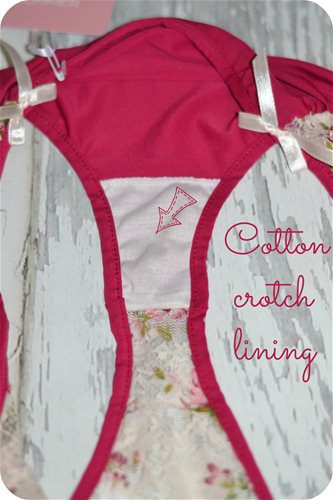 The OS/XL would fit someone who wears a size 7-8 panty or a Large-Extra Large the best.
I've included a photo of the OS/XL with my Victoria's Secret panties in the Large size. These are very similar in size, as you can see from the photo below. Also, both panties are new, and haven't been washed yet, in the photo. So there is no shrinkage.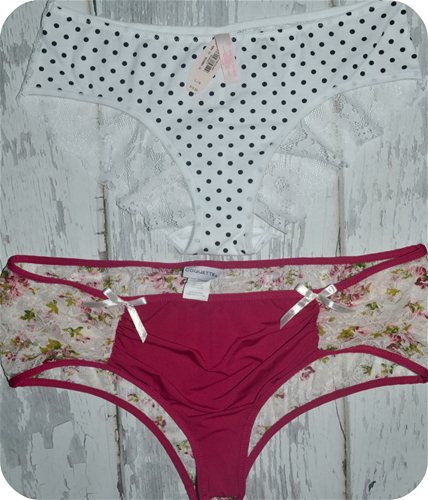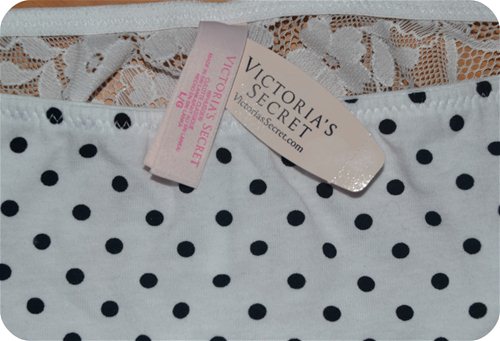 That's why I want to mention that these aren't going to fit every plus size. You would want to be on the low end of the chart to fit into these perfectly. I would like to see Coquette bring up a line of OS/XXL for the ladies above 1X/2X. After having so many friends say that they wished they would make them bigger, I do agree. Coquette would sell a lot more panties, if they upped the sizing, to accommodate larger sizes. I'm excited to see this in the future. I may drop them an email. They make the sexiest lingerie for my body type, so I'm excited to hear what they say, about sizes for my friends!
These may possibly fit larger sizes as well, since they are very stretchy. It all depends on your sizes.
-Here is the sizing chart for the panties-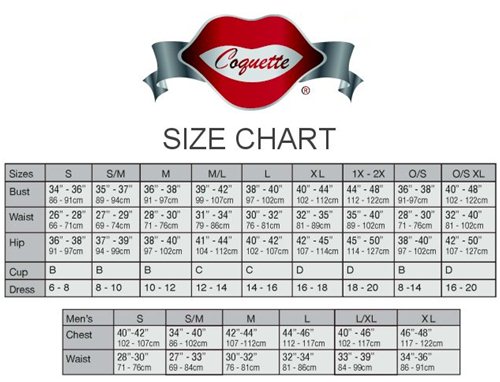 - OS/XL Measurements-
Waist measured across unstretched: 16 1/4"
Waist measured across stretched: 20"
Top front to top back unstretched: 22"
Top front to top back stretched: 23"
Length of cotton crotch area: 2 3/4"
Width of crotch panel: 1 1/2"
Satin Bow Size: Bows were made using 1/4" ribbon and are 1.5" wide.
Leg opening unstretched: 22 1/2" in circumference.
Leg opening stretched: 26" in circumference.
These panties stretch both vertically and horizontally.
- O/S Measurements-
Waist measured across unstretched: 12 1/4"
Waist measured across stretched: 14 1/2"
Total circumference of waist unstretched is: 29"
Top front to top back unstretched: 20"
Top front to top back stretched: 22"
Length of total crotch area: 2 1/2"
Width of crotch panel: 1 1/4"
Satin Bow Size: Bow were made using 1/4" ribbon and are 1.5" wide.
Leg opening unstretched: 19" in circumference.
Leg opening stretched: 23" in circumference.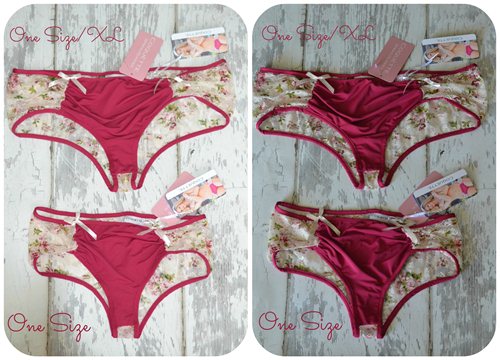 -My sizes-:
Breast/Bra Size- 38 DDD or F
Waist- 36"
Hips- 41"
Height- 5'2"
Usual panty size- 7
Large in Victoria's Secret panties
I wore the panties with the Raspberry Fields gartered bustier, and it matched perfectly. They look gorgeous together. I've included some photos below.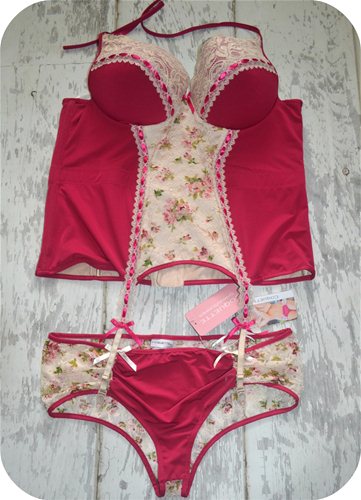 The panties do sit up high in the back of me. They leave most of my cheeks exposed. My partner loves the cheeky look.
Experience
-Material-
The materials used on the panties are
90% Nylon and 10% spandex
, exclusive of trim. There are a few different types of fabric on these panties.
The spandex material is very durable. I hand washed them in the sink with my Dona lingerie wash, and they came out well. They still looked new afterwards.
-Tags in panty-
There are 3 tags located in the upper back of the panty.
The bottom tag is white and measures almost 1 1/2" long. The middle tag is white and is 1/2" long. The top tag is white and it's the Coquette brand/logo tag, This tag is 1/2" long. These show through the panty. I'm going to cut them out after my review, they are a little bothersome.
-Fit-
I really like the fit of the OS/XL panty. These feel like an everyday panty when I have them on. They don't show through when I'm wearing a thin skirt, or pair of shorts. They fit just a little loose on my waist, but it's not a problem. The part that covers my behind fits perfectly. The sizes sit well on my hips, and none of the trim cuts into my skin. If I had to choose a pair of panties that fit me the best from Coquette, it would have to be these. They don't sag, or ride up on me while I'm doing activities around the house.
-Packaging-
The pair of panties arrived in a clear plastic bag that Coquette always sends their panties in. The bag seals on one end. This allows for you to place the panties into the bag, if they needed to be stored, before wearing/washing.
There are two tags connected to the panty; the first one is attached to the panties by a small white safety pin and a thin, ivory satin ribbon. I like this because some companies just put plastic tags that can snag delicate panties and cause rips. This tag is very easy to remove because of the safety pin. This tag is The Coquette tag that shows a model wearing the panties. Inside, there is a front and back view. On the back of the tag, there are the size, colors, copyright information, and website information.
The second tag is pink, and has the wording, 'Coquette Spring/Summer'. On the back of this tag, there is some special information about breast cancer proceeds.
Coquette has teamed up with Save the Ta-Ta's for the Spring/Summer collection and will be donating a percentage of the proceeds to breast cancer research. Check out the tag in the photo.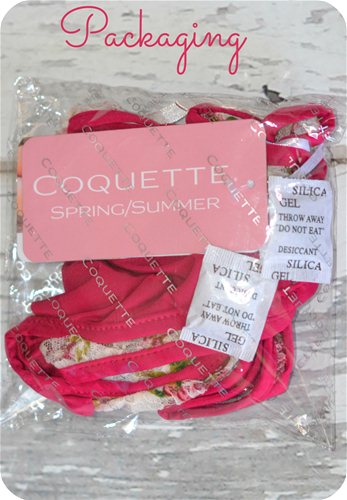 -Care/Washing-
When I washed the panty, I washed them by hand. I either use Woolite or my favorite wash from Dona. You can find the lingerie wash
here
.
I wash these in a stainless steel kitchen sink. With my items that have lace on them, I try to wash as gently as possible, as lace can snag, get ripped, or sometimes tear. I take off my all my rings before washing because I don't want to snag my delicate panties.
Overall, these are a new favorite. I'm so glad that I had the chance to order these!
Follow-up commentary
3 months after original review
These panties are so sexy and they get a lot of attention from my guy. I really love the patterns and the print!
This content is the opinion of the submitting contributor and is not endorsed by EdenFantasys.com

Thank you for viewing
Raspberry Fields panty
– sexy panty review page!