A Bit Baggy
Though I've had issues with Coquette panties (sizing, fabric, etc.) in the past, I decided to try these out anyway. I wanted to get some new panties, and these were fairly new to Eden. Though the fit isn't totally flattering, they feel more comfortable than expected.
Published:
Pros:
Available more than one size, breathable, lace feels fairly sturdy
Cons:
A bit pricey, not cotton, liner is a bit small, baggy in front, not sexy
Getting these panties was risky since I haven't exactly been lucky with Coquette panties in the past, but I love their products. After getting the lace
Holiday Stretch Panty
from Coquette, in One Size, I was greatly disappointed. Those panties really put me off of wanting to order other Coquette panties. Not to mention, I'd had some issues with their
Holiday Black Panty
before that, though at least I could get those on. I was worried about these panties because they were Coquette, and lace, and available in One Size and XL - much like the black lace panties that I'd recently had such trouble with that I couldn't even really get on! Though, after seeing a very positive review from someone who ordered these panties in the XL size, who had with measurements similar to mine, I decided that I'd give these panties a shot.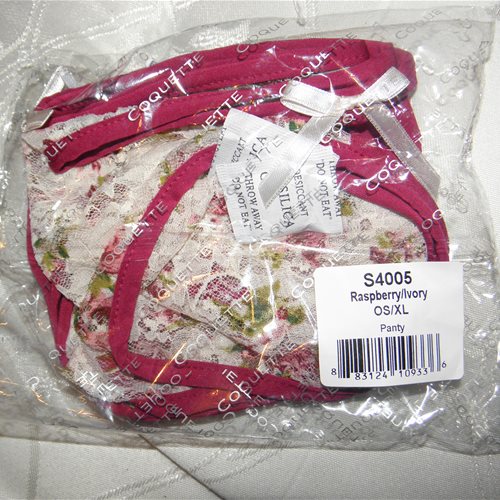 For starters, I generally wear a large in panties, or really any clothing at all. My thighs are about 20" around, and my hips are 38". I got these in the XL for two reasons: the positive review of the XL from someone with measurements close to mine, and the fact that I had such trouble with the One Size Coquette panties that I'd previously ordered in another style.
Generally, I prefer boyshort/hipster style panties, bikini cut and thongs just aren't really for me. Also, I tend to go for cotton panties since they are supposed to be best for people who are prone to infections and issues. These panties are 90% nylon and 10% spandex. Though, the fabric feels surprisingly breathable. Of course, for care, they are hand wash only, as most lingerie is. The design of these is cute, but not necessarily something I would usually go for. These are mostly lace, all around the back and the sides, but there is a deep magenta color fabric on the front of these, and matching strip of trim going around the thighs and waist. The lace is see-through, and the pink fabric is very silky to the touch. When laid flat, the waist is about 16" unstretched. The thighs, laid flat, unstretched, are about 11". There is a small, white, liner inside of the panties, about 3" long.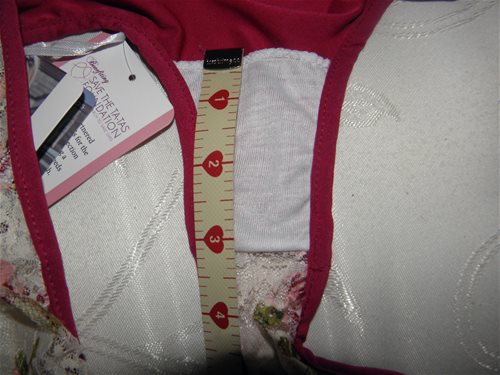 Where the lace and the magenta fabric meet in the front, the fabric is ruched where they are sewn together. At the top of this ruching, there is a white bow, on either side.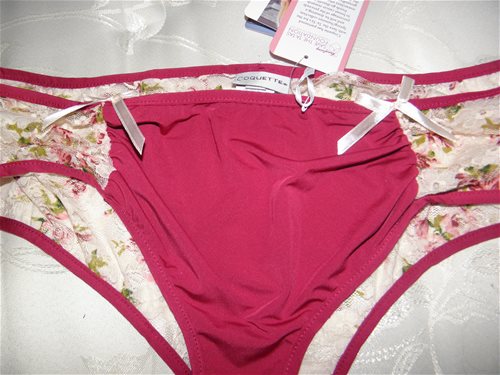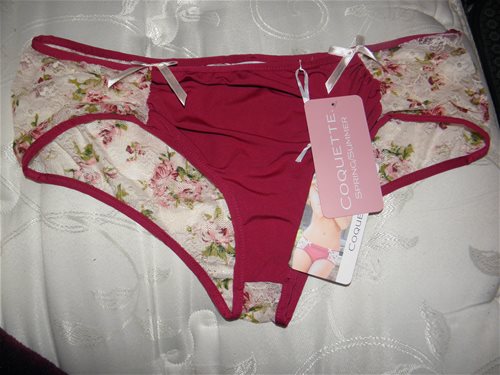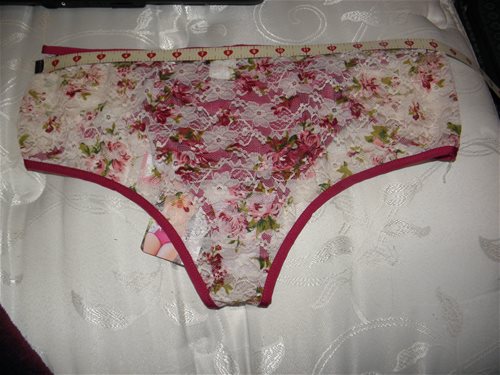 The XL looked and seemed like they would be large on me when I first took them out of the package and laid them out. They just look wider, and overall larger, than all of the other panties that I own. When I was first putting them on, I was convinced that these would just be baggy and hang off of me, so I'd have no way to wear them. I pulled them up, and once I had them on, they felt loose at first, but then just comfortable. They aren't exactly hanging off of me, but I am able to forget I have them on when I'm wearing them. They feel very light. Certainly, if I'd ordered the OS, it wouldn't have fit, or would have been very snug, and I would have been afraid of damaging the lace. It would be nice if these were a more tailored fit, since they do actually look a little bit loose in the front. I would love it if these had come in actual sizes (S, M, L, XL, etc). The lace on these feels fairly sturdy, not like some panties that feel like they could just tear while putting them on. I feel like if you really wanted to wash these in a machine, rather than handwash, you could put them in a lingerie bag and they'd probably be fine.
Experience
(continued)
The style of these is more of a standard, sort of bikini-like cut, which is a bit more covering than I think most people wear in this day and age. The floral, lace, color, and style, all make this a sort of modest 'feminine' panty. I don't really like the way the front fits me at all, I feel like it looks baggy and diaper like - which not a sexy look at all.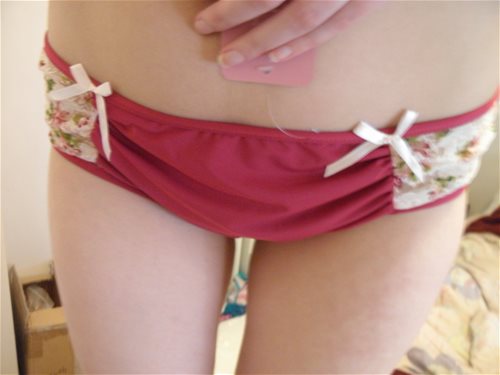 I have to wonder if that is kind of due to the ruching, and if maybe that is actually the intended look of these. But really, I think these would be more flattering looking on me if I were an actual XL, not a large. It kind of bugs me that as a size large, with 38" hips, I seem to be a weird in between where Coquette OS panties are too snug on me and the XL are comfortable fitting but unattractive and baggy looking. Though, at least these fit, because I couldn't even really get the black lace Coquette panties on when I'd ordered those.
I've seen these referred to as "period panties" in other reviews - which I think has a lot to do with that modest style that I mentioned. I don't agree with it completely, but I don't exactly disagree with it either. These aren't "sexy". They are maybe more "modern sexy grandma" than "sexy", and the floral printed lace has a kind of old look to it - sort of 1940s or 50s.
At $10.99 per pair, I think these panties are kind of pricey - especially given that they don't even come in real sizes.
I wish these were more attractive and flattering looking on me, even though they feel so comfortable to wear. I have them on under my pants as I write this review, and compared to the panties I usually wear, it feels like I'm wearing nothing at all. I wish they weren't so baggy looking in the front, but if I filled them out more they'd probably look better. These have a significant amount of stretch, and would probably best fit a size XL or 1X. Though, if you have measurements like mine, the XL is probably your best bet, rather than the OS.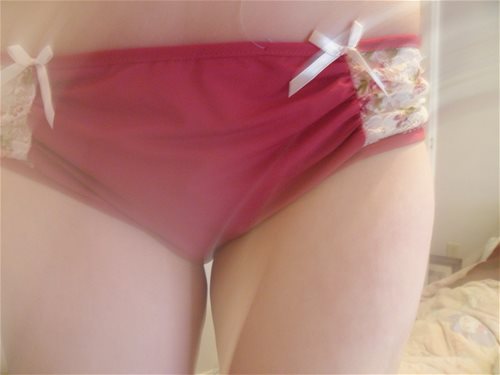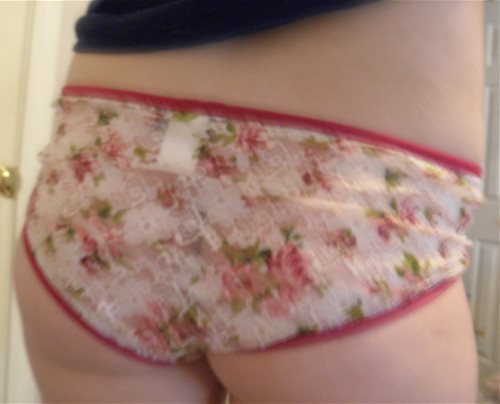 This content is the opinion of the submitting contributor and is not endorsed by EdenFantasys.com

Thank you for viewing
Raspberry Fields panty
– sexy panty review page!