Red chemise at night, sailors delight. (1X/2X)
This really is a lovely piece of lingerie...it's just not quite as nice as I hoped. It wears a bit oddly on my chest, it's super short, and I've only worn it three times and it's showing signs of wear (to be described). Still, I felt sexy on Christmas morning (why I got the piece) and my husband liked it. That said, it probably won't get a lot of wear.
Published:
Pros:
Nice for B and smaller C cups, Soft lace, Actual panties, Husband liked it
Cons:
RUNS SMALL, Smooshes (my) boobs, Can't handle large breasts, Really short
When my first Christmas as a married person was approaching, I decided to start the tradition of wearing solid red lingerie every Christmas morning....for what reason....I'm not sure. Just another excuse to wear frilly things, I suppose. (Last year I wore
this babydoll
). Anywho, after scouring the site, I decided that this was the most appealing option for Christmas: 2012 Edition (assuming the apocalypse didn't hit....which it didn't. Yay.)
This set comes packaged simply in cellophane wrapping.
Included: Chemise, Honest-to-God panties.
The tag reads: Solid red: 84% Nylon 16% Spandex, Lace: 90% Nylon 10% Spandex, Hand wash cold, Drip dry, Only non-chlorine bleach when needed, Do not iron.
I am going to go ahead and endorse the hand washing of this. I've only worn this chemise three times and there are already little spandex threads popping out of the lace......this may be due to the snugness of it, in which case it runs even smaller than I thought, or maybe I got...a little too rough on it without realizing.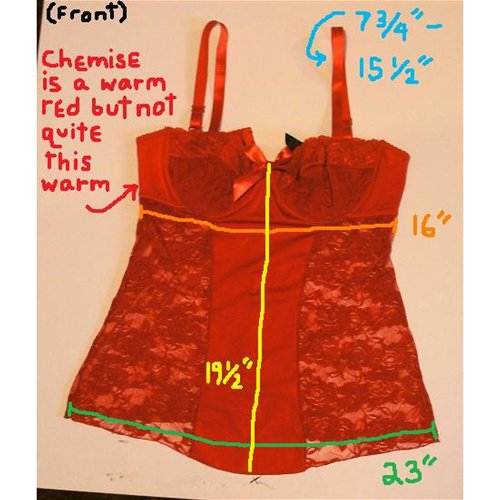 Here's the front view of the chemise, laid flat....
The chemise is, for the most part, one layer of fabric thick. The exception is the cups, which have a layer of lace lined with some soft red (stretchy) fabric.
Everything on this chemise (aside from the tag) is solid red, including the hook and eye closures on the back and the (plastic) strap adjusters.
There's a fair amount of stretch in this chemise. Both the lace and the (shiny) solid red fabric have quite a bit of stretch, but it's better that the limits not be tested. I'll elaborate later.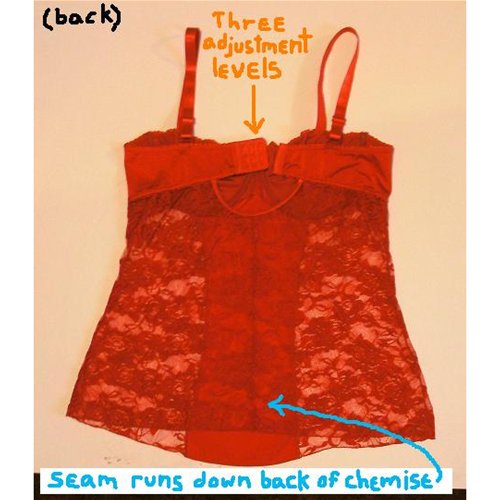 ...and the back view.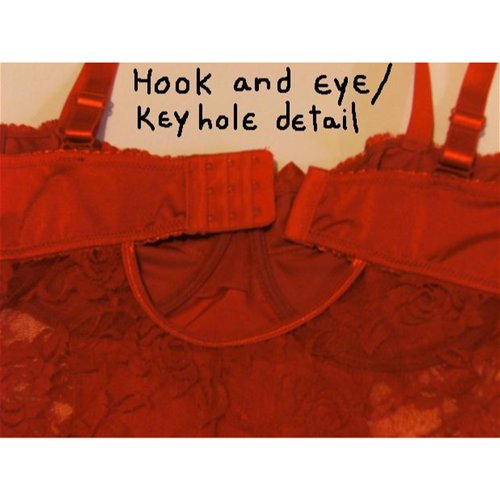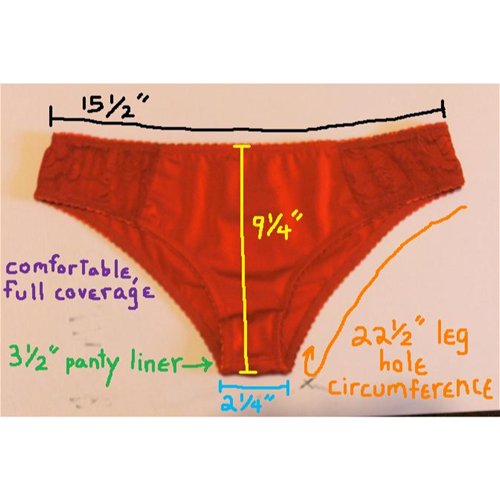 And here we have a not-so-good picture of the panties....either because I'm terribly incompetent with my camera, or my camera has become self-aware and only lets me succeed about 80% of the time to keep my hopes up. In any case, the other pictures (of me modeling) are clearer, so I am okay with having this sub par photo in my review to illustrate measurements (as opposed to openly weeping because I can't get a clear shot of the panties without me in them).
Sizing Information:
According to Eden's
Leg Avenue size chart
, a 1X/2X should fit the following:
Size: 16-24
Cup: ....unknown, apparently
Bust: 39-48
Waist: 31-40
Hips: 41-50
.....YEAH RIGHT.
Me:
Size: 16
Cup: C
Bust: 42
Waist: 32
Hips: 42
I completely totally fit the LOWER end of this chart. However, the first time I put this chemise on, I must have been having the holy mother of all fat days because it was TIGHT on me....and that shiny spandex panel was certainly not doing me any favors AT ALL. Despite my horror, I calmly removed the offending garment and promptly shoved it into a drawer to be dealt with later. I rationalized that I could wear it on Christmas anyway, knowing full well that my husband would still have sex with me despite the possibility of me looking like a parade balloon.
Come Christmas morning, and the chemise was magically not too tight. Either I unknowingly stretched the living daylights out of the thing whilst removing it last time, or I had de-bloated enough to make this outfit passable (unlikely, as my eggnog consumption certainly hadn't waned). Oh well, I was too happy to care about WHY it fit. I was just ecstatic that it did.
Experience
(continued)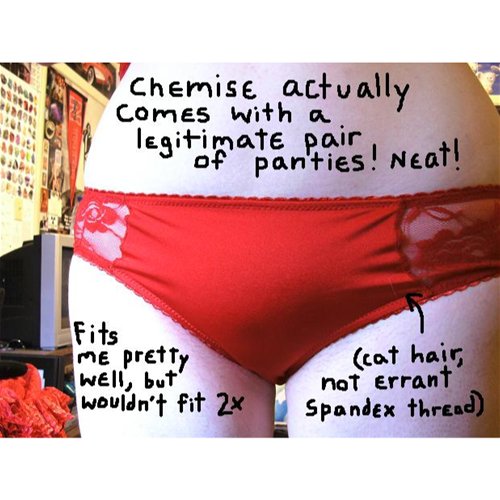 These panties, although not too tight, are a bit snug. I don't see them fitting much bigger hips than mine.
They are lovely (and comfortable) panties.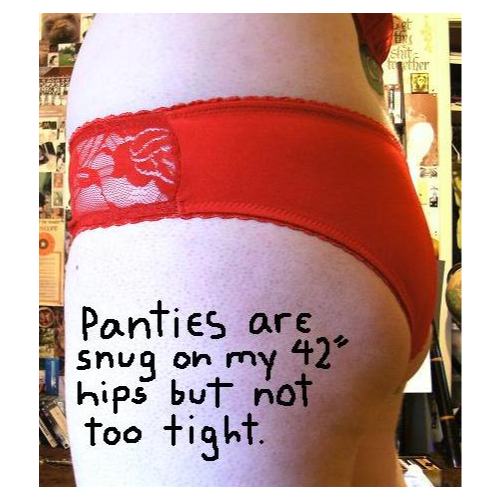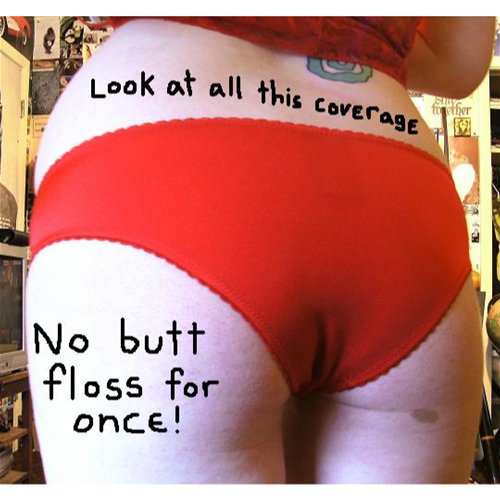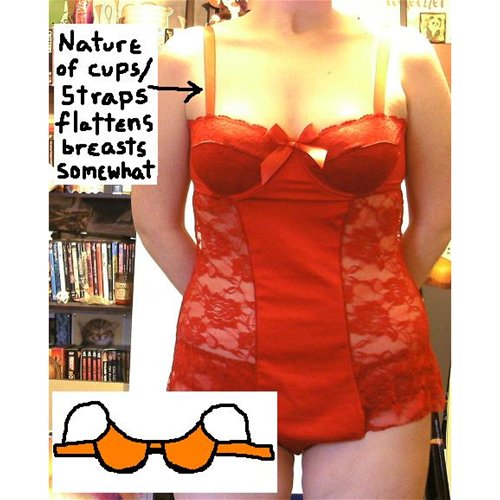 Fit (on me), working down:
The straps of this are comfortable. I like the width of them.
I'm going to try and explain why I think that this chemise tries to flatten my breasts. I think it's because it's built like a strapless garment....that has straps that are oddly positioned. Whereas the cups of most bras extend upward to a point before attaching to straps (refer to crappy orange bra drawing in corner of picture), the cups on this chemise are flat across the top and have wide straps that attach to part of the middle of the cups rather than the sides. I hope that makes sense.
The cups have underwire and actually do provide breast support.
I don't think the waist of this is that flattering on me because it's not very form-fitting so it makes my torso look boxier, but then I know some folks may not want things to cling to their waists?
I usually don't have much in the way of a gut, but I sure felt like I did the first time I put this on. That vertical spandex panel showcased it better than my tightest pants combined with my smallest shirt combined with Thanksgiving dinner. I magically didn't have the issue the second time I wore it, but...fair warning. This outfit requires CONFIDENCE (and measurements in the lower range of the chart's suggestions).
The hips...fit fine.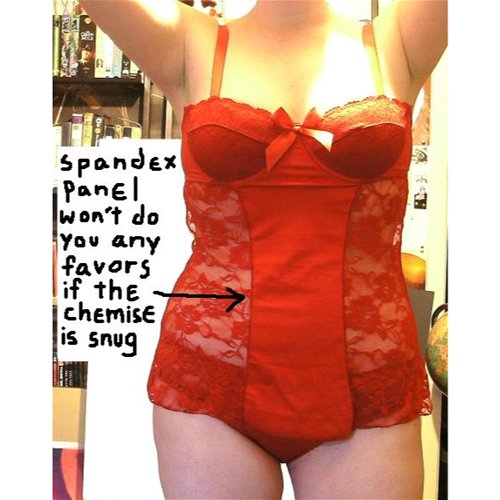 Yes, it looked pretty on the model. And about four inches longer. Alas, I am not a model. And this thing is damn short. This is something I would expect from, say, Dreamgirl, but now I know that Leg Avenue does it too. Good to know.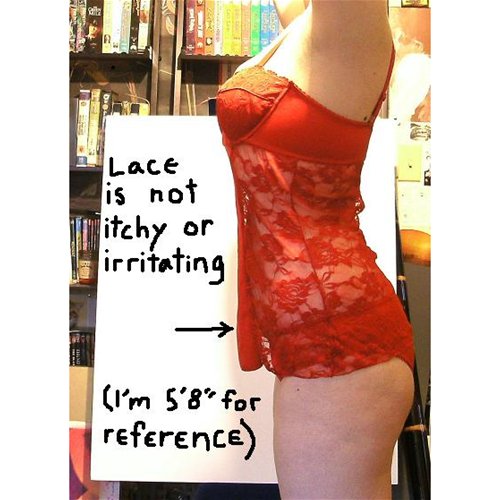 Obligatory side view.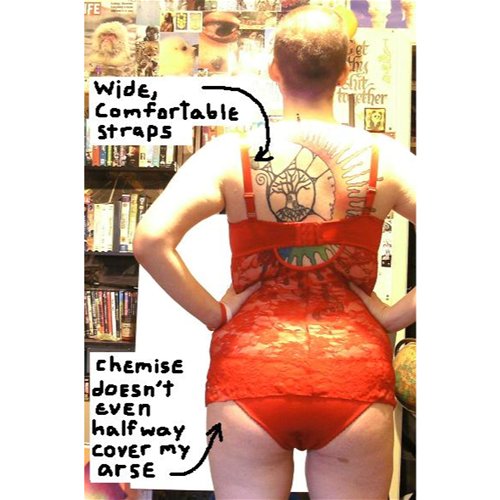 I can't think of anything important to say about this view either.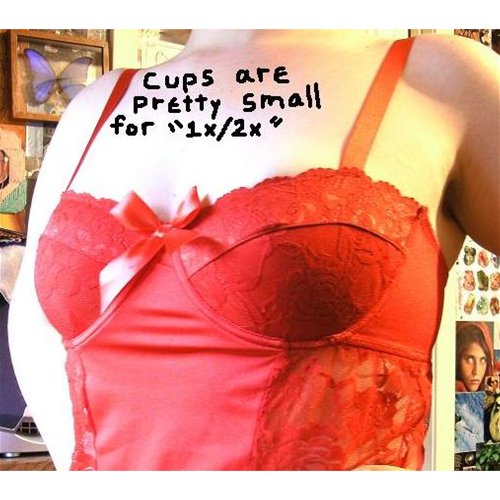 More Sizing Information:
The best I can figure, a more accurate size chart for this set would be more like this:
Chemise:
Cup: B and C
Bust: 38-45
Waist: 30-35
Hips: 36-45
Panties:
Hips: 36-42
Thanks for reading :) It's difficult to make estimates of how things will fit others based on one's own size and shape. I welcome questions in the comments section or via personal message. I also appreciate constructive criticism.
This product was provided at a discounted price in exchange for an unbiased review. This review is in compliance with the FTC guidelines.

Thank you for viewing
Spandex and lace chemise and panty
review page!