Restored my faith in corsetry. A love story.
This was the first corset I've ever come across that actually fit me how a corset should. Up until I got this one, I thought I was destined for a life of ill-fitting lingerie because of my small frame. This corset, on the other hand, totally changed my mind about lingerie and gave me the confidence that there are options for tiny girls, such as myself. I'm not even a fan of pink, but this one will always have a place in my heart.
Published:
Pros:
Shiny satin, well-made, flattering fit on small frames, fits skinny girls
Cons:
Can give you pancake boobs if you're small chested, thong is horrible.
Summary

I've had this corset for quite some time now. I think I actually got this before I joined this site. I got it when I started working at the adult store I'm still working at now. All of our lingerie was on clearance because we weren't going to carry it anymore, and of course I had to find something for myself out of it. Now, normally I can't stand the color pink. It's really not my thing, and this corset is pretty in-your-face with it. For some reason, though, I had to have this. I remember being nervous when I first got it because corsets never fit me right because I'm pretty slim. This corset was my first ever lingerie success and worked much better than I could have ever imagined. Ever since, I've been looking for something in a similar style by Coquette because I know it will fit like a dream. The only thing I wish was different was the color of it. Honestly, though, this corset totally gave me confidence that I can fit into lingerie and be all sexy-like.

Design/Material

This corset made mostly of satin. Because of this, is super shimmery and shiny, and a total show-stopper. The satin is incredibly smooth and soft to the touch, but it doesn't seem flimsy at all. The pink is pretty gorgeous and romantic (even though it's not my personal favorite color out there). It totally makes a stunning impact without being too bright or too flashy. The black accents of the ribbon on the back, lace up the front, and ruffles on the top give it a very nice and detailed look. The lace trim that goes down the sides and across the top of the corset are pretty interesting because there's a piece of pink ribbon laced through it for a bit more gorgeous detail. The shape of the corset is a bit like a heart. The cups have a bit of a rise to them and the bottom drops on the front a little low.

The front is a busk-style closure. This was the first time I'd seen a corset closure like this. The entire front closure is made of metal, so it won't be breaking or busting open on you. There are little hooks on one side and little buttons on the other. Now, this style of closure is pretty sturdy, but it can be a total pain in the ass to put on and take off. It's hard to get both sides lined up right so you can hook them without the other hooks jumping on the buttons or coming undone on the ones you've already fastened. When you go to take it off, you have to suck in a bit and push both sides of the closure together and hope they come undone. This wasn't too big of an issue for me. It's a lot easier than those tiny hooks that go all the way, and it looks a lot nicer than just a zipper.

The whole corset seems to be solidly constructed. Every time people have seen it, they're always amazed by the wonderful quality of it. The boning is made of a rigid but still flexible plastic and conforms to the body incredibly well. I was amazed at the intense amount of curves it gave my slightly boyish figure. Because there really aren't cups in it, it may flatten smaller or wider-set breasts. This is the case for mine. I have a little poking out at the top, but not enough to make it look like I'm not flat-chested with this thing on.

It comes with a matching thong, too. The thong is a piece of crap, though. Just take my word on that one. It's really uncomfortable and not flattering on anyone (which is agreed on by the other reviewers).
Experience
Sizing
This corset was actually supposed to be a little big for me when I looked at Coquette's size chart. I'm a 32B-24-32. Coquette's measurements for the small size are as follows:
Dress: 4 - 6 (I'm a 0-2)
Cup: B
Bust: 34 - 36
Waist: 26 - 28
Hips: 36 - 38
When I put this corset on for the first time I was greeted with this incredibly strange feeling I had never felt before. This thing fit! Tightly! It gave me super curves that I didn't even think were possible! I looked at the back and, sure enough, there was still room to lace it up. You mean this thing actually fits my little self like a corset should? I was totally shocked and incredibly happy because of this. Up until this point, I had accepted the idea that I'd always be too small to fit into lingerie and actually look good in it. But! Look what we have here!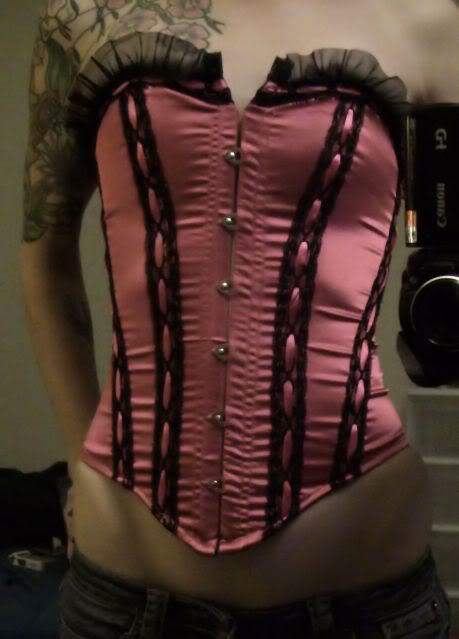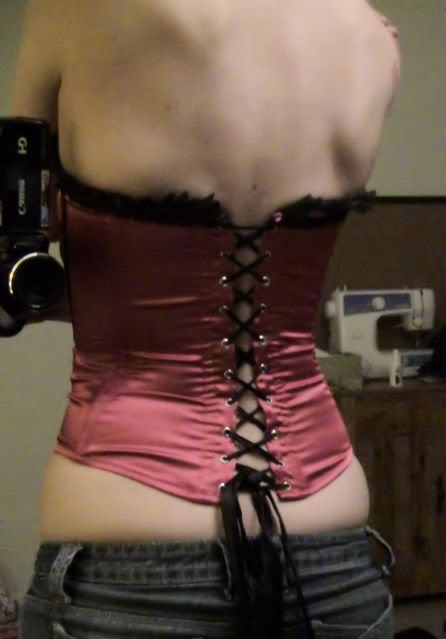 Of course it can fit those with measurements in the suggested size range, as well.
Care
There's really not much to put in this section, as this corset has been discontinued. If you need to know, though, wash it really, really gently.
Follow-up commentary
4 months after original review
I've had this corset for almost a year now and it's held up to use very well. The laces haven't started to fray. It's got no wear and tear on the satin, and it still looks just as good as the day I got it. I did recently acquire some "real" corsets with steel boning that I like a lot more, but this one continues to be a good bet when it comes to novelty corsets, and it was my first real one so it holds some sentimental value.
This content is the opinion of the submitting contributor and is not endorsed by EdenFantasys.com

Thank you for viewing
Sexy satin corset and g-string
– corset and panty set review page!