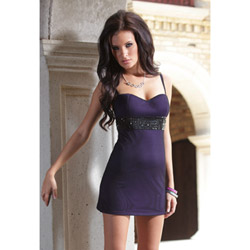 Fishnet studded trim dress
Mini dress
by Coquette
Rockstar Dress
This is a comfortable, easy to wear dress with a little bit of rock n' roll edge. It's the kind of outfit that doesn't need a lot of accessorizing, you can just throw on some heels and earrings and go! You do need to be a little careful not to snag it on anything, though, because it's an easy dress to ruin.
Published:
Pros:
Can be worn in public, comfortable!
Cons:
Have to be careful not to snag fishnet, no bust support.
The addition of fishnet and studs to this simple purple slip dress give it an edgy, sort of rock n' roll vibe. I'm kinda digging it.
This dress is made in China by Coquette as a part of what their website calls the "Rocher Chic" collection, but I think they mean Rocker Chic? If you're a fan of this style, you can pick up the matching bustier or babydoll from the same collection.
Made of 80% nylon and 20% spandex, this is a comfortable dress with lots of stretch. It's basically a purple slip dress topped with a layer of fishnet and accented with plastic "studs" below the bustline. The layer of fishnet is attached at the top, side and bottom seams, but through the body of the dress you can pull it away from the purple layer, they're totally separate. It's simple, but creates a nice visual effect. The fishnet goes a long way to camouflage any bumps or bulges that would otherwise be visible through the thin purple fabric. There are no zippers or hooks, you just slip this dress on, easy-peasy.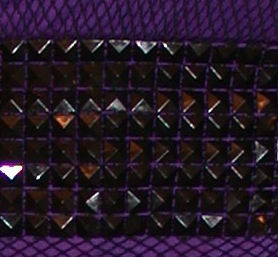 Tell me about it, stud.
The studded trim only decorates the front half of the dress, the back is all purple and fishnet. The "studs" are hard plastic, but they look great as long as you don't look super closely. They're sewn to be flexible, so they'll conform to your shape, but they don't stretch. They almost feel like exaggerated snakeskin if you run your hand across them.
The dress is available in sizes Small through XL. I alternate between L and XL in Coquette products, but I chose the XL for this one since I'd rather have a dress that skims over my curves instead of being clingy. The size chart on Coquette's site conflicts with the one on EdenFantasys, so I'm not sure which is most current. According to EF's chart, XL is designed to fit sizes 12-14, C cup, 38-40" bust, 30-32" waist, 40-42" hips. The chart on Coquette's site lists XL as 40-44" bust, 32-36" waist, 42-46" hips, C-D cup, dress size 14-16. I lean towards the Coquette chart being more accurate on everything except the dress size. I'd put this on par with an average size 13/14 dress. It will definitely fit a D cup, and will probably fit most DD's, too.
This dress is a pretty good fit on me, but I do need to take it in a little. I'm size 10/12, 38D, 33" waist, 39" hips, so I'm smaller than some size chart figures and larger than others. I found myself wishing that the top elasticized band was a little tighter, because this absolutely won't stay up on me without the straps. It's also a fairy straight shape, so I'm planning to take it in a little just below the bust to make it more flattering. I can't take it in along the side seam like I usually would due to the studs, so I'm going to have to get creative.
The bust area does not offer any kind of support, but luckily this is easy to wear a bra with. The inside is lined with squishy black fabric like the inside of a bra, but there is no padding or underwire support. The lining makes this area a little thicker than the rest of the dress, but it's still very light and flexible. It's thick enough that you won't see any nipples poking through, too.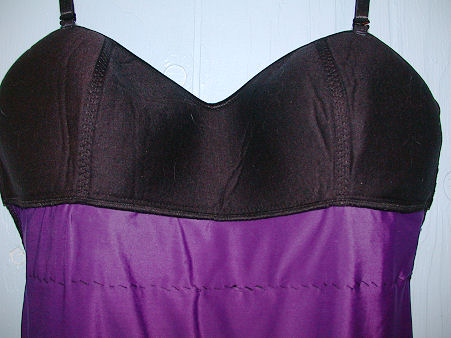 Dress flipped inside out so you can see the lining.
I'm 5'11", but I think I could actually wear this out in public and it would be long enough. It's on the border of short and too short for me, but I think I'd be comfortable enough, as long as I didn't bend over or anything.
All that is included when you buy this is the dress itself and the removable straps, there are no matching panties or stockings. I'm still trying to decide if pairing this with fishnets would be overkill, but I think it would look great with solid black tights/stockings, or even purple if you found the right shade.
Experience
Although this dress is comfortable enough to sleep in, I wouldn't because it is also a little delicate. The fishnet is really easy to get caught on almost anything, and one good snag would really ruin the appearance of the whole dress, since there's no real way to patch or mend fishnet! I'd suggest putting a plastic bag or other protection over this while it's in your closet (it comes with a nice padded hanger) to avoid it getting caught on anything. You could also just flip it inside out before hanging it up, so that the fishnet is on the inside. The delicate fishnet and plastic studs make it hand wash and hang to dry only, I wouldn't risk using a machine for either step.
Handy Dandy Measurements for XL:
16" across below the studded band when laid flat (unstretched)
18" across (unstretched) about halfway down, near where your waist would be.
20" across about 2/3 down, near where the hips would go.
23" across bottom hem.
25" long from dip at the center of the bust to bottom hem.
23" from top to bottom of back of the dress.
Studded band is 2.5" x 17".
Bust area measures 5.5" tall from top of studded band to the "peak" of the cup area.
I felt a little too bare in this dress without anything on top. It's one of those fashion rules that showing arms + a lot of leg + cleavage is a little too much, so I'd probably only wear this out with either something on top or some tights/stockings on bottom. There's a handy trick you can do by cutting a hole in the crotch of your fishnet pantyhose to make a top that works pretty well with this. I couldn't find my fishnet one, but this one with a slightly different pattern worked pretty well: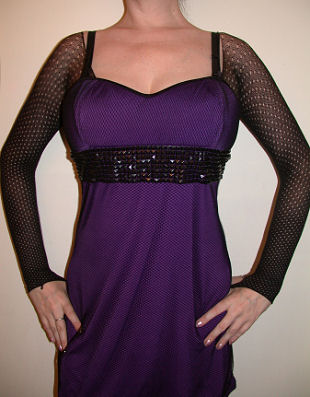 It's also cute with a little jacket, cardigan, or shrug: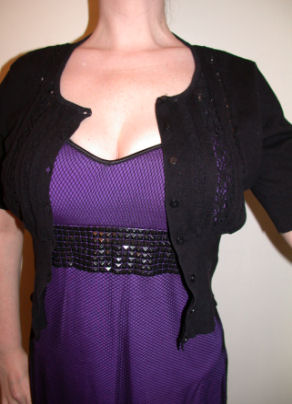 I'm giving this 4 stars because it's pretty snazzy, but I wasn't blown away by it or anything. I love that it can be worn in public without looking cheap. It is definitely a "wear at night" dress, though, it would look out of place worn on a bright summer afternoon. I do wish that it was made with a little more shape, I think that if it came in a little more just below the bust you'd have a more flattering shape and more bust support. For now it's going in my "to alter" box, I'll do a follow up once I nip and tuck it a little.
This product was provided at a discounted price in exchange for an unbiased review. This review is in compliance with the FTC guidelines.

Thank you for viewing
Fishnet studded trim dress
– mini dress review page!