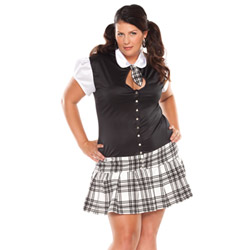 Night school
Costume
by Coquette
School is now in session, but we don't need no education.....
Even though the bra lacks in support the outfit is still awesome. The bra top can easily be replaced with bra of your choice. This could even be worn out as a costume, since it is not short or see thru. This is a great choice to add to your collection.
Published:
Pros:
This outfit is super cute, comes with bra and panties, and is sexy as hell. Two of one outfits.
Cons:
The bra top provides no support at all.
Who wants to be taught a lesson? This Night School girl does right here. This Night School girl dress is super hot. It gets even better, there is also matching kilt thong and a tube top bra to complete the set. Now who is ready to learn about this outfit? Well if you are then continue reading on.

When getting this outfit, I was not aware that this was a dress. The top looks like a black vest with a white shirt underneath. This top buttons up; there are 10 metal snap buttons; from the top of the panty line to the cleavage. There is a hole cut out so that you can see cleavage easily. Then at the collar there is a plaid tie, this just Velcro's to the other side. The collar is white and it flips down. This top has a silky feel to it and stretches easily. This is because it is made of Lycra. The tie however is not made of Lycra, it is polyester.

The skirt of the dress is white, black, and grey plaid. This has the normal button up plaid tops feel to it, soft yet rough. This does not stretch, but the skirt does flare out. This material is polyester. A few of the buttons are at the skirt, not all the way down. So when you put this on you step into the skirt, pull it up and arms in. Then you button up, last thing you are going to want to do is the Velcro tie.

The kilt panty in my mind is the best looking piece of the set. This is two strings of Lycra with attached V, for the thong part. These are sewed onto some plaid polyester pieces, to give the kilt look. At the sides of this are like a string bikini; they tie on the side. This looks super sexy, plus they are easy to adjust the size of them.

The tube top bra is made of Lycra also. This is pretty much strip of material that has a bunch up tie in the middle. This bra is not supportive at all and is only for looks. One size fits all is the size on this bra, and I would have to say it is true. I am a 40ddd and this fit, of course with no support and some adjusting. When I did first look at the bra it looked like the one tie was a strap for around your neck. If you have smaller boobs that are not heavy this could be possible. With ones my size this will just dig into your neck and wear out the sting. The bra looks cuter in the picture than it really is.

Alright let us talk about sizing, I ordered a 1x/2x; I was not sure of what to get so I decided that a size bigger was the way to go. I could have gotten XL and this would of fit. I am 40, 35, and 40 and wear about 10/12 dress size, but with my breast I never know what is going to fit, so I tend to go bigger. The in 1x/2x could easily fit someone who is about a size 18 or so. The kilt thong is easy to adjust the size and they are big on me so they can also easy be worn by size 18 or so. The bra top as I said before fit me and I am a 40ddd, though mine are large for this, it does still work. Even with it being one size fits all. I think that C or D breast would look best in this. I think smaller sizes would not be happy with the fitting.

All in all I am pretty happy with this dress set. This is super sexy and was a great buy. It would be great for role playing, costume party, or in you room fun. The skirt length makes it appropriate to wear outside of the bedroom which is a plus for the up and coming Halloween!

Packaging is just like a Halloween costume. It comes in a plastic bag with two white buttons on top and a black hanger. Inside the bra and thong are in their on plastic envelope and the dress is in another around cardboard. There is a big cardboard cover with picture of girl wearing costume. The only thing it says is Night School Girl 3 piece set:
~dress
~tube top
~mini kilt thong

Washing directions on the tag say to hand wash only and hang to dry.
Experience
When wearing this the first time I did find it weird to wear the kilt thong under the dress. You can feel the material bunch up and it can be uncomfortable. Not a big deal, the dress does not stay on long and you can decide to wear one without the other. In my opinion with this it is like two different school girl outfits. One is more to the imagination and the other is very sexy! Thanks for reading all.
Follow-up commentary
3 months after original review
There has been no damage to this school girl outfit. I did not like the tie that was attached to the neck line, it was a lot like wearing a turtle neck. So I removed it.It looks fine without it, but shows more cleavage. There are no snags in the fabric, it has not torn or anything.

Comparing this school girl costume with the Reversible one, this costume is better quality for roughly the same price. I recommend this costume to all school girl costume lovers.

This product was provided at a discounted price in exchange for an unbiased review. This review is in compliance with the FTC guidelines.

Thank you for viewing
Night school
– sexy costume review page!