Sexy and seamless, microfiber panty
Even after the minor flaws in the panties, I still like them. I am drawn to wearing panties that give me maximum comfort. These definitely delivered in that department.

For the price of these, they should have been trimmed a little straighter but for me, that's not going to take away from the comfort and it wasn't that big of a deal while I had them on.
The problem with the uneven material may have been an isolated incident.
Published:
Pros:
*Very comfortable
*Extremely soft material
*Flirtatious
Cons:
* The panties were cut unevenly in the back.
These holiday red panties from Coquette in size OS/XL arrived in a basic clear packaging that seals on one end. The panties have a card that folds and is pinned on by a tiny, black safety pin. The pin is stuck right in the front of the panty. The card has a photo of the model on the front wearing these in the black color and the model in the middle photos wearing these in the red color. It has the front and back view. On the back, it states the color and size which is OS/XL.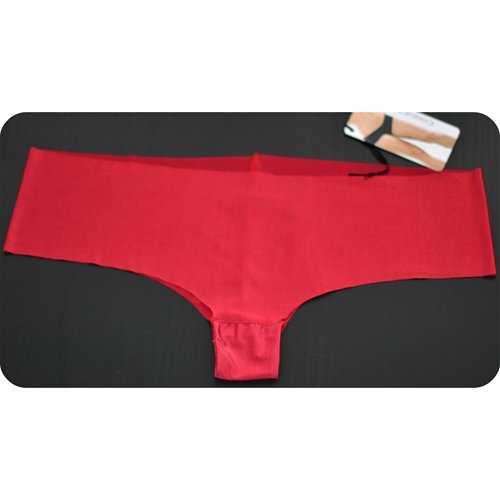 Material
These panties are 90% Nylon and 10% Spandex. These are microfiber.
Sizing
These are the size OS/XL as stated on the tag.
Below is Coquette's size chart:
Cup Bust (in) Waist (in) Hip (in)
Small 4 - 6 B 34 - 36 26 - 28 36 - 38
Sm/Med 6 - 10 B 34 - 38 26 - 30 36 - 40
Medium 8 - 10 B 36 - 38 26 - 30 38 - 40
Med/Lg 10 - 12 C 36 - 40 28 - 32 38 - 42
Large 14 - 12 C 38 - 40 30 - 32 40 - 42
X Lg. 14 - 16 D 42 - 44 34 - 36 44 - 46
O/S 4 - 14 B 34 - 40 26 - 32 36 - 42
1X/2X 18 - 22 D 46 - 50 38 - 42 46 - 52
3X/4X 24 - 28 D 52 - 56 44 - 48 54 - 58
Q/OS 18 - 26 D 46 - 54 38 - 46 48 - 56
These seem to fit in between the XL and the 1X/2X size frame. They also stretch both vertically and horizontally.
When I first put these on, They felt a bit loose on me. I walked around for a bit with just these on to get a feel for them. These seemed a little loose but very comfortable, no digging in, no itching and no irritation of my skin. These felt okay until I put some other clothing on, on top of them. That's when the minor problems started. The panties started to slide down my back side a little bit and they wouldn't stay up all the way. These are the size that I usually always wear in Coquette so it wasn't an actual sizing issue, it was the material that was making them slide down. I liked the comfort while I was sitting but when I began to walk around, they wouldn't stay completely up on me where I had them placed. They never fell completely down on me but I like a nice fit that doesn't tend to sag.
They have a great concept for a seamless panty but a seam along the waist would have helped these out with staying up. I was disappointed with that issue.
They looked nice, while I was wearing them but while I was taking photos for the review, I noticed that the back had been cut unevenly.(Photos below)
Once I looked at the panty more, I noticed that the crotch area was sewn oddly and one side seemed to be cut more narrow than the other side. The one good thing about the crotch area is that there is a cotton lining sewn in. I liked that part.
I don't plan on wearing these for a long length of time but I am going to wash again and toss them into the dryer with a cool air cycle to see if that may help me wearing these. If not, I will just use them when I want to lounge around or when I know that I won't be wearing them for long. I did put these on with jeans and they felt great and didn't sag. If you wear with jeans or a pant that is snug on your bottom, this shouldn't be an issue for you. The jeans or pants will keep them from sagging.
I have these panties in red and black and they are both supposed to be the same size but the measurements are different on both of these panties. These seem to be cut by hand.
Measurements
Waist measured across unstretched: 17.5"
Waist measured across stretched: 22"- I didn't stretch further because of the issue with them being loose.
Top front to top back unstretched: 18.5"
Top front to top back stretched: 23"
Length of total crotch area: 4x2"
Length of cotton crotch panel: 4"
Side panel Measurements from top to bottom: 4.5"
Leg opening curve unstretched: 12"
Leg opening curve stretched: 5"
My sizes are:
Breast/Bra Size- 38F
Waist- 37.5"
Hips- 42"
Height- 5'2"
Torso length from collar bone to top of pubic bone- 25"
Experience
These panties are very stretchy and breathable. There are no stitches across the waist area of the panty except at the back and in the crotch area. These types of panties can be worn under anything and they will not show. They are very thin and lightweight. These panties go straight across the waist. There are no "V" cuts or curves. When these panties are worn, they are not see through. However, you can see through these when placed up next to a light source. This is due to the material. These are stitched with a red thread. These panties are some of the thinnest panties that I have purchased.
There are no bows or lace on these panties and they have a simple design and cut.
This panty ensures that you won't have panty lines. Even under the thinnest, tightest dress, you won't be able to tell that you're wearing these.
The red on these panties are more of a matte red, these are not bright. The cotton crotch is not the same red as the panty. The cotton liner seems to be more vivid red with more of an orange undertone. There were no threads hanging from the actual panty but there were some small threads coming off of the crotch area on both ends.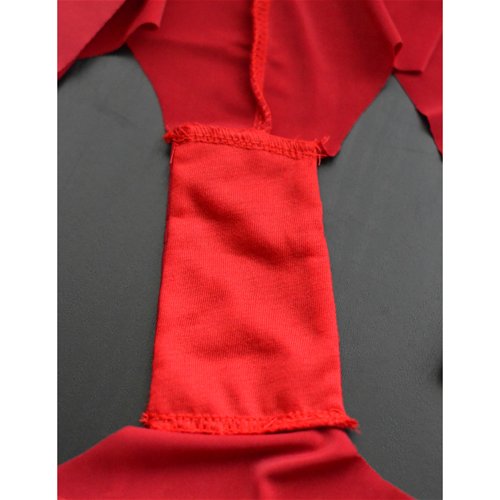 There was a small hole in the front of the panty from the safety pin that was stuck in the front. I ran my fingers across the panty to see if they snagged with my fingernails and they didn't snag.
The seams that run down the back of the panties are sewn well. They seem to be sewn with an elastic type thread.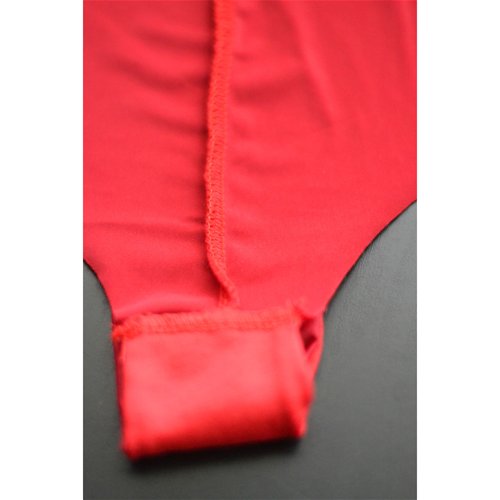 There are 3 tags sewn into the inside back of the panty. They are layered upon one another. The top tag is black and reads Coquette. The tag underneath the black tag is a white tag which states the size. The bottom tag states the material and the care instructions which are to hand wash only and hang to dry. We all know the drill with this one, hand wash in a gentle detergent, rinse in cold water and hang in your shower or other spot where they can drip dry.
These panties were made in China.
I'm not going to deduct any stars because even though the panty is cut a little crooked, when I had them on, it wasn't noticeable.
Follow-up commentary
1 month after original review
These are a very pretty panty but they tend to fall off of me while I'm wearing them with anything other than jeans. I really wanted to like these!
This content is the opinion of the submitting contributor and is not endorsed by EdenFantasys.com

Thank you for viewing
Seamless red panty
– sexy panties review page!