Sheer and Red Coming At Ya!
This piece is a total score for the price. It is available in multiple color options and is made of gorgeous lace and nylon. It is not a piece for everyone though. It is extremely form fitting and stretchy, so for you to appreciate and love THIS PIECE, you are going to want to be AT PEACE with your body.
Published:
Pros:
Easy to have sex in.
High quality craftsmanship.
High quality materials.
Multiple color options.
Cons:
One size fits most.
Not great for those sensitive to their body shape.
I ordered the Dreamgirl Sheer Halter Mini Dress because it was a unique piece at a very great price. I had nothing like this in my lingerie collection and was very curious whether or not I would like this item. I took a chance figuring it wasn't too risky of a purchase based on the incredible price.
Packaging: Typical Dreamgirl
The Sheer Halter Mini Dress by Dreamgirl came in a Dreamgirl box with the item inside a plastic bag. The Dreamgirl box is typical to their items like this. It is very flashy, very obvious to what is inside and informative. The box has details such as: size information, washing instructions, description and models pictures front/back. I like the Dreamgirl packaging because there isn't much waste. The box fits the item just right, no extras.
I threw out the box and the plastic wrapping, therefore I do not store my item in them. I did however make sure to take note on the laundering instructions since there was no tag on this particular lingerie piece. The item is nicely packaged and would make an excellent gift (where appropriate!).
Made in Taiwan.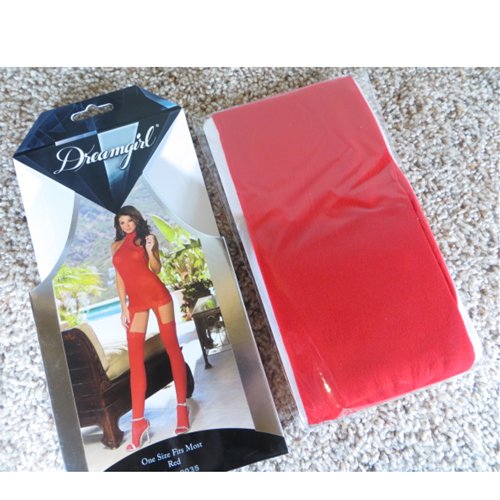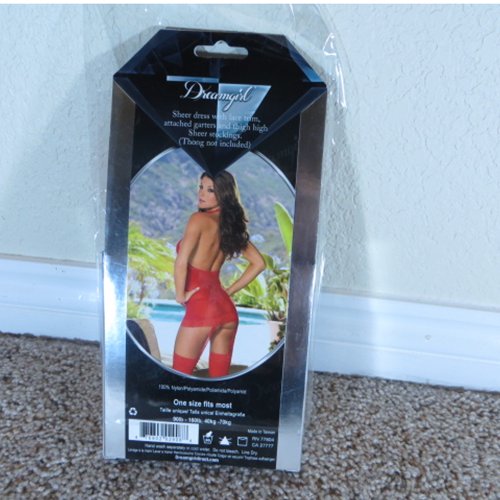 Care/ Maintenance: Information on box
Like I said before, the care instructions for this lingerie piece is on the box only. There is no tag on the item. So I advise you to take note of the care instructions, keep the box, or have a really great memory!
The care instructions for the Sheer Dress are hand wash separately in cold water. Do not bleach and line dry. There is nothing about ironing, but I wouldn't iron this item.
I washed this item right when I got it because it had a strong nylon-y smell. It was easy to wash in the sink. I used gentle free-and-clear detergent and it took no time to line dry! I was able to wash and wear in the same day!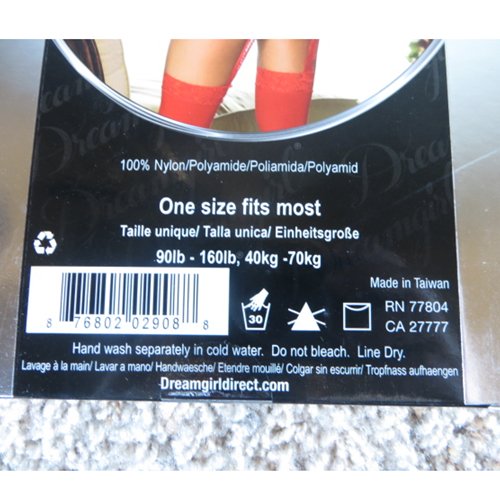 Size: One Size - bummer
Sorry to all the ladies that fit above or below the one-size items. This would not be for you. I am in the mid-range that is suggested for this piece (130lbs), and I feel like I am almost too big for it. I am typically a size small-medium. I wear size 4-6 in dresses and jeans. I have a 34D bust. The rest of my measurements can be found on my
profile page.
The suggested fit from Dreamgirl: One Size Fits Most: 90lbs-160lbs
My suggested fit from me: One Size Fits Most: 90lbs – 140lbs
Here is the thing, if you are above 140lbs, I am sure you CAN fit into this, however, I don't think it will be very flattering. This is a very tight, thin and very sheer piece. Unless you are comfortable with your body and don't mind nearly being naked (because in this it is like you are) then I wouldn't purchase above my suggested range. As for those in my suggested range, like I said it is thin, sheer and tight, so remember that!
Design/Shape: All in one
This item comes in the color options: black, red and white.
I obviously got the red, based on my pictures. I really like this in red, but I will warn you it is a little on the orange-red side. I still love the color although it is not a deep red, and I think that this would be my first choice again if I was buying this item for the first time.
The one-piece sheer dress is very sexy. It is a halter top that has two clasps around the neck. The neck piece is lace along with the bottom edge and the top of the garter and thigh highs. The lace trim is flowery and beautiful. The solid nylon sections are thin, stretchy and very sheer. The more they are stretched, the more see-through they get.
The entire item is one piece so it is a little tricky to get it on. There is no bra support or panties. It is an open style dress, so it is very easily worn during sex.
Experience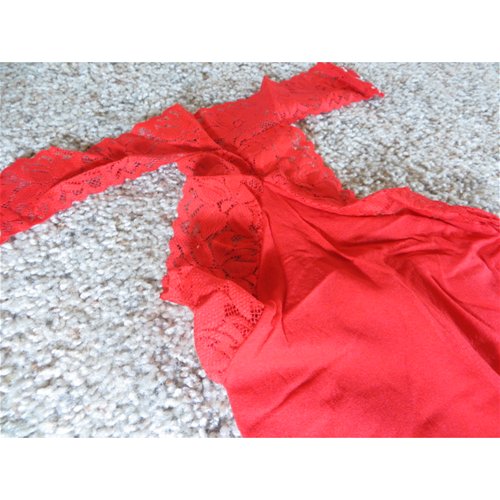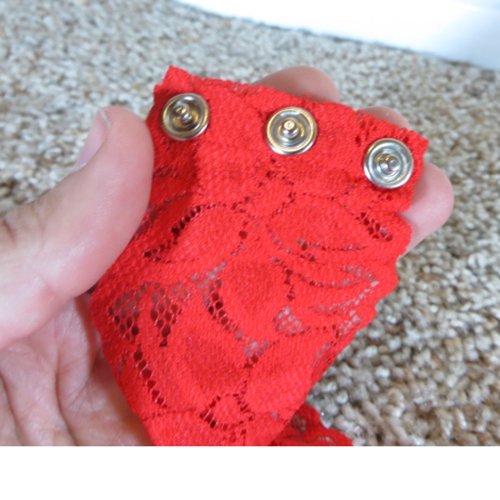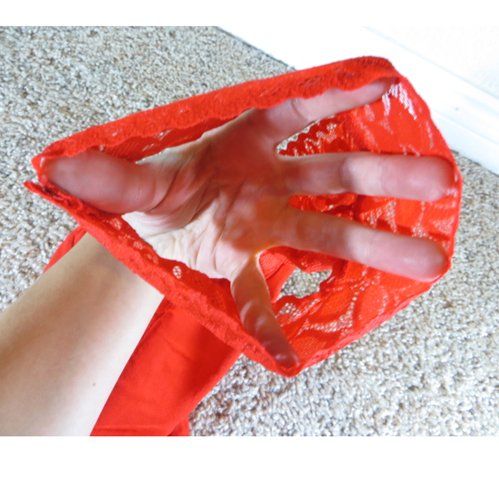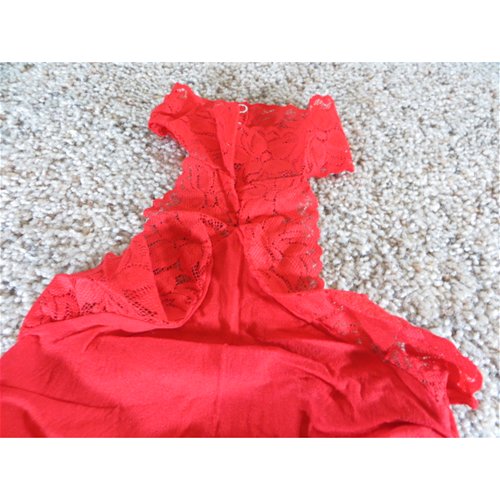 bold| Material/Texture: Nylon, like it or not]
The material is comfortable on. I did wash this before wearing, and I think this helped tone down the starchiness that nylon sometimes has. The item is 100% nylon – so as you can image feels like tights! If this is a bothersome fabric for you, you might want to steer clear. I wear nylons and tights to work frequently, so I am comfortable with the fabric.
The lace portions are a little itchy when on the skin for an extended period. If you are just wearing it for a quickie, I doubt you will notice it, but if you are wearing it for an entire evening under clothes, that is a different story.
The material is extremely stretchy and pulls in every direction. The more it is pulled, the more sheer it becomes. The piece is made very well. The toe edging is solid and feels like it will last. The garter is strong and double stitched on to the dress and thigh highs. The item is very good quality and good materials.
Personal Experience :
I enjoy this piece. Although it is not the most flattering of lingerie, my partner doesn't notice, only I do. It is very hugging to the body, very tight and very form fitting. It shows everything – nipples, crotch, belly button – there is no hiding in this piece!
I am on the mid-range of the size chart, and feel a little hefty in this because it is so tight, but that is my only con, which is kind of just a personal one. The pros for this outweigh the cons, so I gave it a high rating. Having sex in the piece is so fun and easy with the dress being short and no undies included – this makes this piece a winner for me!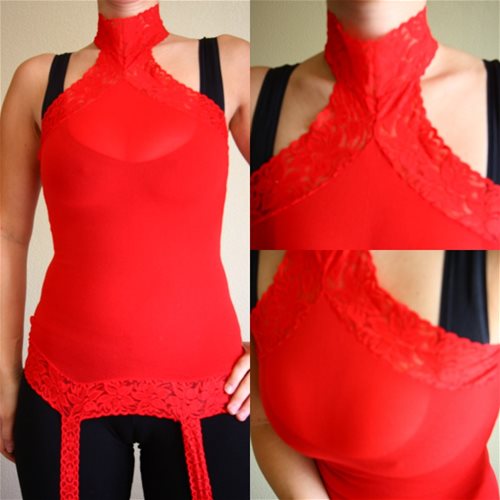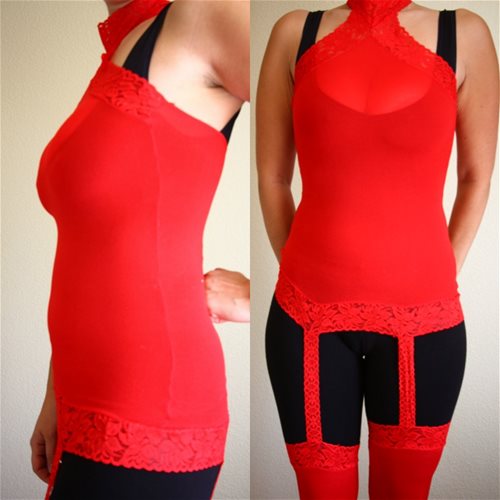 This content is the opinion of the submitting contributor and is not endorsed by EdenFantasys.com

Thank you for viewing
Sheer halter mini dress
– chemise review page!