(Size 38) Now THIS is an Uplifting Corset!
This corset does what a corset should. It lifts your busts well, and gives the impression of an hourglass figure, whether you have one or not. Plus, it's reversible, doubling your options for how to wear it. However, you may want to allow for extra time to get into it, and to get back out of it again.
Published:
Pros:
Great boost for the bust; Ribbon laces; Reversible
Cons:
Hard to put on; Harder to take off
I have never had good luck with DreamGirl products. I have bought several pieces in the past, or had them given to me as gifts, but they never seemed to fit. They were all in a size large, which
should have
fit me, but they were all, unfortunately, much too small. For that reason, I held back hope when I ordered this
corset, thong, and stocking set
that it would work for me. The only reason I decided to give it a try at all was that this piece was sized in numbers, rather than small, medium, and large. As it turns out, I made a good decision.
The Basics
This piece is a fashion corset, not a training corset, meaning that if it is your goal in life to acquire a 16" waist size, like the burlesque star
Dita Von Teese
, noble as the goal may be, it will not be attained through use of this corset. A fashion corset such as this one does not have the proper boning for waist training purposes. However, if your goal is to acquire the appearance of a sexy, hourglass figure, this corset will do the trick.
This DreamGirl corset is reversible, with the inside being a satin-finished black, and the outside featuring a red scroll pattern. The pattern comes from the use of a slightly shimmery thread, which gives it nice, textured finish with a bit of sparkle. A short row of stiff, black lace trims the top of the corset.
The material for this piece is 56% polyester, 42% cotton, and 2% elastane, which is a European term for spandex. The boning is fabric-covered plastic, and therefore somewhat flexible. There are eight of these plastic bones spread around the corset, varying distances apart, as seen in the photograph below. There are twelve coated eyes on each side of the corset for the black, ribbon lace to run through. This lacing system relies on two laces; one for the top half of the corset, and one for the bottom half. The front of the corset fastens through the use of fifteen hook & eyes, like common bra fasteners. It also includes four removable garter straps. There is no underwire, but you will not need any extra support when you are wearing this corset. The lack of a modesty panel on the back means that some skin will show through unless this is laced completely closed.
This set is listed as coming with stockings. I did not receive these with my shipment (I had to do an exchange, as the first time I received neither stockings nor thong, and the second time, there were still no stockings). This seems to be a recent development with DreamGirl items, according to
this forum post
, but you can read about the stockings that should be with this set in
js250's review
of this product. It also includes a basic black thong made of 95% polyester, and 5% elastane.
Sizing
Eden offers this set from DreamGirl in even sizes from 32 to 44. For this corset, and those of its ilk, your best fit will be to choose the measurement of your bra band size. That's all there is to it. For me, this means that I ordered a size 38.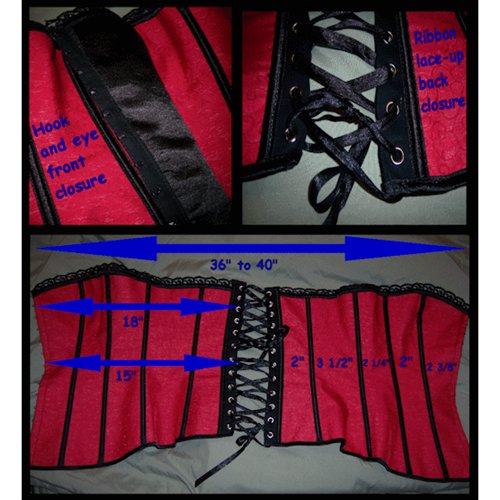 As is shown in the pictures above, the corset measures 36" across at its fullest point if it is laced completely closed, and up to 40" if the ribbon lacing is extended as far as possible. The waist will fit those with a measurement of 31" to 35" depending on how tightly the corset is laced. The corset is 16" long in the front, and 13" long in the back.
The garters are 4" long when adjusted to their shortest length and 7" when let out as far as they can be. They are stretchy though, so they can be expanded to a length of 10" total.
The thong is 13" long from front to back. Its widest measurement is 4" in the front, and its narrowest measurement is about 1 1/4" in the crotch. The elastic band at the top of the thong measures 31" unstretched, and 53" stretched, so it should accommodate most.
Care Instructions and Storage
Both the corset and thong's instructions say to hand wash in cold water and line dry. Because of the plastic boning, this is only sensible. If you choose to press the corset, I suggest having your iron on a low setting and placing a cloth over the corset to keep from singeing the material.
You may store the corset in a drawer, but make sure to fold it in the manner it would naturally, keeping the boning straight.
Experience
That this review has been completed is thanks to the lovely Megan in Eden's Customer Service department. Customer service representatives don't always get the recognition they deserve for trying to make the best of less than perfect situations. Megan worked for two weeks on making things right for me with this set, and for that, I am greatly appreciative. If I were reviewing her work as a customer service rep, she would get five stars.
If I had to say anything negative about this piece, it is that it is difficult to put on and take off by yourself. I found that the hook and eye closures would not stay closed as I was working my way into it. Fasten one, unfasten two. Repeat. It was even more difficult when trying to fasten the reverse side, as the hooks then faced the wrong direction, meaning you have to go
under the eye
to hook it, rather than over the eye. I did find it easier to get into with the ribbon laces loosened. Of course, then I had to reach around to tighten the laces after I was dressed in the corset. Once in the corset, it was quite difficult to get out of it, again, more so on the reverse side. I had to undo the laces rather than the hooks to take the corset off. On the plus side, I believe one can burn several hundred calories in the process of putting this corset on and taking it off again. I may add it to my daily exercise program.
Whatever amount of difficulty I experienced in the process of preparing to do the review for this set, through exchanges and just trying to get into and out of the thing, it was all worth it because this is a great corset. It is beautiful on both sides, reasonably comfortable, and lifts the bosom like a corset should. If you want cleavage for days, this is the corset for you. Do you need proof? A picture is worth 1000 words, they say, and though I have already written more than that, I do have the pictures to back up my words.
Red side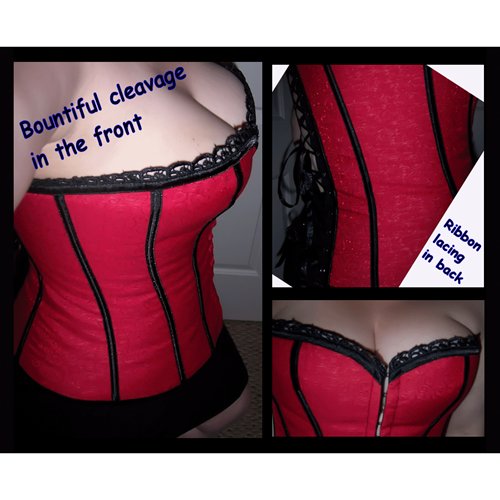 Black side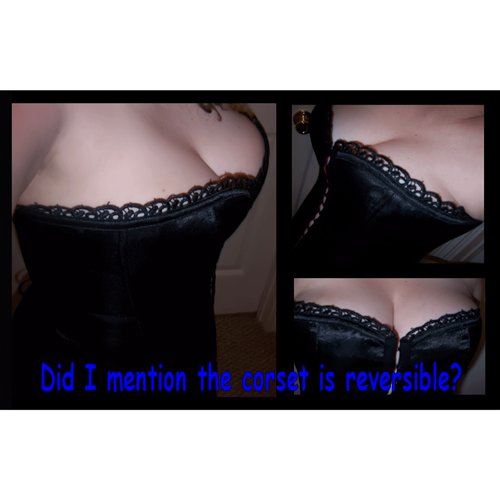 Give this one a try. You will not regret it. I know I don't.
Follow-up commentary
24 days after original review
After spending a little more time with this piece, I think it may be my favorite of all the corsets I own (that would be six now). It fits in such a lovely way, boosting my bosom fabulously, and the ribbons are so much nicer than the shoelaces that are on some of my other corsets. That this corset is reversible is another plus for it.

The only thing that would make this better would be if it had a side zipper closure instead of a front hook and eye closure.
This product was provided at a discounted price in exchange for an unbiased review. This review is in compliance with the FTC guidelines.

Thank you for viewing
Corset and thong
review page!