Sweetly sexy and feminine bustier that EVERY woman should own!(L)
This bustier is all that I hoped for and then some! The cameras they used for the stock photo did the details of this piece no justice at all, and while there is embellishments there is just enough to turn this piece to timeless and not gaudy. I am giving it 4 stars due to sizing running small but as far as the design and quality go I give it 5 stars!
Published:
Pros:
~multifunctional ~Great craftmanship
~Feminine ~Option w or w/o straps ~underwire
Cons:
~Sizing runs small, otherwise NOTHING!!
I have wanted this bustier by Coquette for a long time now but being a single mom of two, I just couldn't justify spending $56 dollars on it. What if I did spend that much and then have it live up to the ill fitted, poorly made pieces of lingerie that I have gotten in the past...I would of kicked myself in the ass for a long time. So I went safe and waited for it to go on sale, as it is now.

Delivered to me I took it out of its clear, plastic protector and admired what I saw hanging on Coquette's clear plastic hanger (may I add it is worthy of the padded, satin hanger). Absolutely BEAUTIFUL it is, and now that I see it in my hands I know it is worth the original asking price. I can't help but wonder why there is only one lone review done on this.. does know one else think this is gorgeous?

This bustier comes by itself, which means no matching thong or thigh highs..just the bustier with matching detachable garters and shoulder straps. This is fine with me because personally I don't usually wear the standard basic thong/g-string that comes with pieces anyway. It is available on Edenfantasys in four different sizes those being SMALL, MEDIUM, LARGE, and EXTRA LARGE.

Starting at the top you have clear, adjustable, detachable bra-like straps that you can choose to wear with it to give you that extra support and each strap is adjustable in length for a more comfortable fit. The bust area has a thin underwire and padded molded cups to keep your breasts in their desinated area. Sewn inbetween the cups is a medium sized white bow that has a silver and clear "jewel" placed in the middle of it. The cups have a white with silver accent lace over laying the white fabric and are trimmed at the top in a shimmery ruffle. You will only find the white, flowery patterned lace on the cups, running down the middle of the bustier, and in the middle of the back. Inbetween and on each side of the white and silver lace that runs down the middle you will see white strips (piping) that of which hold boning, however they do not and are only there to break up the different fabrics used. There are four strips of this piping going around the bustier that has no boning, then there is two strips on each side that actually has plastic boning beneath it. Two white bows sit in the front at the bottom where each garter attaches to the bustier, while these are not detachable they are cute and add to the femininity of the piece along with the white mesh ruffle running around the bottom of it. In the back of the bustier there are 17 metal hooks and two rows of 17 metal eye for closure. Having two rows makes it adjustable to fit your body better. Being made from 82% nylon and 18% spandex allows this bustier to have alot of stretch to hug your body and somewhat hold in and conceal your stomach while still being comfortable.

There are four white detachable and adjustable garter straps that come with it. Two are placed in the front and two in the back if you choose to wear them. The hooks and clasps on the garters are made of a durable metal which makes it so much easier to attach on to thigh highs opposed to plastic as I'm sure most of you know. Each garter tightened to the shortest adjustment is 5 1/2" long and at their longest they are 9 1/2" long (measurements taken unstretched).

Each of the clear shoulder straps are made from a thin stretchy plastic and have clear plastic hooks you use to attach to the bustier. At their longest they measure to 17 3/4" long and when adjusted to their shortest are 9" long (unstretched).

The measurements I am about to give are based on the size LARGE unstretched.

~On the last hook and eye the width of the torso is 13 1/2"
~From under each arm to the end ruffle is 16" long
~Each cup measured in the middle is roughly 5 1/2" wide by 5 1/2" long(difficult for accurate measurement due to the shape)
~Layed out straight on a flat surface unhooked the middle torso width is 28"
Experience
~COQUETTE'S SIZE CHART~
Cup Bust (in) Waist (in) Hip (in)
Small 4 - 6 B 34 - 36 26 - 28 36 - 38
Sm/Med 6 - 10 B 34 - 38 26 - 30 36 - 40
Medium 8 - 10 B 36 - 38 26 - 30 38 - 40
Med/Lg 10 - 12 C 36 - 40 28 - 32 38 - 42
Large 14 - 12 C 38 - 40 30 - 32 40 - 42
X Large 14 - 16 D 42 - 44 34 - 36 44 - 46
Unfortunately on Edenfantasys this bustier is going out of stock with only the size large left in stock. When I ordered this there was only large and extra large left in stock and according to the size chart provided I fall into the larges measurements besides the cups, which I'm use to not fitting right. Coquette's sizing must run extremely small with this because even though I fall into their measurements the bustier is about 3 inches to small on me. So small that I can't even hook it or come close to hooking it in the back! Ironically enough though I think if I could get it to fit me around the cups would fit me perfectly without spilling over!
I am seriously disappointed about this since this is such a gorgeous bustier and a multifunctional piece you can wear out in public or in the bedroom. The material is opaque besides for the trim which leaves the bustier conservative enough to wear out dressing up even the most casual pair of jeans (as seen in the other review for this by Kendra). This bustier would also make a great bridal gift or something for a bride to wear on that special night. It doesn't scream bridal wear but is elegant enough to be so.
A beautiful piece that every woman should own so may I recommend that if you normally wear a Med. then take advantage and order the only size left being the Large before it goes out of stock. Being that it runs so small ordering a size up would be your best bet.
I am grateful to have gotten it before it leaves Eden otherwise I wouldn't of known exactly how gorgeous it is. Yes, it might not fit me now but my goal is to make it fit me by summer so I can get alot of use out of it!
My sizes:
165lbs.
12-14 clothing
38DD
31" waist
42" hips
5'5"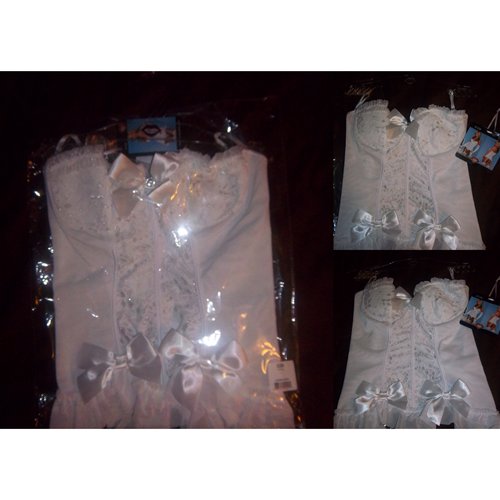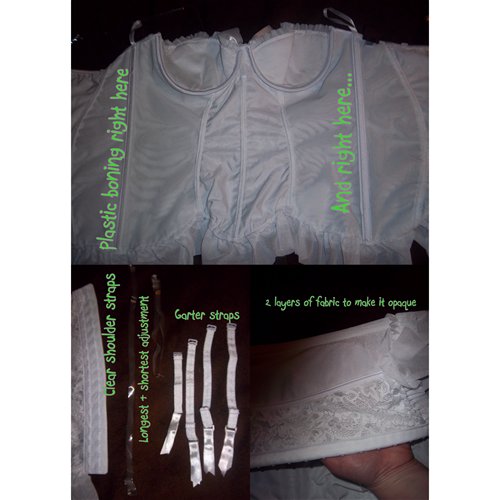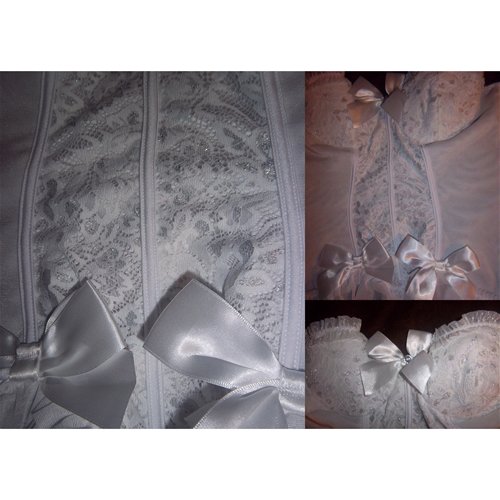 This content is the opinion of the submitting contributor and is not endorsed by EdenFantasys.com

Thank you for viewing
Lace bustier with garters
review page!