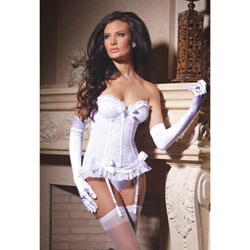 Lace bustier with garters
Bustier by Coquette
Who says white is only for brides?
This is a bustier that I can't imagine looking bad on any woman. While no panties are included and there are some bulging issues, this has to be the most outstanding bustier I own. This will flatter the girl with an hour-glass figure and show off curves in the curvy. Coquette really pulled the simple white look off here, and gorgeously too! This bustier is every bit of comfortable, sexy and gorgeous. Bride or not, this is a must-have!
Published:
Pros:
Beautiful!
Rhinestones--yea baby!
Flatters the female figure.
High quality.
Perfect detailing.
Cons:
Side bones create a bulge.
Hook and eye closures bulge.
My measurements:
Bust: Right: between a B and C cup. Left: 34B
Jean/short/size: Zero
Weight: 93lbs
Height: 5 2"
Waist: 26" Lower waist. Where I'm a bit wider, the love handle area: 29"
BUSTIER'S MEASUREMENTS:
Length: 16"
-25 1/2 wide
-Bust: 28"
-Waist: 26"
Bottom/trim area: 29"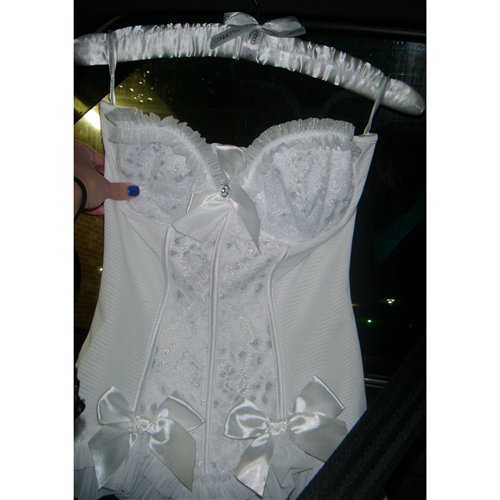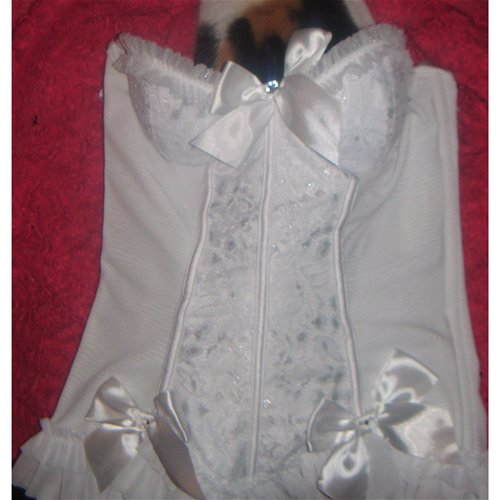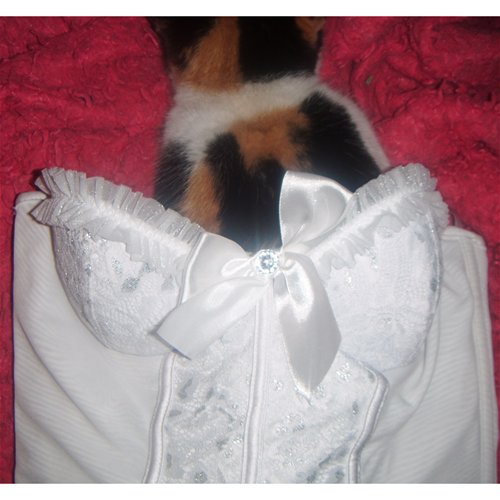 - The lace panel in the middle of the back has an hourglass shape, which brings out my natural hourglass figure. This brings out the curves on any body. Lining the lacy panel is a satin trim, which is also featured mimicking boning on the front panel. The widest part of the back lacy panel is the bottom and it's 9" wide. The middle of the panel is 4 1/2" wide.
-The 5" wide lace panel in the front doesn't have a dramatic hourglass shape to it, although it does have a slight curve if you look.
-2 rows of 17 hooke and eye closures
-Strip of hooks: 1 1/2 " wide with almost an inch in between each hook for tighter or looser adjusting.
-2 layers of ruffle trim at bottom: 3" long.
-Trim around cups: 1" wide.
The front dips down above the crotch and where the bows are, it rises higher. Photos will show better than I am able to describe. The lace trim travels around the back too, and there it's a straight across cut.
Since the length is 16," it may be too short on taller frames. I'm short and have a short torso and this falls perfectly below my belt line, but raising my arms brings it up. On taller people/longer torsos, this will show a little stomach.
I would guess that this size will fit up to a small medium, possibly a full medium, but it would be tight. As long as your not a D cup, the cups should be enough. I'm not promising you won't spill out, but my various sized breasts stay in. The slightly molded cups with underwire will offer some support, but won't hold in larger breasts.
Caring for this bustier requires hand washing and hanging to dry. I would not consider washing it in the machine--it's delicate. 82% Nylon and 18% Spandex material means this conforms to your sexy curves.
There is what appears to be boning throughout the bustier, when in fact, these are "artificial" bones. They're just fabric, there's no plastic or metal inside except for the two on each side of the garment--think where your "love-handle" area would be. These are plastic. Adding a touch of femininity and beauty to the bustier are 3 removable, white satin bows. Two are safety pinned to the bottom, right above the ruffle layers and the other sits right between the breasts with a gorgeous rhinestone in the middle! I couldn't resist adding tiny rhinestones to the two lower bows! See my photo.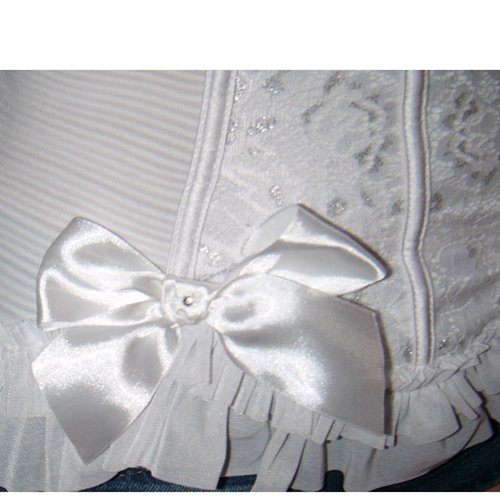 Coquette left you with the choice of straps or strapless. Since it comes with clear straps, you can use them for extra hold without them being noticeable or go strapless. I prefer strapless. The straps are clear, but still visible.
The side panels are made of a white, breathable mesh (not transparent!) while the middle front and back panels consist of lace with beautifully detailed silver flecks strewn about. The same material makes up the outer portion of the cups.
Since I'm on the subject of cups, let me say how amazing these are! Instead of giving me squishy boob syndrome, these are soft and light. There's no padding, but the cups are somewhat molded with cotton lining. Since the outer portion is covered in lacy detail, your nipples won't show through. There's underwire for support and each cup is trimmed in beautiful sheer, shimmered ruffle. The material is similar to a shimmery tulle. The cups are so comfortable. They lie flat against my breast, not exposing them, but aren't tightly fitted. This won't give you boobs up to your chin, but I like that they're comfortable.
GARTERS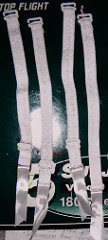 Garter straps at longest: 8" long
Garter straps at shortest: 5" long
Garters have the metal hook for your stockings, not the cheap plastic ones!
Bra Straps:

17 1/2" at longest
9" long at shortest.
They are stretchy.
The two plastic bones located at either side of the bustier are the only things uncomfortable about this. They aren't terribly uncomfortable, just noticeable whereas the rest of the bustier fits as comfortable as everyday casual wear! I've had a minor issue with the bones on the sides bulging when I move--I had this issue with other Coquette bustiers and I simply cut them out. I won't do that with this one because they aren't bothering me much yet.
Experience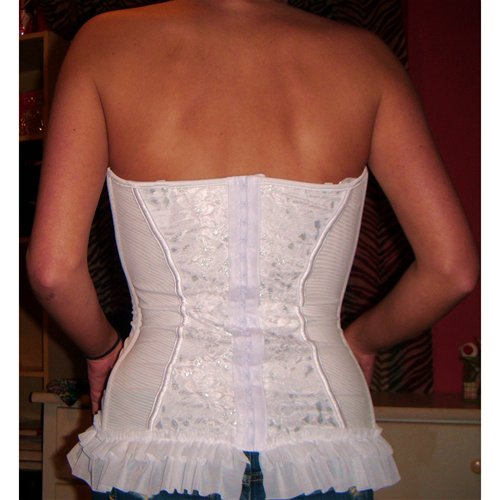 In the back, where the hook and eye closures are located--they bulge! It's not a big problem, and I think it's because the bustier is slightly loose on me. Other than these minor things, this is a stunning bustier!
I feel it's important to repeat how beautifully this bustier fits. It's perfectly comfortable--not so tight that it's stiff or makes it hard to breathe, but secure to where it won't slide around on my body. I have extra room in there, but not so much that it's noticeable. I'm so fond of this bustier that I ended up wearing it out, all day! I didn't plan to because it didn't look appropriate for that, but the second I put it on, I didn't want to take it off--so I didn't!
Do take note on how pure white the color is, perfect for a bride. Also perfect for stains! I was nervous wearing it all day long, but it's still pure white.
This bustier comes with a lovely white satin hanger. The hanger strings attached to the bustier were wrapped so tightly around the hanger that I thought I'd have to cut them off! We finally untangled them though. You may be wondering where the thong is. Well, if you find out, please let me know! I assumed this would come with a pretty white, lacy thong, but no such luck. It's no biggie, but I don't think I've ever gotten a Coquette item that didn't come with a thong--except a dress and two tops, but that's understandable. Usually they send you a thong with corsets and bustiers. I didn't even realize it wasn't there until I put the bustier on and looked down, puzzed and wondering where my panties were! I went commando.
The quality of this bustier is the best I've seen. It's fabulous! I'm usually more of a bright colors kind of girl, but this all-white beauty just had me drooling. It looks so beautiful that when I first saw it, I was nervous that it wouldn't look good on me. I took a deep breath before looking in the mirror, and was surprised, but not because it looked bad. I actually feel beautiful in this! It couldn't be any prettier. My first thought when I saw it in person was "bride," but that wasn't even going to stop me from wearing this. I may not be a bride, but this is too gorgeous to have limits. While this won't offer you much tummy support, it's still going to be beautiful on.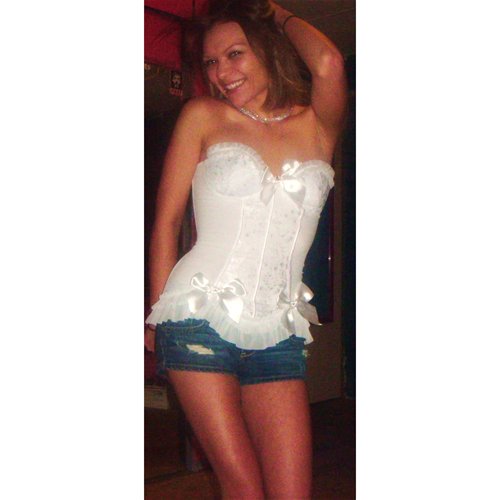 As for my partner's reaction: wonderful! He said many times that I looked beautiful. That was fantastic, but I'm mostly excited that I feel beautiful in it. Afterall, that's the most important part. Of course it makes things even better for him to think I'm beautiful, but it doesn't help if you don't actually feel beautiful.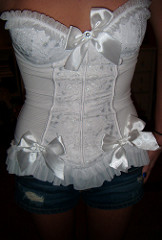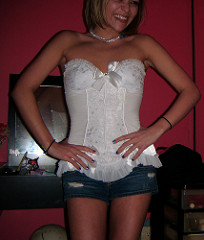 This product was provided free of charge to the reviewer. This review is in compliance with the FTC guidelines.

Thank you for viewing
Lace bustier with garters
review page!