Teach this triple shoulder strap truth to all. (XL)
This is a cute (if overly priced) set for gals with small chests. I can imagine it's difficult for XL-wearing gals with A or B cups to find bras on EF to fit their chests, but this is one such bra. It doesn't provide any support, though. The thong is adorable, though many won't like that it's a thong of the "butt floss" variety. The garter belt settles low and will only hold up stockings that don't need much support; otherwise, the stockings will pull it down.
Published:
Pros:
Sexy option to showcase small breasts, Lovely durable lace, Adorable bow on thong
Cons:
Bra won't fit larger than B-cups properly, Straps, No support, Cheap garters, Bow issue
Since first I saw this set, I was enamored. I adore red lingerie, and since the ultra-low-balconette style of the
Caged Heat Cami
and the
Caged Heat Bra
pleased me so greatly, I was confident that this bra would fit me just dandy.....unfortunately, I was wrong.
This set came neatly packaged on a plastic hanger inside of a plastic sheath, so full of promise.
Included in this set: A (very low) shelf-style bra, A thong with a bow in the back, And the lamest garter belt I have ever encountered (also with a bow)
The bra tag reads: Hand wash in cold water, Line dry. Shell: 92% Polyamide 8% Spandex. Trim: 93% Polyamide 7% Spandex.
The thong tag reads: Hand wash in cold water, Line dry. 93% Polyamide 7% Spandex.
The garter has no tag. It has no soul.
For those of you who care what polyamide means, click
here
. Best I can figure, it means nylon in this case.
The bra laid flat, front and back views. Note that each of the SIX straps are individually adjustable. I took advantage of that feature in the last pic of this review, but It's pretty annoying and unnecessary as far as the intended style of this bra goes. The three straps could've been merged into one strap, and that one could've been adjustable, and it would look the same since the straps don't want to be separated, anyway. Oh well.
The lace isn't really soft, but it isn't itchy or irritating, either. It feels very durable. The back wings of the bra have LOTS of stretch and are filled in with a solid red mesh that is very soft.
The bra has underwire, but this only provides slight shaping and does not provide ANY support. There is only a one-hook closure in back. This bra will not provide any sort of lift whatsoever. Its only purpose is to be strapped around your chest to turn your boobs into eye candy.
The thong laid flat, front and back views. The left of the center of the bow is folded over on itself just a little, but that doesn't really bother me. The bow is still cute and straight and looks good.
The triangle is made of the same soft mesh as the back wings of the bra, and the overall construction is good.
The garter belt laid flat. I think Ryuson said it best: "That is one wimpy garter belt."
It comes with hanging loops (which I promptly cut off).
The garter fasteners are...pretty cheap. I mean really. They are solid red plastic. (Upon closer inspection, they are black in the product page picture, though still clearly solid plastic)
The bow on mine was.....I'm going to go with "atrocious." "Deplorable" is also good. It was so botched that I would probably have tried to rip it off with my teeth had I not had a seam ripper handy. That is how much it offended my eyes. I literally couldn't keep it on for the pictures. Sorry. It was worse than it looks in the pics and all the awkward folds were sewn down that way.
SIZING INFORMATION:
Eden's
DreamGirl size chart
does not include XL, but according to the size chart on DreamGirl's website, an XL should fit the following:
Size: 14-16
Cup: D/E (haha no chance in HELL)
Bust: 38-40
Waist: 31-33
Hips: 40-42
Weight: 160-180
Me:
Size: 16
Cup: C
Bust: 42
Waist: 32
Hips: 42
Weight: 180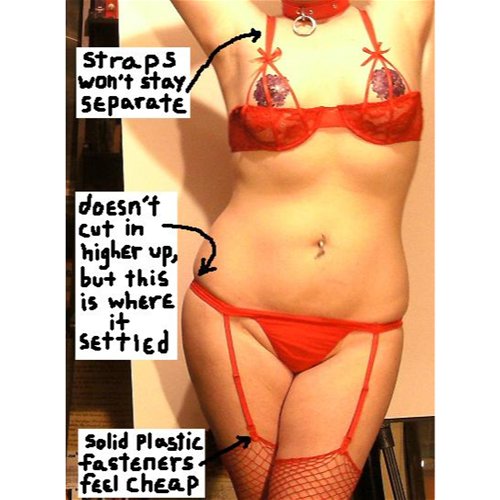 Here's how this thing fits me. (Even with my arms down) the straps just sort of bunch up with each other. Then again, I had to put all the straps on the loosest settings so that they wouldn't cut into my boobs and create the effect of me pressing my naked breasts into a chain link fence. If the straps were adjusted tighter (on someone with smaller, firmer breasts), they MIGHT be more willing to stay in place.
Ideally (for me), the thong would be a little lower rise, but it's still a good fit. The thong doesn't cut into my fat at all.....
But the garter belt does. That is where the garter belt settles....when wearing my
Industrial Net Stockings
, which don't take much to keep up. OTHER, more demanding, stockings will pull this belt right down. Of course, you could always wear them with stay-up stockings if you were dead set on sporting this belt without it being a bitch about being worn.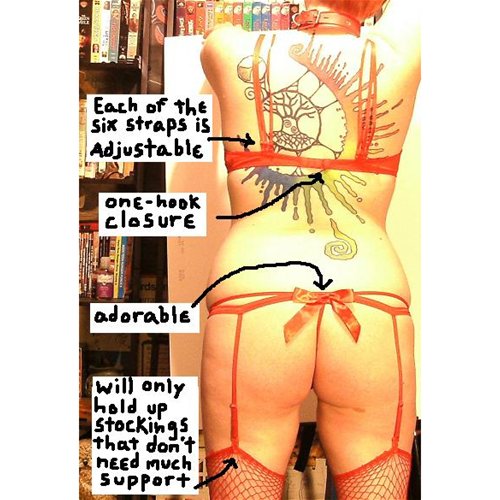 Back view. Yes, I know the thong isn't straight. That's my fault.....but the bow is still cute as all get out.
The bra straps remain obstreperous....they are very finicky.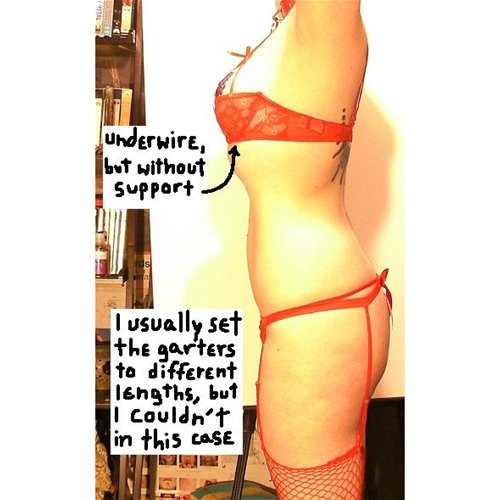 Customary side view.
Experience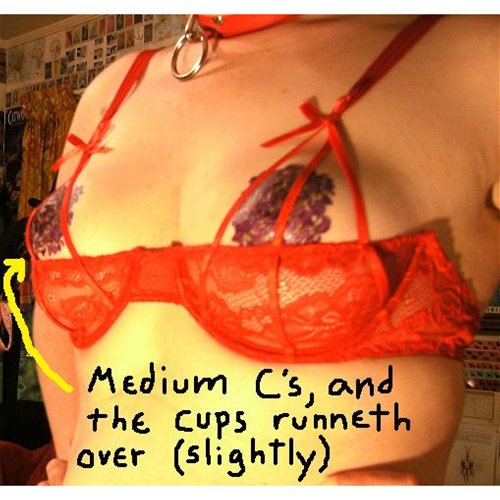 Here you can see that my breasts are just a little too big to rock this bra. In reality, the overflow was a little worse than it looks here, but it was difficult to get a decent pic, and I have better things to do than sit around and take pictures of my boobs all day.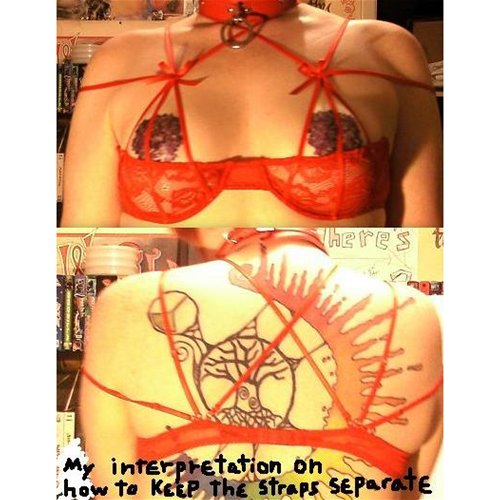 Since each strap was adjustable, I took some artistic license and decided to do this. The far left one (my left) is a little tangled, but that was my fault. Somehow, adjusting the straps this way gave me a little support and the straps didn't cut into my tender boob-flesh as much.
MORE SIZING INFORMATION:
Redone Sizing:
Cups: A and B
Underbust: 36-40 (circumference of ribcage directly under breasts)
Waist: Doesn't matter
Hips: 39-44
For an XL, to find out where the cups would come up to, I would suggest this:
1)Put on a non-padded, underwire bra.
2)Acquire a tape measure.
3)Starting at the underwire at the bottom center of one of the cups, measure up towards the nipple (like the line going up the center of the cup) 3.5". That should be were the cup cuts off.
Thanks for reading and feel free to ask questions :)
This product was provided free of charge to the reviewer. This review is in compliance with the FTC guidelines.

Thank you for viewing
Red bra, thong and garter
– bra and panty set review page!