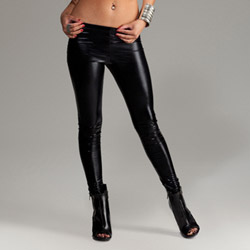 Menton black leggings
Leggings
by Forplay Lingerie
The perfect leather look
All in all, these are good and I would recommend them. I love them and will not allow plumber crack to offset them. I just save them for occasions where I'm standing a lot and won't be stooping to pick anything up!
Published:
Pros:
Flattering, comfortable
Cons:
Plumber crack if you bend over too much!
Eden does not have the size chart up for ForPlay yet, so I included it off their website in this review for you to get more accurate information.
Design
I'm actually in love with these. They have a very flattering fit, and are beautifully made. They seem to hold up well enough that I think they'll last a while. There are pockets on the back, and they are actual pockets. When first looked at I thought they were just a design to make it look cuter and less plain.. but they are normal pockets. I wouldn't recommend putting anything valuable in them though because the thin material isn't going to hold them tightly against you so things could get lost if you moved around a lot. The material used is great despite this. It's very comfortable and I can wear these pants all night and not feel like I need to get home and change out of them. They have a slippery soft feel to them. Obviously, they are not just bedroom items, though they can be pretty sexy to peel off if you do it right. Regardless, they can be worn out, just make sure you wear a set of panties that won't show lines through the material.
Sizing & Fit
I received the large, which by the sizing chart will fit up to 40" hips. I'd like to note that these are made of an extremely stretchy material, so they have more give than that. I'm 46" across the widest part of my butt, and about 44" at the actual hip bone. These fit me pretty well. I only had one issue. When you squat down in these pants, they will ride down. This could be because I'm slightly bigger than the fit says. I'm not really sure whether that's what causes it or not. I don't tend to bend down to pick stuff up when I'm clubbing though, so these at least work for my occasion that I wear them on. I'm in the process of losing weight so if I notice that when I'm smaller they do not ride down anymore, I will post that in the follow-up review later.
Anyway, they are very comfortable, and have a nice soft feel to them. They are leggings, not necessarily pants, so they stop right above my calf. I'm 5' 11" so that's pretty far down. shorter people may be able to actually have them as pants. I typically wear them with boots, so it's not a big deal nor is it noticeable that they are not pants. They are very flattering in the butt and legs. These are probably one of my favorite pairs of clubwear pants!
Material
These wetlook leggings are made of a polyester and spandex combination. They have a rather shiny appearance, without the restrictive feel of latex, vinyl, or leather pants. It's an easy care material also. I do not put the pants in the drier, however I do wash them in a regular wash cycle with cold water. The material holds up really well to wear and the stitching and hemming on the ends all have held up. There are no loose strings or any areas that look as though they will possibly wear thin with time. The material is rather thin, and will probably not keep you warm clubbing in the winter though, so keep that in mind. It is not see-through, but is thin enough to show panty lines underneath.
Care
As I mentioned with the material, normal washing will work, but allow for drip dry as opposed to a drier. I believe the drier could possibly burn and scar the material. You can also hand wash if it would make you feel safer than putting it in a regular wash load. I don't use any lingerie baggy for it, and have not noticed an issue with it.
Experience
All in all I'm giving these a 4. The only reason I drop the star from 5 is because bending over makes them ride down and gives you plumber crack. As mentioned before, this may change when I lose more weight so we will see and I'll post that in the follow-up later.

I actually love these for clubbing and dancing, I have worn them on numerous occasions, and have worn it at a convention I went to also. There was a lot of walking and sitting around and they worked fine for it. The only issue with them riding down was when I squatted to pick anything up or bent over completely for some reason or another. I just avoided those movements and it was fine. I do think they're a fabulous addition to anyone's wardrobe though. They match with many things and have a very attractive and unique look to them!
This product was provided free of charge to the reviewer. This review is in compliance with the FTC guidelines.

Thank you for viewing
Menton black leggings
review page!