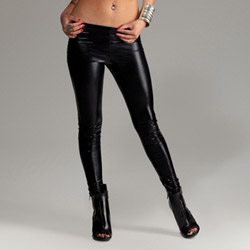 Menton black leggings
Leggings
by Forplay Lingerie
Wet look leather stretchy pants
These are some sexy leggings. You get the leather look for a fraction of the cost, feel sexy wearing tight pants, and you can still eat while wearing them! The only downside is the sort of plastic-y sound they make when you walk, the somewhat fake looking top, and the plumbers crack you might get if you bend over. But, whether you are going out or just teasing someone at home, these leggings make you feel like a badass leather-wearing hottie.
Published:
Pros:
Stretchy, comfortable
Cons:
Noisy, pulls in the back when you bend
Use
The Menton black leggings are stretchy leggings with a wet look or leather look. I find their best use would be to wear them out, but with a long shirt over them to cover the top of the pants. They can also just be worn in the house in foreplay as hot teasers. They are made by
ForPlay
, which does not yet have a company page on EdenFantasies.
Material / Texture
These leggings are made of a polyester and spandex mix, making them stretchy like leggings, but still giving them the wet/leather look on the outside. The inside just looks and feels like stretchy polyester pants. The outside texture is a little noisy, and gives my husband the 'scratching a plastic binder' heeby-jeebies. So, walking with these on creeps him out a little.. for those sensitive to sounds like that, I'd suggest putting these on last, with jewelry or other noisy material to cover up the plastic-like scratching sounds it makes.
Design / Shape / Size
I found that these pants fit just fine. The lower leg is form fitting, like skinny jeans would be. On the top, I noticed the same issue
Midway Through
had in her review - you can get a bit of a plumber crack if you bend over in these. It makes me think that these leggings were either designed for people with small backsides, or the company just didn't consider what a normal size bum would look like bending over in the pants. It's not terrible, it just pulls low enough that I would be conscious of my keys and everything so nothing drops on the floor while I'm out wearing these. The leggings are also a little long, so I have them bunched up at the ankle when I put them on, which is fine for me.
Performance
Overall, these are pretty darn sexy. I felt that the top of these leggings looks a little too fake to wear out somewhere well lit, but for being leggings, they're nice. I get to have that leather look for a fraction of the cost, feel sexy wearing tight pants, and I can still eat a decent meal wearing them. For going out, or just surprising your partner, these leggings do the trick to make you feel like a badass leather-wearing hottie.
Care
To wash these leggings, I turn them inside out (just to better protect the leather look) and wash them with the rest of my dark clothes in a cold/cold cycle in the washing machine. Then lay them out flat or hang to dry. Hand washing would probably be the best for the life of these pants, but tossing them in the washer works too.
This product was provided at a discounted price in exchange for an unbiased review. This review is in compliance with the FTC guidelines.

Thank you for viewing
Menton black leggings
review page!