The Ribbon Mime
As soon as I put this one the first time, I feel in love with it. As a women with self image issues, I prefer the majority of my body covered yet have access to my private parts. This body stocking covers my body and allows for penetration.
Published:
Pros:
Well made for a body stocking,cute design, and great price.
Cons:
Tight wristband, made for short torso's, more for mile high legs, crotchless area not big enough.
What is it and what are my options?
The lace long sleeved body stocking is available in one size fits all and one size fits all queen size. There are no other color options for this body stocking, but there are many
options
of body stockings on Eden, with all kinds of designs and color options.
Material
The body stocking is made of 100%
nylon
, which is a very delicate material. It is the softest nylon I have ever had on my skin and is comparable to wearing cotton. I could not believe how ridiculously comfortable this nylon is, but I did feel like a mime or ballerina, just minus face paint or the tutu. This is just because of wearing tight full body covering black clothing. This nylon is stretchy, but you must be very careful it is very delicate. It isn't at all itchy to my surprise, since I have sensitive skin most nylon is itchy, but not this.
How do I put this on?
The only way to put this on is by stepping into the collar, you will want to do this very slow and make sure that the V in the front. The first thing to do is get your feet in the right placement, which there is a seam of material for east foot placement. Once they are is perfect position slowly pull up the legs of the stockings, which are okay for short legs, but more for longer legs. Now once you are at the waist, you will want to pull this up slowly tucking in your breast before pulling over your shoulders and slipping your arms in the sleeves.
Design
The pattern to this material has giant bows that are bold in black with connecting bold lines as well, but there are thinner connecting wavy lines as well. This pattern is absolutely adorable and really helps make this body stocking unique. The collar of this stocking is the basic V neck and is lace with a tear drop shaped pattern to it. The back at the collar also cuts down, but is a scoop neck that reveals part of the shoulder blades from side to side and down to about the bottom of your shoulder blades. There is a seam at the top of the shoulders and there is a seam down the front and back in the middle. This is long sleeve and there is a seam connecting the sleeves on. At the wrist of these sleeves is wristband, but it fits snugly on your wrists. The crotch area is semi-crotch-less, by this I mean that it is two flaps of material that spread open when you open your legs or hold it open. This is not as functional as I would have liked. It is more for people who like to rub against material during use of the crotch-less area. The legs have a seam in the inner part and it continues on to the toes, but stopping at the pinky toe. This seam is on the feet helps with foot placement.
Crotch-less
Size
There are two size options with this body stocking, one size fits all and one size fits all queen size. I went with the queen size. The package says 165lbs-275lbs, but I am going to have to call bull shit on the 275lbs. While there is room in this for a larger person, I do not think that 275 are possible, more like 240lbs. There is no support to the breast with this stocking, but wearing a bra is an option. There is plenty of room for large breast. It fit my 40DDD breasts. You will want that to match the stocking or be cute since the material is sheer. The top portion to this body stocking is short on my 19" upper body; this is measuring from hips to top of shoulder. It is not going to work well for those who have longer upper bodies. The legs do work for me, I am 34" from my hips to the bottoms of my feet, but you can see bunched up material. So this is best for those with longer legs, only because the bunching of the material is sort of unflattering. The crotch-less part is just a 6.5" opening that are two flaps of the material, but how this fits will depend on the person. For me is just barely clit to bung hole, that is it. It is not the most functional, since it does sometimes require you holding it open. I found the best position for this crotch-less part was doggy style, because when you bend over the crotch-less part opens itself. This was the most functional position, but again this will vary person to person due to angles and size.
Experience
DreamGirl
Size Cup Bust Waist Hips Weight
One Size 2 - 14 B - C 32 - 38 24 - 32 34 - 40 60 - 160
Queen 16 - 20 D - DD 40 - 54 36 - 44 42 - 56 165 - 275
My Sizes
Size Cup Bust Waist Hips Weight
13 DD 40 35 40 160-170
***Warning this is an opinion of reviewer! This is my best guess.
My New size Chart
Size Cup Bust Waist Hips Weight
One Size 4-10 A-D 32-38 24-30 34-38 80-140
Queen 12-18 A-DDD 40-50 34-40 40-54 150-240
Cleaning and storage
Since this is made of nylon you will only want to hand wash this and hang dry it. Machine washing and drying can and will damage the material.
Nylon is a delicate material that can easily snag, so you are going to want to store this in a safe place. Nylon will not last forever, but you can do your best to keep it nice.
Overall
I have to give this 3 out of 5 stars due to the fit and the not so functional crotch-less area. It would be four stars if the crotch-less area was better, but overall I am happy with my gift Wetone123 and thank you. I say this body stocking is worth the price and the purchase; it really is nice and sexy.
Pairing Suggestions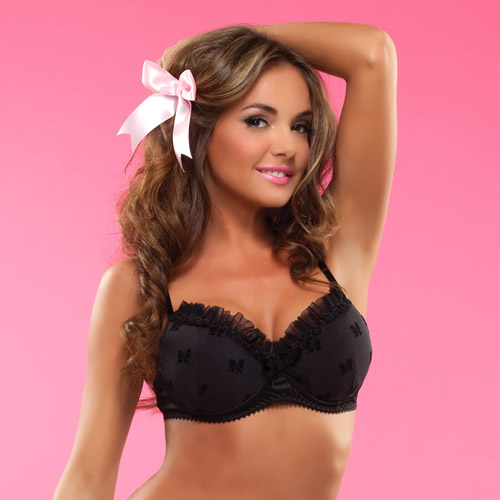 Buy Here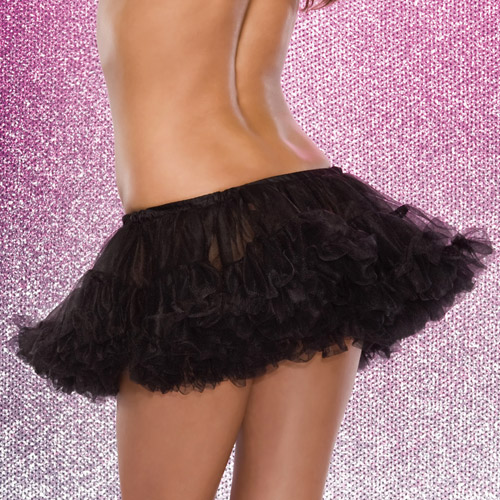 Buy Here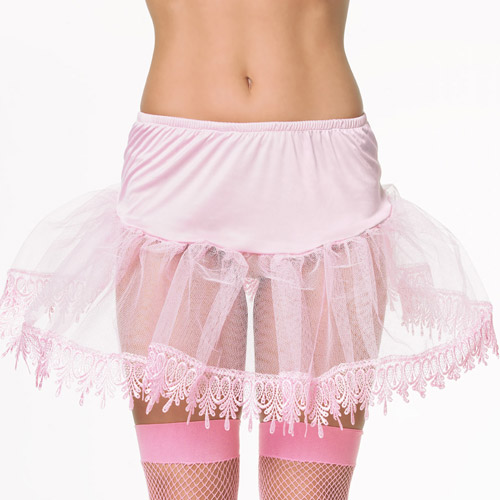 Buy Here
This would look great with a black bra for support and a tutu like skirt over top.
Packaging
Follow-up commentary
4 months after original review
I tend to wear this body stocking under some of my other lingerie pieces. It works out well for my video reviews. It has held up well to regular use. The crotchless part is still too small, so I don't wear it during intercourse.
This content is the opinion of the submitting contributor and is not endorsed by EdenFantasys.com

Thank you for viewing
Lace long sleeved bodystocking
– crotchless bodystocking review page!