Va-Va-VOOM!
I like this corset! It is elegant looking, comfortable, and well-fitted. This could be worn for a night out, or a night in! It's gorgeous and I think it is sure to give anyone cleavage that just won't quit. It even looks good with the straps attached!
Published:
Pros:
Elegant, sexy, fits well, great for taller people, doesn't stick out at the belly, great shape
Cons:
May be too low cut for some to feel comfortable with it.
This corset came packaged in a plastic sleeve, on a plushy black satin hanger.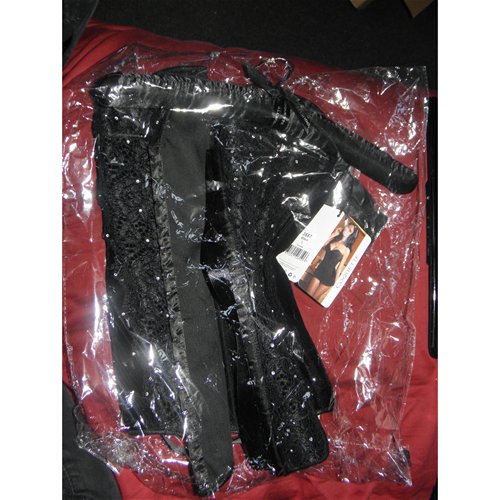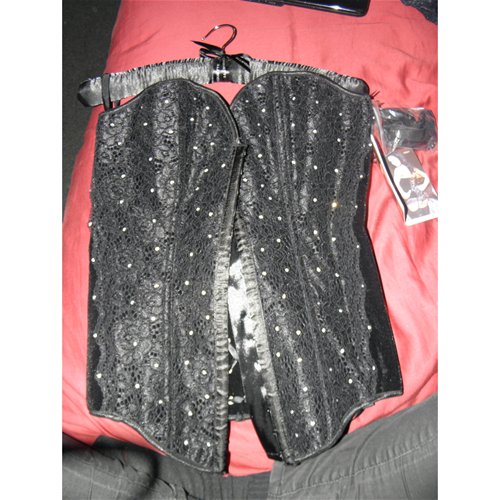 It came with two baggies attached, which contained the 2 removable bra straps and 4 removable garters. The bra straps are about 8 inches at their shortest, unstretched, and about 14 inches at longest, unstretched. The garters can be lengthened to about 9 inches.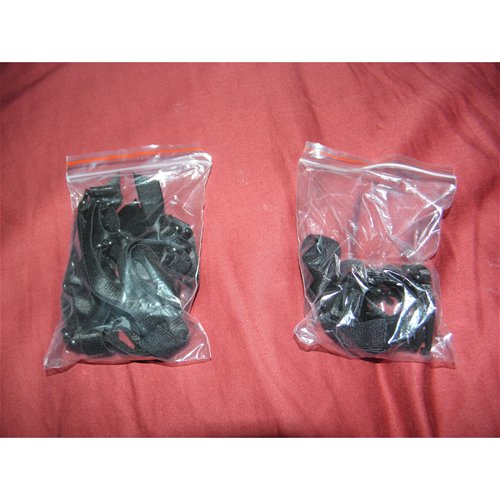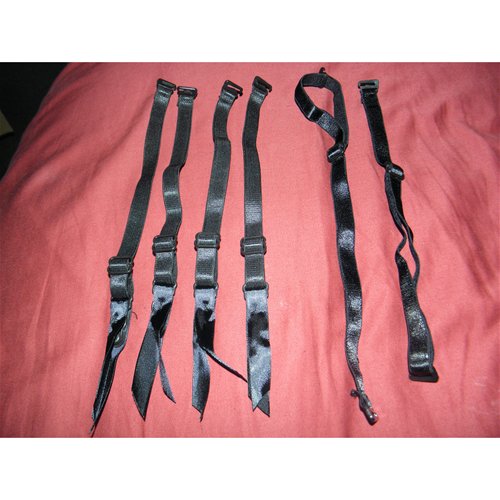 All of these straps are easy to attach, and you have to remove them to have them come off; they won't just come undone on their own.
Care for this is pretty simple, and to be expected. Instructions are included on the tag.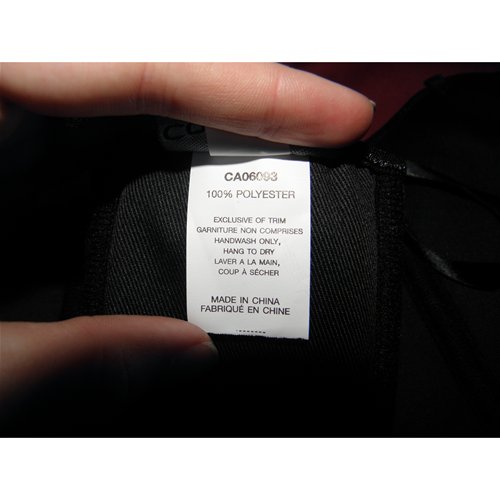 There is velvet on the inside, where the lacing is. Otherwise, the inside is a sturdy, almost denim-like material. It is not rough, and it is black, like the other parts of the corset, so it doesn't stand out. The product page claims that this corset has no boning, but it feels as though there may be some sort of plastic boning in it. On the inside, along all the parts where I believe this boning to be, there is a sort of plushier, almost microfiber-feeling material. I've included an image of this below.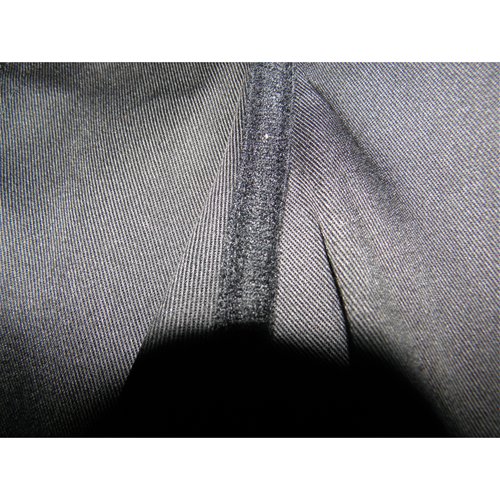 The corset is about 14 inches long in the back, where the lacing is, from top to bottom. The front is about 18, from the top of the cups to the bottom, and 15 inches along the hook and eye closures in the front.
The velvety material on the outside of the corset seems to pick up lint rather easily. Because this is black, and velvety, lint may show up more than you'd like it to, so you may want to have a lint roller on hand.
When I opened the package, I was surprised by the rhinestones. They aren't terribly gaudy, but they show up a lot more in person than in the product photos, I thought. Usually, I don't go for rhinestones. However, the lace and velvet, and total elegant look of this corset kind of makes me overlook the rhinestones. Although, I can see how this is called the Holiday Corset upon seeing all of them. They are only on the front, in where all of the lace is. I could see this being a very nice New Years piece to wear.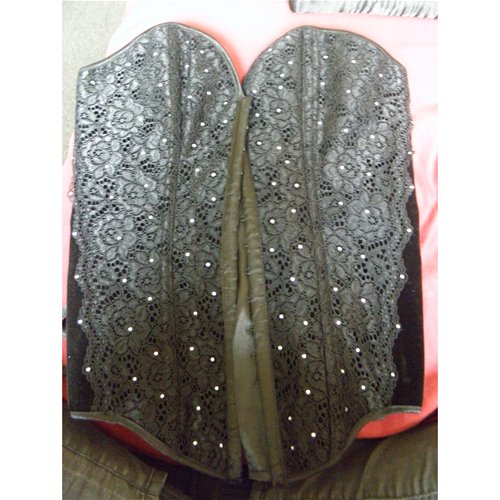 I was VERY Happy to notice the modesty panel, behind the hook and eye closures on the front. This is something that some corset lack, and it can take away from the look of them, for me. With this, your skin is peeking through the front between the hooks, because of the satiny black panel backing the closures! It's about an inch wide, and thin. It doesn't get in the way at all, or seem to get bunch up either, which is nice.
This corset has a SERIOUS push up factor. It is not padded and doesn't have an underwire or anything like that at all. But something about the shape of the cups really does it! Personally, I kind of like this, since I only wear push up bras, so I like not feeling like I need to wear a bra with this, or that it makes me look flat. Another great thing about the design of this is the length! This corset is actually long enough on me! If you are a taller person and have trouble with corsets being just slightly too short, or sticking out just at the bottom, you will probably love this corset. It is flat against my stomach, and long enough that it fits as it should on me. I am 5'9" or so, and I have trouble finding corsets that fit. This is the best fitting overbust that I have, and the best that I've gotten from Eden Fantasys.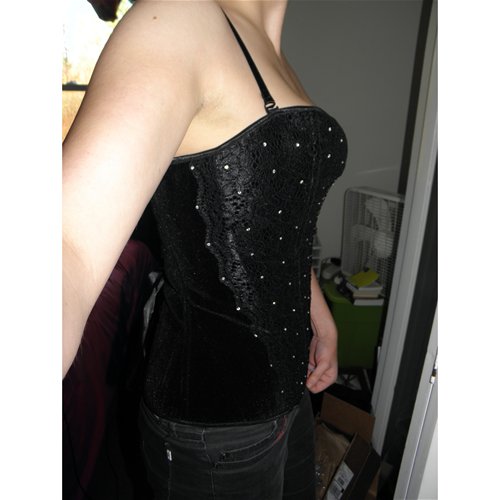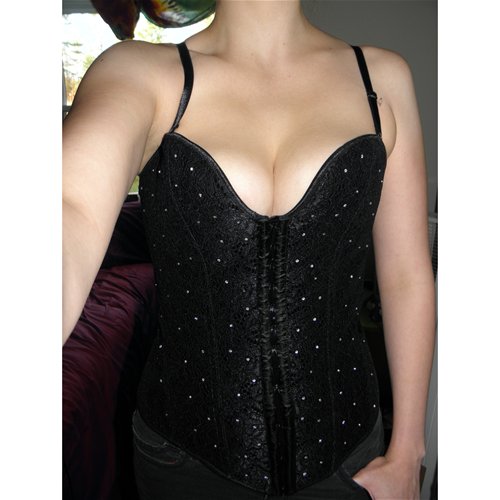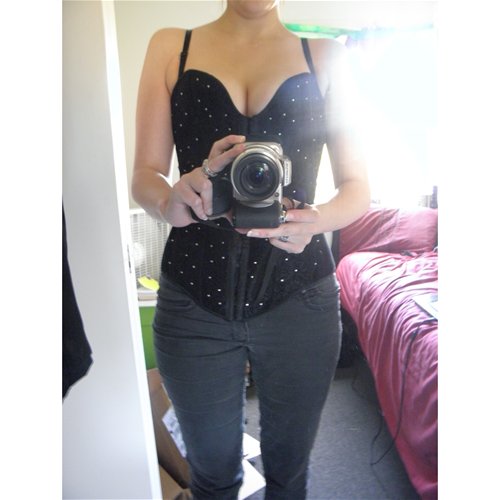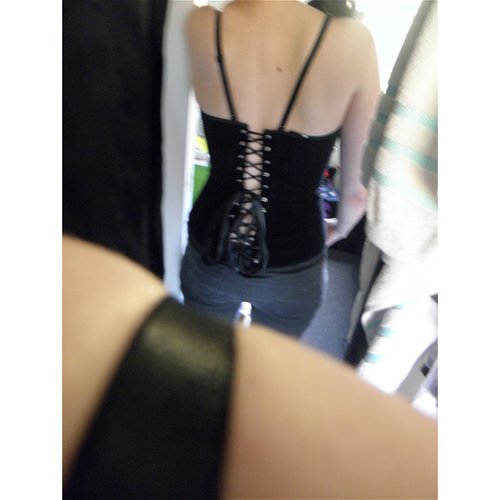 Experience
As for the fit, I think this is the most well-fitted and comfortable corset I own. The only part that might make some uncomfortable is the cups, because it really shows off your breasts. I have a C or D, depending on the bra, and this fit me well. I think it could fit someone with a larger, or smaller chest, also. Though, for me, this corset gives some SERIOUS cleavage.
Also, I like the lacing of this. It seems to lace up nicely. When laced properly, there is a bit of distance between the sides of the corset, rather than them touching completely. I've had that issue with some corset that were supposed to be my size, but that just isn't a proper fit for a corset, not to mention it looks awkward.
Another thing is that the hook and eye closures can be a bit difficult to handle, but that is the case for any corset with that sort of closure. Personally, I prefer the look and sturdy feel of busk closures on a corset, though some find those to be more difficult than anything else. This is the best corset that I have had with hook and eye closures, usually I am not a fan of them at all and try to avoid them.
Oh, and about the boning that I believe this to have...
Well, I generally don't like corsets with plastic boning. I actually have
another corset from Coquette
that has plastic boning. With that other one that I have, I find it could be longer on me, and that when laced as it should be, it hurts to wear. I mean, it bunches and folds up, and digs into my sides, and the boning gets uncomfortable, even if wearing it for just an hour. The longer I wear that one, the more uncomfortable it gets, so it's not very practical for really wearing out for a day - and when I take it off I have "fashion wounds" (i.e. it digs into my skin, leaves big imprints, gets red and looks irritated; like some people get with wearing pants that are too tight). With this corset, thankfully, I have found NONE of that to be a problem.
I don't really have any personal complaints about this corset. I mean, it may be a bit low cut for me even for wearing in certain places, but overall, I see no flaw in this corset really.
Follow-up commentary
2 months after original review
I still like this, and I'm considering wearing it this New Years. It's elegant, dark, and has just the slightest bit of sparkle. I think it will be perfect for a holiday party! I'm just hoping I'm comfortable wearing a corset all evening.
This product was provided free of charge to the reviewer. This review is in compliance with the FTC guidelines.

Thank you for viewing
Holiday corset
review page!