VERY Bettie Page
I think these are cute and interesting. With the high-waist, they remind me so much of vintage fetish stuff...but compared to the other wet look items I have, they just aren't as flattering on me as I would like them to be.
Published:
Pros:
Vintage fetish look, detachable garters, coverage,
Cons:
No XL or plus sizes, no liner, have to be zipped/unzipped, accentuates tummy.
These shorts come packaged in a plastic bag, with a Coquette hanger. They are 80% Nylon, 20% Spandex, and are made in China. As for care instructions: handwash only, hang to dry.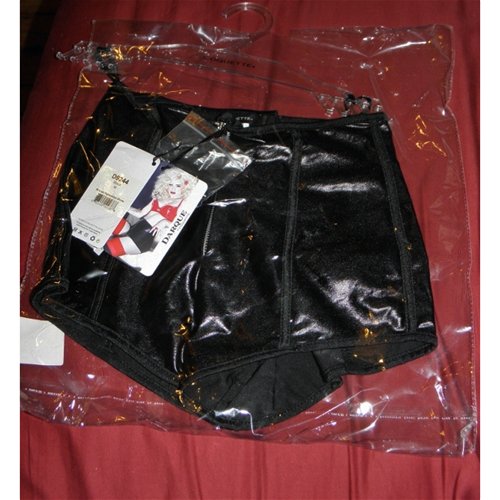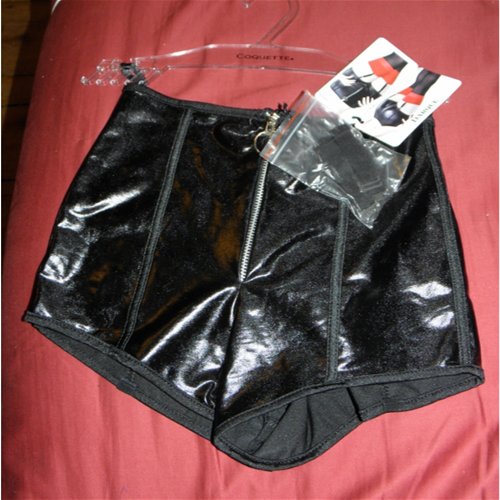 I can compare these to the
wet look booty shorts
and the
zipper pants
, both of which I really loved. However, I notice that one thing that really seems to be sketchy or off-putting to some people about the zipper pants and booty shorts is that the zipper goes all the way around from the front and up the back of them. With these high-waisted shorts, that is not an issue.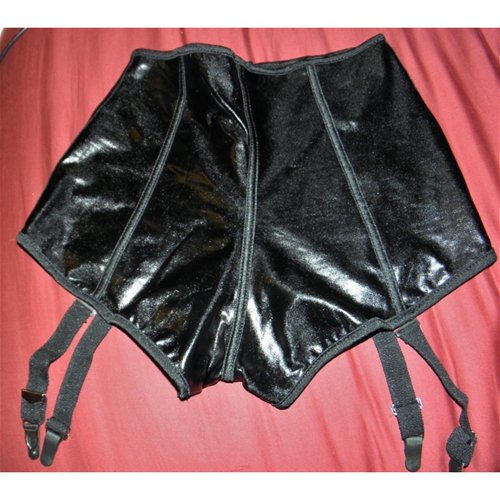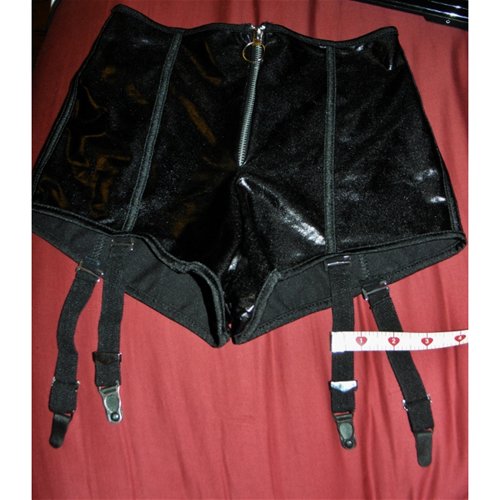 Also, the 4 garters that this comes with are wider and seem somehow sturdier. The garters are detachable (which I always like), have metal hardware, and have lots of stretch to them.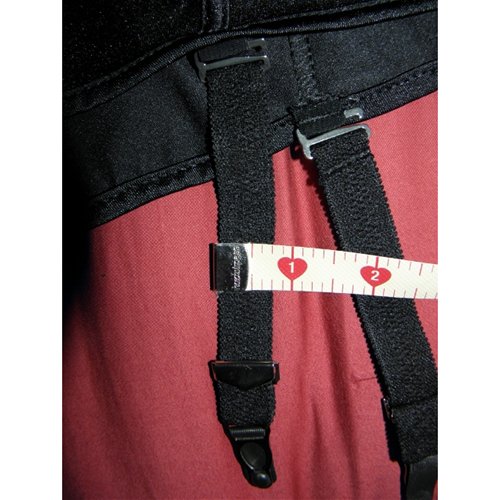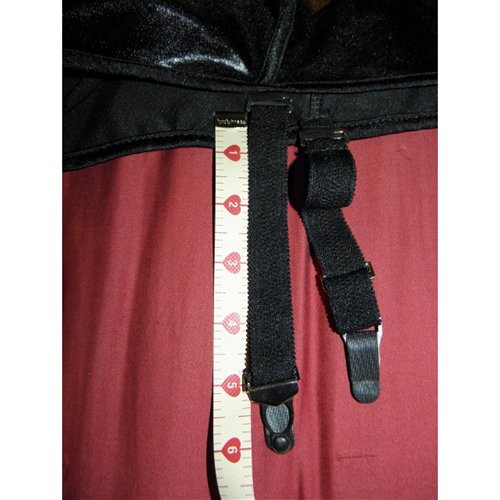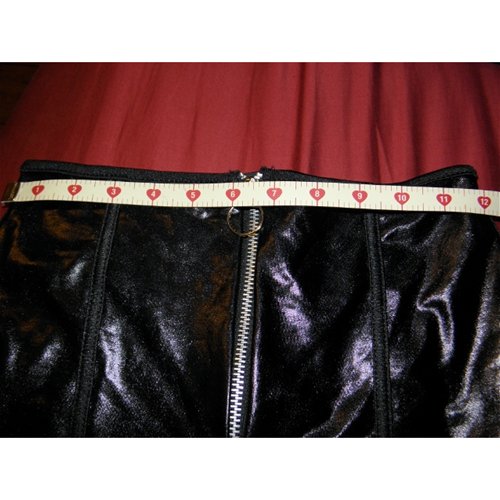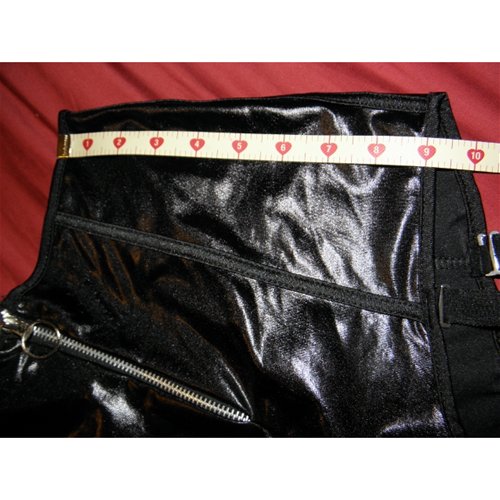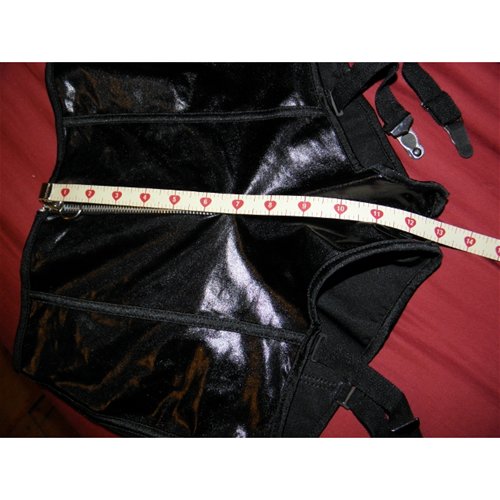 These look very Bettie Page, everything about the style of them. I think they would be great for a roller derby outfit, or for any sort other performers out there.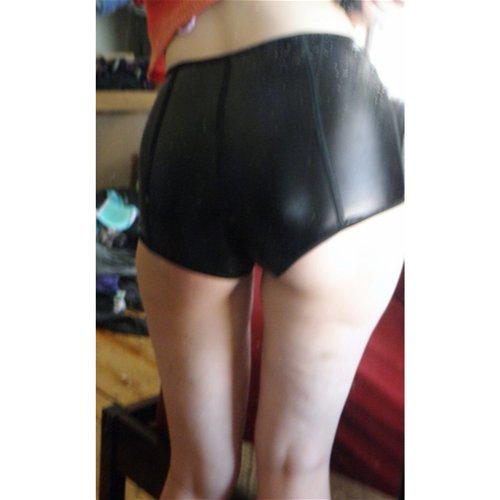 They have to be zipped and unzipped, you can't just pull them on or off. The zipper can be a bit difficult to zip up sometimes. Also, the zipper does not completely zip at the top for me. There is a centimeter or two that remains unzipped at the very top. It's not like it's being stretched to it's limit so it won't zip, there just isn't anything at the top of the zipper to keep it zipped in place all the way to the top. Also, these have no liner on the inside.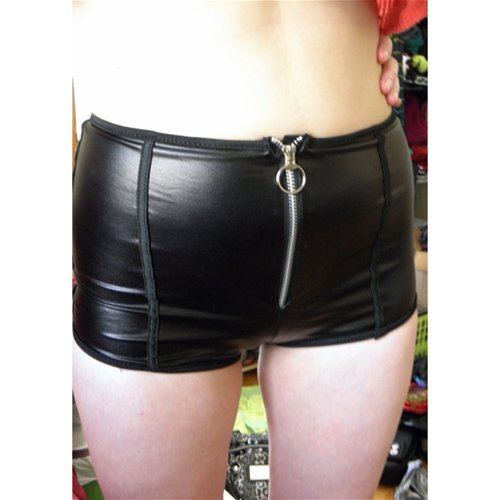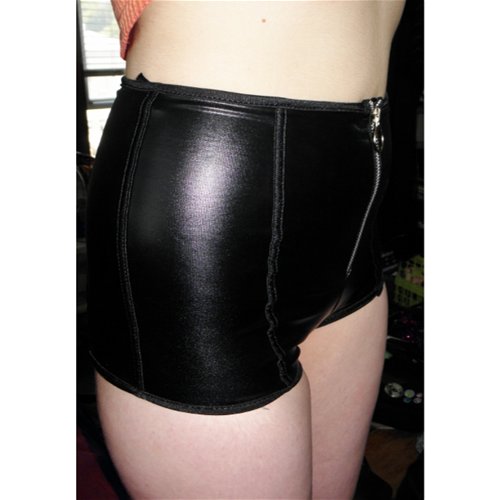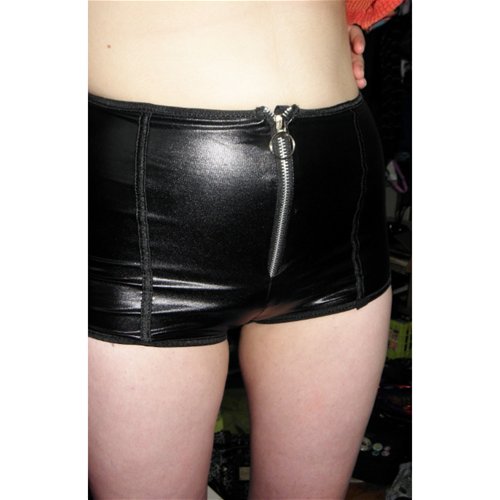 With the high-waisted shorts, you get full coverage, there is no chance of you bum coming out when you bend over like there can be with certain skimpy low rise bottoms. Also, I don't have a muffin top with these at all. For my body type, with this size, I don't get that but it depending on your body type and what size you choose I could see this giving some people a muffin top on their waist. However, I do I feel like it sort of accentuates my tummy, especially when looking at them from the side, even though I have a pretty flat stomach.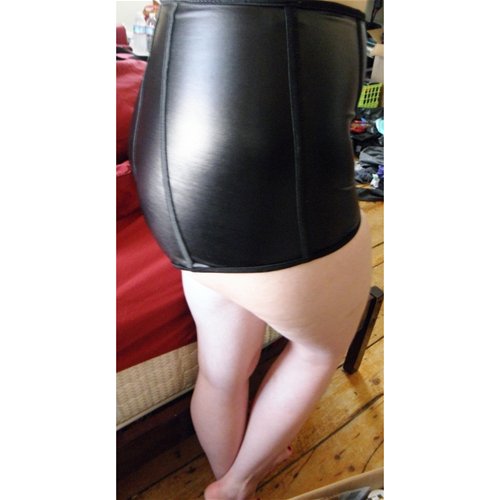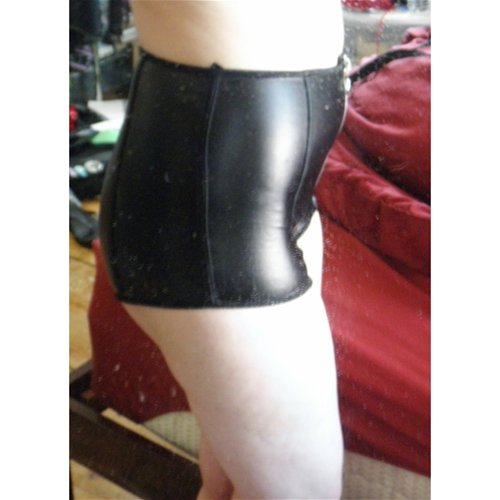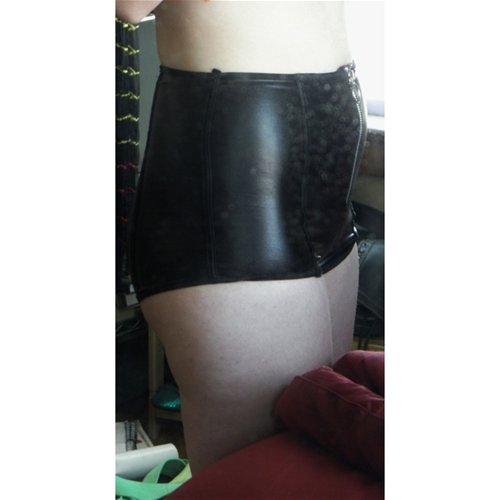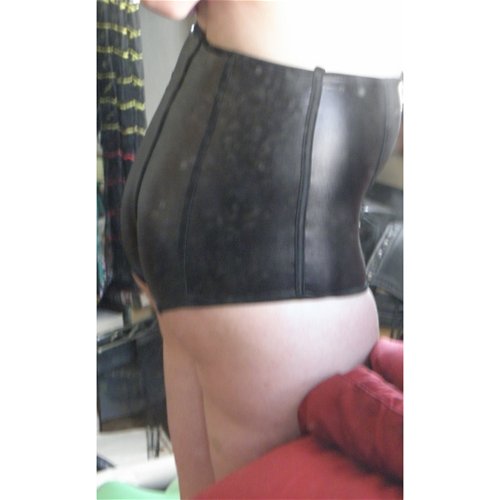 Experience
I have the
Wet Look Booty Shorts
, and the
Wet Look Pants with Zipper
. I got both in a large and they fit true to size and I loved them! But I recently lost a small bit of weight - nothing all that noticeable, I still fit into the same clothing size I did before. This week, when I pulled on my zipper pants, I found myself wishing they were a bit more snug on my hips and thighs. After that, I added the zipper pants in a medium to my wishlist!
So when I saw these, I figured I would try my luck with these getting a medium and hoping it would fit well. I didn't want them too be snug/uncomfortable/ill-fitting. But I figured that if anything, it was better to go down a size than up a size with this...who wants to wear baggy, high-waisted booty shorts? That just wouldn't be flattering on anyone!
I kind of found myself in a toss up trying to choose between the medium and the large, and worried after ordering that I might have to exchange these for a bigger size, that they would be snug on my bum but cut into my thighs or something like that. Luckily, the size is not an issue. I am glad I got the medium, and think even before I lost a few pounds the medium probably would have fit me best. I still wear a large in bottoms, and these fit wel.l They fit true to the
size chart
..and if you fall in between sizes on this or aren't sure what size to get, don't size up, the smaller size will likely be more flattering. The fabric does have a bit of give to it, so the medium is just form-fitting on me...which I much prefer to having a saggy looking bum!
Still...I actually prefer the
booty shorts
to the high-waisted shorts, though I've been told that high-waisted things often look better on me. I just don't love the way these look on me.
Follow-up commentary
3 months after original review
It seems so harsh to say I don't like these anymore. They are nice shorts, they have a great vintage fetish look, but I just never wear them. Plus, being that I already owned the wet look booty shorts and I just adore those. Those look better on me than these do. Also, when I recently modeled these for my partner, he wasn't in love with them. He said that they were okay, and he didn't hate them. He then added, "Those other ones you have, the ones that are shorter are my favorite. I prefer those, these don't look as good on you as those do." So it is unanimous (as far as I'm concerned), the booty shorts are much cuter...for me, anyhow. I'm just not in love with the way the high-waisted ones look on me.
This product was provided free of charge to the reviewer. This review is in compliance with the FTC guidelines.

Thank you for viewing
Wetlook highwaisted shorts
review page!