I feel like Catwoman! Meeoww
I am a big fan of the Coquette's Wet Look pieces. I currently only have the booty shorts, but I have wish-listed just about every other piece sold on EF. You can image my excitement when I saw these were available for purchase! I got them immediately, and I am not disappointed.
Published:
Pros:
Sexy, breathable, love the fabric, true to size, great fit, easy to care for
Cons:
None come to mind!
I already have Coquette's Wet Look Booty Shorts and I am
totally happy with them
. So you can imagine how giddy I was when I saw these super sexy leggings were now being sold on EdenFantasys! These are like a version of my booty shorts that I can wear out to a club with friends! I was going to wait a bit, but I couldn't help myself and ordered them the day I saw them.
When my oh-so-discreet brown box came in the mail I tore it open with much excitement. I took out the leggings and they were packaged like so: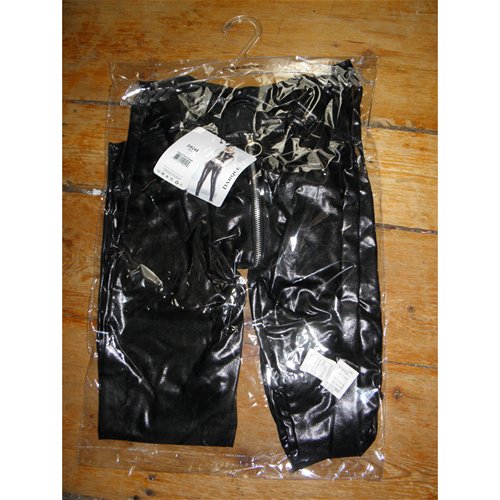 They came in plastic wrapping with a clear Coquette hanger, and a Coquette tag attached at the top with a tiny black safety pin.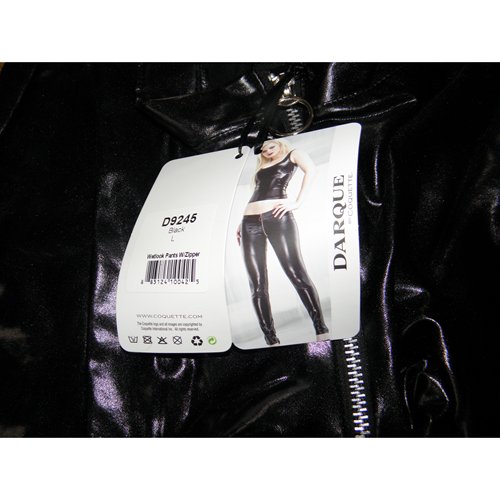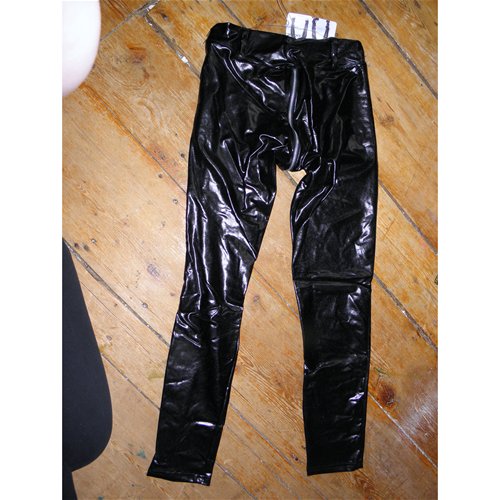 Made in China. 80% Nylon, 20% Spandex. Hand-wash only, hang to dry. I would definitely not want to put these in a dryer! If you spilled something on them and wiped it off with a cloth it would probably be fine and come right off. Also, the fabric will not make you sweat or stick to your skin. It looks like latex or vinyl, but it is not, and it is surprisingly breathable.
I got them in a large. I typically wear a large in tops or bottoms, and according to EF's size chart a large in Coquette is meant to fit a U.S. size 12-14, about a C cup, 38 - 40in. bust, 30 - 32in. waist, and 40 - 42in. hips. I am about 5'9" (maybe a bit more) and wear a size 11, a 38C or D depending on the brand of bra, 30in. waist, and I believe my hips are about 42in.
One of my big concerns was that these would be too low on my bum, or the legs would be too short. I tend to have these issues when looking for pants and bottoms being that I am slightly tall, so I really hoped these would fit me comfortably. When I first put them on, I was happy to see that the legs were a reasonable length on me. If they had been a bit short on my legs, I would be wearing them with boots anyway so it wouldn't really matter to me. So now I had to know...will my bum be out when I bend over or kneel in these? So I put them to the bend-over/stretch/kneel test...and they passed! I was totally covered! Yay!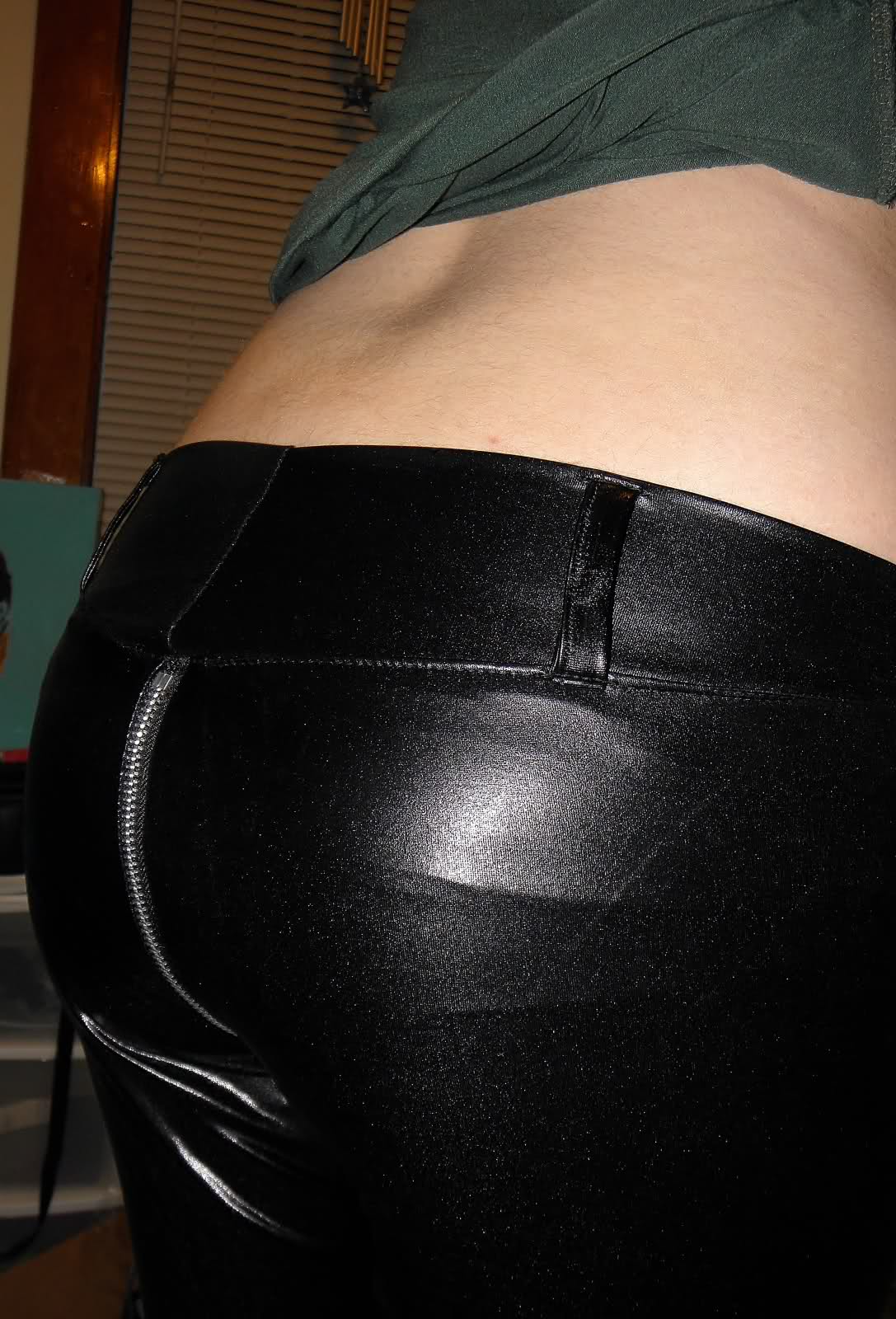 I would recommend wearing these with a thong or going commando, I personally think they look better that way. I typically wear boyshorts, and haven't really worn thongs for a while now, but I think they would look much better with these leggings. Boyshorts give me total panty-lines with these, not that I really mind, but I have a really cute black mesh thong that I got with a chemise that I think would maximize the sexiness of these!
Also, the crotch does not puff out on these when sitting, like some leggings do.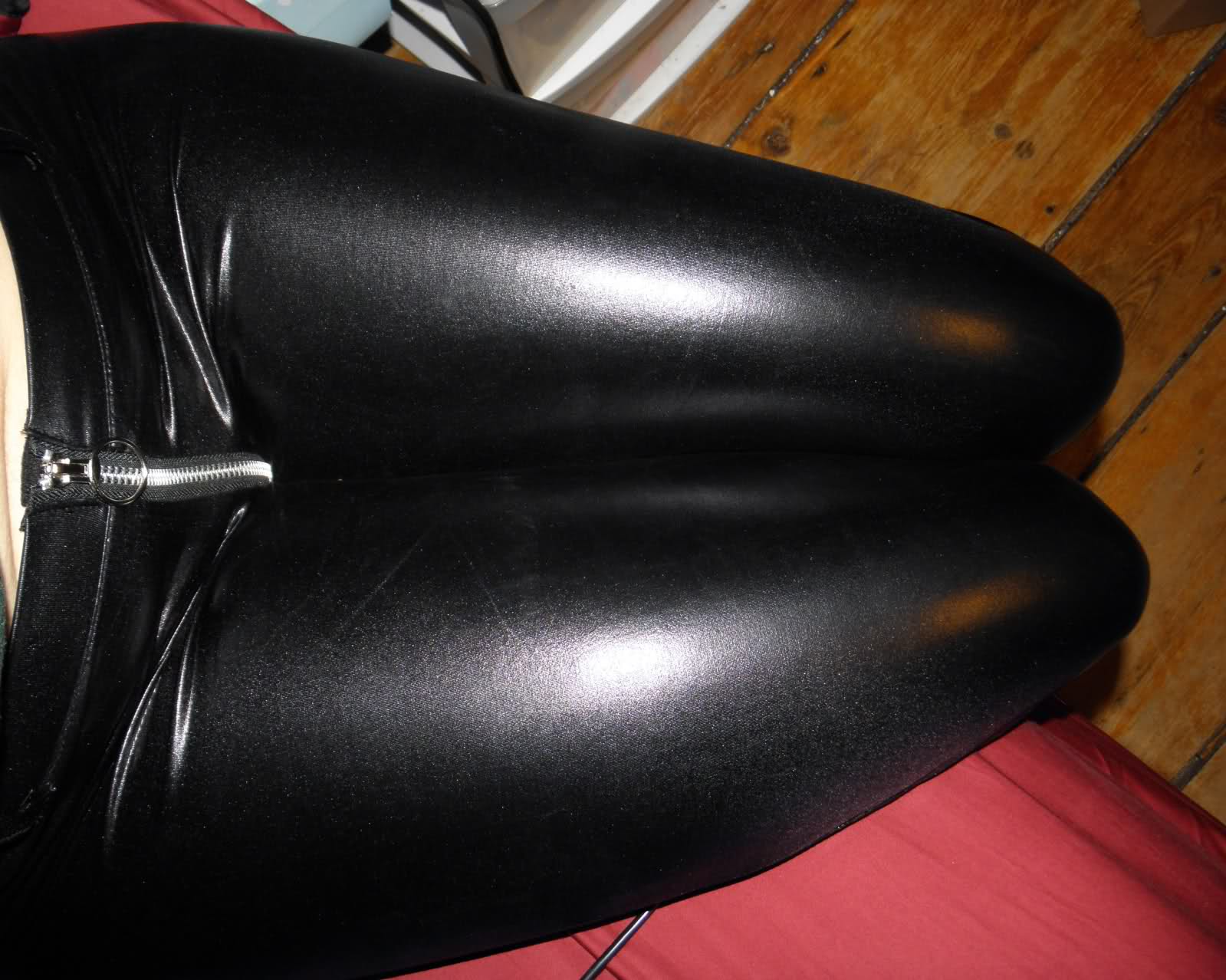 As with the zippered booty shorts, I would not necessarily wear these during intercourse. The zipper works, but I wouldn't want to risk it getting in the way. Though there is a panel of fabric behind the zipper, so no worries about the zipper being uncomfortable or snagging while you're wearing them.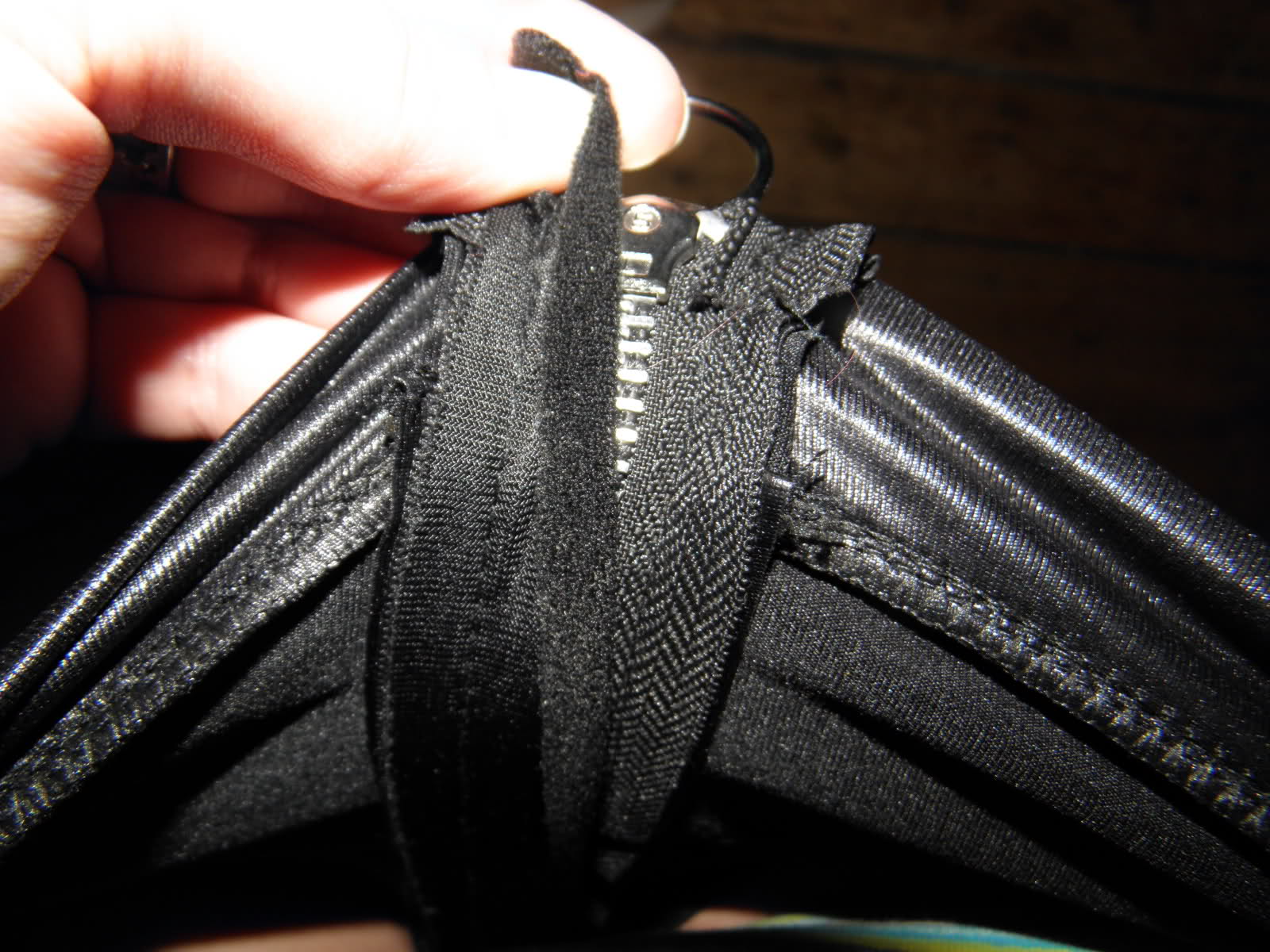 I am very pleased with these leggings, and they look really, really good with a nice pair of black boots. When I pulled my boots on and looked in the mirror I felt like Catwoman, so I have no complaints! And to quote Ms. Selina Kyle (Catwoman) herself, "I don't know about you, Miss Kitty, but I feel so much yummier." (This photo sort of makes it looks like these give me a muffin top, I assure you they do not at all, it is how I am holding my shirt that gives that illusion. They look and fit great!)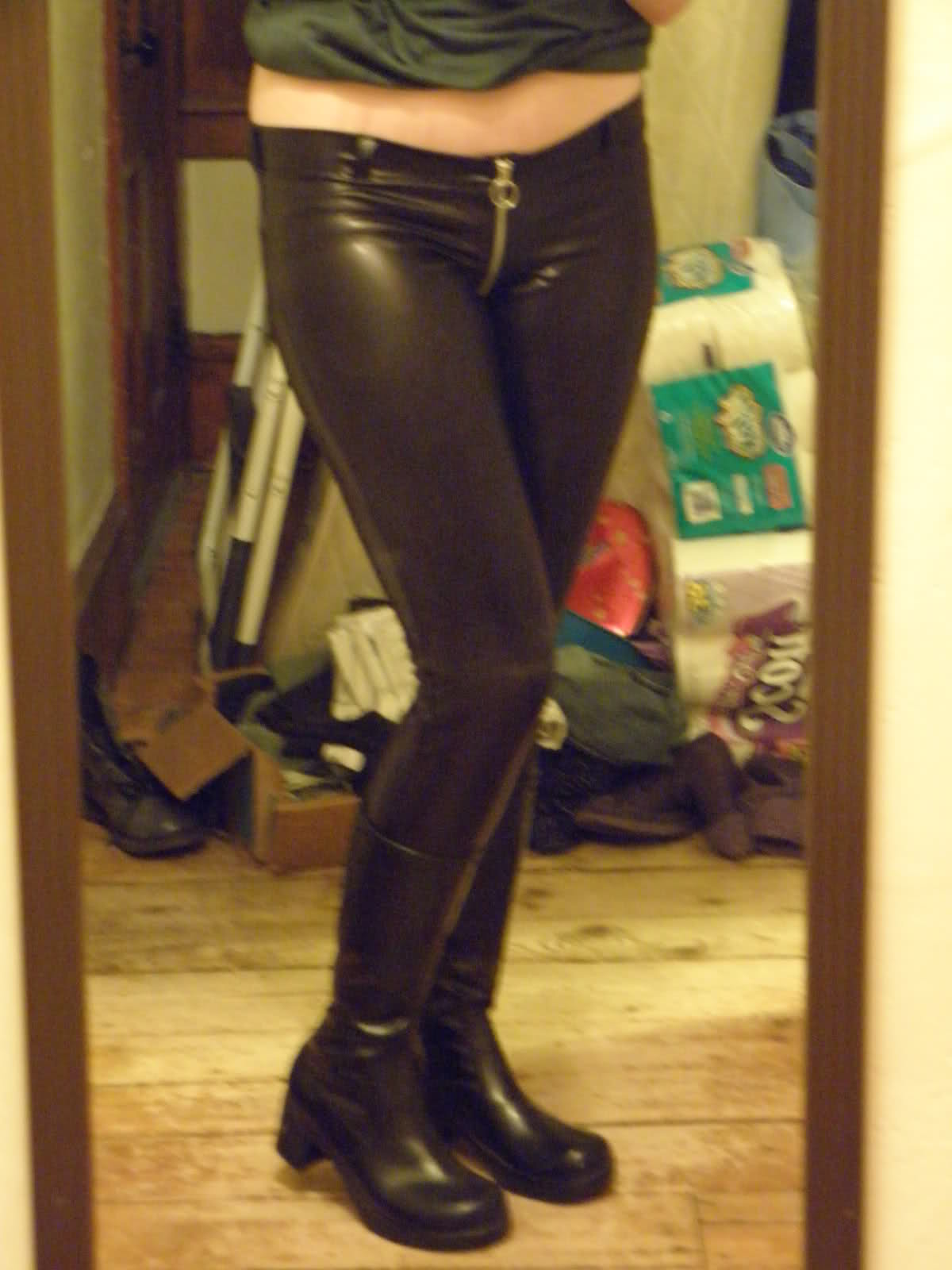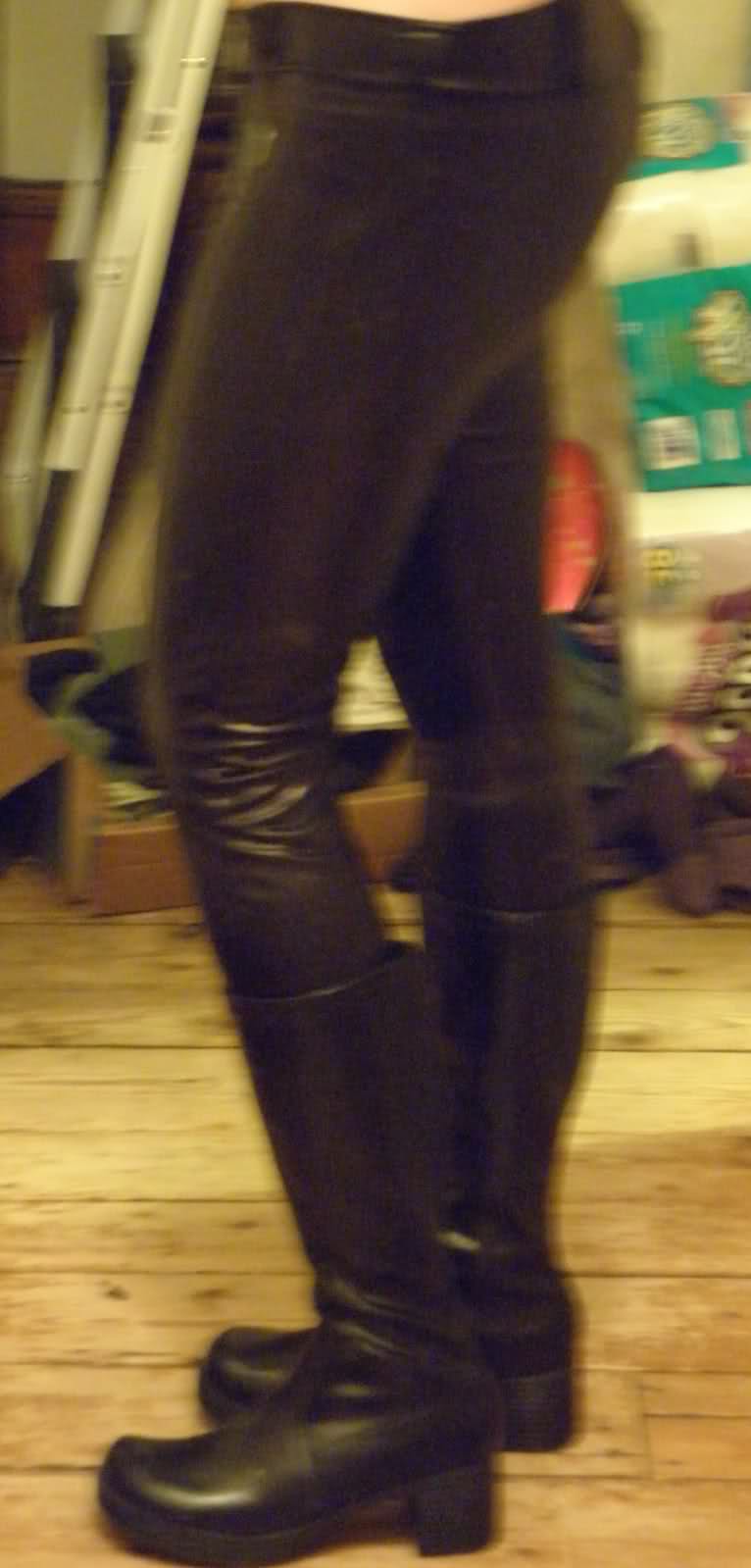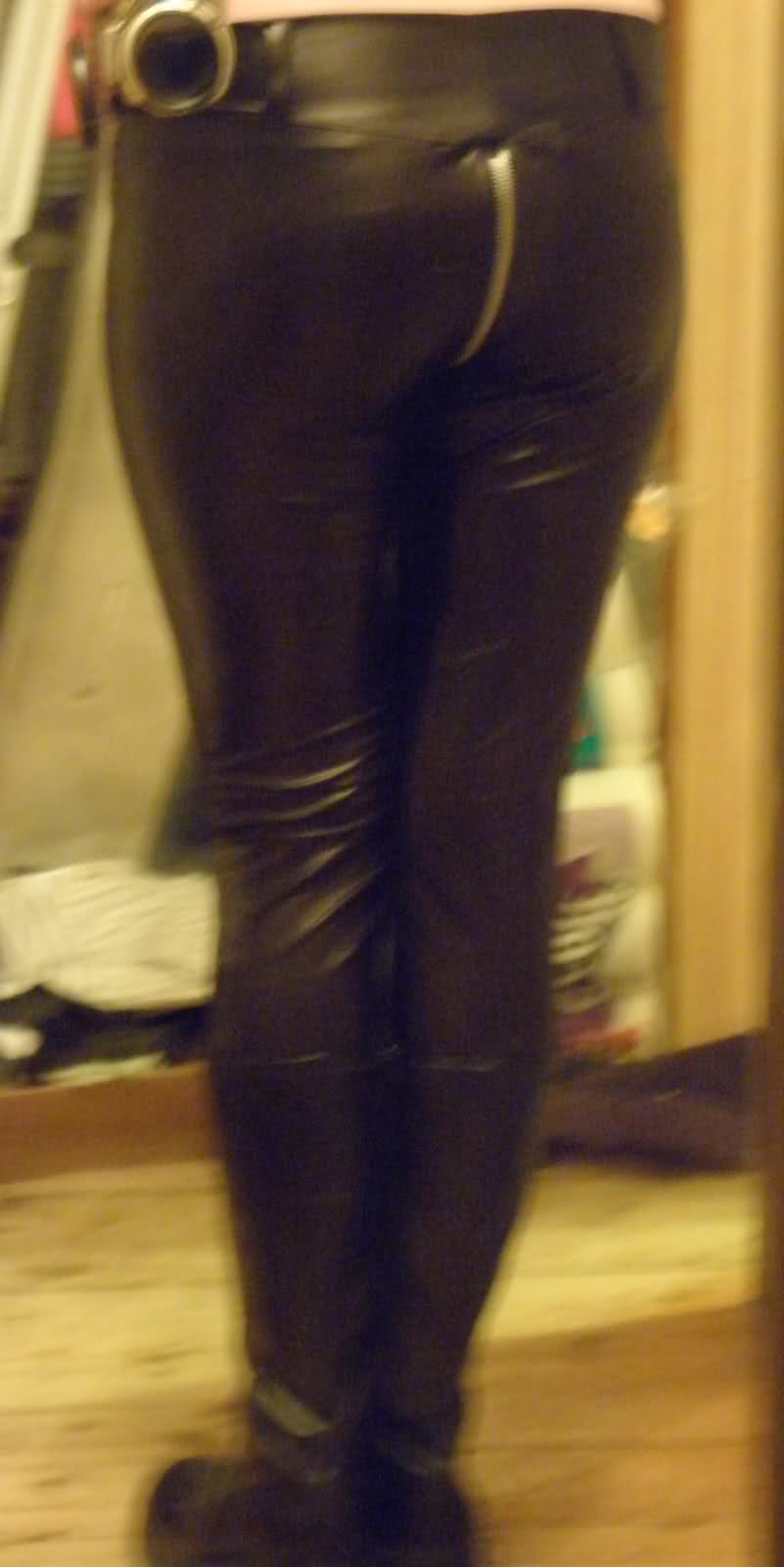 The fact that these are leggings makes them more wearable out-of-the-house than the booty shorts, but they do have a zipper which makes them more clubwear than something you wear out to the market. If Coquette sold a pair of these without the zipper, they would look really discreet and I would wear them everywhere!
Follow-up commentary
2 months after original review
I still love these, though I have yet to wear them out. I tried them on with a certain tunic I have the other day and considered wearing it out with some boots since the zipper was not visible at all, but it was far too hot out. I love the fit of these, and I think they look great on me. That same day I went to the mall with a friend and she found a pair of leggings that had a similar looking material, no zipper, and an elastic waistband. They were a little bit cheaper than these, but they were not as cute, and looked like they would not fit as well. She started telling me how she hates how leggings like that can get ruined so easily, and mentioned an experience she had with a pair. I guess her knee itched while she was wearing her leggings, she scratched her knee lightly, and it left permanent nail marks on the knee and ruined the leggings for her. I could not help but recommend these!
This product was provided at a discounted price in exchange for an unbiased review. This review is in compliance with the FTC guidelines.

Thank you for viewing
Wetlook pants with zipper
review page!