Edgy and Fetish-y!
All in all, the Wetlook pants with zipper are fun pants and would be great for a night out. They don't cause you to overheat and are very breathable. The zipper is covered to protect your bits, thankfully. They have great stretch to them, so they should be fitting for more than one body type. Although, I think these Wetlook pants would fit someone best who has some curves and stands over the 5'5" mark.
Published:
Pros:
Breathable.
Comfortable.
Zipper is covered.
Cons:
Better for curvier, taller people.
I bought these Wetlook pants with the wrap around zipper to wear out to a club one night. Unfortunately, I never wound up going. This doesn't mean that I'm not still dying for a reason to wear them out! I just haven't had a chance to!
I love the quality that Coquette puts into their pieces, and these pants are no different. They're a combination of 80% nylon and 20% spandex. They have a very sturdy, high quality zipper with an O-ring pull. Thank goodness that Coquette used their brain when putting the zipper on these pants, and making sure that they put some sort of a fabric flap to keep from zipping up your ladybits! I could also imagine how cold that zipper could be! Kudos Coquette!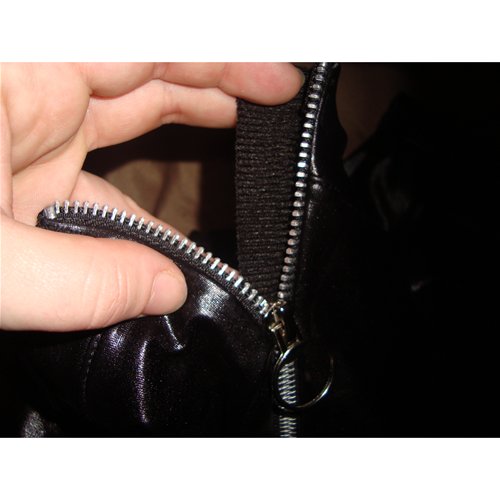 These pants have that fetish look. Being leggings, they are surprisingly breathable! I wore these pants around the house for a while and they weren't hot one bit! I have yet to try to find out how hot they'll get at a club.
I've had the Wetlook pants with Zipper in my drawer for a while now, and thankfully, I haven't seen one wrinkle in them from being put away. These are grab, wear, and go pants! They are hand-wash only, and not able to be tossed in the dryer though. Therefore, forget a quick wash and dry before putting them on.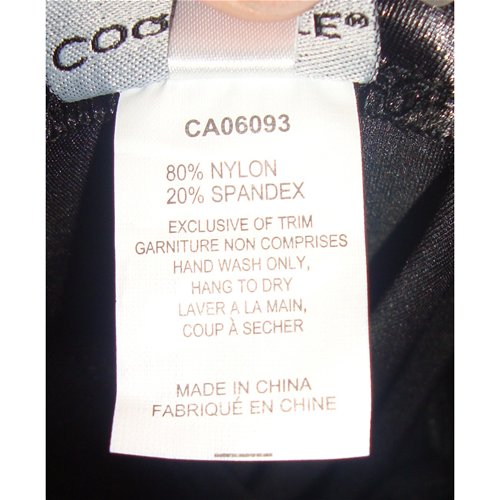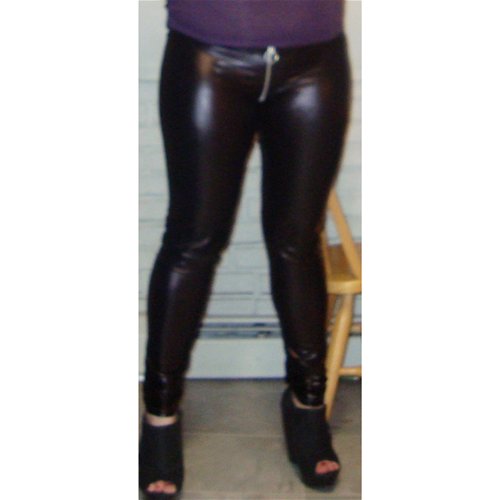 My gripes with these pants?
They would be perfect in length for someone probably 5'6", which I'm not. My height of 5'2" makes these bunch up at the ankles a bit. It doesn't look horrible, but I'd prefer it if they didn't.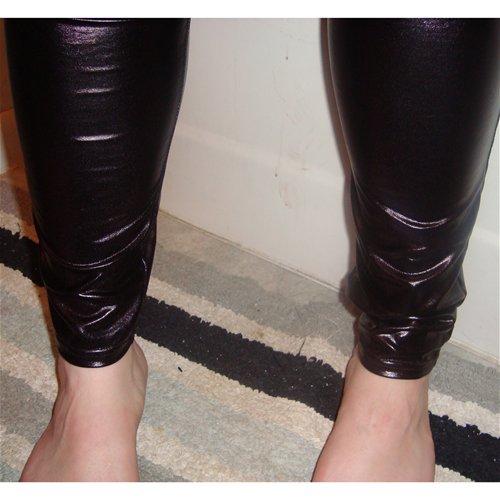 They make a slightly funny noise when I walk, and I don't think it is just my fat thighs rubbing together. The pants seem to "move" on my legs and it causes a noise. It is not super noticeable if you're out at a loud club or something, but noticeable if you're home and it's a quieter setting.
For those of us without hips, these pants don't fit like regular stretchy leggings. They have quite a bit of give and they need some hips to keep them up. As you can see, I have a lack of hips. I really do think that with a little more curve they'd stay up a little better on me.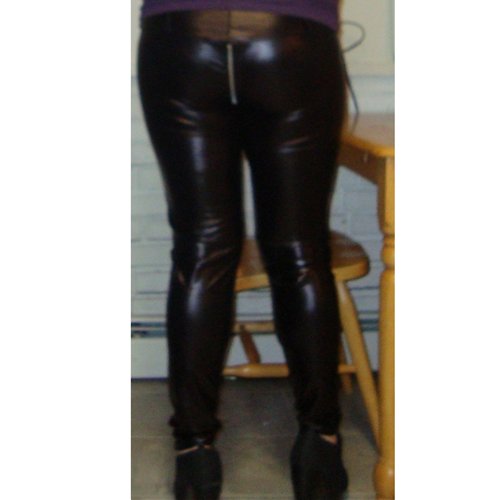 Experience
I love these pants and I'm still waiting to wear them out to a party. Wearing them around the house has given me the confidence that I can wear them out. I love that they breathe and I know I won't get too hot when it comes time to hit the town in them!
This content is the opinion of the submitting contributor and is not endorsed by EdenFantasys.com

Thank you for viewing
Wetlook pants with zipper
review page!