Wait, where did my boobs go?! (size 34)
This corset is a pretty basic inexpensive corset. It's easy to put on and comfortable to wear. However, if you have a smaller chest, this will not fit well at all. This corset is definitely meant for the more lucky ladies with larger breasts.
Published:
Pros:
Two sets of laces, zipper closure, modesty panel, comfortable material
Cons:
HUGE chest, loose strings, unraveling seams
Description
The Purple Magic Tesa's Sweetheart Corset is an inexpensive corset from Escante. It arrived in a simple, plastic bag. There is no included hanger with this corset. This corset is a dark, shiny purple color. It is much more shiny than it appears in the provide stock photos. The corset is made of 100% polyester and is very slick. The polyester isn't uncomfortable against the skin at all. The inside isn't lined with a different fabric. The plastic boning is covered in a black, knit fabric that is soft against the skin. There are 10 pieces of plastic boning in total. Plastic boning does not provide an intense shaping experience like metal does but it is much more flexible. The corset has a sweetheart neckline and comes to a point around the hips. This silhouette and style is very flattering on many body types. Laid flat, the entire corset is 30 inches wide at the waist and 34 inches wide at the hips. It is 13.5 inches long from the center of the chest to the bottom of the corset, 11 inches long along the lacing, and 12 inches long along the zipper closure under the armpit.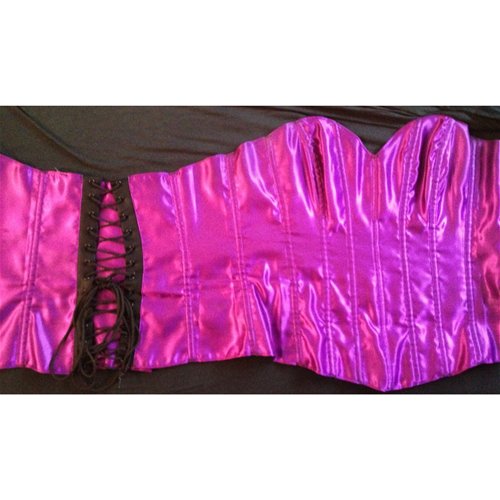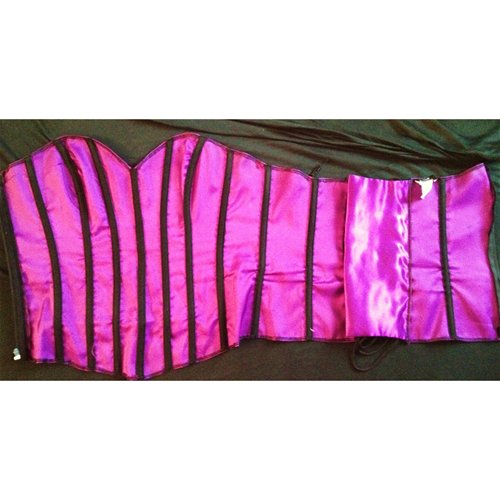 The laces on this corset are simple, shoe-string style laces. There are two sets of laces which come pre-laced with one set on top, one on the bottom. You could re-lace this corset or replace the laces if you wish, but I like the fact that I can adjust the corset around my bust and my hips separately. As a pear shaped woman, this is a huge plus. The laces are VERY long. When I have the corset completely laced tight, there is an additional 28 inches of lacing on either side. There is a modesty panel that can be worn under the laces if you do not wish to show some skin. However, it is only 4.5" wide so if you have to add more than 4 inches of width to this corset, the modesty panel would not cover the entire span of the lacing.
On the side of this corset, there is a zipper closure. This is really convenient since you don't have to unlace the corset to put it on. Once you have it laced to level you are comfortable with, you can unzip it to remove it, keeping the laces laced. The next time you go to wear this corset, you can put it on without any assistance. The first time you wear this corset, it is easiest to loosen the laces, put on the corset, and have another person lace it tighter for you. If you lace it yourself, it'll be a game of trial and error while you remove it to adjust the laces, try it on again, and readjust until you find the perfect fit.
This corset can be worn both in the bedroom and out in public. Paired with some jeans and a cardigan, it makes a really great top. With the modesty panel, you may not even need a cardigan if you don't mind bare shoulders or arms. I wore this as a part of my burlesque dancer Halloween costume. I paired it with a ruffled skirt, knee high boots, fishnets, and a black boa.
Cleaning and Care
To clean and care for this corset, it must be hand washed with a mild soap. After washing and rinsing, do not wring this corset. Instead, hang it and let it drip dry. Wringing it can warp the boning. You must ensure that the boning remains straight when cleaning and storing this corset. This corset cannot be ironed. To store this corset, I hang this, zipped up, over the bottom bar of a hanger along the zipper closure. This keeps the material from folding and prevents the boning from warping. It does not have any hanger straps so this is the easiest way to hang the corset. It can also be folded and stored in a drawer as long as it is not folded along the boning.
Craftsmanship
The craftsmanship of this corset leaves a lot to be desired. There are a lot of loose strings, unraveling seams, and unstraight seams. There are some runs/snags in the polyester material of corset. For the price, however, this is kind of to be expected.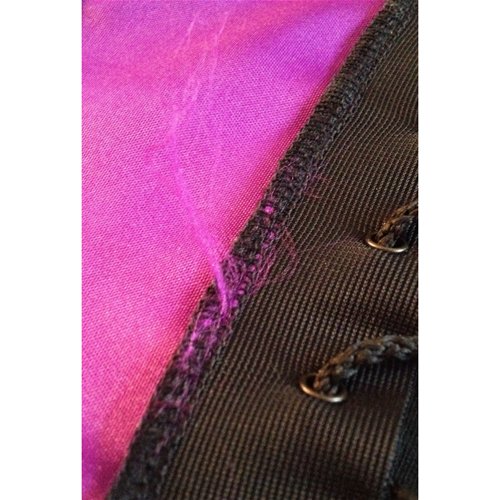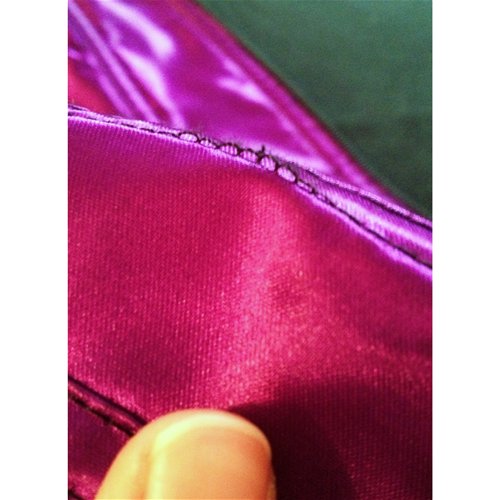 Experience
I ordered this in a size 34, and I'm so glad I did. The last time I took my measurements, I had a 29 inch waist and 39 inch hips. I usually wear a 36C bra, however, since losing 25lbs, my bras have been big on me and I'm guessing I'm now a B cup. This corset was definitely not designed for any members of the Itty Bitty Titty Committee. As a B/C cup, this corset was huge on my chest. Even with the lacing as tight as it could be on the top, the corset was still a good inch away from my chest. I had to wear this with a push up bra. Even with the bra, I had to use fashion tape to secure the corset to my bra, otherwise there was a large gap and my bra was visible when I moved. That's not exactly something I want to happen when I wear this in public. Because this is so large on my chest, I asked my roommate to try it on. She did not want to be photographed, but she wears a size 36GG and this was too small on her chest, but only by a little bit. If I had to guess, I'd say this would best fit someone who is a DD or DDD. Other than the extremely large chest area, the rest of this corset fit well. Since it is so adjustable, it's easy to get a perfect fit in the hips and waist. I wore it as a part of my Halloween costume and it was extremely comfortable throughout the entire night. It didn't create an extreme hourglass figure or anything, but it did provide some shaping and support. I loved how it was long enough to cover my love handle area. Since I have large hips, I'm prone to the "muffin top" effect. This corset easily covered this problem area of mine.
The color in these photos is much more accurate than the previous pictures.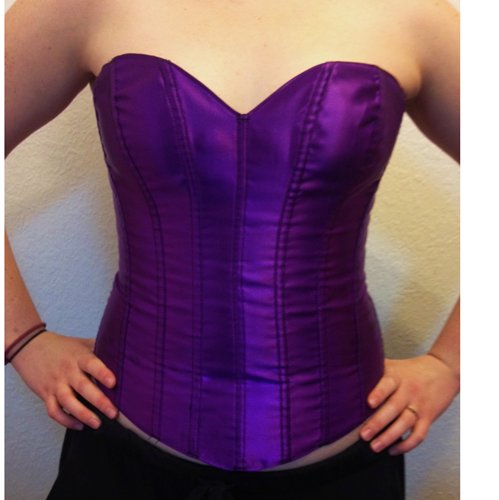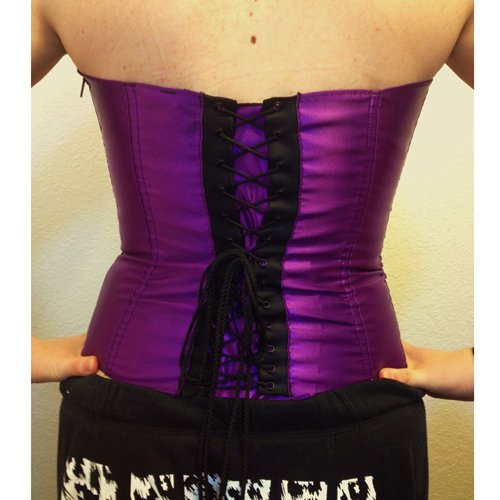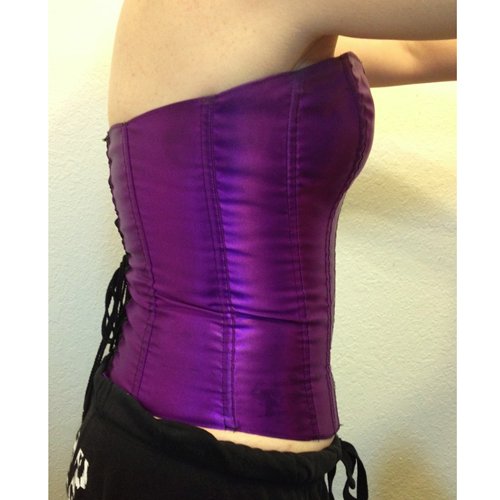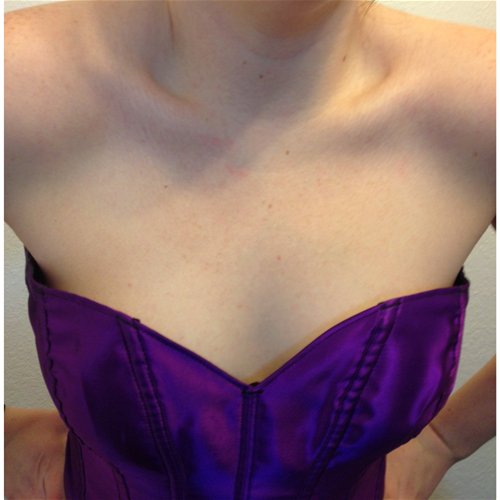 Hopefully this last picture can show you just how big the chest is on me.
As an inexpensive corset, this is a good choice, as long as you've got the chest to fit it. If you're looking for more shaping, I'd go with another corset.
Follow-up commentary
6 months after original review
This corset has held up well to multiple wears and washes. However, I just don't wear it often because of how large the chest is on me. A corset should not be baggy at all and unfortunately, this one just can not fit me.
This content is the opinion of the submitting contributor and is not endorsed by EdenFantasys.com

Thank you for viewing
Purple magic Tesa`s sweetheart corset
review page!