Warning: Corset Apparates Cleavage to Unknown Location (Size 34)
This is a gorgeous corset that would make a great, comfortable addition to a collection. as it can be worn in and out of the bedroom. The color of this corset is beautiful and exactly as shown. If you're looking for a corset that can handle a large bra size, then this corset is great for you! For us smaller gals, the chest will run a little too large.
Published:
Pros:
Flexible, comfortable, zipper and lacing, easy to adjust, and beautiful color
Cons:
No chest support, too short in length on sides, very mild shaping
Details:
The Purple Magic Tesa's Sweetheart corset is manufactured by Escante and comes in two color options: deep purple and hot pink. I got the purple corset and the color is exactly as it is displayed on EF. The sizes offered are according to bust size: 32, 34, 36, and 38. Purple Magic is 100% polyester, so it is not very absorbent (it won't get too dirty when you do) but keep it away from any flames. The polyester is not uncomfortable against the skin and is smooth all over. The inside of the corset is not lined with another type of fabric. This corset breathes enough that I have not experienced any sticky/sweaty discomfort while wearing it, which is great!
Tag: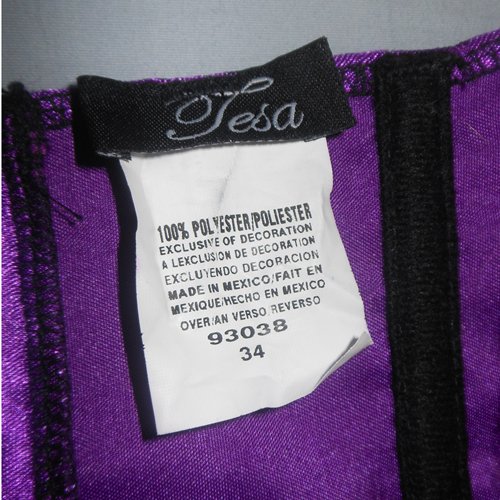 Outside: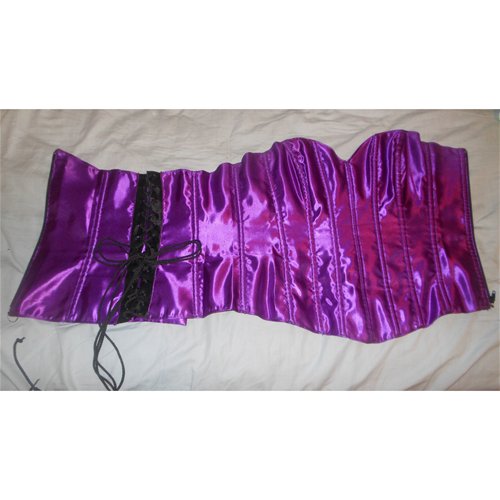 Inside: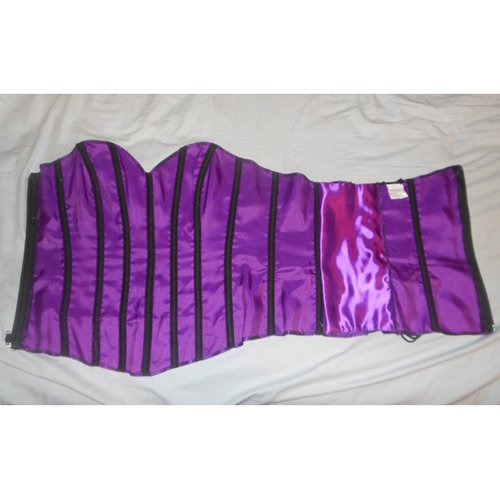 This corset has both a laced up back to adjust to fit your shape and a discreet side zipper to make getting it on and off quick and easy. You don't need to adjust the lacing every time you put it on because of the handy zipper, which is a huge plus in my book. The corset comes pre-laced with a set of upper laces and lower laces, so you can adjust your top and bottom separately. Since I didn't have someone there to help me adjust the laces when I first tried this corset on, I used the adjust-try-repeat method and it was very simple. The laces themselves look a lot like shoelaces, but it appears that they can be easily replaced with a prettier ribbon or higher quality lacing. Along with being of moderate quality, the laces are also extremely long. I tightened the laces as tight as they could go, tied it in a bow, and the lace ends hung with about 26" of extra lacing.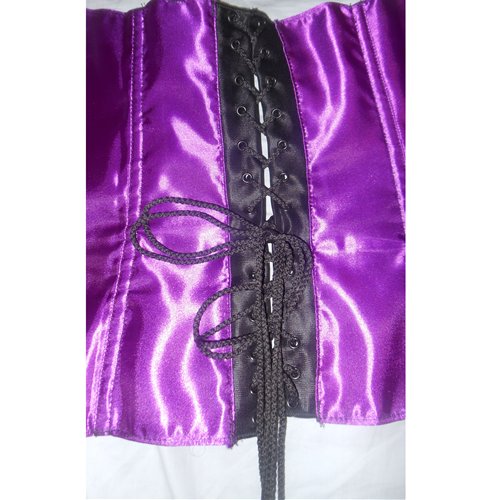 There is also a modesty panel that can be folded under the lacing that is 4.5" wide: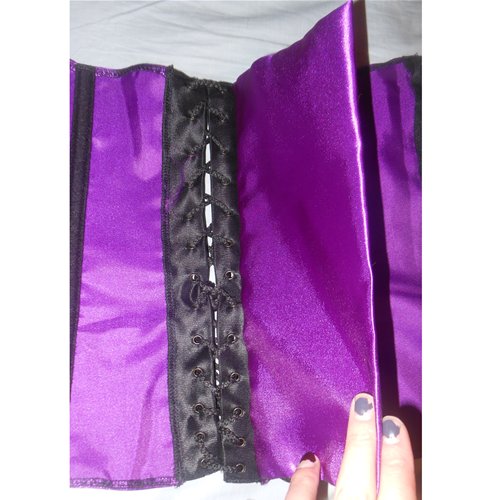 The corset has a flattering, sweetheart neckline and a bottom that is tapered to a point in the center of the front. This combo is often very complimentary to women's body shapes, because usually it accents curves and cleavage. From the center of the chest, the lowest point of the sweetheart neckline, the corset is 13.5" long. It is 12" long where the zipper is and 11" long where the lacing is. When laid out flat, the whole corset is 30" wide at the waist and 34" wide at the hips. There are 10 pieces of thin plastic boning along the corset. On the inside the boning is covered with strips of a soft fabric that is gentle against skin. This plastic boning does some mild shaping and it is flexible and comfortable to move around in. The boning does not poke out or jab at all! You can definitely be frisky in this corset without any corset-caused discomfort. However, there is no under wire or real breast support built into this corset, so if you are smaller chested (like me) then be prepared for your girls to go exploring around in there.
There were a few imperfections I found on my corset that are worth mentioning. There some loose ends in the stitching and a couple tiny snags in the fabric. There was also one loose stitching along one of the bones. These did not effect the corset in a large way, nor are these flaws obvious unless you're looking for them.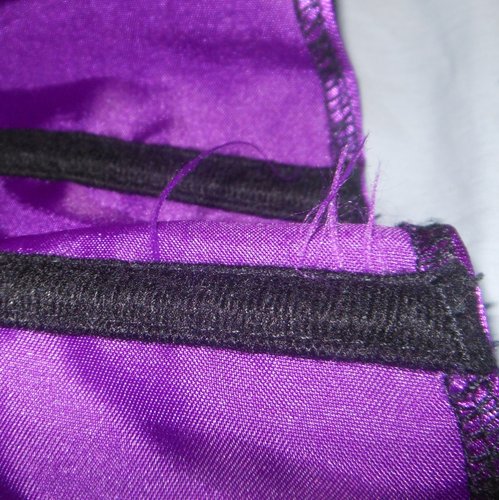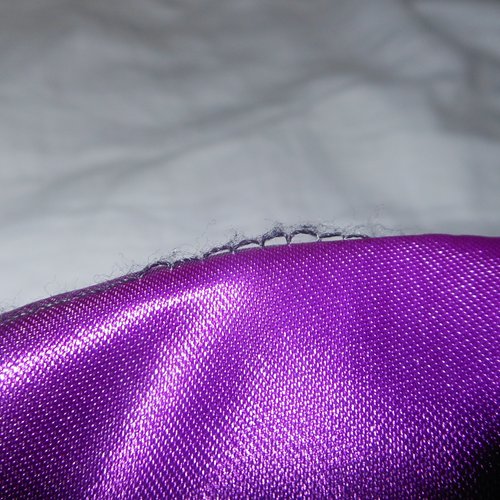 Packaging:
This corset came in a simple, clear plastic bag. I have read that other people who ordered this got a hanger with it, but there was no hanger with mine.
Care/Maintenance:
Because this corset is polyester, you should hand wash it in lukewarm water with mild soap. Don't wash it in a washer and definitely do not dry it in a dryer. This could damage the fabric and warp the boning. Once you have washed it, I advise not wringing it since this could also warp the boning. Instead, I advise hanging it up to let it air dry. The polyester fabric cannot handle being ironed, but it is naturally wrinkle resistant so not ironing it shouldn't be an issue. If you get a little something on your corset it is okay to spot clean it, however I just find it's easier to just wash the whole thing.
To store this corset I hang it up sideways, zipped over the lower bar of a hanger. I found this to be the easiest way to store it because it does not have hanger loops. You can fold this corset to store in a drawer, but make sure you don't fold it along the boning.
Where:
This corset is modest enough that it can be worn both in public and in the bedroom.
Experience
One reason I am giving this corset 3 stars is that I found that it didn't provide the firmer shaping I was looking for and showed my love handles a little more than I was comfortable with. However, the main reason I am giving this corset 3 stars is it did not support my breasts at all and actually made me look rather flat chested. I felt like my boobs were free roaming around the inside of this corset and these girls need support to look good! I was able to lift my arms and stretch without any nipple exposure, but this corset didn't fit my breasts at all. If it was a little longer and able to fit to my chest a bit better I would have loved this corset much more. You know a corset is not for you when all your significant other has to say about it is "Wow... that's purple".
I was not impressed with this corset myself, but I can see someone who is more endowed in bra size looking like a knock out wearing it!
My measurements are:
Bust: 34
Waist: 29
Hips: 39
I have the corset as tight as both the top and bottom laces will go.
Front: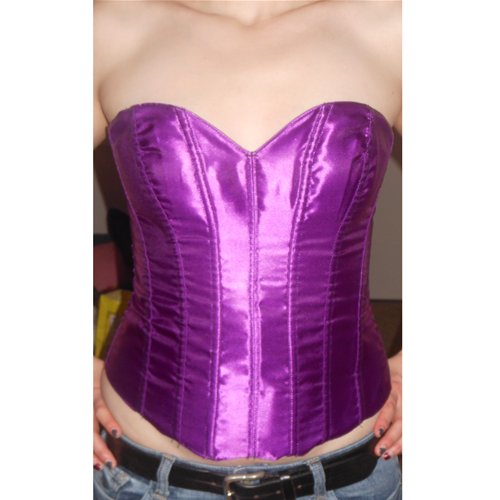 Side: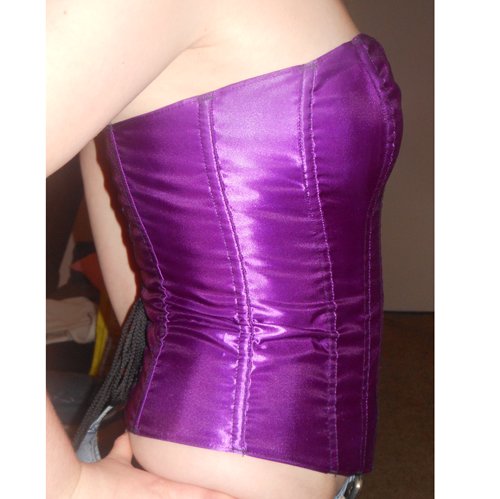 Back: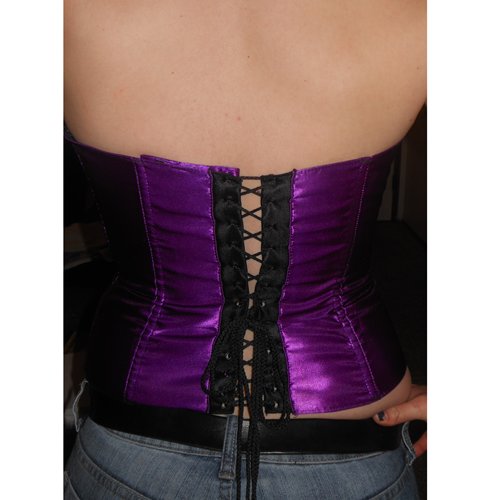 If you think this corset is for you, definitely order with your bust size in mind (remember, this corset runs large in the chest). This corset looks best fit tightly to the wearer's body shape, too big or too small would not be doing your body right!
Follow-up commentary
3 months after original review
Since this didn't fit my bust very well, I went ahead and passed it on to a friend of mine who has a larger chest than me. Definitely make sure it fits your bust!
This content is the opinion of the submitting contributor and is not endorsed by EdenFantasys.com

Thank you for viewing
Purple magic Tesa`s sweetheart corset
review page!