White as Snow
This is my first piece of lingerie that in white, and I think there will be more to come. I can't help but feel like I'm wearing something bridal when I try this on, it's so white and lacy! It's very pretty and would be perfect for a bride or bride-to-be. Though, if you have larger breasts, you won't find the cups very accommodating.
Published:
Pros:
Nicely padded cups, underwire, bridal, lace is not itchy, comfortable
Cons:
Big bow with a big gaudy rhinestone on the chest, cups not for those with much larger than a D cup
This came to me in a plastic sleeve attached to half of a broken hanger. Oddly, the other half of the hanger was nowhere to be found.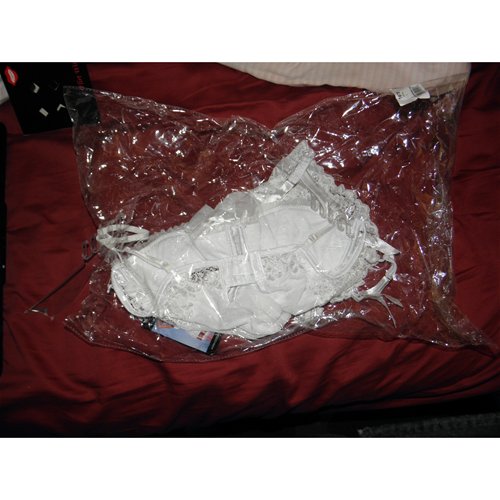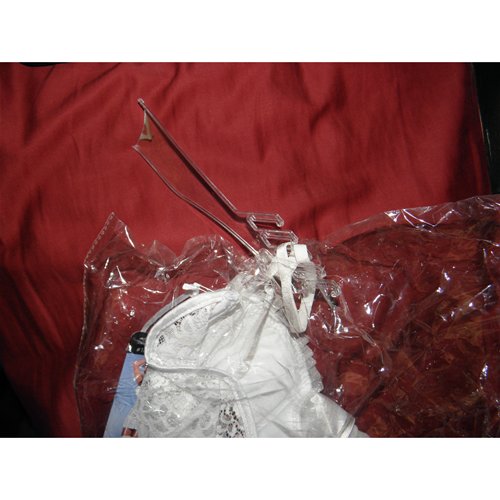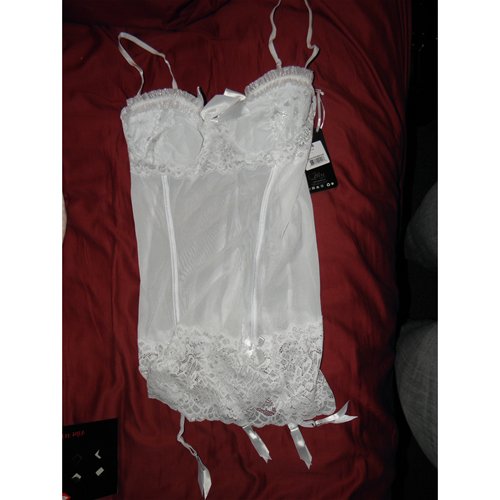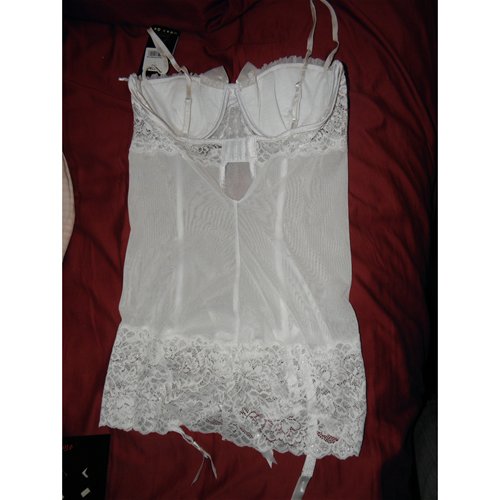 This chemise is hand-wash only. It is made in China, with 82% nylon and 18% spandex. The body of the chemise is a sheer white fabric.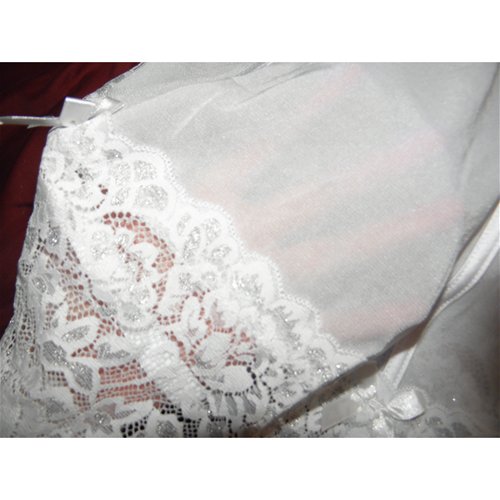 There is some very light, not super metallic or tacky, silver detailing in the lace. I find that it brightens it up.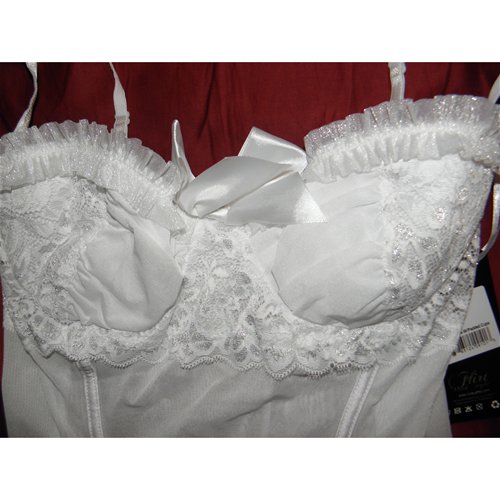 It has four garters attached at the bottom, they are NOT detachable. They are sewn onto the chemise. The pro of having detachable garters is that you can take them off if you don't want to wear stocking with something and just have things dangling around. The con of detachable garters is that they get lost, so that is avoided with these being attached.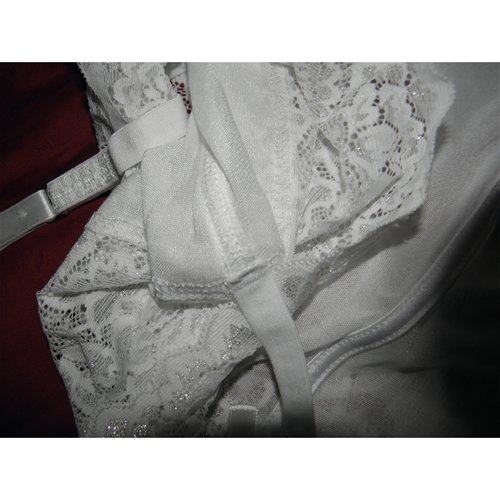 One detail on this that I don't like is the big gaudy rhinestone it has on it, in the middle of a big bow. I might just end up removing all of that completely, as I don't really see a need in the bow, but I really don't like rhinestones.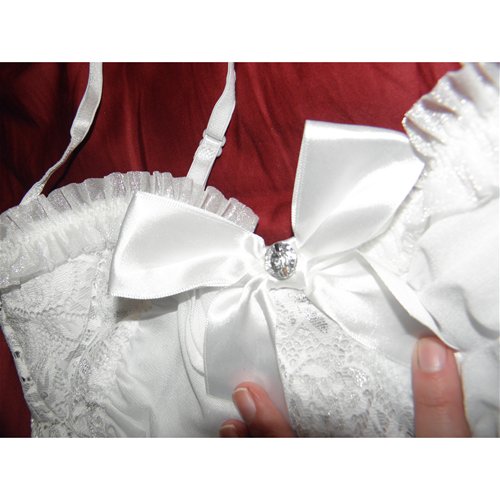 This does not have boning, but it does have seams down the front of it that make for a fitted and slim look. I like that at the bottom of these seams (for lack of a better word, I'm not sure what else to call them), there are tiny white bows. I think those bows are adorable.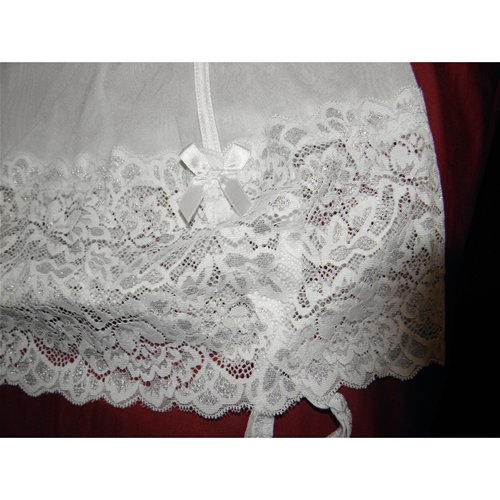 There is a hook and eye closure at the back, as a bra might have. I don't find that it is really necessary or makes much of a difference which hooks I have it on. I think I would actually prefer that the back were just one piece of fabric, rather than having the closures at all; I don't really see a need in them. The fabric has enough stretch that it would likely compensate the 38-40 inch bust range that this claims to fit, being a size large, without needing hooks.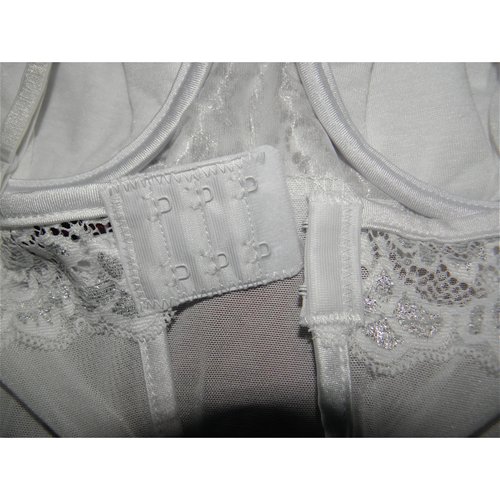 The cups have a decent bit of padding. Not so much that it will take you up a cup size, but enough to give you a push up look, and decent support. The inside of the cups is seamless, so there are no seams to make you itch or bother you. This means that there is nothing to snag nipple rings on, if you have nipple piercings.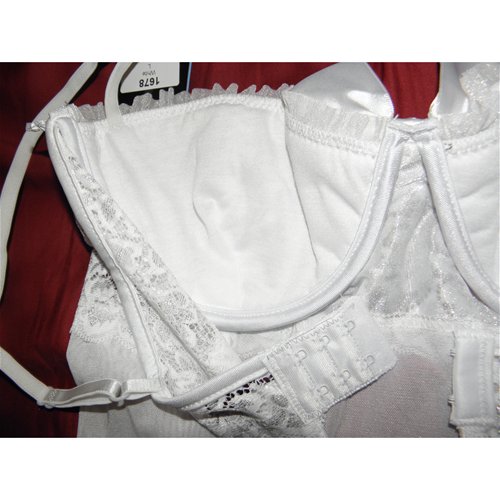 If you have breasts much bigger than a D cup, you will probably not like the cups on this. I am a C or D, depending on the bra, and these just barely fit me well. If you have a B or C you would probably really love the cups on this, as you would fit without spilling out AND get the benefits of the padding and underwire.
Experience
This is actually my first piece of lingerie that is white. I think I will go for other white lingerie in the future now, since I actually like the way this color looked on me. Usually I ended up getting black lingerie, so this is a big difference. I'm not sure how much I will actually wear this though. I think that this would be nice to wear under a white or light colored dress, so I may end up doing that with sometime in the future.
When I told my partner that my lingerie that I ordered got here, he saw it all in my room and this was the first thing he asked me to try on. He didn't know what it was exactly, and didn't even look closely at it, but saw something white across the room and wanted to see me in it. I'm assuming that his eyes went to that out of everything else because I am not one for white things like that, so it stood out. I modeled it for him and asked what he thought. His exact words at the time were, "...It gets the job done". So, apparently, he liked it enough! Though, when I asked him later, after trying on the rest of the things I'd ordered, he said that he neither liked or disliked this piece. I guess it's not a favorite.
Obviously, being white, this has a very bridal quality to it. I think this would be great as a bridal gift, for a bachelorette party, or just as honeymoon lingerie.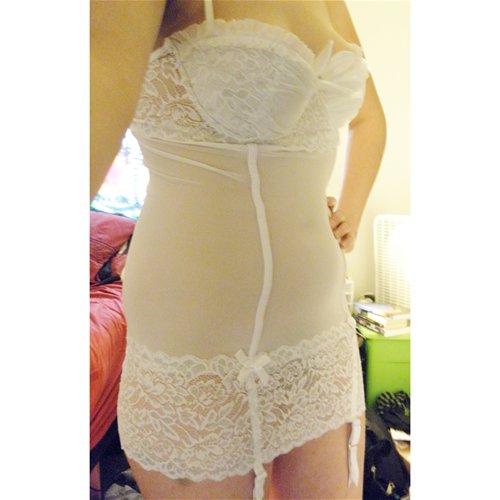 Follow-up commentary
4 months after original review
It's not that I don't like this anymore, it just don't love it. It doesn't really get any wear at all, I haven't really done anything with it since I reviewed it. I guess it's a decent chemise, it just that, for me, it doesn't really compare to some of the other items I have.
This content is the opinion of the submitting contributor and is not endorsed by EdenFantasys.com

Thank you for viewing
Chemise padded cups
review page!