You Should Not Be Rolling! (C)
It's awesome to be able to choose more than just one size fits most or plus size fits most for sizes, but it'd be nice to get what is pictured. If this were on ebay, I'd be submitting a claim! The quality of these is no better than a pair from Leg Avenue that look exactly the same.
Published:
Pros:
Can choose sizes, Comfortable, Do not run small
Cons:
Scalloping rolls even if they're too big, Not as pictured, $
I like that with these Fantasy Lingerie stockings, I have the opportunity to choose a size. Unfortunately, I chose too big. For being too big and sliding down, these shouldn't roll, right? They miraculously do anyways! I also didn't receive what is pictured. The lace is cheaper and looks like typical Leg Avenue stockings that are a few bucks cheaper. The only thing different here is that you can choose a size.
*Overview:
This pair of thigh high stockings are from Fantasy Lingerie. They are solid nylons with a lace top. The feet are not reinforced.
MY net scale (largest to smallest): Diamond, Fencenet, Industrial, Fishnet, Macronet, Micronet, Mesh,
Solid/sheer (no holes)
They are available in black and red. They come in sizes S, M, L, 1x, and 2x. This is actually A, B, C, and Queen sizing.
*Material:
Nothing special, thin and delicate
These are made of 100% nylon. They are very thin and sheer. The leg portion is soft with no shine, but they don't feel silky. They don't feel as high quality as other brands who are actually cheaper, from my experience. The lace is typical and nothing special in terms of pattern. It has swirls and small flowers. In between the pattern is mesh. The lace is stretchy, and bounces back pretty well.
*Design/craftsmanship:
Typical
The top of the stockings has a large lace band. It is larger at the top than it is at the bottom. Unstretched it is 8" wide for the large. It is about 3" tall depending on where you are in relation to the 1 1/2" scalloping. There is a thick seam in the back of the lace. This can be worn in the back of thigh. There is also a thick seam connecting the lace to the rest of the leg. There is a thin darker band of nylon right below it that has a varying thickness because of bad sewing. I didn't notice it until I was doing my review and handling the nylons up close, though. It is pictured below.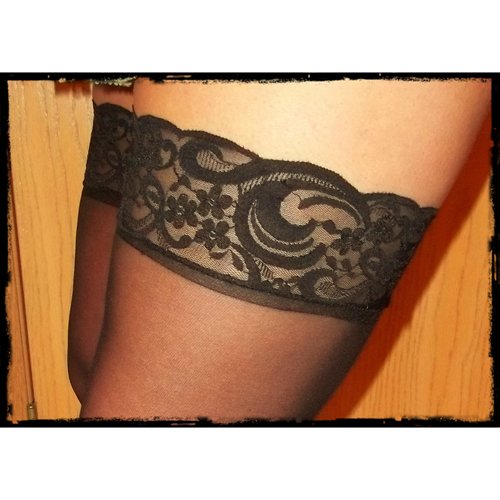 The legs are thicker near the thigh and gradually get smaller. When I took them out of the package they sort of looked like a cone shape. The feet are not formed at all and are also not reinforced.
*Cleaning/care/storage:
Hand wash, nice box
These stockings come in a really nice, reusable box. It's made of thick cardstock and has pictures of a model wearing the item on the front and back. Inside the stockings are folded on a piece of cardstock and placed in a sealed plastic bag. The back has the sizing chart and instructions for cleaning.
Experience
*Sizing/Application:
Run true to size in thigh or run a tad big, are a tad short according to chart]
On the product page it says these come in S, M, L, 1x, ad 2x. The packaging says it comes in sizes One size, A (more like S/M), B (more like M/L), A, B, C, Queen, 1x, and 2x. After looking at the back of the package I think that translates to A, B, C, And Queen 1x, and Queen 2x.
This is the chart: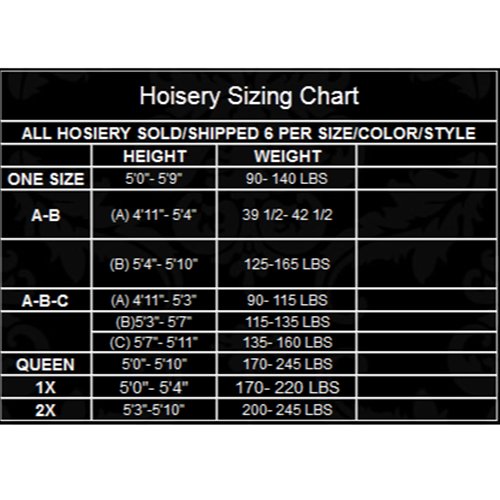 Since I received size C after ordering a L, I can only assume the S, M, L is the lower A and B sizing and then the C. It's unclear if the 1x and 2x are actually those sizes and Eden just decided to skip the queen size. It would be nice if they just put the sizing as FL has it and link to a size chart, but whatever.
At the time of this review, ~I was 144 pounds and a size 8 in most jeans/dress. The thickest part of my thigh is 23". These went on super easily and it was clear even before I got them all the way up that I bought the wrong size. I should have gotten the medium I think. The band is not tight anywhere and slides down easily as I walk. I have to wear these with garters, which is easy to do since the lace is thin. What's weird is that these do roll a little at the top. It is seen below on the right thigh (that's the back of my thighs).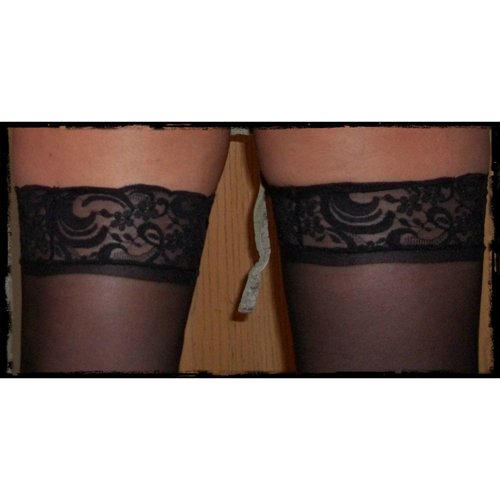 I wouldn't expect that from an item that is too large and can't stay up on its own. I wonder if I'm in between sizes. These will probably fit up to a size 27" thigh no problem, but will roll worse the more they are strained. The height is not accurate though. I usually have no problem pulling stocking up all the way or almost all the way up to my buy on my 5'6" frame, but these have trouble doing that. I like where they fall, but there's no way they'd be good for someone who is 5'11" as suggested in the chart. I'd say that if you are taller than 5'8". these would be too short.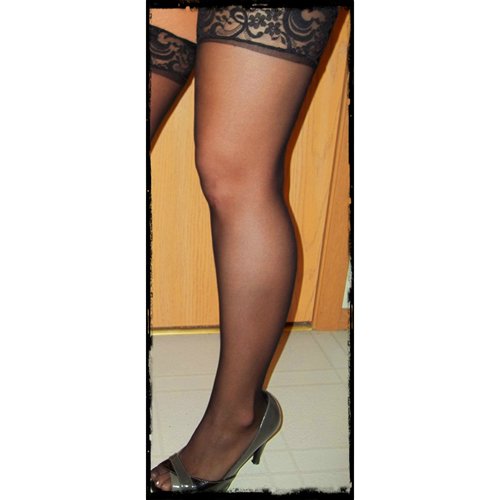 *BEST Fit Chart:
For the large (C)
Pounds: 155-175
Dress: 10-14
Height: 5'4"-5'8"
Thigh circumference: Max is around 27", but the best fit is about 25"
In general, you may want to order down from what you might think if you are on the lower end of the ranges.
Ending note: I did not receive what is pictured. It's clear the lace is different. These get docked a star or more for that.
*Conclusion:
★★★
I love that I can choose sizes for these, but the quality doesn't match the price...or the picture! Because of that, these can't get higher than 3 stars from me, especially since the scalloping rolls when they are too big. That simply should not happen.
Follow-up commentary
2 months after original review
While these do have flaws, I think I'll buy more pairs just because I like the fit at the top. They have held up fine and have been hand washed once.
This content is the opinion of the submitting contributor and is not endorsed by EdenFantasys.com

Thank you for viewing
Lace top stockings black
– hosiery review page!