You won't need a telescope!
This chemise is absolutely stunning. If I had to design my perfect one, this is what you'd see. Escante does some truly amazing work. The intricate, yet soft details of this chemise make it truly unique. Mix that with the gorgeous deep teal color and you have a true head-turning chemise with a very classy and sweet vibe. I've never been so impressed with anything!
Published:
Pros:
Gorgeous color, high quality, classy design, perfect fit
Cons:
Not a single thing.
Summary
There's certainly a mountain (the size of Mt. Everest) of lingerie on this site. I find myself spending quite a while sifting through all of it while being slightly unenthusiastic about the things I come across. There are half a million see-though mesh chemises here and they all look pretty much the same. Lace here, bow there, some sort of something cut out somewhere to make it even more revealing than it already is. Not to mention, everything is black, red, white, or pink . . .
One day I stumbled across this lovely piece here and my eyes automatically lit up. It's beyond gorgeous! The turquoise color, the simple lines, and the delicate lace pattern all mesh together beautifully for something unique that doesn't scream for attention. I couldn't resist and it was thrown on to my next order.
Design/Material
This chemise has a classic and simple design. It's not overly ruffly or lacey with bells and whistles everywhere. It's sexy, yet very sweet at the same time. I appreciated the fact that it had a slightly longer length than other chemises out there. It actually covers your butt! (Well, mine at least) The keyhole back just adds to the flirty appeal. It stops right at the lower back. "Modest" (for a completely sheer chemise). The eyecatching color also brings this all together for a truly gorgeous and unique look.
When I opened the order that this came in I love that it came on a hanger with a plastic bag. Looked fancy! I removed the bag and was super surprised and in awe over this piece. "Oh . . . wow!" came out of my mouth at this moment. Normally I'll get lingerie and say "Hmm. Cute." and toss it to the side. This one had me captivated by how amazing it was in look and feel.
It's made of nylon and spandex so it feels much more pleasing and classy than polyester mesh. The material is soft, and sheer, but doesn't have that net look to it like others do. It's incredibly smooth to the touch. Even though it is so sheer and delicate looking it's not fragile at all. The spandex adds for a lovely amount of stretch so it will conform beautifully to your shape. Material wise, beautifully impressive.
The design is also quite flawless. I couldn't get over how gorgeous the lace pattern is. It's not that super crazy lace stuff you'll find on other pieces. Nope, it's delicate with small floral accents. Very intricate and detailed. The lace on the cups is the same as the lace along the bottom band, but it's not busy at all. It adds a hint of detail while still blending with everything exceptionally well. Between the cups is a tiny silver bow that is the icing on the cake. It created a little pop of detail without being totally in your face. The gorgeous deep teal color is breathtaking, as well.
It comes with a dinky little G-string, but those are always pretty crappy. This one isn't as bad as most of them that come with chemises, babydolls, corsets, and all that, but it's nothing incredibly noteworthy or fascinating.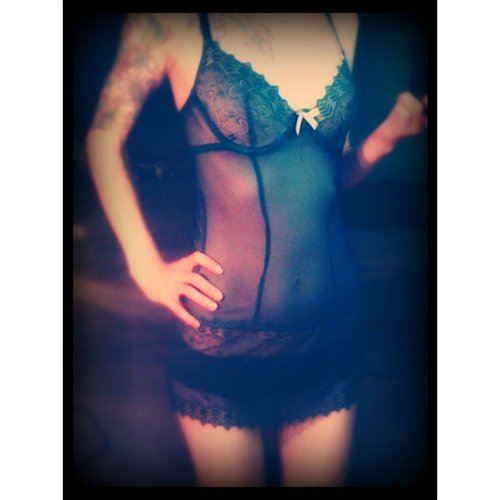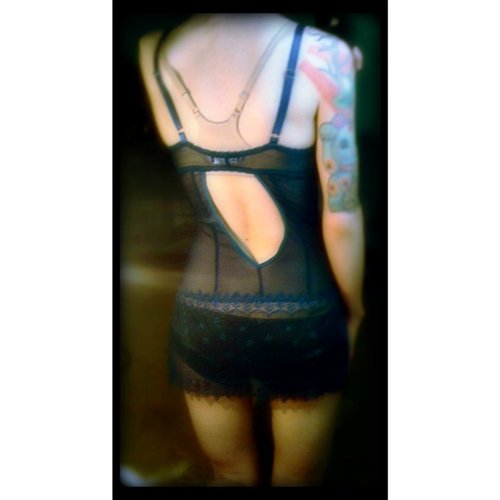 Experience
Now on a technical note: It does have adjustable straps which stay where you need them. Think your plain old bra strap type deal. The cups do have underwire which offers some support and lift. Sometimes chemises like this with the small band across the back that resembles a bra band can give you some issues with the cups slipping or gapping. Surprisingly, this one is the perfect balance for a great fit. The only complaint I have in this area is that the cups are slightly pointy right at the nipple. It's not horrible, but I am quite OCD about these sorts of things. If you've got a sewing kit you can pinch the end of the cup seam inwards, put a few stitches there, and it'll be perfect.

Sizing

Every single time I get a new piece of lingerie I get incredibly nervous that it won't fit right. I'm so thin that some lingerie ends up falling off me or gapping everywhere and that's not sexy at all. This thing though . . . perfect! I have a couple of other things by Escante and they always fit like a dream. Here's their size chart with my measurements in parenthesis.

Small
Dress: 2 - 6 (0-2)
Cup: A - B (B)
Bust: 32 - 34 (32)
Waist: 24 - 26 (24)
Hip: 30 - 32 (31)
Weight: 90 - 120 (105)

So, as you can see, the sizing chart says it'll fit me perfectly and they were totally correct. It feels like it was made for me. The stretch of the material allows for it to conform to the full size range without being too tight or loose on anyone. The sizing is perfectly accurate here.
This product was provided at a discounted price in exchange for an unbiased review. This review is in compliance with the FTC guidelines.

Thank you for viewing
Star gazer chemise
review page!