A bulletless bunny
This little guy leaves MUCH to be desired. Although this might be a good teaser toy, it does not have enough power to finish the job. I would not suggest that anyone spend their money on this bunny, but it was a decent free toy.
Published:
Pros:
Bunny is made of silicone, easy to clean
Cons:
Bullet is difficult to remove, weak vibrations, runs on watch batteries
Use
This little guy is a great introductory toy. It's made for teasing your clit, breasts, and other sensitive parts of your body. It has a great range of vibrations and patterns to test what feels best, but unfortunately the strength of the vibrations leaves something to be desired. While this doesn't mean it's necessarily a bad toy, it just isn't made to get you off without other help.
Performance
Like I said, this bunny is only going to get you off if you have a very sensitive clit. It works great as a teaser toy, but I'd stay away if you have a clit of steel. Another important point is that the strongest vibrations are in the bunny's belly instead of his head. That made it harder for me to find creative uses for the little guy.
A big problem that I had was that about 2 weeks after I had been using it, the bullet inside the silicone casing stopped working properly. The bunny is supposed to have 10 different vibrations but the bullet would only cycle through 3. Then it refused to turn on until I reset the toy by taking out the batteries. Ultimately, this is the biggest reason why I wouldn't suggest this toy.
Specs
This little guy has a silicone sleeve and a plastic bullet. Together they rate an 8 on Eden's safety scale. It is latex free, phthalates free, hypo-allergenic, made of food-grade material and non-porous. And it's waterproof! All in all, it's a very safe toy to use.
Its dimensions include:
• Circumference: 3¼"
• Diameter: 1¼"
• Length: 3¼"
The package was easy to open and included a little hat! Actually, it's just a material sample to feel in-store, but hey, bunny's gotta have a hat.
If you bothered to feel the material instead of putting hats on inanimate bunnies, then you'd notice that the silicone is very smooth and won't collect lint like some other silicone toys.
Design
This is a very cute little toy and is perfect for someone who is a little nervous around sex toys. I honestly don't think it could be less intimidating. While I was using it, I felt that the ears on the bunny were too sharp for penetration, and since they had little to no vibration there wasn't much of a point in jabbing my g-spot with it. On the other side of the toy, the finger ring will fit most hands comfortably and I couldn't feel the toy's seam. I did get annoyed at trying to remove the bullet from the bunny sleeve. It's just too snug of a fit to remove in the heat of the moment. This toy is not made for anal play. There is no base on the bullet and the finger loop on the back would make an uncomfortable exit in the ER.
Functions/Controls
This is an incredibly simple toy to use. There is just one button that you press to cycle through the different vibrations.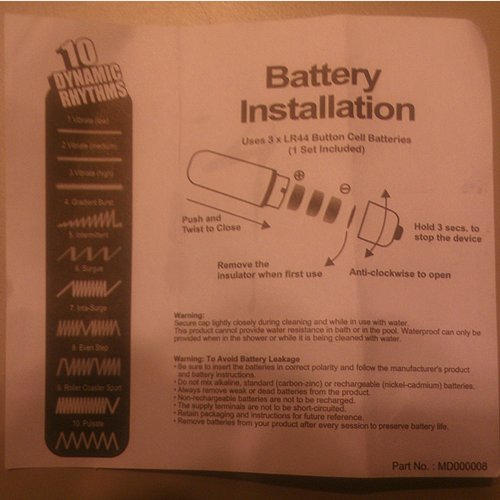 The instructions are easy to read but the toy itself is intuitively designed. It has 10 different vibrations, and each progresses smoothly to the next. Overall I liked the range of the different vibration types.
Care and Maintenance
Because it's silicone and plastic, it can easily be cleaned with soap and water. If you want to boil or bleach the silicone part you can, but it isn't a porous material so it isn't as dangerous as some of the other materials out there. It is very important for this toy to stay away from silicone lube and, while it's stored, other silicone products. Silicone lube will break down the toy and greatly decrease its lifespan.
Experience
At first this little guy worked fine, even if he was too weak for me. But after about 2 weeks of using the toy, the bullet started acting funny. It would only cycle through 3 of the vibrations and then would cut off. When I took out the batteries it would work again, but only up to the third vibration. Once I took out the batteries and changed the speeds as fast as I could and I got up to the fourth vibration, but then it cut out. I submerged it in water and I cleaned it after I used it so I don't know why it stopped working correctly.
On a separate note, I tried to use this little guy as a clit teaser while I had another penetrative vibrator (
Nite Warmer
) going and I couldn't tell if this guy was on! I don't have a clit of steel but the vibrations are still way below my orgasm threshold.
This content is the opinion of the submitting contributor and is not endorsed by EdenFantasys.com

Thank you for viewing
Silicone finger bunny
– sex toy review page!