The Bunny That Almost Didn't
For a great alternative to jelly teasers you can't really beat the soft and velvety smooth texture of the Silicone Bunny. While the bullet may not be the best in the world I have found that most small bullets will fit and work well with the silicone sleeve. I know the bullet is supposed to be the star of the show, and it does have some nice vibrations and patterns, it is delicate and breaks easily. The sleeve, however, is an amazing addition to a toy box!
Published:
Pros:
Inexpensive,
Good quality materials,
Super cute
Cons:
Bullet is not exactly reliable,
Soft vibrations/patterns,
Batteries can explode
Sometimes when I am placing an order I sort of shrug and toss in the free promotional toy. I don't have high hopes for the toy being stellar, but I figure that if I'm not really interested I have several people in my town that might be. This is how I get people interested in EdenFantasys!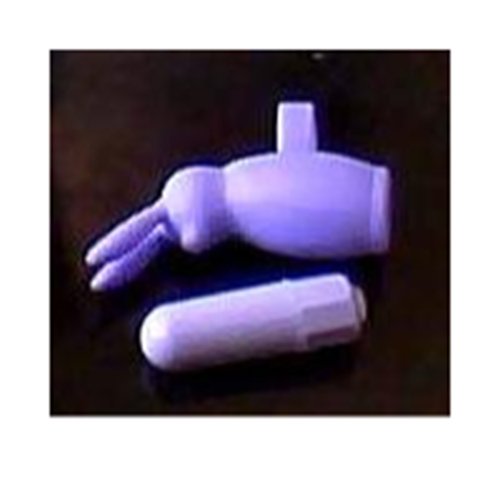 The Silicone Finger Bunny is a step above the jelly finger toys I used to own for two reasons; the first reason is it doesn't cause irritation to my sensitive lady bits like the jelly toys did, the second reason is it's silicone so it's non-porous. I can confidently share my bunny and make all the lovely jokes that come with a bunny toy. Oh come on like YOU'VE never made silly jokes during sex just because you can! It also has a level of detail and velvetiness (Yes it IS a word, look it up!) that allows it to transmit vibrations so much more easily than my jelly toys were able to. Plus, it's really, really cute.
It arrives securely packaged in a plastic shell that pulls apart. There's even a little button of silicone for you to test out the amazing quality before you buy. How thoughtful! The package is sturdy enough to keep the bunny safe during transport, but it is a pain in the "you know what" to try to store the bunny in after it's open. Add int he fact that it's easily several times larger than the actual toy an it gobbles up space. My advice is to store it in a small box or bag in your bedside table or underwear drawer. I think the bunny would be happy living surrounded by your lingerie, don't you?
The bunny shell is composed of food-grade silicone that is hypo-allergenic, latex free, non-porous, phthalates free, and completely smooth. It has a velvety feel to it and is as soft as a bunny should be. It measures in at 3.5 inches. Mr. Bunny has a pronounced ring on his little back and it is large enough to allow two small fingers or one large one to slide comfortably in side. You, or your partner, can use the pad of your finger to guide how much pressure you use and which contact point you prefer. Speaking of contact points there are a few this bunny offers. He has super long and flexible ears that vibrate very quickly and are perfect for teasing just about anywhere on the body your wicked little mind can come up with! They are soft and will not beat your clit to death like some vibrating toys because this is one of the more gentle bullets available. It might not be able to take clits-o-steel over the top but it can sure as heck warm them up!
Another contact point the bunny offers is the little face. Ok, I know it sounds weird but bear with me. The nose/mouth of the bunny protrudes just enough that it forms a small point where vibrations seem to concentrate. For my moderately sensitive clit it was enough to actually get me off, now I realize your mileage will probably vary but give it a try! Yet another fun point of contact is the back of the bunny's head. I found this point to be especially useful when using the bunny as a teaser in combination with a blowjob. The ears left my guy squirming to get away, not something really desired in oral sex, but the firm little head was pleasurable pressed up against his taint.
Experience
This is not intended to be used as an insertable toy, though you could shove your finger where the bullet should be and use it to tease yourself or your partner's vagina. For goodness' sweet sake do not shove this guy up your ass, or anyone else's ass, just don't!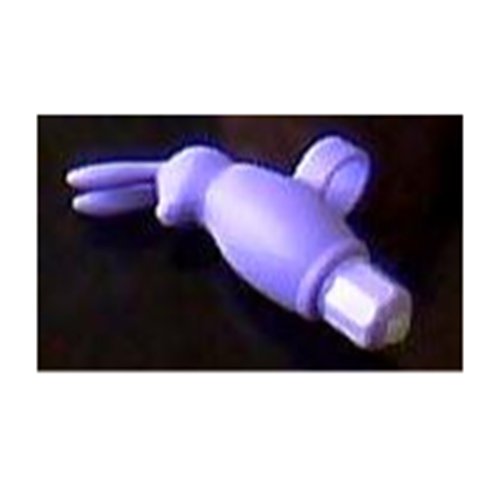 Now then let's discuss the bullet. The bullet is a pretty run of the mill, powered by 3 LR44 watch batteries, bullet. Store the batteries outside of the toy as one of my batteries actually exploded while sitting in the box with, but not inside, the bullet.
It is small, measuring in at only 2 inches. It is waterproof. It offers ten functions of speed/variation and is a soft to medium vibrator in terms of power and speed. The toy is operated via a soft push button on the base of the toy.
Hold the button for a couple of seconds to turn it off.
By itself the bullet had just enough power to get me warmed up and off but inside the bunny it was a bit more work. Since I actually like a combination of vibration and stroking of my clit this bunny works for me.
This little guy is made of silicone so spot test a small area before slathering him with your favorite silicone lube or blend. As always a water based lube is perfectly safe to use with this toy. It doesn't take much lube to get a slick surface, a few drops will do it.
To clean the toy you have several options. After removing the bullet and wiping it down you can wash the sleeve in hot water and soap, use a commercial cleaning solution, or spray him with a 10% bleach and water solution. The silicone is matte on the sleeve but it doesn't pick up much lint, if you find that yours does then a rinse before use will remove all the flurf.
I had some trouble with the bullet of the first bunny I ordered but I simply substituted another bullet and all was well. The second Finger Bunny I got has a working bullet but it is finicky and seems delicate.
Follow-up commentary
9 months after original review
This is still one of the cutest little novelty toys I own and I like it for just that reason. The bullet is still working despite my concerns so all in all still a great little toy!
This content is the opinion of the submitting contributor and is not endorsed by EdenFantasys.com

Thank you for viewing
Silicone finger bunny
– finger vibrator review page!