A Butterfly's Kiss Was What I Needed
I got this item as a pick-me-up after a breakup. If you are looking for something to cheer you up, perhaps a little butterfly can do the trick like it did for me.
Published:
Pros:
Great for beginners, cute, and hits the G-spot nicely.
Cons:
Hard to turn off if rushed, hard to clean, and decreases in pleasure over time.
I have had this toy for about three years, and still have it today. This was the first toy I ever bought, so I had no idea what to expect from a G-spot and clitoral stimulator. I wanted to try something small but intense, and I found this little gadget to be the perfect start. I would personally recommend this to anyone who is intimidated by size, or is inexperienced in knowing what they want in a pleasure toy.
It was love at first sight, holding it in my hands and looking at the shiny purple luster, and the decorative inviting hearts on the handle. There was a slight smell, but my eyes are so fixated to shiny objects, it didn't matter to me. I couldn't wait to try it!
I have never taken it in the bathtub (although it says it's waterproof), but I have used it vaginally in bed for a long time. The very first time I used it, I was in complete euphoria. The shaft was spot on my G-spot, which I thought never existed, while the butterfly antennae buzzed on my clitoris. It was a sensation that left me on my bed, staring into space flabbergasted.
This Butterfly Kiss Platinum Edition requires 2 AAA batteries, and the toy doesn't take that much energy, so there's no need to keep buying new batteries. In addition, you can use any kind of lubes or oils you wish, without it having a reaction. The butterfly stem length measures at 3 1/2" and the bulb at the top is 3 3/4" wide, so it is quite small, but certainly does the job. The humming sounds were only noisy outside the body. Upon insertion, the noise decreased a little bit. I wouldn't recommend using this in a college dorm, unless your roommate is gone.
There's a white button on the bottom you can click for nine varying speeds. The first three range in increasing intensity, while the last six are random pulsating vibrations. I think the only setback to this control is turning it off. When you are finished, you have to click through all of the settings just to silence it. There would be times I was in a hurry ('cause someone was knocking at my door/coming home/etc.), and I would accidentally click past "off" and it would start all over again. You can imagine how frustrating that was.
One thing I found out later on was that this toy is Plastic / TPR, and cleaning it right after use is required to avoid the spread of infection. It is a little difficult to clean the antennae; you can easily miss some hard to reach crevasses, making it a little frustrating to keep completely sanitized. In addition, I would avoid placing this toy adjacent to any other toys without ziplock bags (I ended up defacing my butterfly kiss because it was in a box next to one of my silicone-based toys).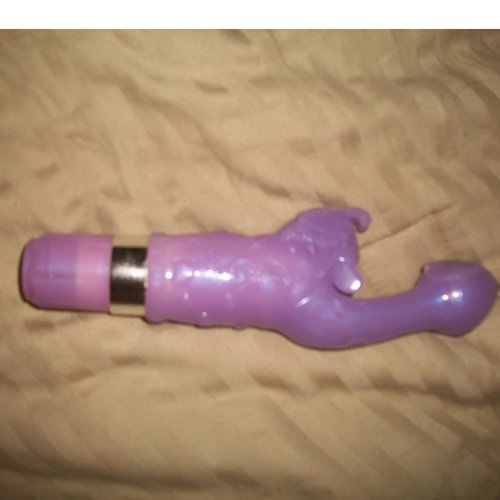 So sad.
Other than that, this is a great toy and I would recommend it to anyone starting out.
Experience
At first, this was a wonderful vibrator. It really was love at first sight; all I wanted to do was use it. However, the product started losing its luster when it stopped giving me complete satisfaction like it did in the very beginning. It's not the toy's motor, it still gives off a good zing. I just think my body grew accustomed to its vibrations and wanted something different.

I've given it several chances, but it has failed to live up to my expectations in the long run, and left me to search for other products that are superior. However, I have kept it handy as an anal stimulator and use it in conjunction with some of my other vibrators. The butterfly antennas do feel pretty nice fluttering on the anal area.
Follow-up commentary
10 days after original review
Although it's deformed a little, I still use it from time to time, but only as an anal vibrator in conjunction with other toys.
This content is the opinion of the submitting contributor and is not endorsed by EdenFantasys.com

Thank you for viewing
Butterfly kiss platinum edition
– g-spot rabbit vibrator review page!