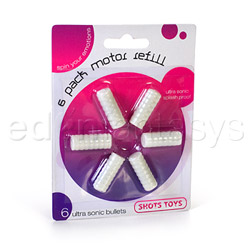 6 pack motor refill
Bullet by Evolved
A different kind of six pack.
Sometimes you find a great 'One time use' cock ring that you wish you could replace the bullet on for one reason or another. That is where the Six Pack Motor Refill comes in, now you can replace the bullet cheaper than buying a new ring. If that single bullet is not enough stimulation for you, you can always use two or three at the same time, right?
Published:
Pros:
Splash proof, Quiet, Fits many rings-all if you get creative.
Cons:
Possibly the price-I don't think so though.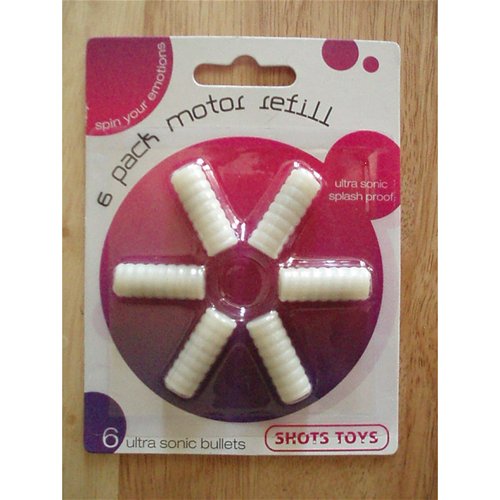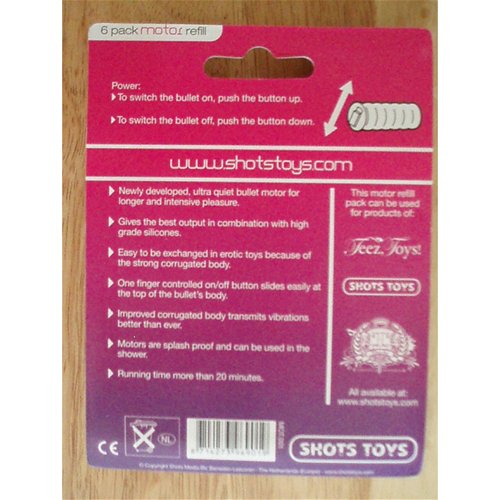 OK, so you are browsing around the site and these pop up under the
Bullet and egg vibrators
category, you think "What the hell are these for, they look pretty small...?" Well folks, I am here to give you the low down on the 6 Pack Motor Refill from Evolved Novelties.
You know the 'One time use' cock rings that can be found here and at the local store? The ones where they only last for 20-30 minutes and then you toss them away but are saddened because you liked the fit or how they made the penis vibrate? Yes, these are for those rings and they can also be used in other cock rings as well.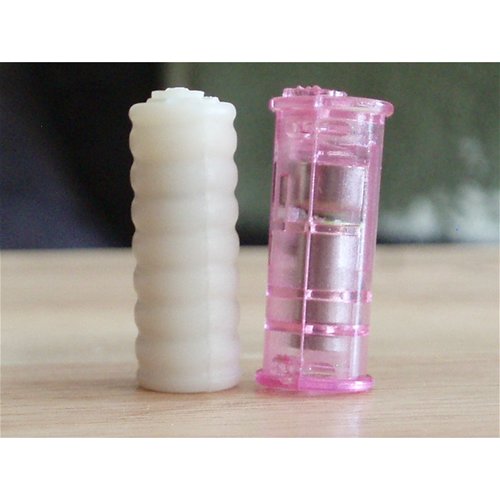 Here is one of the bullets next to a bullet from the
EdenFantasys Vibrating Penis Rings
bullet. As you can see they are about the same size.
So, you get six, what I call, micro bullets. Each one is 1 1/8" long and has a 7/16" diameter. They are powered by one small watch battery and good for about 20 minutes of use. They are of the 'Buzzy' variety and pretty quiet, more so when in a ring. Now, you can just toss them after they expire or you can carefully split the plastic case and replace the battery.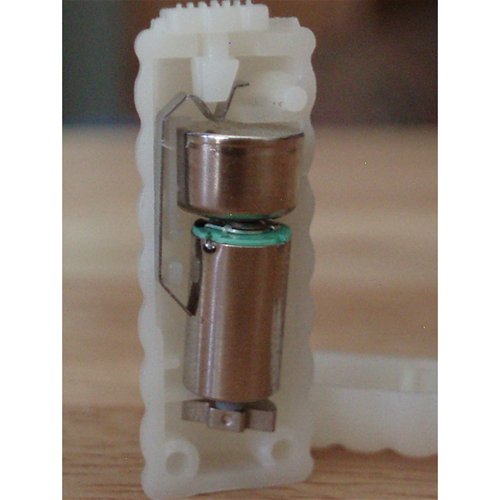 Inside the bullet.
They are splash proof so you can use them in the shower too. Really folks, they are meant for one time use so even if they get wet inside the casing it will not be a total loss.
They will fit pretty much any ring or finger vibe that has a bullet with a similar size. You could also use it by itself if you wanted for a small clit vibe. Although, there is a seam where the two half's meet that could have some sharp edges. You would have to be careful using it that way or file the edges down smooth.
Since they are pretty much a onetime use bullet cleaning is not really an issue. You can however use some Isopropyl Alcohol to clean them off if you plan on replacing the batteries. Furthermore, any lube can be used; the one thing to remember here is the material of the ring you are using.
As to what rings these bullets will fit there are a bunch of options. I currently only have two rings that work with the bullets; Boss Cock and the EF ring.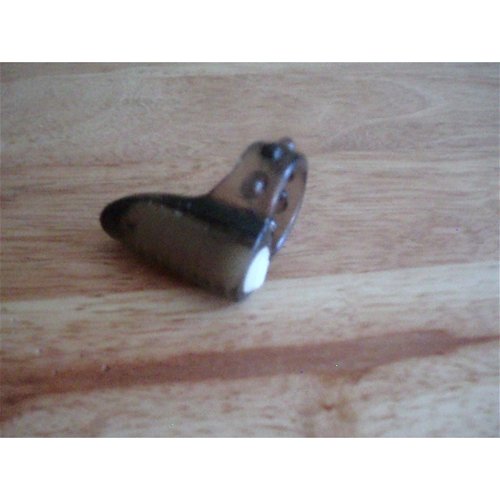 Here you can see the bullet in the
Boss Cock ring
.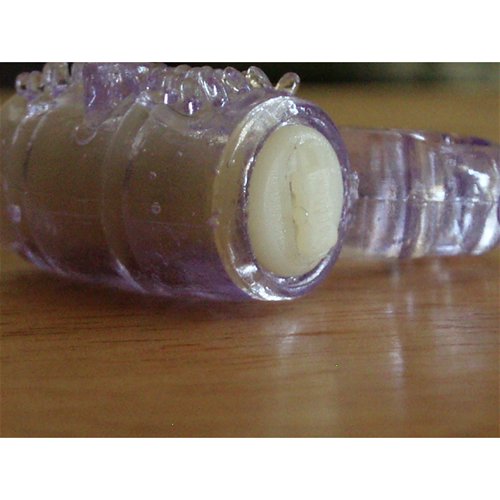 Here in the
EF Ring
They will also fit in these rings too;
Super enjoyable vibrating ring
,
Colt vibrating stud ring
,
Two-O double pleasure ring
,
Innervibe Duet
,
One shot wireless silicone vibro ring
,
The Screaming O vibrating ring
just to name a few.
Now folks, there are a few other rings that will work also. Ones that have a bigger bullet can still be used; you just have to add another of the six bullets. Talk about a vibrating penis, eh? The sky is the limit here.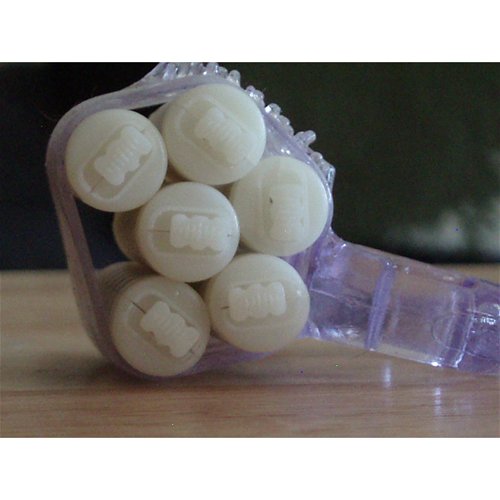 How about a six shooter?
Some other ideas include using a rubber band to secure them to a dildo or a substitute for those little Nano bugs (See video); really folks just use a little imagination, eh?
Experience
The big question you have to ask yourself "is the price worth it?" Kind of a "Half one dozen or another" type question for sure. If you were to purchase the Eden ring for $5.99 and the Six Pack of bullets for $23.99 (not on sale price), you would get over seven uses for around $30. That's about three and a half hours of use. On the other hand, you could buy seven of the EF rings for about $42, that's $12 more. Add to that the ability to replace the battery and the savings grow even more.

I for one would like to save the $12 for another toy.
This product was provided free of charge to the reviewer. This review is in compliance with the FTC guidelines.

Thank you for viewing
6 pack motor refill
– bullet vibrator review page!