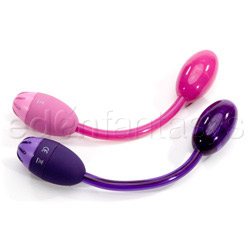 Flex a pleasure
Egg by Doc Johnson
A fun addition
I enjoyed the Flex a Pleasure. It solved several dilemmas related to my play with dildos and vibrators in the past (double penetration and too intense of vibrations). I feel as though the Flex a Pleasure will become a staple in my play. Not because it gives earth shattering orgasms, but because it is so versatile, and it provides just that little bit extra sensation that is pleasurable. And, sometimes that is all you need.
Published:
Pros:
easy grip controls.cleans up with mild soap. shaft is flexible.
Cons:
cannot be sterilized. jelly material.
Interestingly, this was my first experience with a bullet or egg vibe. I also generally try to stay away from jelly toys, but I usually like products by Doc Johnson, and the shape and characteristics of this toy were appealing to me.

The vibrating egg and shaft are coated in jelly, while the control egg was coated in a softer material sort of like rubber cote. The softer material was ideal for gripping the control end when things get a little slippery. In the past, I have experienced some minor irritations (redness or residual burning) when using jelly products. I have used this egg several times without any such reactions. If you are a generally sensitive person, I would cover this product for many reasons. However, I have more sensitivities to condoms than I do jelly and I am in a monogamous relationship and I don't plan to use it anally, so I prefer to not waste money on buying condoms for specific toys. It did have a slight chemically odor when removing it from the package, but that quickly subsided once I washed it with a mild soap and warm water.

The control knob is a dial, which allows me to choose any range of vibration intensities. The vibrations can get intense enough to feel them through the shaft and the control knob. However, the vibrations were not intense enough in the control knob for me to achieve a clitoral orgasm(the knob does not vibrate itself).

The egg itself can have a pretty strong vibration. It is a nice sensation both internally and externally. What was most interesting for me was the difference in the vibrations with the egg versus other more traditional vibes that I have used in the past. Without having a better description, the vibrations are not directional. It is not the intensity of a small clitoral vibrator. The size of the egg meant that I couldn't have a clitoral orgasm from direct contact. The vibrations were simply too spread out. However, I truly enjoyed the sensations of the vibe on my vulva and perineum or inside.

The shaft was very flexible, yet it stayed put when bent into shape. It can be difficult to move when in the middle of the heat of play, which isn't necessarily a terrible thing.

Clean up was easy with a mild soap. I do not recommend it for anal play without a cover as this kind of material cannot be sterilized. I always prefer a water-based lubricant, but a silicone lube can be used safely with this material as well.
Experience
For me, one of the best features of the
Flex a Pleasure Egg
was the size of the shaft. This allowed me to have the egg inserted while experimenting with double penetration.
One of the challenges I always face is that I enjoy have vaginal stimulation during anal play, but dildos often hurt when inserted vaginally while being fucked anally. I was able to insert the egg vaginally. The shaft was so small that it didn't cause any impediments to the anal sex. In fact,as soon as my Love entered my ass fully and began to find a regular rhythm, I was rolling in an intense orgasm. He followed quickly behind with the sensations of the
vibrating egg
against his cock from inside of me.
In another session, he was able to enter me vaginally while the egg was inside of me. The control egg sat comfortably in the crook of my leg and hip while he thrust inside of me. There was no discomfort from the shaft at all. Soon, he was cumming inside of me. The sensations against the head of his cock caused him to cum profusely.
This product was provided free of charge to the reviewer. This review is in compliance with the FTC guidelines.

Thank you for viewing
Flex a pleasure
– sex toy review page!