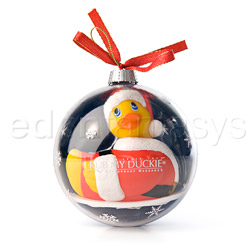 Holiday ball santa duckie
Discreet massager by Big Teaze Toys
A Not So Merry Christmas
The Santa ducky is adorable and discreet. It would make a cute gift for a special woman in your life, but it definitely has its downsides. There is only one vibration setting, which to me sounds like a mixer or blender being used.
Published:
Pros:
Cute, doesn't use much battery power, easy to clean, waterproof.
Cons:
Very loud, one vibration setting, really hard to open battery door.
The majority of my review item choice came from my boyfriend. I showed him several different items we could try out, and let him pick the one he liked the most. He decided on the Santa Ducky, as we had not yet tried out a vibrator together, and it looked pretty cute.

The duck comes in a see-through plastic box, with a plastic ornament ball inside. The duck is held up in the ball by a piece of plastic that resembles a small cheap soap dish. The silver piece on top of the ball screws off and the two halves of the ornament pop apart. It was a little difficult getting the duck off of this dish, though, as it was stuck on there with thick thread. Overall, I'd say the packaging was done very nicely, and the duck looks pretty innocent.

The Santa Ducky is about 3 1/2 inches long from its chest to its tail. It is a pretty good size to hold in one hand. The paint hasn't chipped off of mine yet, even if I scratch it with one of my finger nails, the paint stays on. The entire duck is made of a hard plastic, and is also waterproof for fun in the bathtub or shower. It would look kind of cute sitting on the ledge of a tub around Christmas time, and I doubt anyone would really pick it up to look at it. Wal-Mart sells ducks in the Infants department that kind of looks like this. There is one that is dressed as a Santa. Of course, they do not vibrate.

It takes one AAA battery, which is somewhat difficult to actually get in there. I found using a flat head screwdriver helped a lot, as it has a slot in the middle of the battery door. It hurt my nails to try doing it without one, since it bent them back a little.

Santa Ducky has one vibrating speed, which is a very loud, constant buzz. I have to hold it just right for it to not make a noise of the vibrating part smacking into the plastic of the duck, which is even louder. I'd definitely have to compare this in sound to a mixer or possibly a blender. Also, my duck is weird. I have to smack it after I turn it on to actually get it to start vibrating. It reminds me of my first car, which I had to smack to get the speedometer to work for some reason.

I used silicone lubricant with the duck, and after buying a new bottle of water-based to replace the bottle that apparently leaked all over the place, I used it with that one as well. I haven't had any problems with either, though if you need lubricant and are using in the tub, I'd recommend silicone-based, since it doesn't wash away.

I personally did not really enjoy the Santa Ducky on me. It felt pretty boring compared to some other vibrators I have used. I was also constantly worried about the sound level, since my brother's room is right across the hall from mine. My boyfriend, however, loved the ducky. I rubbed its back up and down his shaft, occasionally putting it on his balls for a few seconds too.

It was pretty easy for me to clean up the duck. I got a washcloth and washed it up with bar soap in warm water. Then I stored it back in the holiday ornament ball to keep it clean for its next use. I also made sure to remove the battery before storing the duck, so as to keep the battery from dying.

Overall, I'd have to recommend looking at another vibrator. I don't find the duck to be very pleasing at all on any part of my body, and it is too loud for me to use often.
Experience
My boyfriend really seemed to enjoy when I used the vibrator on the lower half of his penis, as well as rubbing his body and kissing him. I made him rub the upper half of his penis, which he seemed kind of uncertain about at first, but then got into enjoying.
Follow-up commentary
3 months after original review
Due to the noise level, I haven't really used the Santa duckie as much lately. I have been preferring to use a traditional vibrator with my boyfriend. However, the duck has stood up pretty well, and looks exactly the same as it did when I opened the package the first time. It has only gone through a couple pairs of batteries so far, which seems pretty good to me. Even though I have had the duck out on my desk, no one has noticed it for what it truly is.
This product was provided free of charge to the reviewer. This review is in compliance with the FTC guidelines.

Thank you for viewing
Holiday ball santa duckie
– discreet vibrator review page!