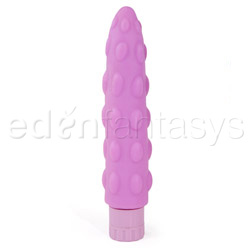 Silicone softees waves of euphoria
Traditional vibrator
by California Exotic
Amusing Monster Mayhem
While it won't rank as one of my favorite toys, it does stand out for offering unique experiences. The smell and sanitation issues notwithstanding, it is a good value for the money. When I'm in the mood for something off the beaten path, I'll reach for this toy again.
Published:
Pros:
A unique toy, good value, very powerful, a must for tentacle fans
Cons:
Not aesthetically pleasing, noxious odor, hard to clean, very loud
My first thought upon seeing the
Silicone Softees Waves of Euphoria
was how good those nubs would feel. My second thought was this would be an ideal toy for a lover of Hentai style tentacle fantasies: seriously, if you love tentacle sex this might be for you!
I was surprised by a number of factors upon actually receiving the toy, however. First, it is aptly named a
'Softee'
and is almost laughable in its lack of firmness. Second, it is not aptly named a silicone anything, because it's TPR. This is noted in the description, and in tiny letters on the back of the package, but I still feel the name is misleading. It says 'silicone' twice on the cover of the packaging, and I'd hate for someone to try and boil this toy!
The next unpleasant surprise was the smell. It smells as bad as a jelly or rubber toy, which someone decided to mask with gaudy fragrance. It smells terrible, unless you like your sex toys to smell like air freshener. I was quite concerned that this material quality and chemical perfuming might translate to serious skin irritation, so I used a condom. I did let the toy air out for over a week, and washed it, but neither made any difference. Thankfully, using a condom did protect my skin from irritation.
Let me give you the rest of the cons up front: you can't feel the nubs much, it's loud (especially with the sleeve off), and this toy loses major points for difficulty in cleaning. You can't totally disinfect it, can't wash the smell off, it takes twice as long to clean, and it doesn't stay clean (it's a lint magnet). The killer here though is the toy shows its lack of durability- you must be very careful taking the sleeve off and on. Mine already has cracks in it, and I was very gentle. Getting that sleeve back on is like getting tights on a toddler, too. Also, do not leave the toy near a window, as direct sun seems to cause cracking as well.
Inside is a simple no frills plastic vibrator. It's small in girth and the cloying smell lingers from the sleeve. It is operated by only two AA batteries, but gets maximum power out of them. I'm still on my first set, so it doesn't drain them either. It is water-proof and durable; I already dropped mine and it still works. On the maximum setting, the vibrations are intense.
By the time I took my Softee to the shower I didn't have high hopes for satisfaction, based on the stench and unappealing outer sleeve. But this is where the
'Waves of Euphoria'
were delivered, as promised! The tapered head made for easy insertion and I had to gasp in surprise at just how full this infirm vibe left me feeling. Sliding it in and out created unexpected sensations, akin to an exotic massage. Rubbing the squishy shaft along my clit sent ripples of pleasure through me. It was a slow, delicious building of desire, never quite reaching high enough to take me to the apex of climax. The sheath dampens the vibrations and prolongs the pleasure. Eventually I slipped off the outer layer and pressed the hard inner vibe against my clit, taking me over the edge into
multiple orgasms
.
There are many disadvantages for the Softee; still I have to give it three stars for delivering the best string of orgasms I've had in a while. I'd say the price makes it a good value; you are getting two toys in one. The outer sleeve has a host of problems but makes for a unique experience. It's like the foreplay, whereas the inside vibe is the climax. That part of the toy is plain Jane, but well made, water-proof, and powerful. If you don't like the sheath, or it doesn't hold up over time, you'll still have a decent small plastic vibe for less than twenty bucks.
Experience
I think one of the reasons this worked so well for me is that I didn't start out in the mood much at all. The softness of the toy and sufficient lube allowed me to penetrate an unyielding and reluctant body. The unusual plush exterior was like a slow, erotic massage, coaxing me into a state of slick, breathless need. Oftentimes, masturbation becomes routine because we know our bodies so well… there is satisfaction but not surprise, no matter our spontaneity. This is why sex toys can't replace human partners…and why sex with a new person is so electrified. This toy was unique enough I couldn't anticipate the sensations, and the unexpected is a powerful aphrodisiac. I was kept on the edge of my shower-seat, driven to the edge just as a coy lover might. I let my frustration stoke the fires of my own lust as long as I could stand to tease myself with the gentle outer skin. Even when I hastily slipped that off, I had no way of knowing what the harsh inner core would provide in the way of release. The simplicity and intensity of the inside was the polar opposite of the mild facade; surprise plunged me headlong over that edge… just the way a skillful lover might.
This product was provided free of charge to the reviewer. This review is in compliance with the FTC guidelines.

Thank you for viewing
Silicone softees waves of euphoria
– traditional vibrator review page!