Big and black- Hahaha
The black magic bullet is a fun bullet that is on the larger side of the scale. It's perfect for solo play, or used with a partner. It's strong enough for any user and quiet enough for shared living. It's waterproof, and made of plastic so you can use it with any type of lube. It's reasonably priced, and perfect for anyone.
Published:
Pros:
Large, Smooth, Waterproof, Quiet, Strong,
Cons:
Limited vibrations, Pain in the butt battery compartment
The black magic bullet by Doc Johnson is a humpers dream comes true. I'm personally always looking for toys that are good, or decent enough for humping. I don't have many, and I do find it hard to find some, so when I saw a review for this item I knew I had to have it. I watched the product page for weeks until it became available. I ordered it the day it came out. That was about two months ago.
When you first receive the super bullet, Other than the size, you notice the cute box it comes it. It comes in a purple and black plastic like box. The box is fairly see though, and you can see the toy without opening the box. The back of the box does have some simple information on it. It lets you know that it is waterproof, velvety texture, and powerful. The box can be used as storage, or you can toss it if you don't need it.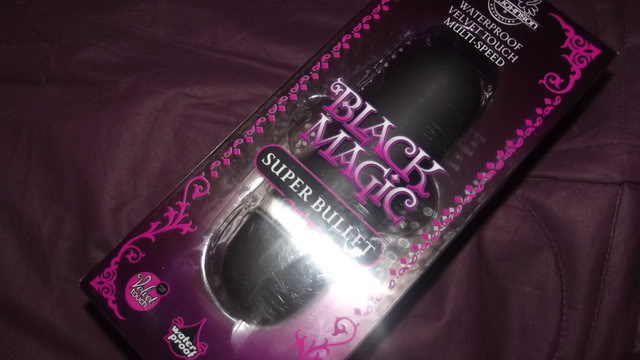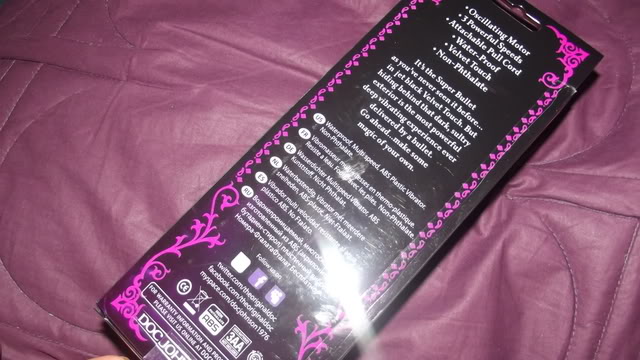 Okay, so let's talk about the size of this bullet. I'm a huge fan of bullets, so when I saw this I knew I had to have it. It is the largest bullet I've ever seen. I'm not even exaggerating when I say it's the largest I've ever seen. That is why I wanted it so bad. The bullet itself is over 5 inches long, and about 1 1/4 inches in girth. You cannot say that isn't huge. Your hand does fit nicely around it, and you won't easily lose it. When you aren't using it you can hide it. You can place it into a drawer, or bedside table. You couldn't hide it in plain view. If you have large pillows, you can hide it under your pillows. It would be a little harder to hide if you share a room. When going out and about, you would need to carry a purse, or some type of bag. This isn't the type of toy that you can hide in your hand, or pocket. It isn't something that you would have to make life changing arrangements for, but it isn't something you can toss in your pocket and walk out of the door.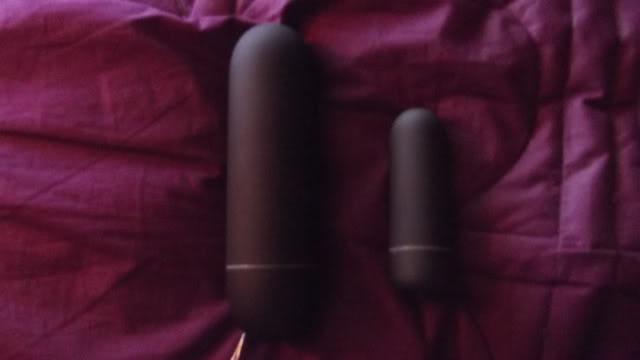 Next to a normal sized bullet.
The black magic bullet is made of ABS plastic. It can be used with water, oil, or silicone based lube. Plastic is non porous, and can be shared between partners. I'd recommend using a condom with sharing ANY toy, but you would never find a condom large enough to fit this toy. When using it you should wash it before and after every use. The black magic bullet is completely smooth, and doesn't have any rough edges. The black magic bullet does have a texture to it. It's a velvety smooth texture, and the texture may require you to use extra lube.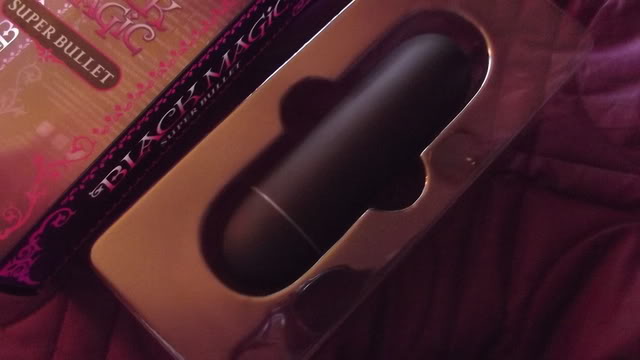 The black magic bullet is surprisingly quiet. I wasn't expecting it to be, but it was. I thought with that size, it would be able to be herd through the cover, or even the water. The best part it isn't at all. When using it in the bedroom. You can't hear it at all with a television going. This is perfect for people who are in shared living situations. When used in the bathtub or the shower it's the same thing. You don't hear anything. I thought you would at least hear some type of rattling, but nope. The vibrations are felt throughout the entire toy.
The black magic bullet is pretty easy to use. It has one simple button that is on the top of it. You press this button to turn it on and off. You also use this button the change the settings. This was the only disappointing thing about the bullet. It only has three settings which are low, medium, and high. You don' get any type of pattern or anything. I guess this is okay, but I'd love to see this toy with more settings. The black magic bullet is amazingly strong, but it's strong enough for the most average user.
Experience
Continued...
The black magic bullet runs on three triple a batteries. Now, this is where the toy gets a little odd. When you take off the top to get into the battery compartment, it comes off as if you had broken it, but you didn't. You have to shake the bullet or hit it on your hand, and the battery compartment will slip out of the bullet. It can be very annoying. I thought I had broken it when I first got it. Also when putting the top back on you have to line up the little markings that are on the sides. If you turn the top too tight the bullet will not turn on, so you have to line it up in order for it to come on. Lining up the markings will also insure that you will not get any water inside of it. Once you get over the annoyance of the battery compartment this bullet is quite awesome.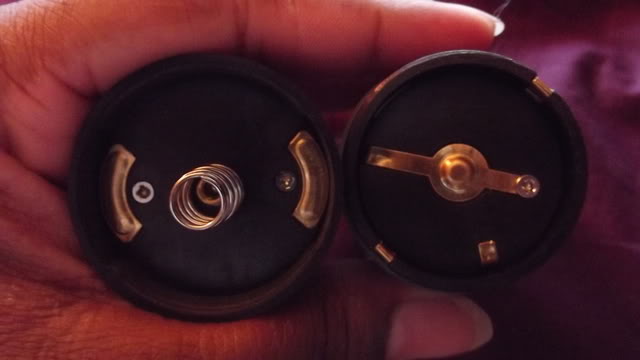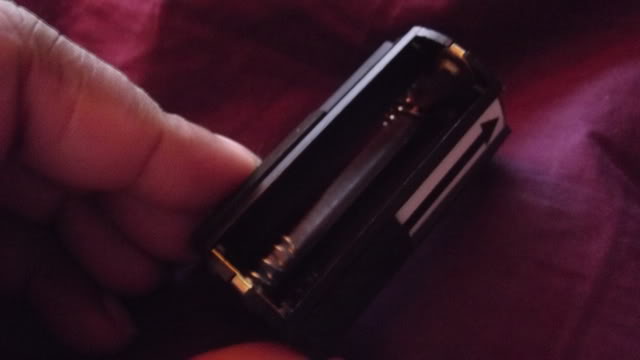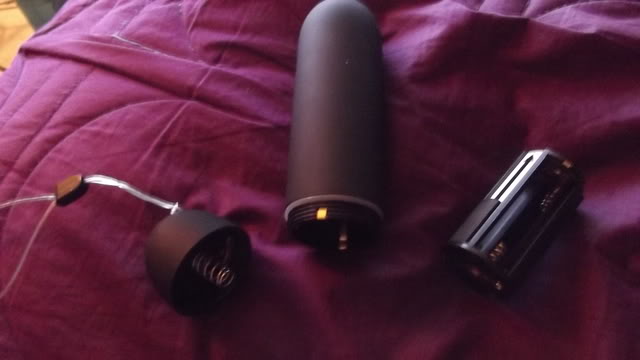 The bullet also has a cord on it. The card is so that you can wrap the bullet around your wrist to insure no slipping, or mistakenly tossing it across the room. The wrist tie cannot be taken off but if you happen to cut it off it won't affect your toy in anyway.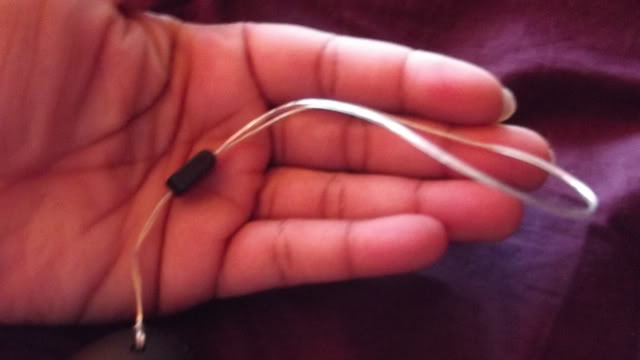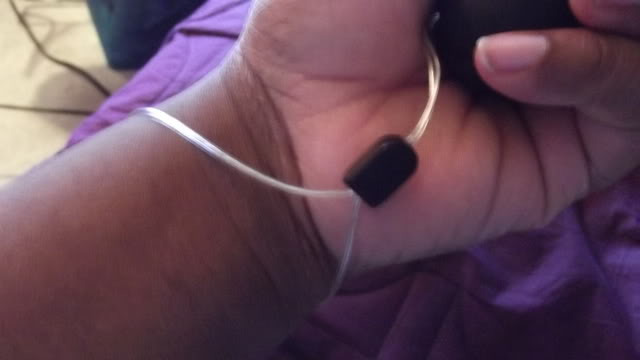 Experience
I love this bullet. It happens to be my favorite bullet at the moment. I'd love to own this in other colors. I don't have many complaints about this bullet. I wish it was a little stronger, and it had more setting. The lack of settings was a major disappointment. I loved how quiet it was, and the size! The size is the best part for me. This bullet is large enough to be straddled, and small enough to be able to be used with a partner. I personally haven't used it during sex in the two months I've had it. It really isn't me, it's my boyfriend. He thinks it would be one of those types of items that will annoy both of us. I noticed that the vibrations are felt throughout the whole bullet, but is strongest felt at the bottom.
Follow-up commentary
8 months after original review
Still without a doubt it's one of the largest bullets I've ever used and I do love it very much. I hope to own the white one too. I just wish that it came with more vibration settings, but for the most part I'm extremely happy with it.
This content is the opinion of the submitting contributor and is not endorsed by EdenFantasys.com

Thank you for viewing
Black magic super bullet
– sex toy review page!