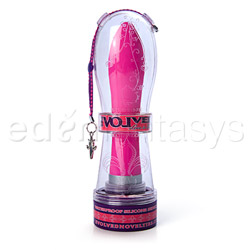 Fleur De Lis silicone seduction
Traditional vibrator by Evolved
Bright Pink Seductress
If you are new to toys and aren't put off by the slightly larger bulge circumference, this would be a great starter toy. Even for those of us who are more experienced with toys, this one has a lot of pros to offer. Strong steady vibrations are expelled via the g-spot bulging tip, as well as the rest of the shaft. Sometimes, ya just need a simple, easy vibrator to get the job done.
Published:
Pros:
Powerful
Flexible tip
Quiet
Silicone
Waterproof
Phthalate free
Cons:
Lint magnet
Battery cylinder
No separate off button
I had never tried anything by Evolved before, so when the original Seduction vibrator was suggested as my free review toy this month, I was eager. Before I requested the Seduction, I stumbled across this silicone version and was thrilled to be one of the first few people to have the pleasure of trying this toy. I have never been big into vibrators but my eyes have been opened to new experiences since joining Eden Fantasys. The length of this toy makes it great for vaginal insertion and thrusting as well as clitoral stimulation. It doesn't have any kind of flared base so I don't recommend trying to shove this one in your butt, for fear of an embarrassing trip to the hospital. Knowing my luck, I'd end up getting some gorgeous spunk fondling my rear end ... and not in a good way. I'm thoroughly enjoying my new toy!
MATERIAL:
The Fleur De Lis Seduction by Evolved is made from pure food grade silicone and is produced in China. It is non-porous, heat-resistant, Hypo-allergenic, Phthalates and latex free. Silicone is the most hygienic of the pliable materials as there are no open pores to harbor any bacteria, earning itself a rating of 10 on Eden's site. Even with that said, I'd still recommend that you use a condom if you plan on sharing your toy as it never hurts to take extra care. Besides which, unless the person you share with is a life-partner, can you ever really trust that someone is totally clean from STD's or STI's? I particularly enjoy vibrators with a flexible tip, such as this one, as it adds more character to an otherwise plain straight toy. Unfortunately silicone lubricant will bond with silicone toys that it comes in contact with, so only water based lube should ever be used. The Seduction doesn't have quite as much drag on the skin like some silicone toys do, so I have never required lube with this vibrator.
COLORING & TEXTURE:
As much as I love anything and everything purple, I received the Seduction in the bright pink which, is a slightly deeper shade than in the photo. For those who live in extreme weather conditions – you won't lose this baby in a snow storm! This toy features a beautiful squishy, velvety smooth silicone surface with a rigid core half way up from the base. I'd refer to the squishiness of this toy as being like one of those stress balls, but there's only about 4mm (sorry guys, Aussie here who is naive when it comes to using anything below 1/4") of squishy silicone covering the core of the vibrator. I found the flexible, bulging tip was great for sending strong vibrations to the g-spot – with or without thrusting. It does have a seam that runs over the tip and down the sides but these are so flush that you won't know it's even there unless you're looking for it. The very base of the vibrator is a smooth, lustrous plastic battery cap.
CONTROLS & SHAPE:
The Seduction is operated by one clear button which is almost flush, on bottom of the base. Being in this location, it prevents the button from accidentally being pushed during play. Each time the button is pressed, the next vibration mode is presented (there are three in total), starting off on the lowest. There are no patterns. To turn the toy off, you must go through the modes which is kind of a pet hate for me living with others. But because this toy is so quiet, it's not that big of a deal in this case.
Seduction has a total length of 7 1/2" long with 6" of that being able to be inserted. Some people new to toys may find the 4 1/2" circumference at the bulge, a little on the bigger side. The rest of the shaft is 3 1/2" in circumference. This vibrator has a rounded tip to make for easier insertion.
NOISE & POWER:
I thoroughly enjoy the strong vibrations which travel the whole length (including the plastic base) of the toy, but are more dominant in the tip of the vibrator. It's so quiet, that I can be on my bed with the door open, Seduction on the top mode and it can't be heard by anyone standing in the hallway. For the powerful vibrations this toy delivers, it's the most quiet vibrating one I own. My first two insertable vibrators have/had a high pitch motor sound but this toy has more of a deep rumble.
Continued below
Experience
It requires 2 x AAA batteries and luckily for those of us who love our rechargeables, this one will gladly accept them. This vibrator comes loaded with a clear battery cylinder, but I don't use this as it frustrated me getting the batteries back out. I'm lazy and never take the batteries out of my toys, unless I run out of that particular size and I need to pinch them for another toy. This toy doesn't drain the batteries like some toys can.
CLEANING:
The Seduction can be used anywhere, including the shower, bath or hot tub due to it being 100% waterproof. I have personally submerged the vibrator to put the clear ring seal, in the battery compartment, to the test. This also makes cleaning extremely simple by using an anti-bacterial soap or toy cleaner. Unfortunately, due to the mechanical components, the Seduction can't be boiled for sterilization. This is where a 10% bleach solution comes in handy, but care must be taken to thoroughly wash all residue off. Being silicone, this vibrator picks up every bit of lint and dust it comes in contact with. For this reason, I highly recommend air drying this toy in a protected area.
PACKAGING & STORAGE:
This vibrator comes in a nifty solid clear plastic tube (featuring a raised pattern) with a purple screw-on base. I have kept the container to store my Seduction toy in, as it doesn't take up much more room than the toy on its own. The toy doesn't come with a pouch and with it being a terrible lint collector, it requires a nice protective home. The toy arrives with a plastic ring threaded onto the Seduction between the shaft and battery cap. This is then used to screw into the base of the container so the vibrator is held securely in place. I honestly have no idea on what the pretty ribbon, with charm on the top of the container is for. It serves no real purpose so I'm guessing it's simply for decoration.
EXPERIENCE:
The Seduction is a great standard g-spot vibrator for anyone new to toys. It doesn't resemble a penis and is of an average size (apart from the bulge), so isn't intimidating in any way. I love the quietness of this toy due to the fact that I live with others and would recommend the Seduction for anyone else in the same situation. It's great for solo fun or introduced into couple play. I found the first level was more than enough intensity to create a powerful g-spot orgasm for me. For those who have the Legamento, the Seduction on the first speed is equivalent to the third speed on the clit vibrator. It's not quite as powerful as the Siena Rondo, but not bad considering this one uses half the battery power. I haven't tried this on my clitoris, as I prefer a small vibrating bullet for clit stimulation – not keen on the smothering feel from larger toys. Even with the few cons, I would still purchase this one as they aren't a big enough deal to overlook it!
I am truly fond of my new vibrator and award it
5
out of
5
stars!
Follow-up commentary
3 months after original review
I really wish there was a rating - Loving it even more. This one was my first very flexible traditional vibe and has left me wanting others that are bendable. The power of this one really surprised me. It looks so simple but Evolved KNOW how to super charge their toys.
I'm extremely impressed and have since bought more of their vibrations.
This product was provided free of charge to the reviewer. This review is in compliance with the FTC guidelines.

Thank you for viewing
Fleur De Lis silicone seduction
– sex toy review page!