Definitely Lovin' This Handle
If you have a g-spot, you might just love the Love Handle. If you have a prostate, and especially if you're a beginner to anal play, you also might just love the Love Handle. This toy manages to be beyond satisfying despite its diminutive size and I really have no complaints at all. It makes my g-spot extremely happy. The Love Handle is a keeper for sure and at the price, why not give it a go? That said, this toy fails completely as a dual - if that's what you're looking for, keep looking.
Published:
Pros:
Excellent g/p-spot design, easy to manipulate, thoroughly splash proof, seven functions
Cons:
Doesn't turn off immediately
This toy is pretty magic for g-spot stimulation. It's a perfect choice for beginners - it's a non-threatening shape and size that still manages to do an excellent job of hitting the spot. Not having a prostate I can't say for sure, but I'm gonna go out on a limb here and say that it's probably great at p-spot stimulation too. From the male reviews I've read, it does seem to get an overall positive rating. Couples will find that this is fun and easy to use because of the convenience of the handle, no matter while spot they're trying to hit.
As for the packaging's claim: "Ergonomic tip nestles perfectly against the g-spot and clitoris" - I'm not totally sure if they mean that it's supposed to do both at once as a dual stimulator, or one at a time. It's absolutely successful at the latter and totally crap at the former. I loved this on my clit and it was magical against my g-spot. Both at once? Not so much. So, note that when I say this is the perfect design for g-spotting, at no time am I talking about using it fully inserted. It misses all the marks by a country mile (at least on my body) if used that way. It hits all the right spots if used as a single-purpose vibrator. Clearly I chose to use it in the way that feels the most excellent.
SHAPE & DESIGN
The Love Handle is made from smooth, velvety plastic. Upon opening it up there was a very faint smell, but it wasn't unpleasant. No smell remained at all after a few washings. Plastic is non-porous, so there's no worry about this harbouring any bacteria. It can be easily washed with warm water and soap or toy cleaner and it's compatible with both water and silicone-based lubes.
Although the Love Handle is
supposed
to be waterproof, I wouldn't take this one into the bath. The space between the cap and the body of the toy is a little too wide for me to be confident that this would survive a bathtime romp. Despite my reluctance to fully submerge this toy, I did splash test it pretty thoroughly during washing and it was totally fine and fully vibrational. Feel free to wash it up as messily as you like or take it into the shower without worry, just be cautious about dunking it.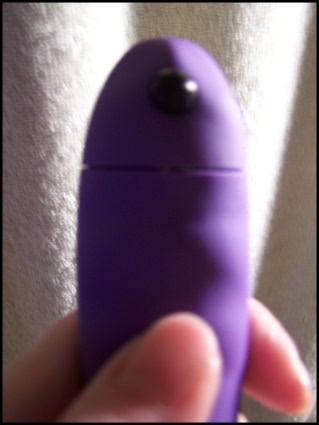 Personally, I love this design. Like, a lot. The bulbous end always manages to find my g-spot perfectly, and the slim size makes it a breeze to insert. There is a visible seam on the Love Handle but it isn't noticeable during use. It's smooth and gentle, while obviously still being made of a hard material. This would be a really great first prostate toy for anyone nervous about larger toys. At 3" circumference at its thickest point, it's really quite slim. As well, while the product page puts the insertable length at 5", my measurements it's a bit more like 4". All the same, the great stimulation this provides never leaves me wishing it was bigger, despite the progress I've been making towards Size Queendom.
I appreciate the placement of the button at the top of the handle – an easy-to-reach but not an easy-to-bump place. No frustrating accidents of speed-change with this one. The handle itself makes this toy very easy to hold and manipulate. There are various ways to grip the Love Handle's handle in order to get the perfect angle, and all gripping variations that I've tried are totally comfortable. There's no awkwardness or hand cramping, and as this toy is very light it shouldn't tire out anyone's arm. However, this may be a con for those used to glass or metal toys that use their weight to really hit the spot. If you do know that you prefer your g-spot (or prostate) massage to be firm from the very start, this may not be your dream toy. Personally, I don't hold it against the Love Handle that a bit of angling and pressure is required to make full and excellent contact with my g-spot. It's as easy as 1) insert vaginally, 2) tilt handle back slightly until you feel very pleased with your purchase. Ah yes, there is it. No worries.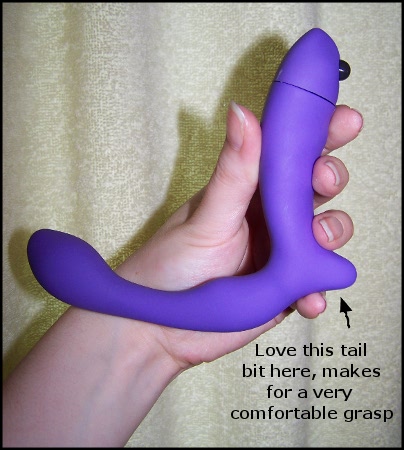 FUNCTIONS & CONTROLS
The Love Handle's vibrations are distinctly buzzy. It's a little bit noisy, but not terrible. In a quiet room it'll be easily heard, but under some blankets it becomes adequately muffled unless you're really listening for it.
Cont. below
Experience
For 2 AAA batteries, I'd say this has some pretty good power plus a decent range of functions. Although the shape here was the real winner for me, the vibrations do add that extra special somethin' during use. It's not blow-your-mind strong, but a good moderate power level full of buzz. I will say that I'm picky about clitoral vibration but I found this to be really nice. Not quite enough to get me off, but definitely a sensation I've gone back to many times since acquiring this toy.

The Love Handle has one single button that acts as both power and function control. One press turns the toy on, and subsequent presses will scroll through the toy's seven functions. The sole annoying thing about the Love Handle is that in order to turn it off you need to press and hold the power button for three seconds. This is particularly the worst if your hands are slippery with lube. I'd prefer a faster way to turn it off, but honestly this is only a small con in a long list of pros. It does mean that you should definitely take the batteries out if traveling with this because there's no travel lock.

The seven vibration programs are as follows:

1) medium power steady vibration
2) high power steady vibration
3) fast pulsation
4) two medium-length pulses followed by a long pulse
5) five medium-length pulses followed by a long pulse
6) one long pulse followed by four medium-length pulses
7) sets of four fast pulses

Note: All of the pulsation patterns are high powered vibration

A note about the battery cap: it's pop-off, not twist-off. Don't be like me and not read instructions and almost break your toy before even getting to try it. Terrible. Luckily, the Love Handle withstood my stupid twisting although the battery cap is a touch rattly now sometimes.

PERSONAL COMMENTS
When I received this toy, the look was intriguing but a touch underwhelming. My taste in toys has gotten bigger the more I collected, and the girth of this toy is even slighter than some of my very first beginner vibrators. I should not have been so quick to judge. The first time I used this – holy tamoly. I usually take a little while to warm up to a masturbation session, but this little thing went to work on my g-spot immediately and within seconds I was already getting those fabulous pleasurey waves that I generally only start feeling about halfway through a time. And the finale – dear god. I can usually keep myself pretty in control but this time limbs were flyin', noises were being made and by the end of it I had exerted myself so much that I had a headache. Not that I minded. This toy is an instant favourite and I give a huge salute to Evolved Novelties for coming up with such a great design.
Follow-up commentary
2 months after original review
This toy continues to rock my world. When I need a quick no-nonsense session, this is my go-to and it never lets me down.

The battery cap has become even looser over time, which is worrisome. Depending on the angle I'm holding the toy at and where on the handle I'm gripping it, the vibrations are louder and more annoying. It's the loudest by far if I put any pressure at all on the battery cap. I wouldn't be surprised if this doesn't turn out to be an extremely long-term toy, but I do hope that the Love Handle proves me wrong on that. Still, if it does end up burning out, I won't hesitate to buy another one. This is a staple in my toybox. Maybe the next Handle will last even longer if I pull the cap instead of trying to twist it off the first time, who knows. I'm totally ready to take responsibility for that silliness.
This product was provided free of charge to the reviewer. This review is in compliance with the FTC guidelines.

Thank you for viewing
Love handle
– g-spot rabbit vibrator review page!