Jeweled Disaster
Do not be lured in by the pretty shiny jewels of this toy! I would not suggest this product to most anyone and I'm glad that they discontinued this. Although I personally didn't like this toy, more like hated it, it might be great for a first time toy user or someone that is a virgin that doesn't need something average sized and also isn't used to vibrations. For anyone else, please avoid this toy like the plague unless you have a really sensitive clit!
Published:
Pros:
Small size, Smooth feeling
Cons:
Not strong, loud, cheap
The good-
This vibrator was so cute and small I just thought I had to have it. With it's small size I thought it would be perfect for travel! It was in fact is very small, 4 inches in all, and I could even fit both the toy and a battery in a small sandwich bag. The pretty multi-colored gems looked great against the dark rich velvety plastic of the toy. The jewels glimmered in the light and made me so excited to try it out.
Plastic makes it at an 8 on the safety scale for being both non-porous and phthalate-free and also being able to wash it with antibacterial soap or wiping it with alcohol. I was also glad to know that it only took one AA battery and it had an o-ring for bath time pleasure! The toy was easy to clean with soap and warm water but since it's plastic it's not safe to boil it or put it in the dishwasher because it could melt.
Water, Oil, and Silicone based lubes can all be used making this a huge plus in that aspect. The plastic is a very soft smooth velvety texture that didn't give me any kind of drag while also being odor and taste free. The toy came in two colors- a sleek black and the ever so popular bubble gum pink. I opted for the black since the gems seemed to pop out more and to be honest I'm not the biggest fan of pink. When I got it the toy did have a noticeable seam on one side but it was only visual and when inserted I could not feel it at all.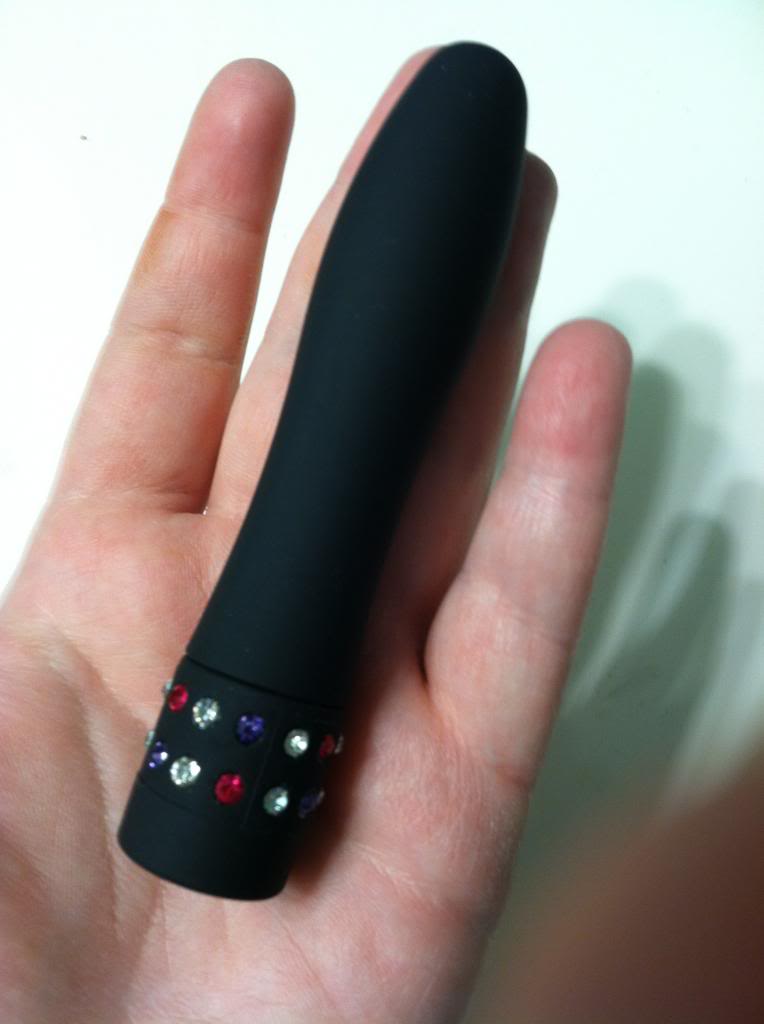 Barely longer than your finger!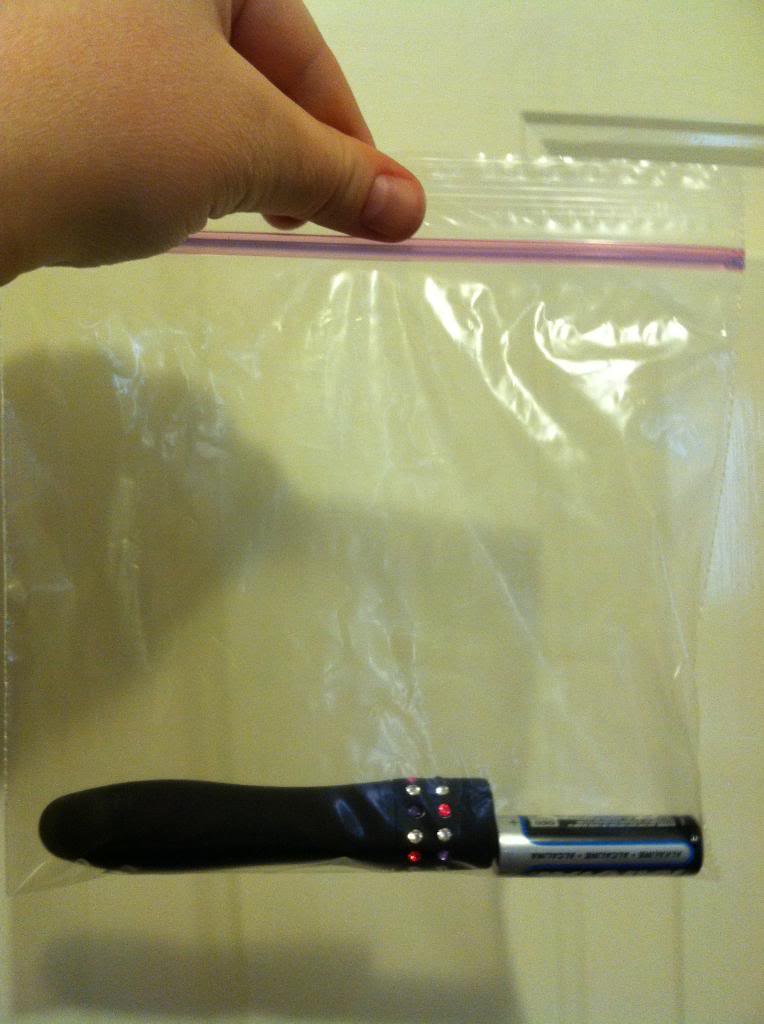 Easy to travel with and so small you can fit it in the bottom of a sandwich bag or put it in your purse.
The bad news!-
Although I really wanted to enjoy this toy it fell too short for me. The fun and pretty look to this toy didn't make up for it's lack in power. Seriously, save yourself from this toy and get yourself an electric toothbrush! I get more pleasure just flicking my clit with my hand then having this thing buzz on my clit and I'm not even a power queen. Another thing is I personally I wouldn't suggest sharing this toy unless it's sterilized very well. It's small size makes it so that normal sized condoms would just fall off this thing and I don't know how small toy covers go.
There are three settings on this toy; soft, soft and loud. The settings can be found on the bottom of it toy by turning the dial. Both of the settings that are decent in sound can barely be felt and the last setting is nice but I could hear that through the locked door with the fan on in my room while I was all the way down the hallway. No, that was not me exaggerating, I actually tried that out. This bad boy is quite a loud toy! For a toy that is this loud I would think it would pack a least a little punch, but this one falls way short. The package is also WAY too big for the size of this toy, I would never keep it for the storage and it's just very cheap plastic with the name on it so it's not discreet at all. There was no kind of instructions with the toy but it was simple that you don't really need it. There also wasn't any kind of warranty written on the packaging anywhere and the back didn't say anything important.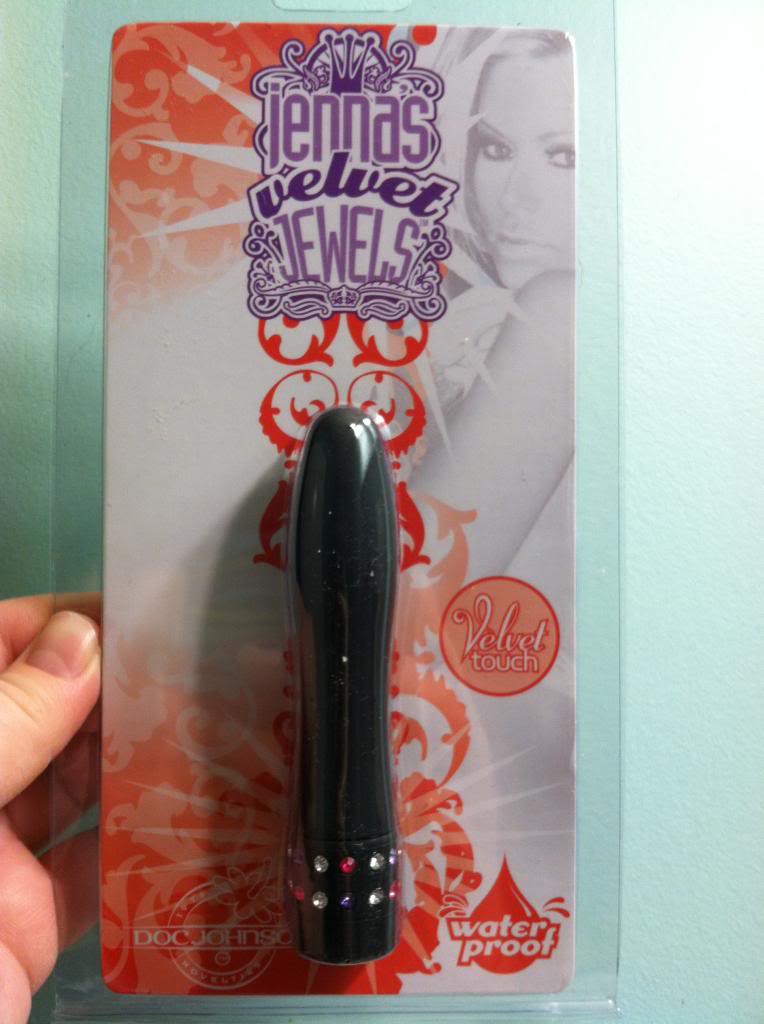 Original packaging
Experience
The first time I played with this toy I went in with an open mind and left with a very sad little clit. I had originally bought this as a small vibe to use like a bullet since I had lost mine a bit ago. I also like shallow penetration so I thought this would be a great compromise from having to pick something that was clit only and being able to insert something. I thought "Hey this would be perfect and it's so cute!", but cute doesn't cut it for me. I used to own a tiny, less than one inch, bullet before this and that thing was like a powerhouse compared to what this is. If I were to lose this toy I definitely wouldn't lose any sleep over it, at least the other one I had didn't sound like bees were stuck in my room.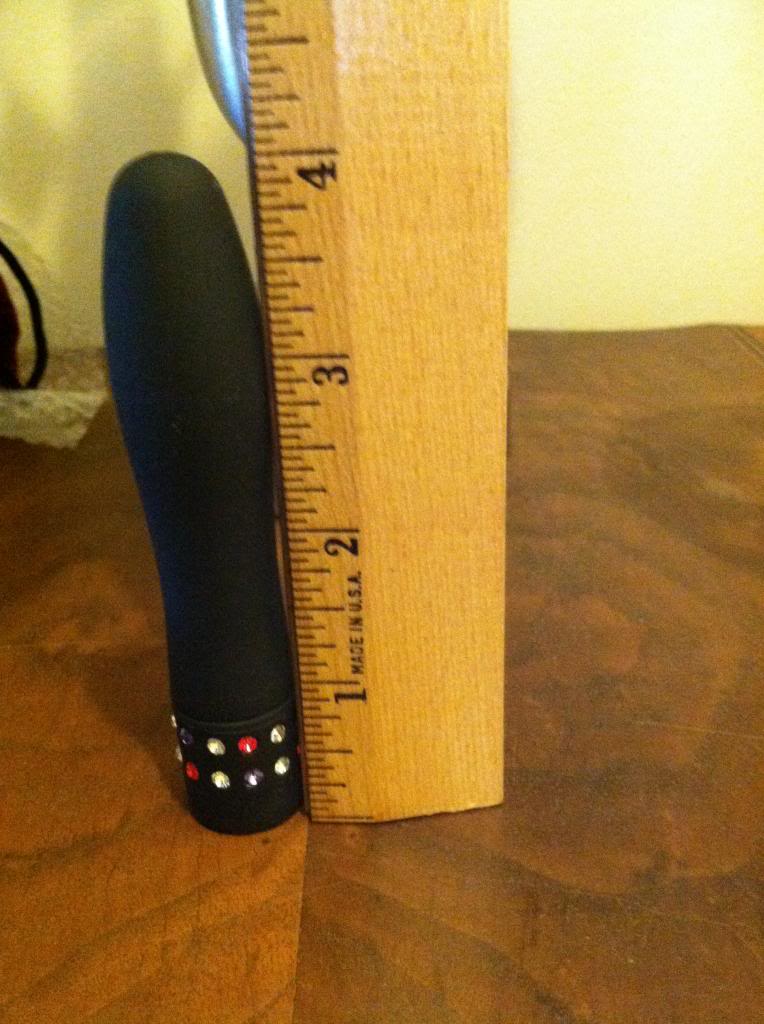 Sizing it up; this bad toy comes to 4 inches with a little over 3 being insertable.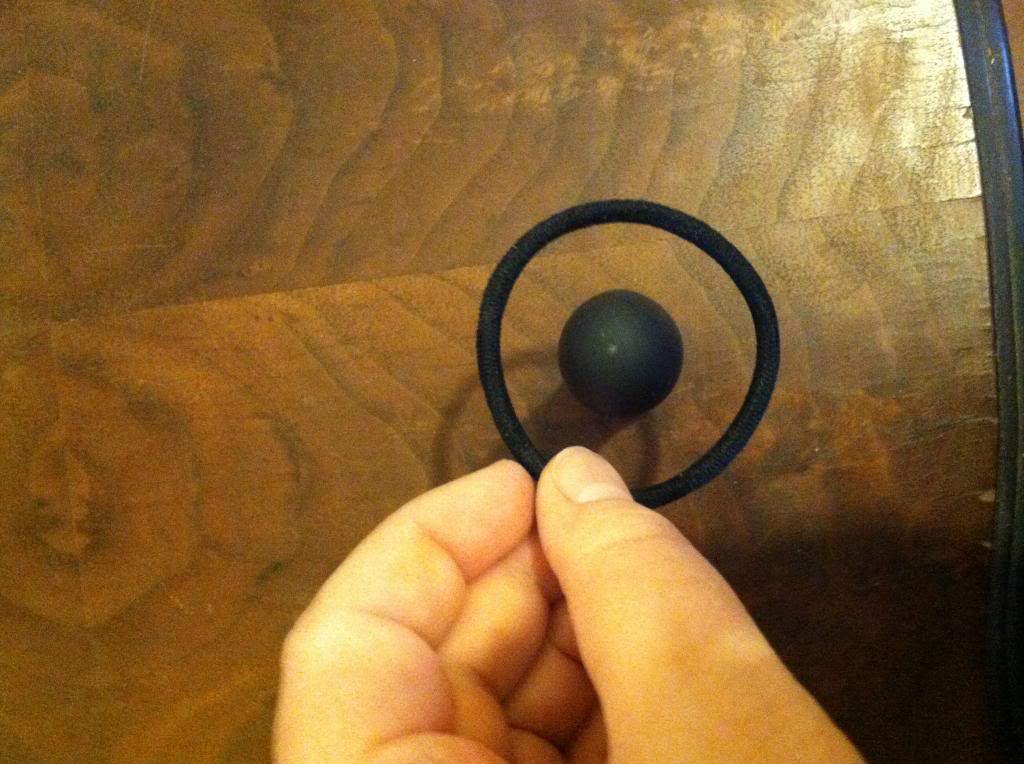 As you can see it's also not very thick!
The second time was a little bit better. I was with my partner and we used this as a warm up vibe for anal. My guy teased me with it and would penetrate me anally about half an inch (I can't really suggest this since it doesn't have a flared base, try at your own risk!) and since I'm more sensitive around there it actually felt really good for a change. With this being so tiny I was able to find out that I loosen up with vibrations down there that fingers just can't really do. I kinda wish this did have a bigger base because it would make a better anal toy than it would vaginally due to the size and lack of power. If it wasn't for him having a good grip on it and making sure he goes slow I wouldn't have tried this anally in the fear that it would somehow get stuck up there.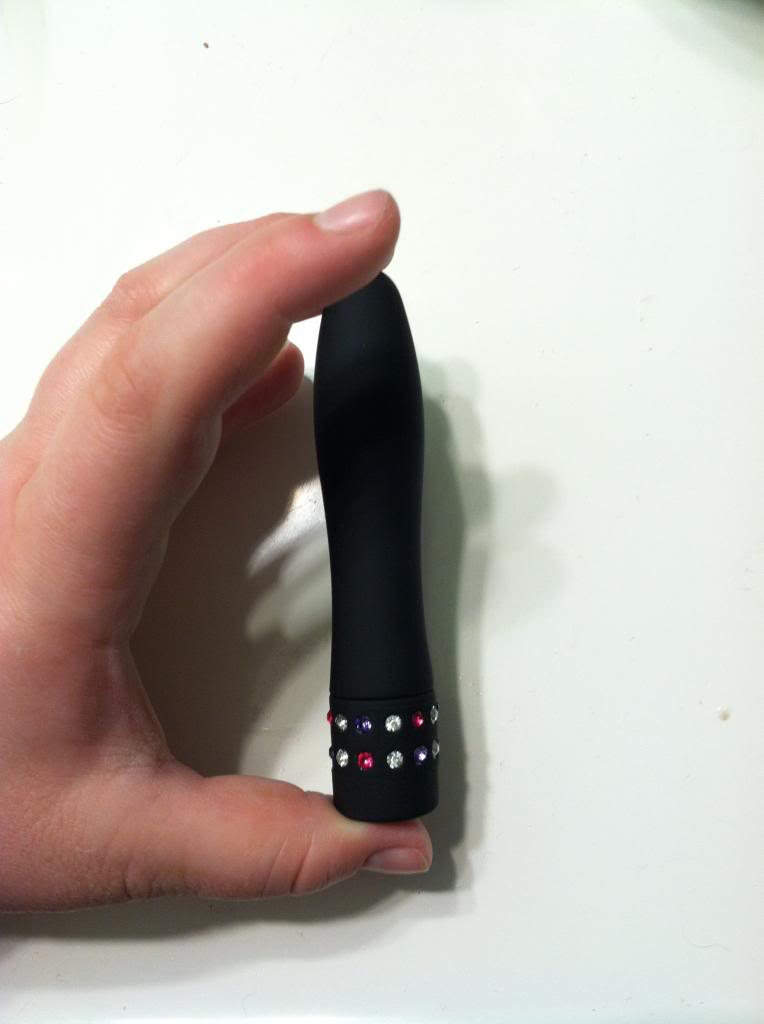 It's small but something tells me it wouldn't be so easy coming out!
Along with it not wanting to get me off without waking the whole house up, it also broke. That's right, it broke, and only after it's second use! The bottom started coming loose and now sometimes I have to press down on it to keep it going. When I go from the first level to the highest it does this very loud rattling sound so now I can't even get it to a level that I can feel good at. Talk about a beautiful disappointment.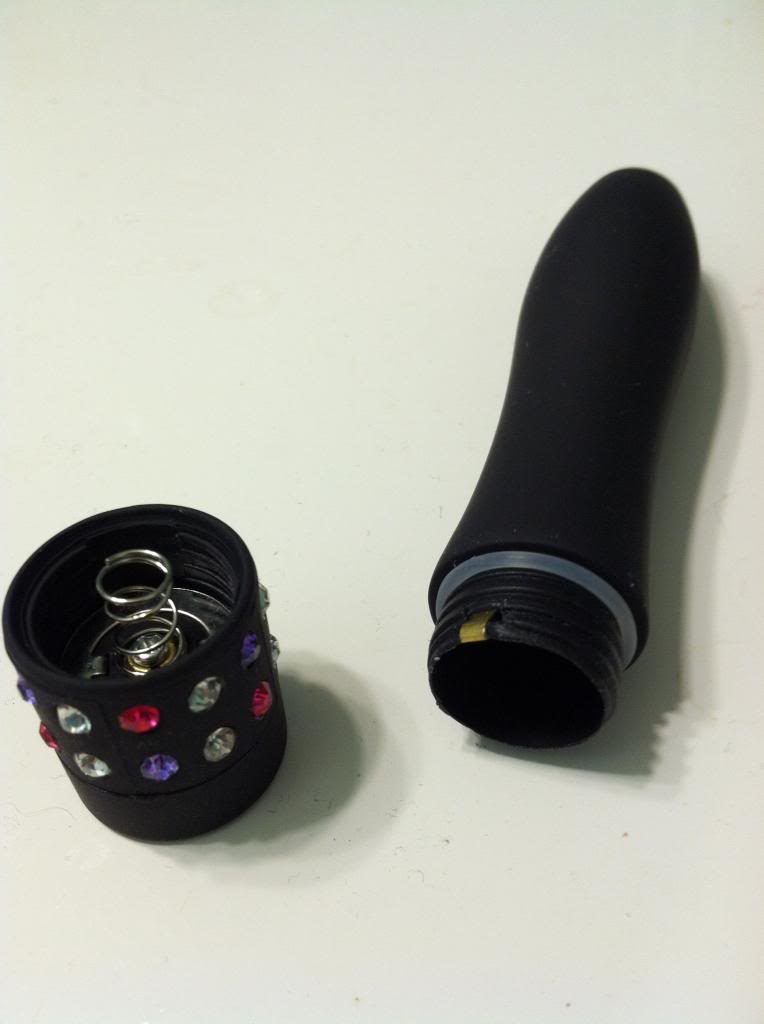 Something tells me this o-ring is not going to do me very well now that the bottom is broken! (This picture was taken before it broke.)
This content is the opinion of the submitting contributor and is not endorsed by EdenFantasys.com

Thank you for viewing
Jenna's velvet jewels
– traditional vibrator review page!