Me so Honi
PicoBong's Honi is proof that good things do come in small packages. Designed to be used internally or externally, this little egg packs a punch. With twelve vibration patterns to choose from, Honi is sure to have one that is just right for you. Perfect for solo play, Honi is also great to use with your partner. In addition, Honi is waterproof. Great for all your play, Honi is a fun little egg.
Published:
Pros:
Small, discreet, twelve vibration patterns, waterproof and hands free fun.
Cons:
May not pack the punch some users are looking for.
Honi is a neat little egg that's designed with you in mind. Perfect for solo play this egg is more than clitoral vibe. The retrieval string also makes it perfect to use internally. Just pop it in, position it over your g-spot and let it do its work. With your hands free, you can explore other pleasures.
Not only for solo play, Honi is also a fun couples toy. Use it for foreplay to tease your lover's tender bits and erogenous zones, it's sure to drive them wild. More than a foreplay toy, the Honi can be worn vaginally during anal sex for dual stimulation.
No matter how you choose to use your Honi, it's sure to be a wonderful addition to your collection.
Honi, is designed similar to most standard eggs. Its elliptical shape makes it easy to insert, comfortable to wear, and fun to use. With each end sloped, Honi gently slips inside of you. The perfect size to be worn internally, Honi is only three and a fourth inches long. The widest point of this egg is the center, which is one inch in diameter. The petite stature of Honi allows it to sit comfortably inside of no matter what position you are in. It can even be worn while walking around without discomfort. For external stimulation, the shape is nice for pin-point stimulation. No need to worry about how to get this egg out, it comes complete with a looped retrieval cord. At two and three fourths inches long, it's easy to grip and pull out with only your fingertips. Attached to the battery cap, the cord is secure and well attached.
Made from premium silicone, Honi has a powder soft feel. However, the battery cap and retrieval cord is made from ABS plastic. The finish has little to no drag with run across your skin. With a little bit of lubrication, it glides across the skin. Honi's only texture is PinoBong stamped along the shaft. Also, there is a smoothed off manufacturing seam. In addition, there is a slight ridge that can felt at the battery cap. For those with sensitivities, there's neither taste nor smell to Honi.
Honi is powered by one triple A battery for up to two hours of fun. For something so small, it really packs a punch. Controlled by two separate on (+) and off (-) buttons located in the company name. There are two modes to Honi. The first mode is a constant vibration and the +/- buttons allow you to control the intensity. By pressing and holding the +, Honi reeves up to the highest intensity. The second mode allows you to choose between eleven unique vibration patterns. To access this mode, press and hold the + button for two seconds, then press again to cycle through the options. In this mode pressing the – button doesn't allow you to cycle down through the patterns. Instead, it takes you back to the first mode. In addition, the motor is near silent; when it's outside of you. When inserted, not a peep can be heard.
1. In mode one, steady vibration; you choose the intensity
2. Pulsation with a build and fall
3. Pulsation with build and fast fall.
4. Typical style pulsations
5. Faster pulsations
6. Slow long build and fast fall
7. Long build and fast drop off.
8. Long build and long fall.
9. Faster building and equal dropping off.
10. Building up and two fast pulsations.
11. Building up and four fast pulsations.
12. Various pulsations combined with building and falling.
To make it easier, PicoBong provides this diagram of the patterns on their website.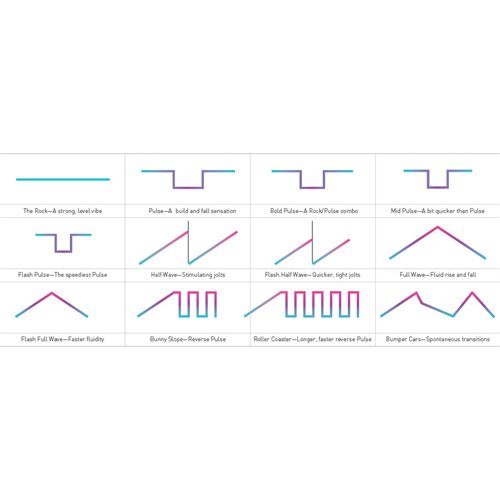 Honi is waterproof. The screw on cap locks down and creates a tight seal. Inside the battery cap is a small wire that sticks up. Under the battery cap is a small wire. Be careful not to bend this wire because it makes the connection for the battery.
Taking care of Honi is a breeze. Silicone is non-porous and easy to clean. It is always suggested to wash your toys before and after each use. To wash, use anti-bacterial soap and warm water or your favorite toy cleaner. Be sure it is dry and remove battery before storing. To store, pop it in a lint free bag and keep it separate from your other silicone toys.
It is always suggested to only use water based lubricants with your silicone toys. Because two silicone products are attracted to each other, the finish of Honi may become tacky is silicone lube is used with it.
Experience
Continued:

Remember, play safe and always use toys as they are intended. Although Honi has a retrieval cord, it is not safe to use anally. The shape can easily slip to far up into the rectum requiring a trip to the ER.

**Body safe, FDA approved silicone. **
**Waterproof to a depth of 1 meter.**
**1 year warranty.**

Experience:

Over all, Honi is a fun little toy. It's not the most powerful bullet on the market. However, it has more than enough to please the average user.

As a way to get in the mood for later, Honi works great. It is quite and doesn't draw any attention. It's comfortable to wear to get my juices flowing while we watch porn or during foreplay. The vibrations are nice and don't feel overly buzzy.

The modes and vibration options are nice. However, if it's inserted, it must be removed to change the pattern. A great feature is the control interface. I have never had an issue of accidently hitting it and changing the vibration by accident. Well made, I am sure this will be a in our toy box for a long time.

Over all, for those who are not power queens, Honi is a great choice for your playtime.
Follow-up commentary
2 months after original review
This bullet/ egg is fun to play with and is sure to be a joy for many users. However, I prefer strong numbing type vibrations and the PicoBong Honi just doesn't have it.
This content is the opinion of the submitting contributor and is not endorsed by EdenFantasys.com

Thank you for viewing
Honi
– bullet vibrator review page!