Not a fan of this classic!
I was disappointed with this toy. It is very cheaply made and is also made of jelly. I don't see this rabbit lasting very long. The shaft is too short and slim for me even though I'm not a size queen by any means.
Published:
Pros:
Affordable
Color variety
Strong bullet
Cons:
Head is too large
Loud
Beads are painful
Wires
Cheaply made
Too short for some
The Classic Rabbit Pearl from Pipedream is meant for clitoral and G-spot stimulation. The most obvious use of this product is to insert into the vagina with the rabbit part on the clitoris. While I'm not a big fan of this toy the clitoral attachment is nice. I don't like using it with Hubby because the shaft part of this toy is so short that I prefer going solo. It's certainly not my go to toy. It's very affordable as far as rabbit vibrators go. While it may be a great option for a first vibrator since the price is so low I cannot recommend this product for many reasons.

The bullet is very strong. For me this is a good thing but I know there are many women out there who are extremely sensitive to strong vibrations. It can also mean you'll be getting off much quicker. This could be good or bad for some people depending on the situation. If you're going for a quickie then most likely this will be good for that.

Go up the shaft a bit and you'll find the beads. I find them quite painful and unnecessary. They rotate so quickly and are strong and painful! It doesn't do much for my G-spot. It might if it was long enough or more pliable but this toy is too short for that.

I personally find the head to be too bulbous and it just doesn't work for me. It's definitely not realistic and while one doesn't really buy this toy for realism I think it would be better if it was. The more realistic the shape is then the better it will feel. Sadly, this toy fails in that department.

I'm no size queen but I really enjoy a nice, full feeling which this rabbit does not provide. It's about 7 1/4 inches long with insertion length being 4 3/4 inches. The circumference is about 5 inches. It's definitely too short to reach my G-spot so that part of the toy is rendered pointless. It's also very slim so I don't feel full. For those who aren't sure what length would work best for them then this seems to be one of the shorter rabbits available.

The controls of this toy are simple. Slide the bar up the remote and the vibrations change according to the position of the bar. It's not wireless and I really don't care for toys that have cords. The battery box is flimsy and I'm sure it's going to break soon. This uses C batteries and it may be laziness, but I find that inconvenient as I don't have them readily on hand. Quality C batteries are also more expensive.

This is one of the loudest toys I've used! Just keep that in mind when purchasing this. If you need to be discreet then this toy probably isn't the one for you.

The material is jelly/rubber which is not a redeeming quality but at least it is phthalates free. Out of 10 it rates a 2 as far as material safety. This does make me cringe so I suggest using a condom with this toy. This rabbit is very smooth and slick feeling. I personally do not enjoy the feeling of jelly toys as I would like something that feels more realistic. And then there is a slight rubber smell as well. It's not very noticeable unless you're really looking for it so that's not a big issue. You have to really, really take special care with these kinds of toys in order to make them last. I'm sure that if you have a jelly vibe that is made better than this one then it's possible for it to last a long time.

You can wash it with warm water and antibacterial soap as long as you don't get the wires wet. I wouldn't really suggest this method for that reason. Jelly toys cannot be shared due to not being able to be sterilized or sanitized like other toys. If you decide to share then use a condom.

I clean mine using toy wipes and/or spray. I store this toy the way I do all my toys. I have affordable scarves that I wrap my toys in so that they won't be touching each other when stored. This is probably because I have a lot of silicone toys so this is a plus.

The toy is far from discreet and I think that even the most sheltered of people will probably recognize the shape. The packaging also isn't discreet. There are no scantily clad people on the box but there are rather large pictures of the product as well as a description about what is inside.
Experience
All in all I do not enjoy this toy. While the clitoral attachment will get me off I find the rest of this toy to be sorely lacking. I don't like it and I definitely don't see myself growing to like it either.
I really wish I could say that I enjoyed this product but I didn't. It's okay at best. It's too short to reach my G-spot and while there is some give in the material I don't find it pleasing. Honestly if I was going to invest in a vibrator I would invest in a great one. I do not see this toy lasting years and years. It is very cheaply made and the material probably won't allow for years of use. I have a very nice silicone rabbit that I bought five years ago. I have taken extra special care of it since buying it and it has never let me down. It's still going strong! So my $75 spent five years ago was a great investment. See what I mean?
Here are some pictures...notice that creepy smiley face!!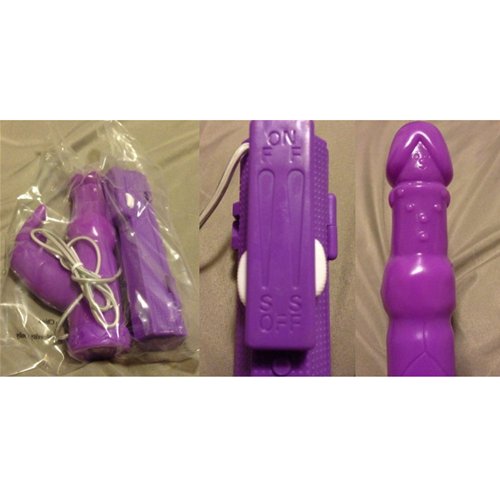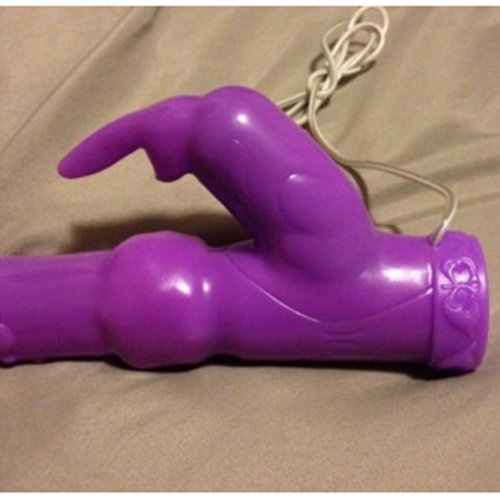 Here's one for some size comparing: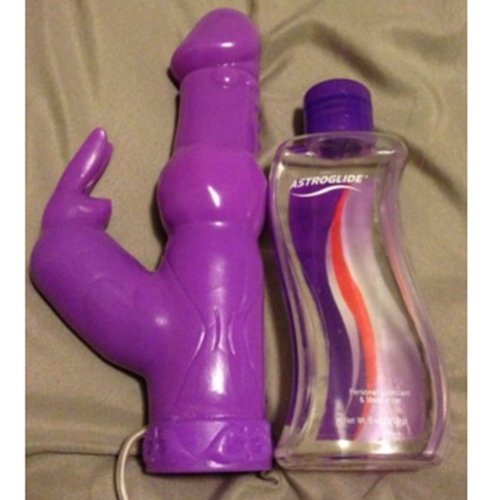 And the packaging: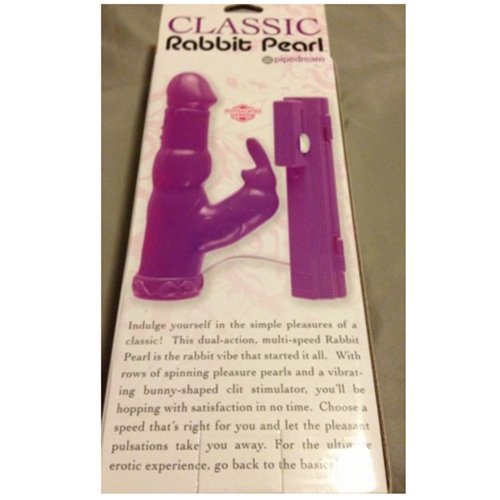 Follow-up commentary
8 days after original review
I really couldn't help but laugh when this happened, and I'm shaking my head as I write this. Remember when I said in the actual review that I was sure this toy would break soon? I was thinking it would last 6 months or so at best. Last night I took this out to use it for the sole purpose of getting a few more uses out of it before writing a follow up in a couple of weeks. Well, when I was replacing the batteries, the lid broke and now I can't keep the batteries in. I had thought maybe they would stay in on their own, but in mine they don't. I guess I could have broken something else in the process. I'm not sure, really, because I'm very gentle. -sigh-

Needless to say, I'm still not a fan of this toy!
This product was provided free of charge to the reviewer. This review is in compliance with the FTC guidelines.

Thank you for viewing
Classic rabbit pearl
– rabbit vibrator review page!